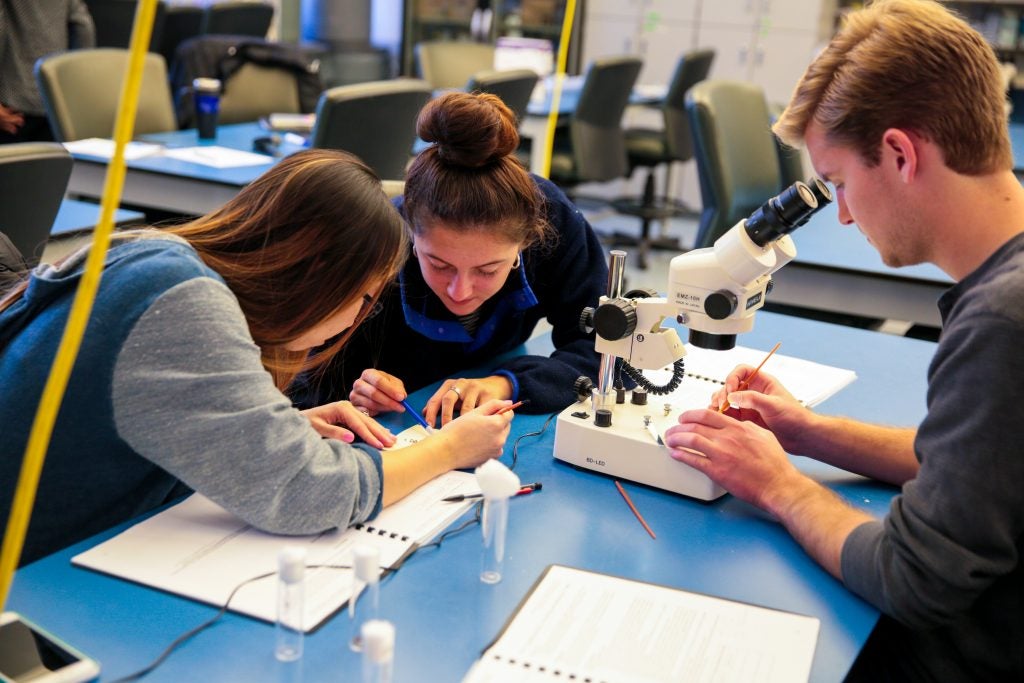 The Science, Technology and International Affairs (STIA) major applies cutting-edge science to the world's most pressing political, social and ethical issues. Using interdisciplinary methods, students will explore the technological and scientific issues at the heart of today's international affairs. The major is run by the STIA Program, which drives innovative research and organizes high-profile events at the nexus of science, technology and international affairs.
The STIA curriculum complements the SFS foundation in international affairs with a foundation in science. STIA majors combine these subject areas to confront emerging global challenges, such as climate change, cybersecurity and global health. Students will:
Learn alongside their STIA cohort in the major's foundational course
Engage with scientific theory and practice through a laboratory-based science sequence
Develop multidisciplinary expertise in one of four concentrations
Incorporate scientific knowledge and methods into their study of international affairs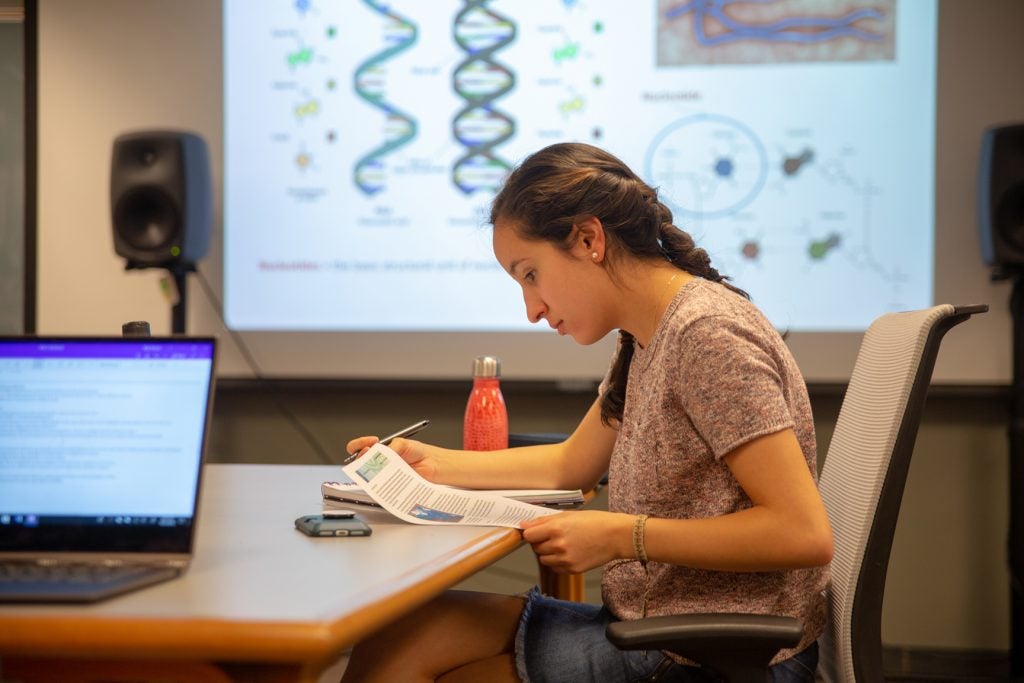 Foundational Curriculum
STIA majors complete an introductory course, Science and Technology in the Global Arena, about the intersecting subjects at the heart of their field, and develop a degree of expertise in at least one field of science, including biology, chemistry, physics or computer science. Research and analytic methods also form an important part of a STIA education.
Specialized Concentrations
Students can pursue any of four concentrations that explore different intersections of science, technology and global affairs: Energy and Environment; Business, Growth and Development; Biotechnology and Global Health; and Science, Technology and Security. For students interested in pursuing a career in medicine or engineering, the STIA concentrations offer a global perspective on these future courses of study. No matter what career path you choose, the STIA major will prepare you for a role that uses cutting-edge science to explore global challenges.
Scientific Communication with STIA
Clear and concise communication of scientific knowledge is essential in both scientific inquiry and international affairs. In the STIA major, students learn how to ask incisive questions to guide their research, as well as how to analyze relevant data, evaluate arguments and present their findings. In addition to the introductory course and STIA electives, students also enroll in either a semester-long Senior Seminar course or the year-long STIA Honors Thesis Seminar sequence to sharpen their research, writing, discussion and presentation skills. The Honors Thesis course enables students to produce a robust piece of original work that they present to faculty and peers.
Graduates will be able to share their scientific knowledge in accessible and engaging ways and translate their expertise into effective decision-making.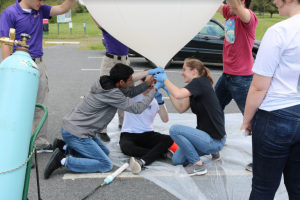 Research in STIA
Many STIA students work alongside faculty to conduct cutting-edge research. This year, STIA minor Laura Ratliff (C'21) is working with Professor Sarah Stewart Johnson and NASA's Mars Exploration Program, assisting in the development of the international Mars Ice Mapper mission that will launch in 2026. STIA major Joyce Yang (SFS'23) is a Fritz Fellow working with Professor Meg Leta Jones in Georgetown's Ethics Lab on their 'from control to care' project, which assesses methods and consequences of monetizing the human body through the use of technology.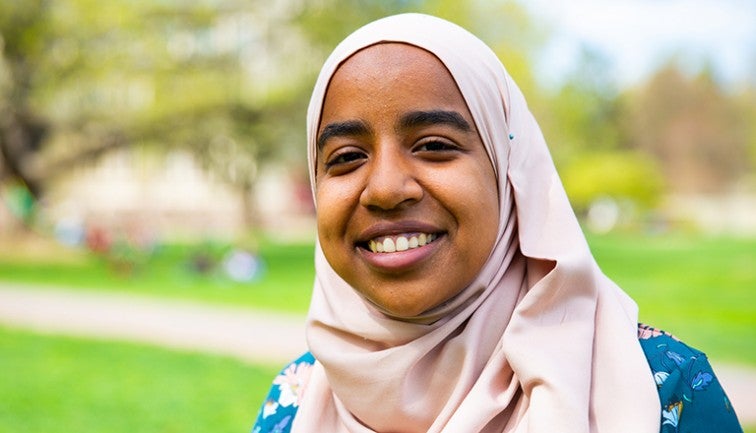 Academic Spotlight
"In my STIA major, I started to become more interested in global development projects and the impact of urbanization. Working on my major thesis and capstone for Arab studies helped me to further explore research opportunities in these two areas."
STIA major Mena Mohammed (SFS'20) took advantage of all the academic opportunities offered to her on the Hilltop, becoming a Carroll Fellow and taking part in the Displacement and Development in the Arab World SFS Centennial Lab during her junior year. Mohammed later became a research assistant for one of the class's professors, Dr. Fida Adely, and developed some of her research on the impact of urbanization on development projects into a senior thesis.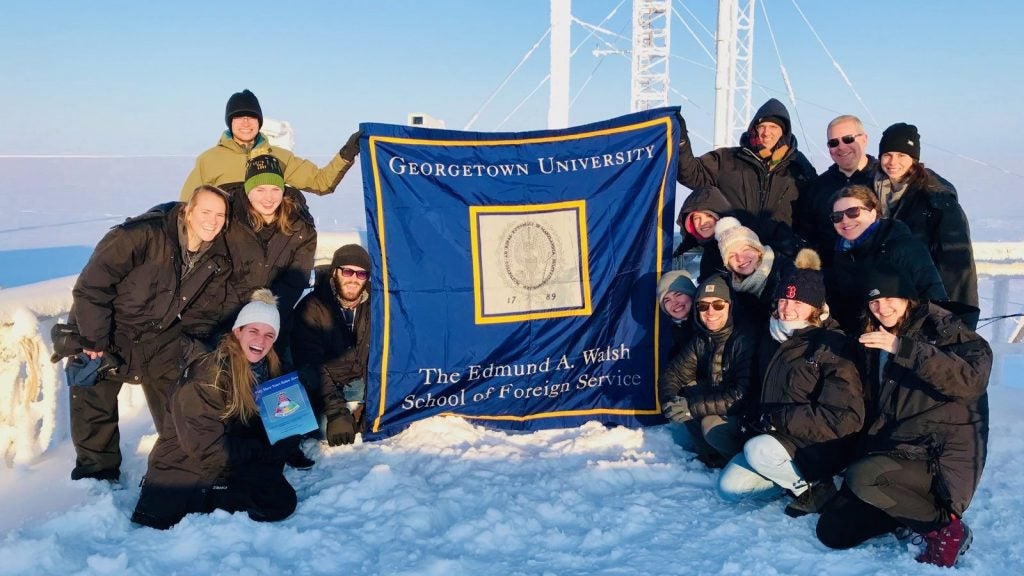 Study in the Heart of Washington, DC
Our location in Washington, DC gives students a front-row seat to the latest events in domestic and international affairs. STIA students can intern for international development firms, work at the headquarters of national environmental NGOs and think tanks, contribute to the research of cutting-edge global health organizations and work in federal agencies. In their free time, STIA students can enjoy the city's world-class attractions such as the Air and Space and Natural History museums and learn more about the key events shaping the world today by witnessing government proceedings, engaging with DC's international communities and participating in important historic events on the National Mall.
Learn more about student life in DC.
International Opportunities
Through SFS and Georgetown's extensive study abroad and internship options, STIA students can explore key issues in their chosen concentration in ways that are difficult to replicate in a classroom. In the past five years, STIA majors have studied abroad in Antigua, Guatemala; Johannesburg, South Africa; Jakarta, Indonesia; Trier, Germany and numerous other locations in Africa, Asia, Europe and Latin America.
Many STIA students have participated in immersive, experiential educational opportunities with STIA faculty, including through STIA Centennial Labs. For example, the Climate Diplomacy Lab brought students to attend the UN international climate negotiations in Doha, Copenhagen, Marrakesh, Paris and Madrid, while the India Innovation Studio brought students to Maharashtra, India to work with the government on solutions to drought.
Learn more about international opportunities at SFS.
Global Experience Highlight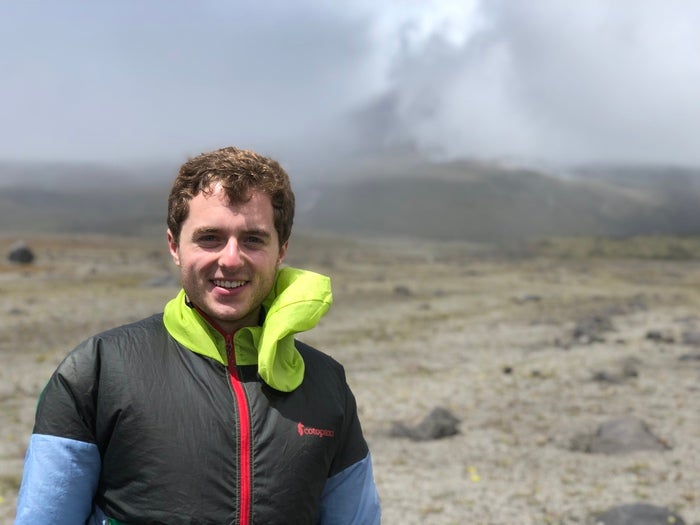 In the summer of 2019, STIA major Kirk Zeiser (SFS'22) participated in the Georgetown in Quito: Nature and Culture in Latin America program. He traveled to locations across Ecuador — including to Quito, Otavalo, the Ecuadorian Amazon and the Galápagos Islands — to explore the intersection of wildlife and human society, all while honing his Spanish! The program enabled Zeiser to take six weeks of classes at Universidad San Francisco de Quito (USFQ) and to engage with local neighborhoods and landscapes across the country.
Diversity, Equity and Inclusion
At the very core of every major is a commitment to recognizing and celebrating cultural diversity and fostering an inclusive environment for all students. SFS is dedicated to welcoming students from all backgrounds to our community and the SFS Diversity, Equity and Inclusion (DEI) Office leads school-wide efforts to enhance DEI in the SFS curriculum, faculty and recruitment of students and staff.
No matter their background or interests, students are sure to find like-minded and supportive peers here on the Hilltop. Whether through campus ministry, student groups or engaging with neighbors in DC, you can find your community at Georgetown.
Find out more about DEI at SFS.
Student Spotlight
"It only took me a few moments to recognize that STIA offers, in my opinion, the most interesting, innovative and important classes at Georgetown."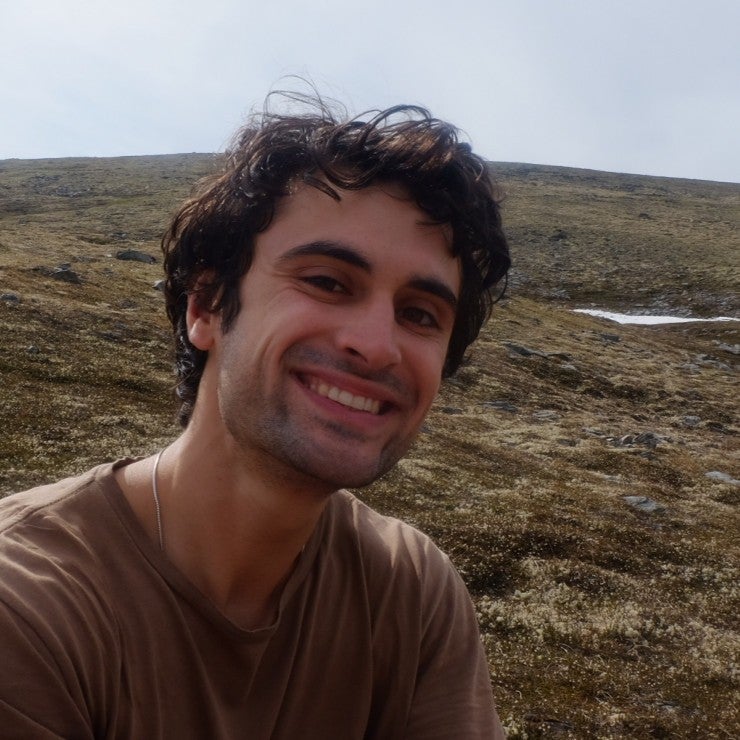 During his time as a STIA major, Brian Britt (SFS'21, SSP'22) took deep dives into space technology, national security, climate science and Latin American studies. Inspired by Dr. Matthew Daniels' Space Security and Exploration class, Britt co-founded the Georgetown University Space Initiative. His passion for exploration also led him to more earthly locales, including Ecuador, the Philippines and Chile. Through STIA, Britt was able to combine these diverse interests in pursuit of what he describes as "a goal that is larger than me, something that will make me proud of the life I've lived when I'm older."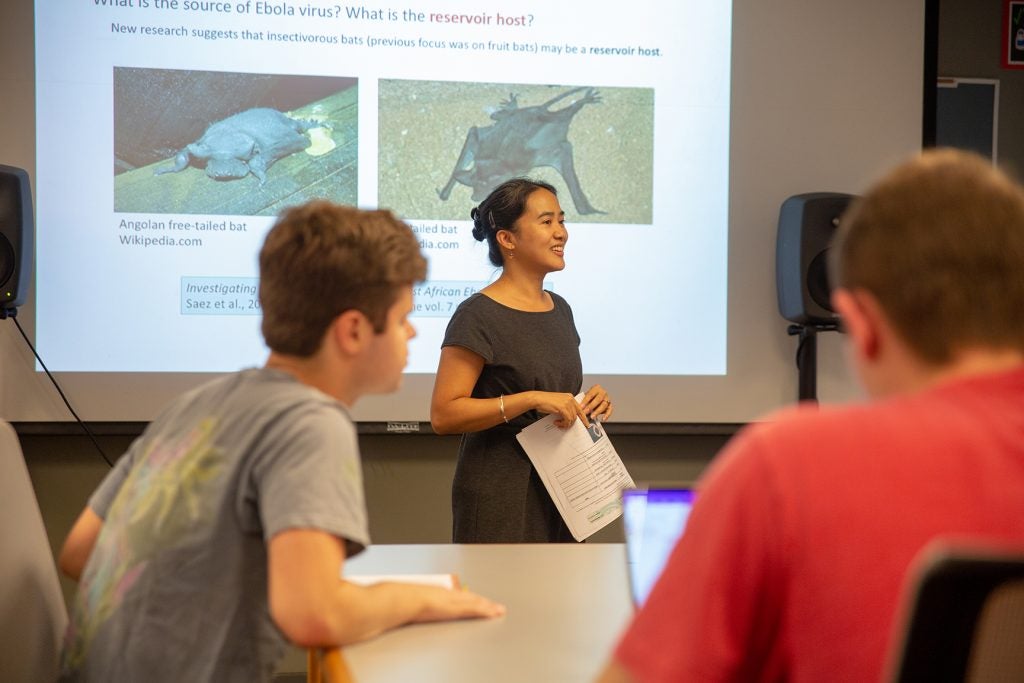 "STIA students bring a unique energy to the classroom, motivated by their curiosity in science and technology coupled with their desire to change the world."

Joanna Lewis, Director of the STIA Program
Provost's Distinguished Professor of Energy & Environment
STIA Faculty
STIA Curricular Dean
Faculty Publications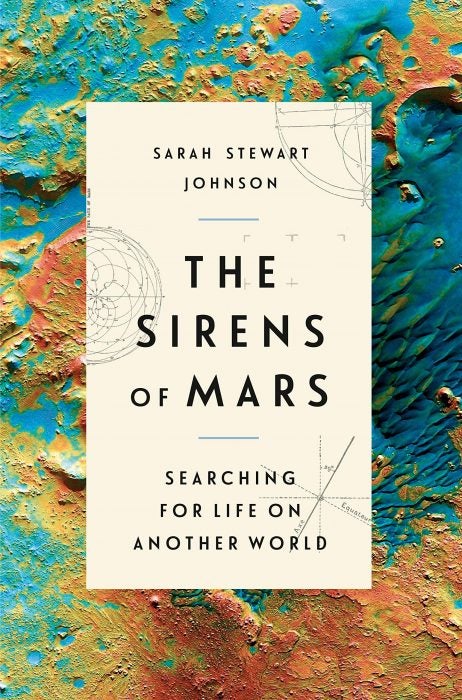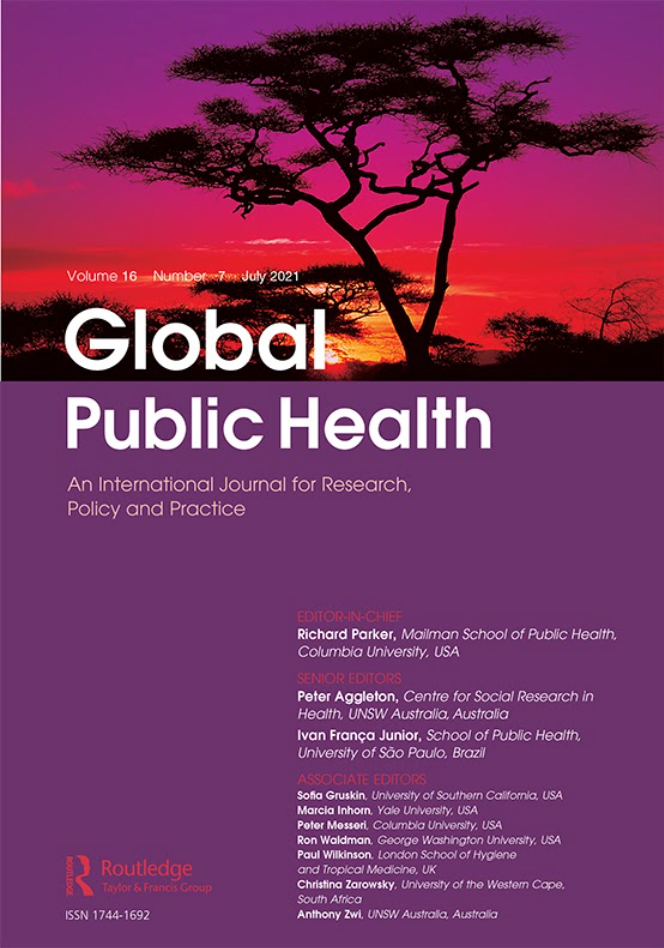 Building a Career at Georgetown
With DC on your doorstep, students can pursue career opportunities that can take them all over the world. STIA students take advantage of the many internship opportunities here in the capital to begin building real-world work experience even before they graduate.
At Georgetown, students connect with the Cawley Career Education Center, where they can meet with professional advisors who can help with everything from developing a perfect resume to nailing job interviews and exploring how to break into a new industry or field. And the Hoya network students build throughout their time at Georgetown can help unlock new opportunities throughout their careers.
STIA Alumni Spotlight
"SFS directly prepared me for my career. As a STIA major, a lot of the work I did was directly focused on energy and what climate change is doing to our world."
After graduating from SFS, Wanjiku Ngare (SFS'13) returned to her home country of Kenya to work as a strategy consultant for social impact, designing inclusive agricultural financing for smallholder farmers and developing renewable energy funds for women's economic empowerment. She also served as producer for an upcoming documentary about the Syrian refugee experience, which is directed by SFS alumna Reilly Dowd (SFS'13).
"I was particularly drawn to Georgetown's opportunities in the specific conjunction of conservation science and environmental policy, and I appreciate the university's dedication to research and its commitment to encourage its students to both study and participate in research programs."
Recent alumna Mia Vanderwilt (SFS'19) is continuing research she first began as an undergraduate student, studying Antarctic soil microbiomes in STIA professor Sarah Stewart Johnson's Biosignatures Lab.
"What I have noticed, especially with my non-traditional path through the SFS, is that really we're creating leaders in all kinds of fields."
Dr. Christina Hanna (SFS'08) knew that the STIA major was the perfect program to prepare for medical school while also pursuing her passion for international affairs. After graduating from SFS, she completed a combined residency in internal medicine and pediatrics, traveling to Butaro, Rwanda every few months as a volunteer implementing a pediatric leukemia protocol with the international organization Partners In Health.