Since arriving at Georgetown, Mena Mohamed (SFS'20) has embraced change as an opportunity to explore new avenues of her academic work and to reexamine the issues she is passionate about from new perspectives.
As a result, over her four years at SFS, the Science and Technology in International Affairs (STIA) major and Arab Studies certificate holder has developed new academic interests while pursuing the intellectual questions that brought her to Georgetown in the first place.
"When I came to the SFS, I really wanted to focus on studying international politics and the Arab Spring, because I am Egyptian-American and was interested in social movements in the Arab world," she says. 
"However, in my STIA major, I started to become more interested in global development projects and the impact of urbanization. Working on my major thesis and capstone for Arab studies helped me to further explore research opportunities in these two areas," she explains.
Now, Mohamed is graduating at what may be one of the greatest periods of global upheaval that she will experience in her lifetime. As she does so, the senior is reflecting on the opportunities that this historic moment might present to address long-standing global inequalities.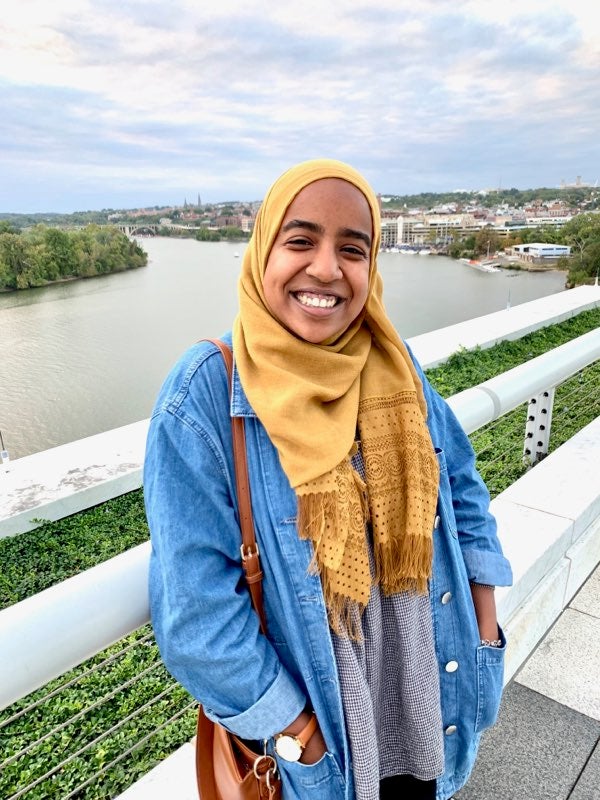 At a Glance
Hometown: Alexandria, Virginia
Major: Science, Technology and International Affairs
Certificate: Arab Studies
Proseminar: Islam and the West with Professor Jonathan Brown
Language: Arabic
On-Campus Activities: Patrick Healy Fellowship; Research Assistant at the Center for Contemporary Arab Studies; ESCAPE Campus Ministry Retreat Leader; Georgetown Scholars Program; Muslim Students Association; Carroll Fellows Initiative
Non-GU Experience: Georgetown Ministry Center; Library of Congress; Jesuit Refugee Service; State Department; Harry S. Truman Scholar
Finding her Georgetown Community
Mohamed's interest in political movements and issues such as migration and development made Georgetown and the School of Foreign Service an obvious choice when deciding where to go for college.
However, arriving at a centuries-old university like Georgetown can be daunting. "When I first came to Georgetown, I struggled with a lot of self-doubt and feeling as though I would not be able to succeed here," she admits. 
However, as she began to take classes and become more involved with the on-campus community, Mohamed soon hit her stride. "I know now that 'success' means so many different things, and that basing progress on grades or internships alone is an exclusive and narrow-minded way to view education," she says.
"Graduating from Georgetown is a privilege and was only possible with the support and guidance of so many different people, so I wish I recognized early on the value of seeking help," she adds.
As both a Patrick Healy Fellow (PHF) and a member of the Georgetown Scholars Program (GSP), Mohamed was part of on-campus initiatives that provided her with leadership opportunities and mentorship throughout her four years at SFS. 
The Patrick Healy Fellowship brings together Georgetown leaders who are passionate about issues that affect communities of color while the Georgetown Scholars Program provides programmatic support to low-income students and those who are the first in their families to attend college.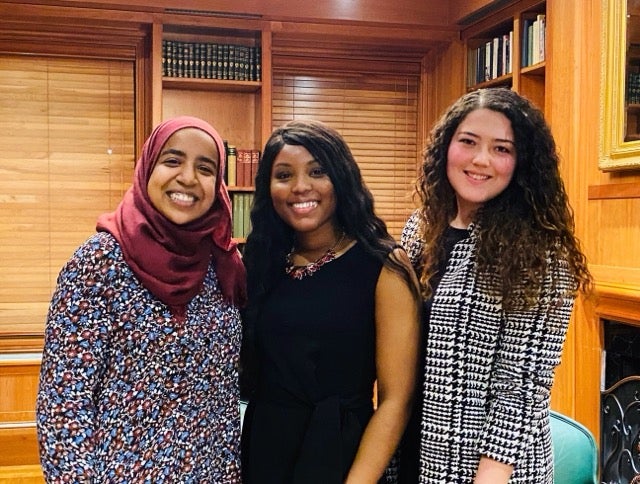 "Having the financial support and mentorship from GSP, and the professional development opportunities from PHF have been really critical to helping me get to graduation," Mohamed says. "At my high points and my low points, having those avenues for support is really critical to making Georgetown an inclusive place for students from all backgrounds."
Mohamed also sought out opportunities to connect with fellow students and experience non-academic aspects of student life at Georgetown. 
She is a member of Georgetown's Muslim Students Association and throughout this year led retreats for Georgetown Campus Ministry's ESCAPE program. The initiative offers first year Georgetown students the opportunity to reflect and recharge during an overnight retreat at the Calcagnini Contemplative Center in Bluemont, Virginia.
Mohamed says that community experiences like these, and the supportive network of friends and mentors she has gained at Georgetown, are among the things she will miss most after graduating.
"I will definitely miss the sense of community and people that I have met," she says. "I feel blessed to have found so many friends, faculty and staff who have supported me through my time at SFS, and I will miss sharing my Georgetown experience with them."
Embracing Academic Opportunities
An academically gifted student, Mohamed is a recipient of the Carroll Fellowship, which recognizes talented undergraduate scholars and offers opportunities for fellows to share ideas and research questions and findings with like-minded peers.
Over the course of her four years at Georgetown, Mohamed's academic coursework and research has encompassed global development, migration, climate change, social innovation and political movements. 
In approaching both her courses and research, she has learned to welcome change and use it as an opportunity to pursue new academic avenues and questions. 
"It is important to get comfortable with ambiguity and not always have a set plan for the future," she says. "My goals for what I wanted out of my time at Georgetown changed semester to semester, and I see that now more as a sign of growth and change, rather than as indecision. As opportunities arose, I would tell myself to be open-minded to the possibilities that can come out of four years."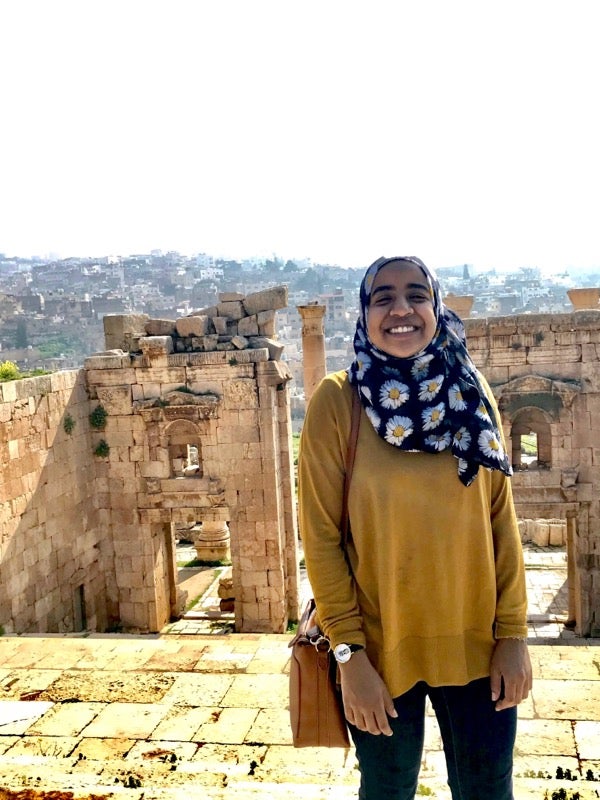 Among her favorite learning opportunities at Georgetown was her junior year Centennial Lab, Displacement and Development in the Arab World, which was taught by Professors Fida Adely and Rochelle Davis.
"It was a great course because it provided me with great resources and research on displacement and development," she says. "We were able to take a trip to Jordan over spring break and visit different organizations."
"I learned a lot from the experience that was applicable to my own research," she adds.
Mohamed also worked as a research assistant for Adely at the Center for Contemporary Arab Studies (CCAS), and says that the professor has had a major impact on her writing and research on international development and the Arab world.
She also credits Charlene Brown-McKenzie, the Director of the Center for Multicultural Equity and Access, with supporting her throughout her time at Georgetown.
"She has been a great mentor who has taught me so much about leadership and community," she says.
Graduating at "an inflection point"
This year's graduating class will be first in Georgetown history to graduate virtually, as in-person Commencement exercises are postponed until it is safe for students to return to campus. 
The COVID-19 pandemic has meant that Mohamed's last semester has not included her favorite pastimes of sampling the best of D.C.'s restaurant scene, taking walks to the Georgetown waterfront or the monuments with friends or attending lectures from exciting guest speakers. 
However, Mohamed has been finding sources of comfort as she adjusts to the new reality of life during a pandemic. 
"For me, personally, I feel hopeful about the support I've received from family and friends," she says. "I've been using a lot of FaceTime and calling people to check in to see how they're doing. I live near D.C., so I hope that after this settles down I'll be able to reconnect with friends in person again."
"I am also graduating in Ramadan, which has been important in sustaining faith and optimism even as the situation seems to worsen," she adds.
After graduation, Mohamed will intern with the Inspection Panel of the World Bank, an accountability office that assesses the Bank's compliance with its own policies and mission to provide social and environmental benefits to communities internationally.
In the longer-term, she hopes to remain in D.C. to work on migration advocacy or urban development. A 2019 Harry S. Truman Scholar, Mohamed will attend graduate school, where she will study the intersection of international affairs and urban planning, before embarking on a career in public service.
As she reflects on her own future, Mohamed has also been considering how society, at both the domestic and international level, might be changed by COVID-19.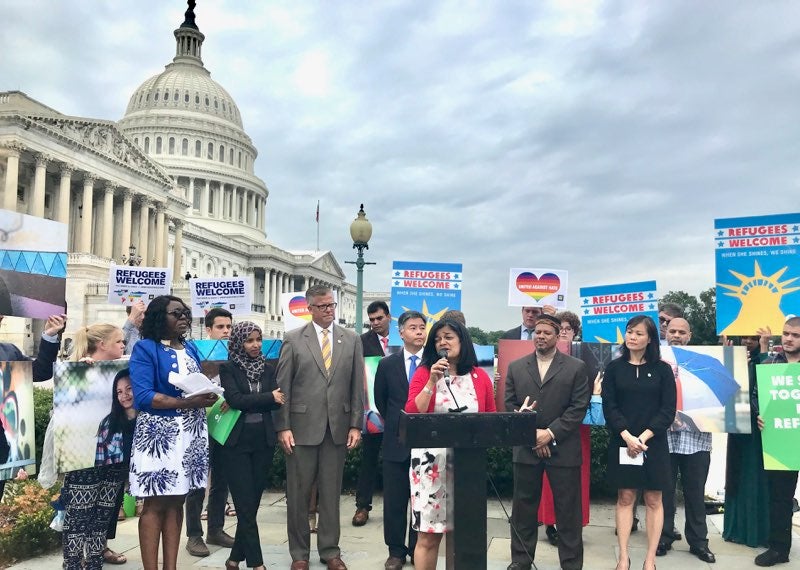 "Domestically, this pandemic has definitely exposed the weakness of the American social safety net," she says. "Although issues of health, income, education and racial inequality have always existed, it feels as though we're witnessing the effects of these inequities all at once."
"I hope that I will look back at this time as an inflection point in domestic and international politics, when we recognized weaknesses in international leadership and social inequalities and resisted enough to make a lasting change," she continues.
As she prepares to graduate and devote her skills and talents to refugee and urban policy, Mohamed is thinking about how she can help to build a more just and equitable world post-COVID.
"The pandemic has clearly shown the value of international cooperation in addressing issues of global health, which I think should extend to other global challenges including climate change and income inequality," she says. 
"For me, I hope I look back on this as a time when I reflected on many of the aspects of my daily life that I took for granted and how quickly so many of my plans and aspirations for the future shifted as a result."