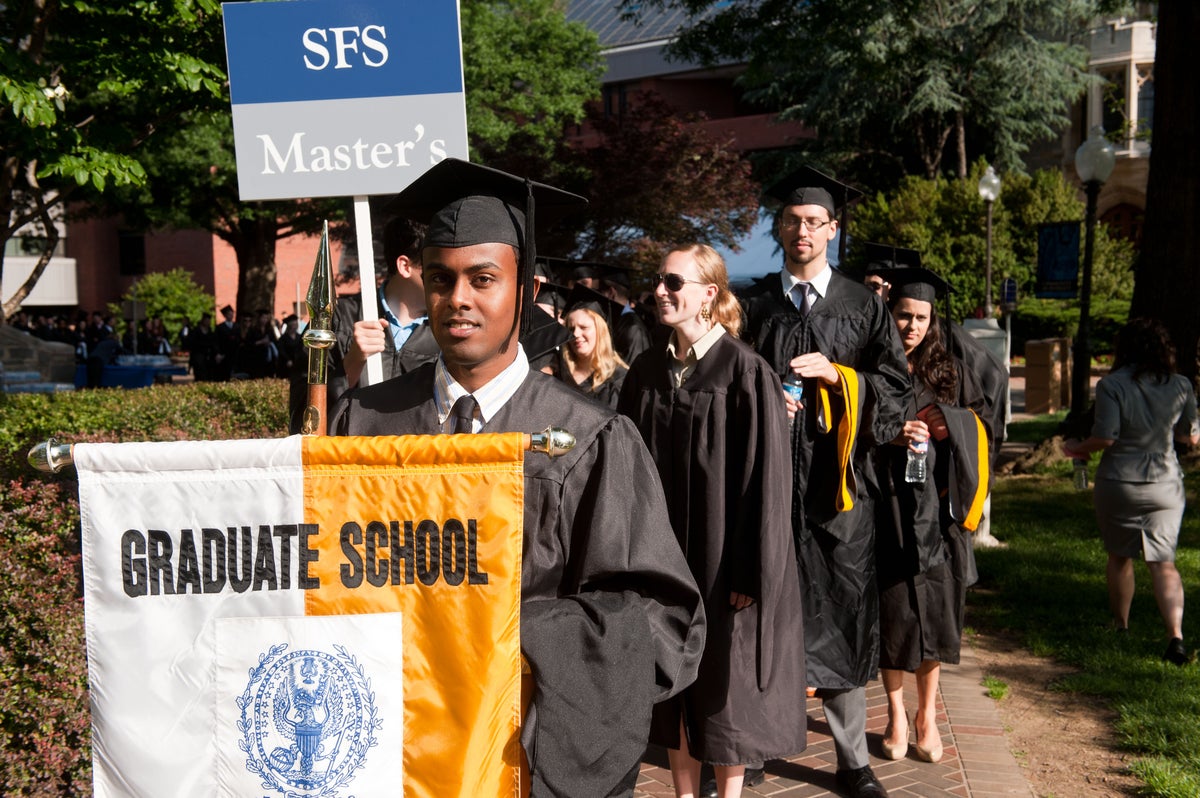 GSFS Orientation 2021 Anchor
GSFS Orientation 2021
Below you will find the various orientations and welcome events for Graduate School of Foreign Service (GSFS) students. All times are shown Washington, DC local (Eastern Daylight) time. Remember that the events on this page are in addition to any orientation activities your individual program is hosting. Reach out to your program for details on those events.
GSFS Orientation: Wednesday, August 18
Join us for a GSFS-wide on-campus orientation on Wednesday, August 18, from 11:30 AM to 6:30 PM. This event will offer an introduction to the GSFS community, provide you with critical resources, and give you a chance to meet your peers beyond your own program. The first portion of this event is mandatory for all GSFS students, with optional sessions later in the afternoon. International students who are unable to attend in person will have a virtual option for participation.
Please RSVP for orientation here (GU login required) no later than Thursday, August 12. Indicate any requests for accommodations due to a disability or medical condition in the RSVP form or by emailing the SFS Interim Director of Events, Jordan Moeny, at jrm296@georgetown.edu.
Below is the schedule for the day:
11:30 – 1:00
Lunch and registration (boxed lunch provided)
1:00 – 3:00
Welcome from Dean Joel Hellman, Vice Dean Victor Cha, Fr. Matthew Carnes, and GCC Director Rebecca Bonco
SFS Diversity, Equity, and Inclusion Session
3:20 – 4:40
Resource and Certificate Fair (Optional)
4:40 – 6:30
GSFS Reception (Optional)
Resource and Certificate Fair
The Resource and Certificate Fair will give you the opportunity to ask learn more about the following programs and departments:
SFS Graduate Career Center
University Information Services
Academic Resource Center
Counseling and Psychiatric Services (CAPS)
Health Education Services
Office of Institutional Diversity, Equity, and Affirmative Action (IDEAA)
Certificate in Diplomatic Studies
Honors Certificate in International Business Diplomacy
Certificate in Global Human Development
Certificate in Social Innovation and Global Development
Certificate in Refugees and Humanitarian Emergencies
Certificate in Gender, Peace & Security
Certificate in African Studies
Certificate in Arab Studies
Certificate in Asian Studies
Certificate in Eurasian, Russian, and Eastern European Studies
Certificate in Latin American Studies
About GSFS Certificates
The School of Foreign Service offers a variety of graduate certificates that allow students to focus on a particular region or topic throughout their studies. These certificates are offered by departments and centers across SFS and have applications or interest forms for students to complete. The certificates have their own course requirements, which must be completed in conjunction with, not in addition to, your program's degree requirements. (Put otherwise, certificates determine which electives you choose but do not allow you to take additional courses.) Students work with the academic advising staff in both their degree program and the department offering the certificate to map out their course plans. This approach helps students understand how to accommodate the requirements of a certificate program within their GSFS degree.
As noted above, you will have the opportunity to meet academic staff from each of the graduate certificates offered at SFS. Before going to the information sessions, we encourage you to review the certificate options and learn more about each certificate on that department's website.
GSFS Student Mixers
In addition to the formal orientation activities that will prepare you to succeed academically, we are offering the opportunity for you to socialize with students across all eight graduate programs who share your interests. We invite you to participate in one or more of the mixers below.
These mixers will not have formal presentations and are intended for you to chat informally and make connections across SFS. Participation is completely optional, and you can join as many or as few as you'd like.
Please RSVP for mixers by August 15 unless noted otherwise. Some RSVP forms will ask you to indicate your preference for a virtual or in-person mixer, as well as your preferred time/date. The host will follow up with all registered attendees to confirm the time and location.
For accommodation requests for mixers due to a disability or medical condition, contact the SFS Interim Director of Events, Jordan Moeny, at jrm296@georgetown.edu no later than two business days in advance. For all other questions about these mixers, contact Robert Lyons at robert.lyons@georgetown.edu.
GSFS International Student Orientation
We invite all international students to join us for the GSFS International Student Orientation the afternoon of Tuesday, August 24. This orientation will provide more context about academic and professional norms in the U.S. and is separate from the International Student Orientation that the Office of Global Services (OGS) will run, which covers nuts-and-bolts information about the immigration process. Please take a moment to fill out the registration form for the GSFS International Student Orientation by Friday, August 13. In the coming weeks we will be sharing a schedule for that afternoon, as well as additional information.
Non-SFS Events
The below events are not hosted by SFS, but are open to GSFS students and are helpful to keep in mind.
International Student Orientation
The Office of Global Services (OGS) requires all incoming international graduate students to attend an orientation and complete orientation modules on Canvas. OGS orientation will be virtual for Fall 2021 and will take place on Monday, August 16 at 9 AM ET. For more information, visit the OGS website.
Graduate School of Arts and Sciences Induction
The Graduate School of Arts and Sciences provides an introduction to numerous Georgetown resources available to graduate students. This event will take place virtually on Tuesday, August 24, 9:00 – 1:05 PM ET. See the Grad School website for more information about induction.
Back to Top