Global Experiences
From activities and certificates through one of SFS's world-class regional centers and programs, to study abroad, international summer internships and research, Centennial Lab classes; or spring break opportunities, more than 70% of SFS students spend time abroad during their undergraduate experience.
Whether you want to earn credit or participate on trips and volunteer opportunities, students have a large number of options to choose from.
SFS students often spend their summers exploring independent research, internships, or volunteer experiences. Whether you are looking for immersion programs to study in the local language or you would like something dynamic, short-term, and in English, take the time to explore the opportunities that are right for you.
Andrea Nucete Alvarado (SFS'24), an international student from Venezuela, has studied all around the world during her time here at Georgetown. Along with being a research assistant at the McCourt School's Center for Retirement Initiatives, by her graduation, Nucete Alvarado will have spent time in Egypt, France, Tanzania, and Zambia. Her trip to Egypt was part of an SFS Centennial Lab on Cultural Heritage in the Arab World.
"This is one of those classes that allow you to bring your own background and perspectives and learn about the topics that interest you the most. Our trip to Cairo was an amazing experience –it was truly a privilege to learn about and witness Egypt's thousands of years of history," Nucete Alvarado says. "The trip was a perfect blend of activities that exposed us to the full history of Cairo and showed us the different sides of the city."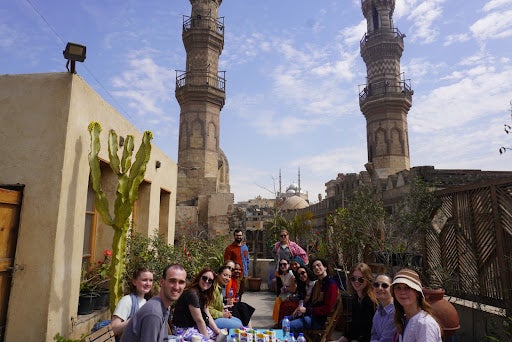 As the 2019 recipient of the Circumnavigator Grant awarded annually to an SFS junior by the Circumnavigator's Foundation and the SFS, Fiona Singer (SFS'20) traveled across four continents conducting interviews with academics, journalists and other experts in an effort to understand data privacy on a global level.
Singer wanted to find "dynamic civil society organizations who work on issues on privacy and big data" and found a range of concerns, from big tech companies to personal monitoring, in the UK, Belgium, Israel, South Africa, Cambodia and Argentina.