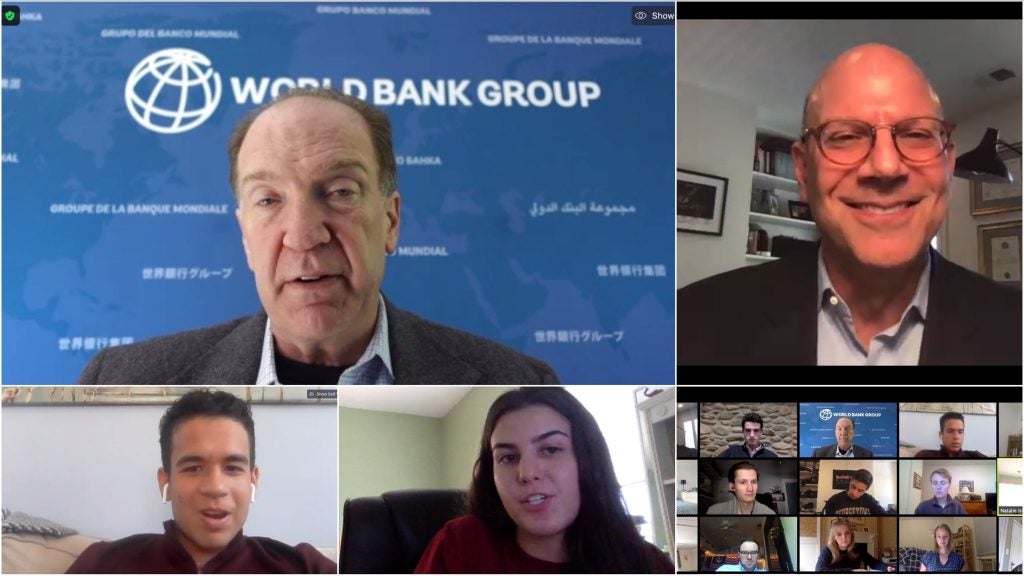 Economic analysis is essential to understanding modern global affairs. In the International Economics (IECO) major, students investigate how economic decision-making produces social change across the world.
IECO majors study the behavior of social systems and actors — from markets, corporations and unions to international institutions, government actors and even families — through unified frameworks that combine quantitative techniques with qualitative analysis.
This approach can be applied to international affairs in numerous ways, providing valuable insights in topics such as trade policy, international economic organizations, economic growth and development, international financial markets, financial crises and international migration. Students who select the IECO major will:
Learn about the central tenets of microeconomic and macroeconomic theory
Engage with statistical analysis and its international applications
Investigate fundamentals of international trade and finance
Pursue original projects with a focus on elements of compelling research and writing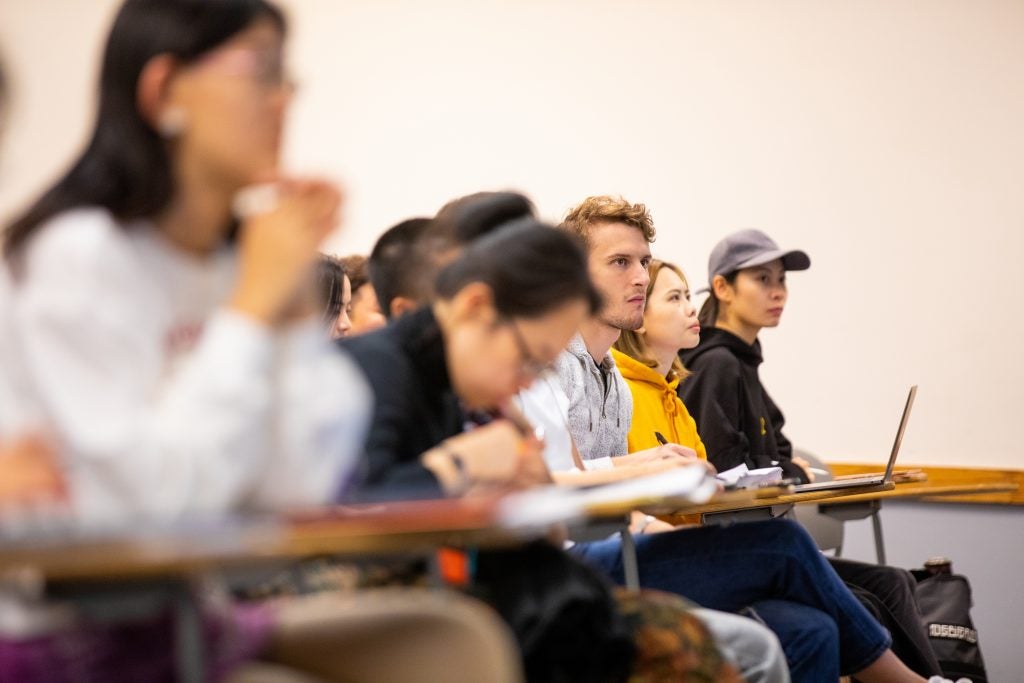 Deep Dive into Economics
Economic theory courses provide students with the quantitative skills necessary to conduct economic and statistical analysis. These classes provide a strong foundation for students who want to pursue careers in areas such as international development, applied econometrics and international trade by providing a foundation for higher-level coursework in these subject areas. The courses are also valued by students considering potential graduate study in economics.
International finance and commerce courses prepare students for successful careers in business, finance and consulting. These courses also pair well with those offered by the Landegger Program in International Business Diplomacy, an honors certificate program that prepares students for business careers in the international arena.
For students interested in development work, courses in economic growth, transition and development provide a solid foundation for a career working in development or in transitioning economies around the world.
Lastly, students in the major can pursue higher-level courses in mathematics to ensure that they have a strong foundation in quantitative skills.
Sharpen Research and Writing Skills
At SFS, all students gain a thorough grounding in written and verbal communication skills, enabling graduates to explain their ideas and work to diverse global audiences. IECO majors will also add a number of mathematical and statistical tools to their analytical repertoire. Building on the base of the SFS core curriculum, upper-level IECO classes enable students to become adept at working with a range of sources to understand the economic factors driving the modern world.
Senior Thesis
In IECO, students embark on a number of independent research projects, culminating in the opportunity to write a senior thesis. Working alongside an expert faculty advisor, IECO majors identify a research question, gather data and sources, analyze results and communicate their findings in a robust piece of original work which they will then present to faculty and peers. Many IECO students have published or presented their thesis research in various academic and industry forums.
Student Spotlight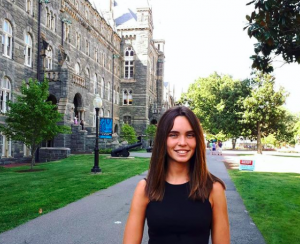 "I decided to make a bold move and apply for a transfer to Georgetown into its renowned International Economics program…I could not have been happier to receive my acceptance."
After her first undergraduate year at another university, Molly Daly (SFS'21) decided to research top-tier programs that would enable her to pursue a newfound passion for international economics. When she came across the IECO major at SFS, she knew it was the perfect fit. When she arrived on campus in her sophomore year, the international student immersed herself in a variety of opportunities to gain experience in her field, including joining student clubs such as the Georgetown Global Consulting Club, Georgetown European Club and the student-run emerging market investment fund ZEEBA.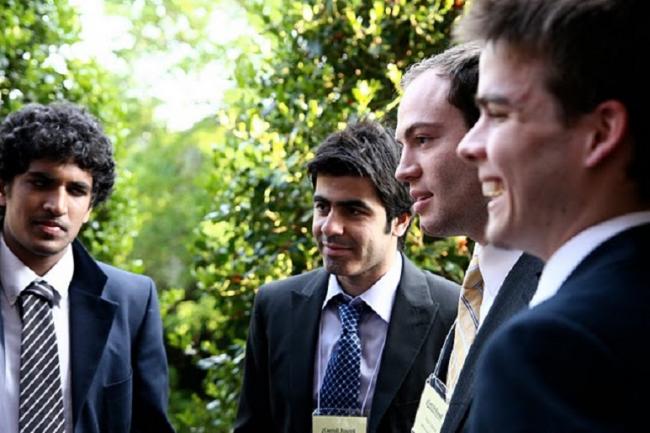 Study in the Heart of Washington, DC
Our location in Washington, DC gives students a front-row seat to the latest events in domestic and international affairs. IECO students can engage with national and international financial institutions in both the public and private sectors. They have the opportunity to work and engage with multinational corporations and regulatory agencies based in the nation's capital. IECO students also have lots of opportunities to relax in Washington, DC, whether it's by indulging a unique passion for currency through a tour at the U.S. Mint or catching a concert with friends at the Kennedy Center.
Learn more about student life in DC.
International Opportunities
Through SFS and Georgetown's extensive study abroad and internship options, IECO students can observe international economic dynamics in action by immersing themselves in the environment of a particular country or organization. In the past five years, IECO majors have studied abroad at the London School of Economics and the University of Oxford in the UK, Sciences-Po in Paris and numerous other locations in Europe, Asia and Latin America.
Learn more about international opportunities at SFS.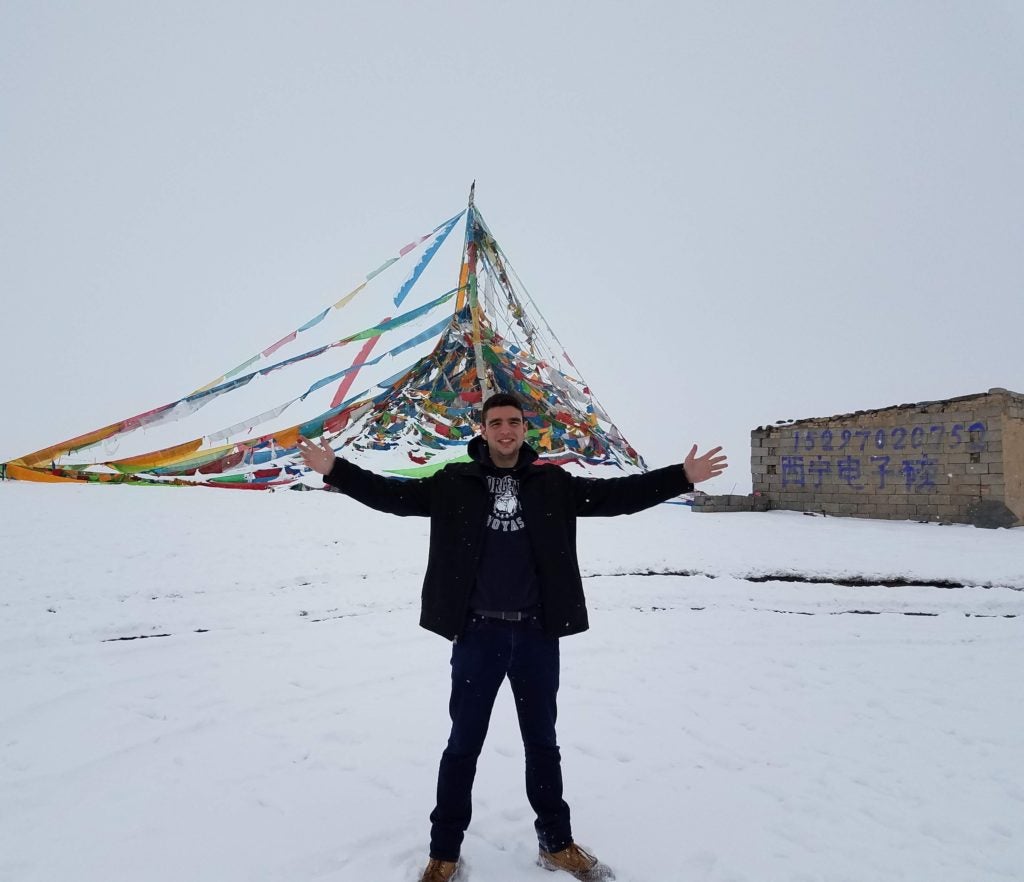 Global Experience Spotlight
John Rindone (SFS'20) spent the spring of his junior year studying in Hangzhou, China. Through the program, the IECO major honed his Chinese language skills and explored Chinese perspectives on Sino-American trade disputes, research that became the basis for his senior thesis. After graduating from SFS, Rindone traveled to Beijing to pursue a Master's degree at Tsinghua University as a Schwarzman Scholar.
Diversity, Equity and Inclusion
At the very core of every major is a commitment to recognizing and celebrating cultural diversity and fostering an inclusive environment for all students. SFS is dedicated to welcoming students from all backgrounds to our community and the SFS Diversity, Equity and Inclusion (DEI) Office leads school-wide efforts to enhance DEI in the SFS curriculum, faculty and recruitment of students and staff.
No matter their background or interests, students are sure to find like-minded and supportive peers here on the Hilltop. Whether through campus ministry, student groups or engaging with neighbors in DC, you can find your community at Georgetown.
Find out more about DEI at SFS.
Student Spotlight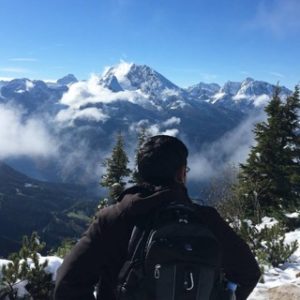 IECO major Aditya Pande (SFS'18) drew on his close relationship with his International Finance professor Dr. Fuad Hasanov to develop and publish his own research project with the IMF. Pande conducted research on the future of electric vehicles alongside Hasanov and his IMF colleague, Dr. Reda Cherif. Their findings — including that, by 2040, 40 – 90% of cars in developing countries could be electric — gained widespread attention, receiving coverage from the Financial Times and National Geographic.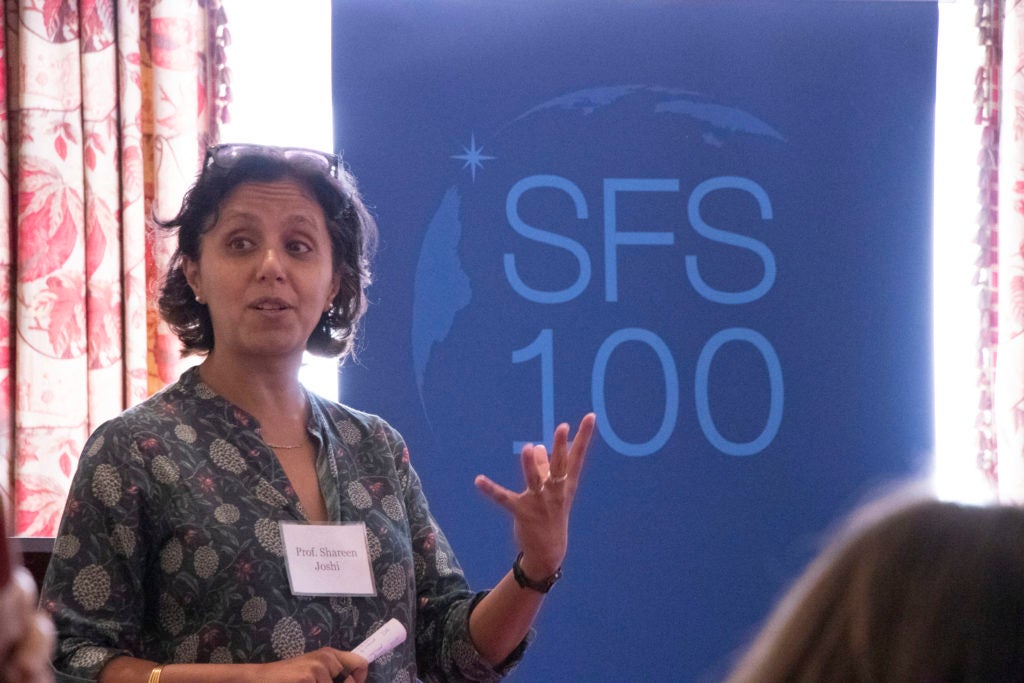 "IECO students amplify with their enthusiasm every new course I teach. With their spirit of inquiry, they always end up teaching me something in return."

Dr. Lidia Ceriani, IECO Faculty Member
IECO Faculty
IECO Curricular Dean
Recent Faculty Publications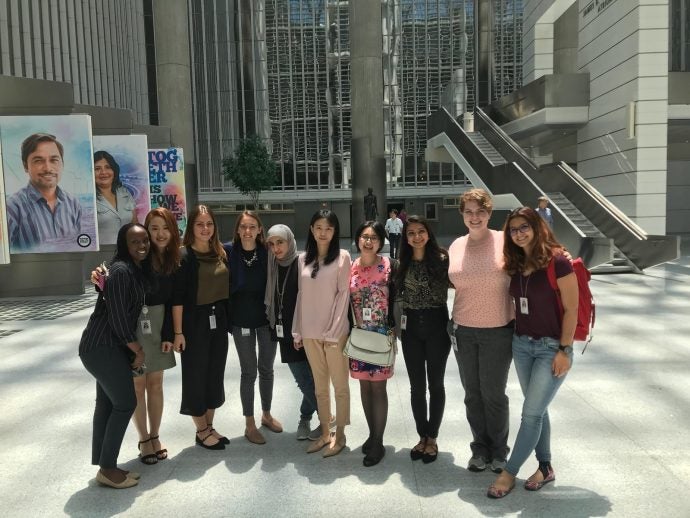 Building a Career at Georgetown
With DC on your doorstep, students can pursue career opportunities that can take them all over the world. IECO students take advantage of the many internship opportunities here in the capital to begin building real-world work experience even before they graduate.
At Georgetown, students connect with the Cawley Career Education Center, where they can meet with professional advisors who can help with everything from developing a perfect resume to nailing job interviews and exploring how to break into a new industry or field. And the Hoya network students build throughout their time at Georgetown can help unlock new opportunities throughout their careers.
IECO Alumni Spotlight
"SFS gave me a strong moral and ethical foundation."
IECO major and technology CEO and investor Bud Colligan (SFS'76) arrived at Georgetown never having visited the Hilltop. "I flew to Washington, DC, based on [Georgetown's] reputation and based on the kinds of things I wanted to learn," he says. As a student, he gained vital business and finance experience, founding the famous campus grocery store Vital Vittels and taking a finance class that continues to inform his work to this day.