After her first year of undergraduate study, Molly Daly (SFS'21) took a risk. "I decided to make a bold move and apply for a transfer to Georgetown into its renowned International Economics program, which fulfilled all of my academic and pre-professional aspirations," she explains.
Three years later, Daly is graduating with an in-depth understanding of quantitative techniques and economic analysis that she is eager to apply as an incoming analyst for an international law firm focused on cross-border disputes. 
Though her senior year is not ending quite as expected due to the COVID-19 pandemic, Daly is confident that the resilience, optimism and openness to new experiences she learned at SFS will serve her well as she begins a new chapter.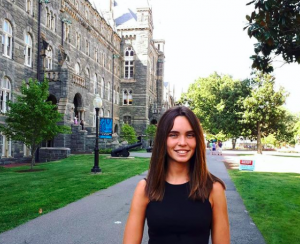 At a Glance
Hometown: Barcelona, Spain
Major: International Economics
Language: Spanish
Experience Abroad: Spring 2020 in Sussex, England (cut short by the COVID-19 pandemic) 
On-Campus Activities: Embassy Director and Vice President of the Georgetown European Club; Project Consultant with the Georgetown Global Consulting Group; Analyst with student-run emerging market investment fund, ZEEBA; Teaching Assistant for International Economics; GU Eating Society
Non-GU Activities: Internship with a Barcelona-based mergers and acquisitions investment bank in Summer 2019; business development internship with a Barcelona-based startup in summer 2020; researcher and writer for PolisAnalysis