When John Rindone (SFS'20) graduates this Commencement weekend, he will not only mark the end of his undergraduate degree but also reflect upon the community he has built over his four years at Georgetown.
The relationships the native Brooklynite and International Economics major has forged through his academic, social and faith activities on campus stand out as the defining feature of his Georgetown experience.
Rindone knows that these relationships will remain invaluable as he embarks on the next chapter in his life. As he prepares to travel to Beijing to pursue a Master's degree at Tsinghua University as a Schwarzman Scholar, Rindone feels grateful that he can continue to rely on his Georgetown friends and mentors for guidance and support.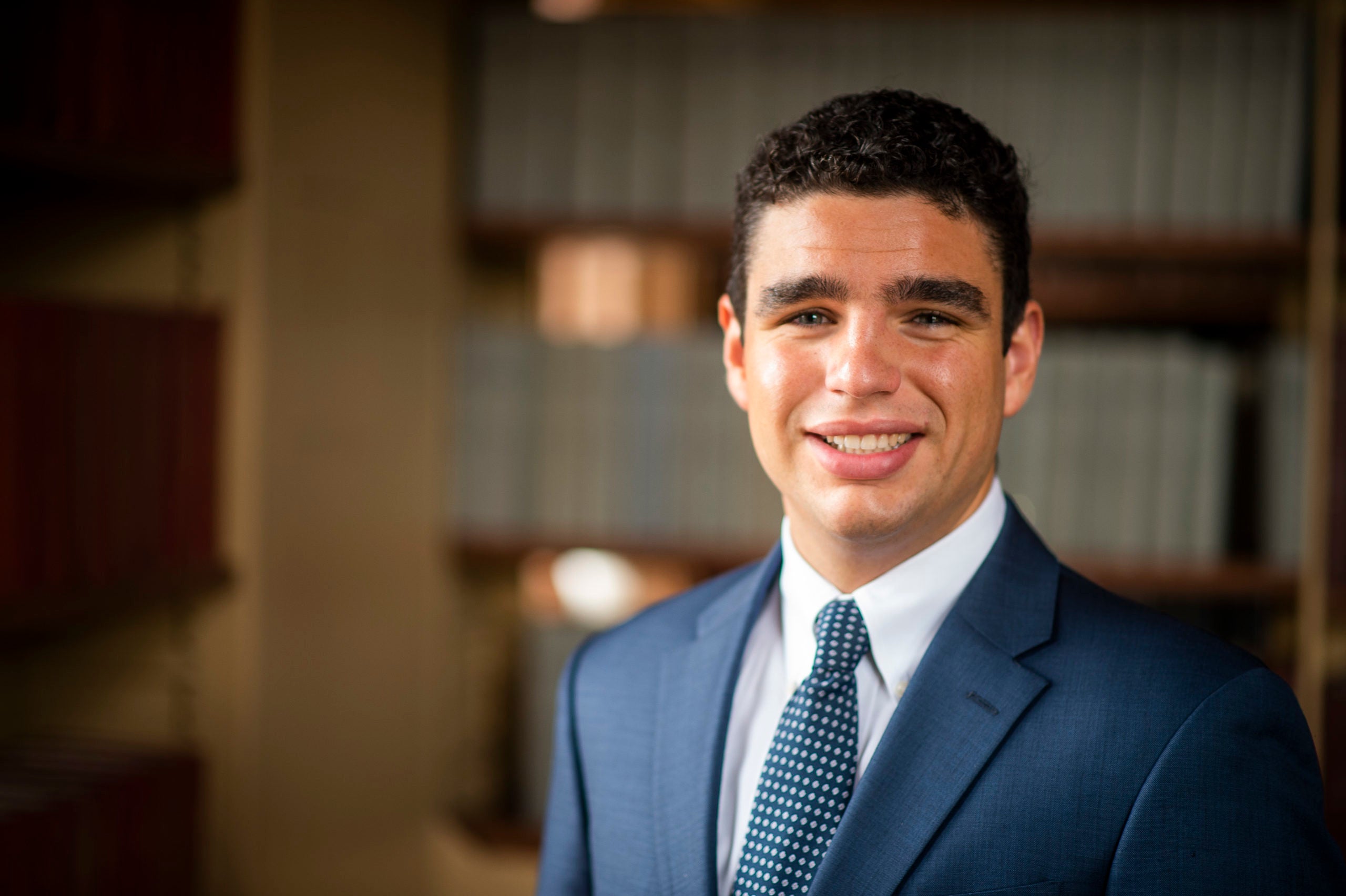 At a Glance
Hometown: Brooklyn, New York
Major: International Economics
Minor: Chinese
Proseminar: The Rise of the United States as a Pacific Power
Language: Chinese
On-campus activities: Carroll Fellows Initiative; Georgetown Initiative for U.S.-China Dialogue on Global Issues; SFS Junior Centennial Fellowship; Georgetown University Student Investment Fund; Georgetown Student Tenant Association; Georgetown University Knights of Columbus
Off-campus internships: Navigant Consulting; Energy Capital Partners; D.E. Shaw Nexus Fellowship; The Language Academy at Wagner College
Finding A Community
When Rindone was applying for colleges, SFS and Georgetown struck him as an obvious choice. 
"Georgetown features rigorous courses, engaging events and organizations and a rich global presence on nearly every topic of interest," he says. "Those expansive resources made my undergraduate journey feel unlimited."
Once he arrived on the Hilltop, he found a campus and neighborhood community that not only enabled him to explore his academic interests, but also embody the values and faith that comprise an important part of his identity. 
"I'll miss my free-flowing conversations with friends and mentors, in addition to SFS's principled commitment to carrying forward the mission of its founding," he says. "And I'll always cherish the fun interactions I had with university staff."
Off campus, Rindone became a parishioner at Holy Trinity Catholic Church, a Jesuit-run church located right on his doorstep in the Georgetown neighborhood.
"I didn't have to go far. I loved attending mass at Holy Trinity every Sunday, right on 36th Street," he says. "Being able to step out of my immediate university context by finding fellowship with the parish community at Holy Trinity really made me feel like a resident of the neighborhood."
Rindone also sought out extracurricular opportunities on campus that allowed him to explore his passions further.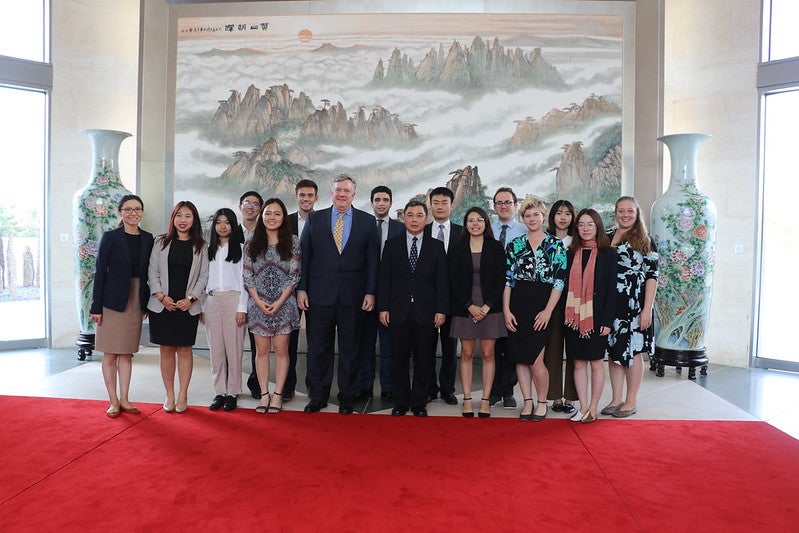 He joined the Georgetown Initiative for U.S.-China Dialogue on Global Issues, where he engaged in conversation with U.S. and Chinese scholars and leaders on issues affecting relations between the two countries.
In addition, he served as an SFS Junior Centennial Fellow, working with Bill Priestap, to research foreign intelligence operations that target the U.S.
Rindone also developed his capital investment skills at the Georgetown University Student Investment Fund, a student-led investment group that manages $700,000 for the university's Endowment and Alumni Association. 
And he became vice president of the Georgetown Student Tenant Association, an organization that protects the rights of student tenants living off campus through education, lease review and direct advocacy. 
Interdisciplinary Opportunities at Georgetown and Beyond
A keen scholar of China, Rindone paired his interest in international trade with opportunities to refine his Mandarin language skills and cultivate his understanding of the country. 
In the spring 2019 term, Rindone studied abroad in Hangzhou, China at the Zhejiang University of Technology, through Middlebury College.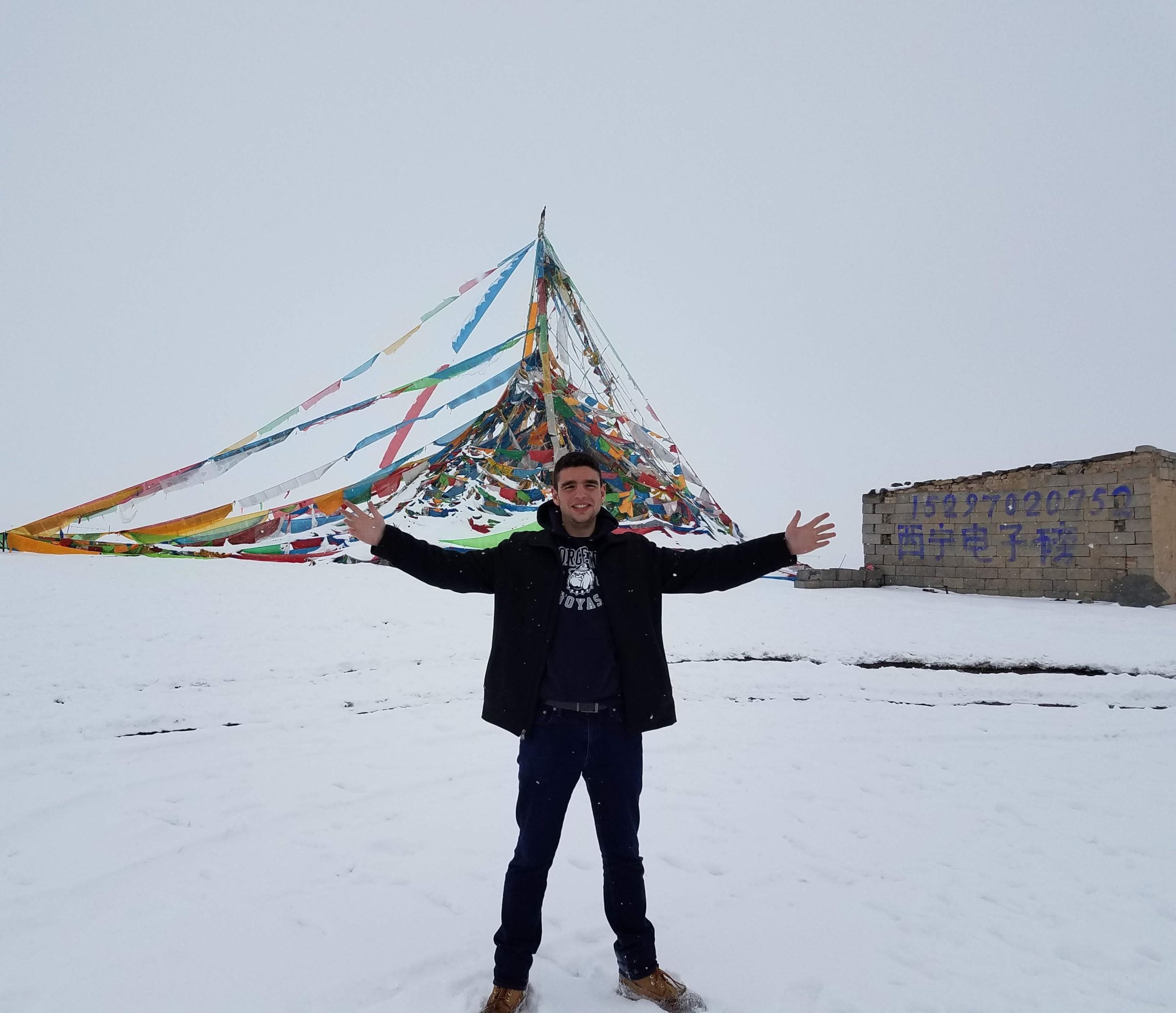 Rindone says he chose the Hangzhou program for its rich selection of courses, all taught in Chinese. "I loved traveling around mainland China, but I'm most proud of my tutorial-style course of study undertaken in Hangzhou," he says. "Through it, I focused on the Chinese perspective of the Sino-American 'trade war' and even completed a Chinese-language thesis on the topic."
Rindone continued to explore the U.S.-China trade dispute when he wrote a comprehensive undergraduate thesis for his International Economics major this spring. 
Rindone took advantage of SFS' Centennial Labs program, which offers experiential, hands-on-courses that allow students to develop solutions to real-world problems or issues.
Through the 2018 Krogh Honors Seminar, Rindone conducted quantitative research on Chinese soft power for the U.S. State Department. Then, this past fall, he provided WTO litigation support to the Office of the U.S. Trade Representative in the WTO Dispute Settlement Lab.
"Participating in two centennial labs partnered with the federal government gave me independent experience," he says, "while contributing to different centers and initiatives within SFS allowed me to hone my perspective and voice."
While at Georgetown, Rindone benefitted from the mentorship and guidance of numerous faculty members. He mentions Dr. Marc Busch, Dr. Howard Spendelow, Fr. Stephen Fields, S.J., Dr. Rodney Ludema and Dean Polly Robey, specifically, as being instrumental in his success. 
"In a special way, I'd like to thank Dr. John Glavin for his mentorship over my four years at Georgetown," he adds.
"I really enjoyed learning from the perspective and mentorship which faculty offered to us students," he goes on. "I imagine that few schools can match Georgetown's degree of timely and relevant experience offered by the faculty, especially in the social sciences."
Rindone especially appreciates that SFS enabled him to pursue an interdisciplinary focus every step of the way. "Facing graduation, I feel just as well-positioned to lean in any of these directions as I am excited to continue exploring their confluence," he concludes. 
Taking on the World, Post-COVID-19
Rindone will soon embark on the next stage of his academic journey at Tsinghua University, where he will study for a Masters in Global Affairs as a 2020-2021 Schwarzman Scholar. 
The recently established Schwarzman Scholars Program is a prestigious international fellowship program that offers funding for talented students to pursue a one-year Master's program at Tsinghua, one of China's top universities. The program aims to provide future leaders with a deeper understanding of China's role in the global trends shaping the 21st century.
"I'm especially excited to meet and learn from my fellow cohort," Rindone says. "My classmates will come from 41 separate countries and 108 different universities." 
As for how the field of international affairs might change in light of the coronavirus pandemic, which began in China, Rindone anticipates intensified debate on the relative merits of globalization.
"Still, I am hopeful that this moment of shared international experience will provide a basis for mutual understanding and common identity going forward," he says.
While the future possesses a great deal of uncertainty for many students graduating this year, Rindone still has plans for after he finishes graduate school.
"I'd like to pursue exciting opportunities in the private sector which deal with leading trends in international economics," he says. He hopes to later also explore public or government service. 
Reflecting on His Time on The Hilltop
As his Georgetown experience comes to a close, Rindone is using this opportunity to reflect on the things he is grateful for, big and small. He mentions the Friday basketball game he and friends enjoyed on a weekly basis at the Yates Field House over their four years together.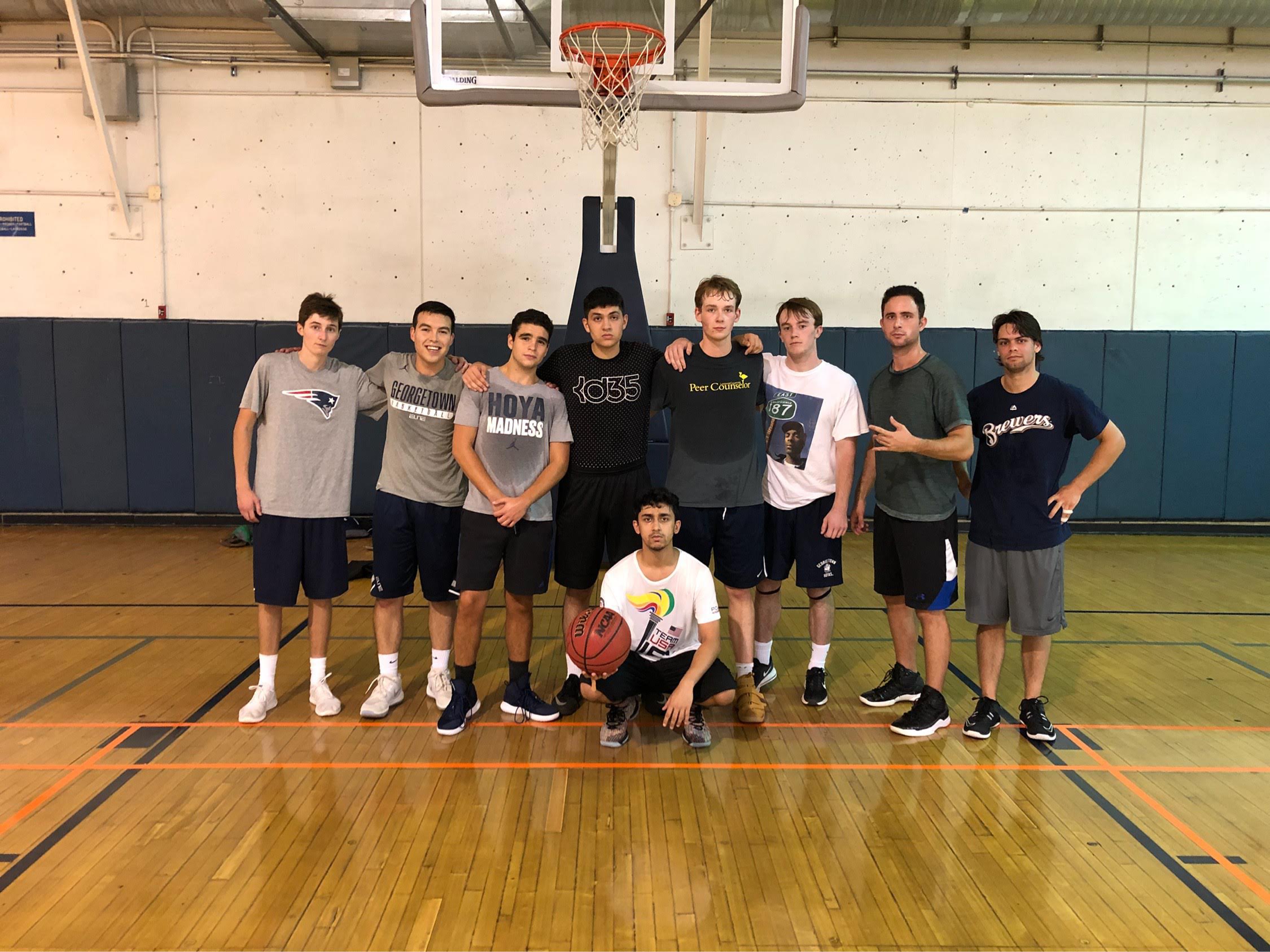 Despite the pandemic, he also feels fortunate to have maintained virtual connection with the Georgetown community this past semester.
"I think in the future I will view this as a time when life slowed down to show us the meaningfulness of the people, communities and passions which color our lives," he observes. "Ultimately, the coronavirus pandemic will always remind me to view the present with humility when thinking about the future."
As someone who maximized his college experience, if Rindone could give one piece of advice for students just starting their undergraduate studies, it would be this: "Take advantage of every opportunity to make memories, especially with friends. College is like a tapestry; never hesitate to weave another panel in."