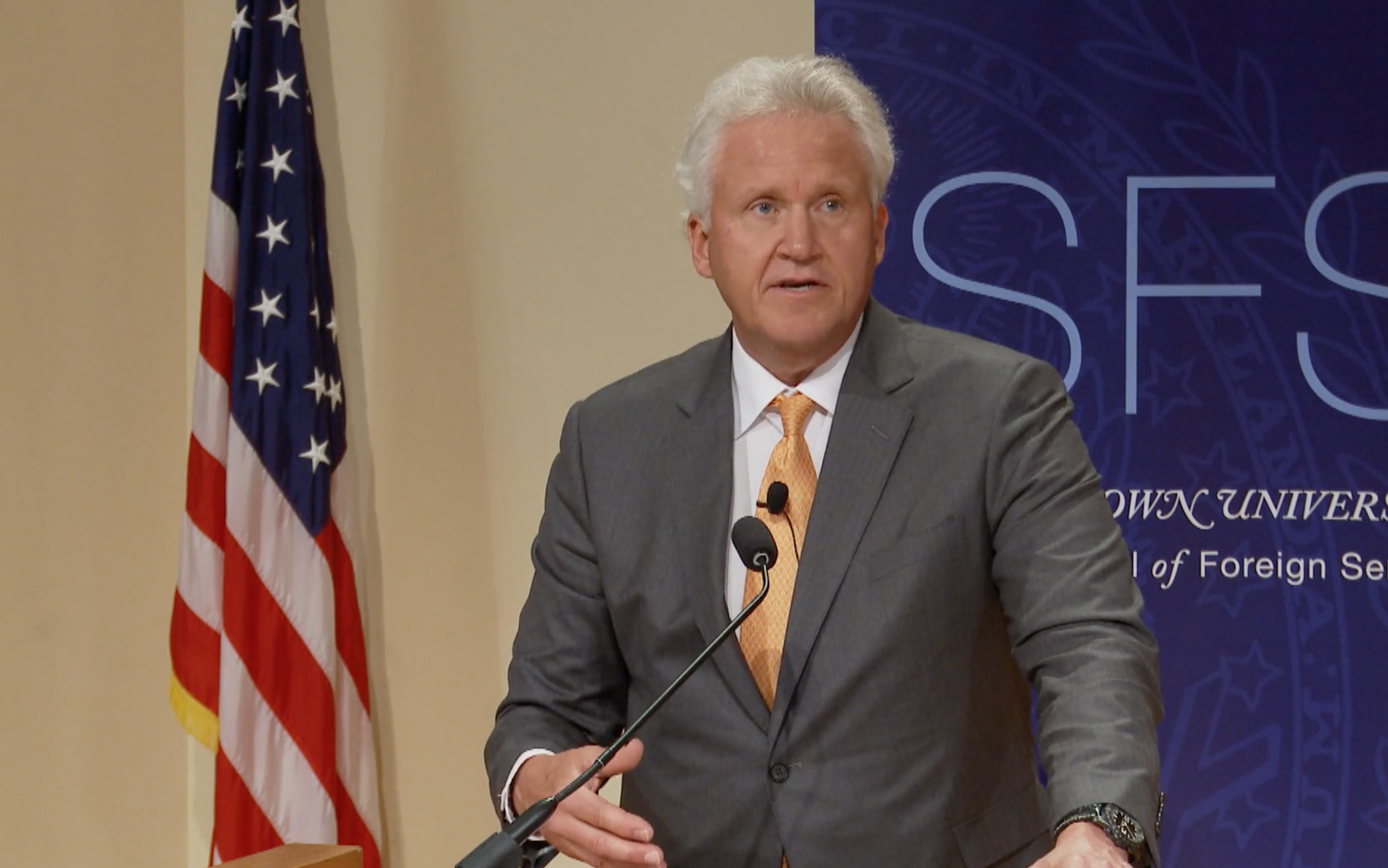 The Global Business (GBUS) major produces change-makers prepared for careers at the nexus of business, politics, economics and culture.
In today's globalized economy, the private sector plays a significant role in all aspects of international affairs through its exchanges with governmental and non-governmental actors. Through the GBUS major, students gain rigorous training in international strategy, corporate ethics and social responsibility essential to mediating these exchanges in productive and mutually beneficial ways.
Students are provided with unique resources to explore the intersection of the private sector with international affairs. GBUS majors complement their political and economic education with courses offered through the McDonough School of Business (MSB) to advance their research skills and cross-cultural proficiencies. This integrated learning experience equips students with the business methods and tools necessary to understand the multinational firm and its behavior in the context of global social, political and economic forces.
Students in the program will:
Integrate business disciplines with courses in the humanities and social sciences
Acquire analytical tools in accounting, finance, marketing and operations
Analyze the interactions of businesses and governments in public sector policy making
Explore strategic considerations such as corporate ethics, social responsibility and environmental impact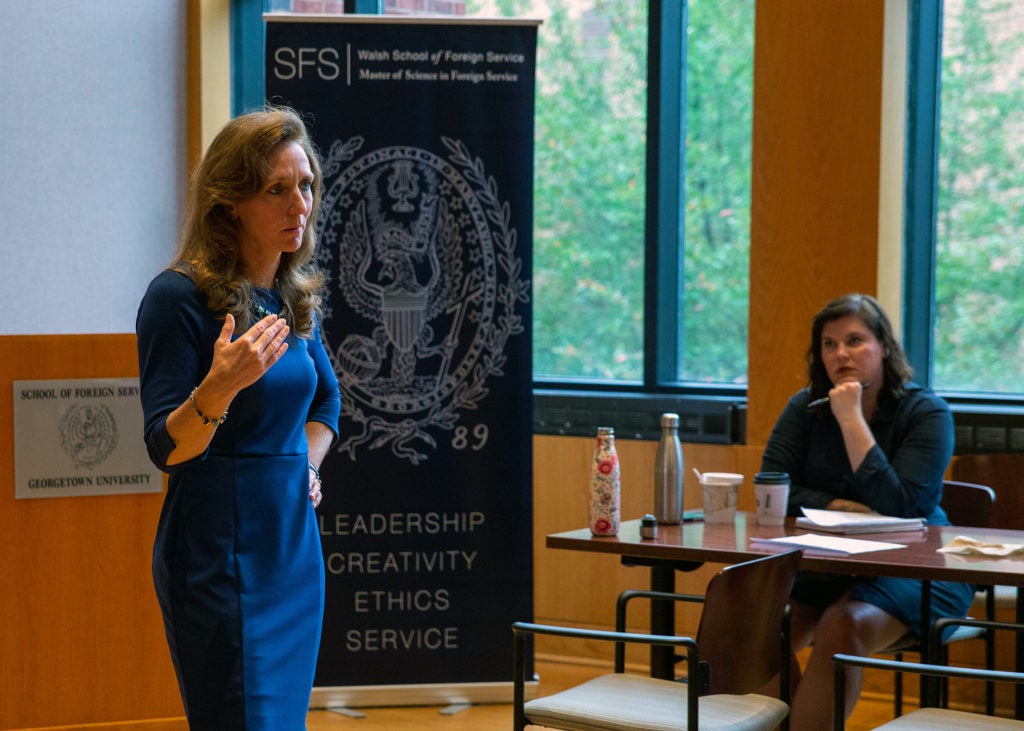 Professional Communication with GBUS
Students will not only gain academic and professional experience in the world of international business; they will also learn to communicate their knowledge to diverse global audiences. The GBUS curriculum supports students as they become adept in discussion and debate, oral presentation and advanced-level writing.
In upper-level courses, students strengthen their analytical writing skills through projects that range from one-page policy briefs and executive memos to long-form literature reviews and research papers. GBUS students will graduate with the ability to clearly and concisely communicate their ideas to a range of diverse, international audiences.
The GBUS Honors Thesis
Students in the Honors Program have the option to write a senior thesis, conduct extensive literature reviews and complete a formal research paper. Students work with a dedicated faculty member who advises them throughout the process to produce a robust piece of original research.
Academic Spotlight
"The GBUS major gave me the unique opportunity to combine my interests in international relations and business and explore the interconnection between the two."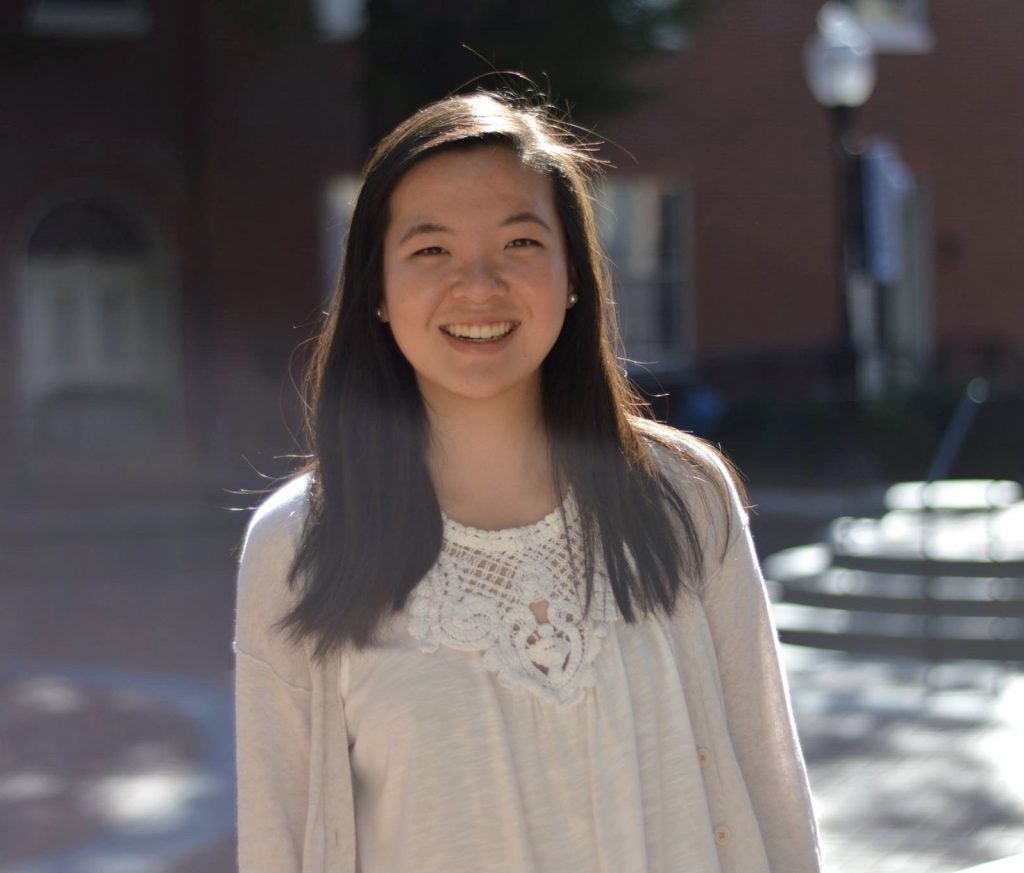 Nadine Lin (SFS'21) came to SFS for its international affairs-focused curriculum but wanted her studies to include perspectives on global business and finance, as well. "The GBUS major was the best major for me because it allowed me to become well versed in a variety of critical subjects like comparative politics, international relations, accounting, finance and economics," she says.
Combining her many academic passions, Lin wrote her senior thesis on the financial and political implications of sustainable investing in the U.S. and Chinese energy sectors. Ultimately, she credits SFS with giving her the analytical framework of quantitative and qualitative skills to pursue a future career as a research analyst in the private sector.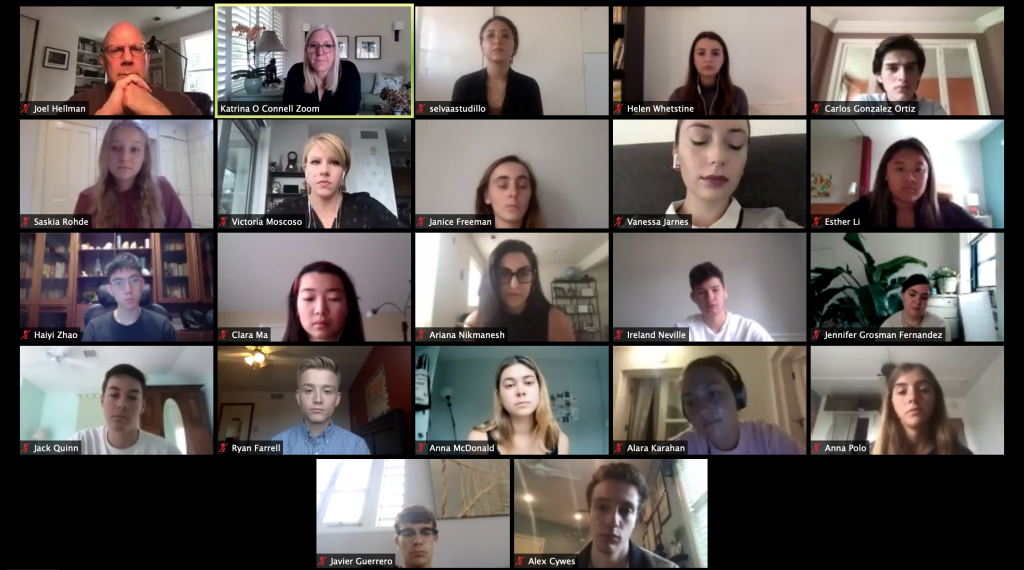 Study in the Heart of Washington, DC
As a hub of international business diplomacy, development and finance, Washington, DC, offers GBUS students one-of-a-kind opportunities to connect and intern with international financial institutions, multinational corporations, think tanks and regulatory agencies.
Learn more about student life in DC.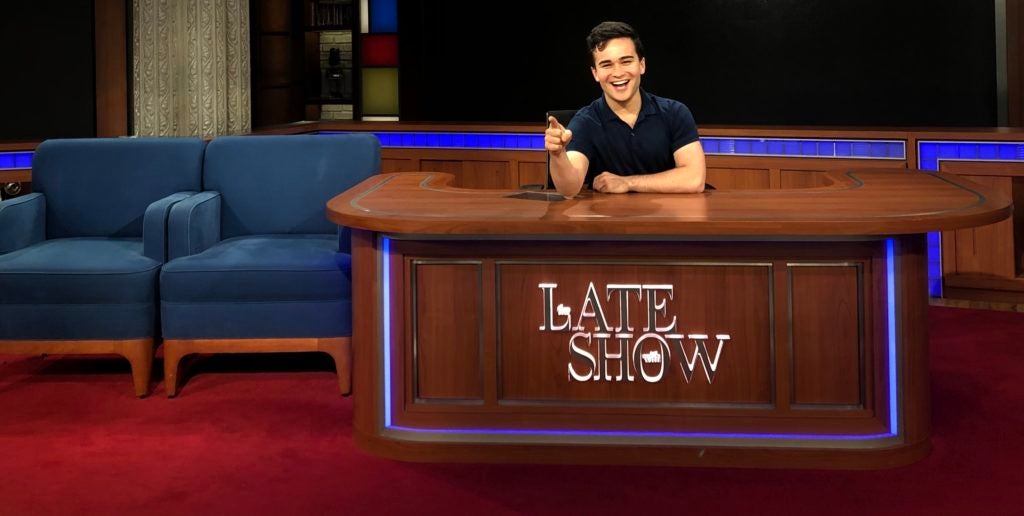 Internship Spotlight
GBUS major Justin Iorio (SFS'20) studied Swahili throughout his time at Georgetown and was able to hone his skills during a language immersion program in Arusha, Tanzania, which he attended with his twin brother, August (SFS'20). Iorio also found his dream internship during his time at Georgetown, gaining exposure to the television business as a production intern on The Late Show with Stephen Colbert!
International Opportunities
Through SFS and Georgetown's extensive study abroad and internship options, GBUS students can witness the international business strategies and development programs they have studied in their coursework. In the past five years, GBUS majors have studied abroad in Dar es Salaam, Tanzania; Moscow, Russia; Buenos Aires, Argentina; Beijing, China and numerous other locations in Africa, Asia, Europe and Latin America.
Learn more about international opportunities at SFS.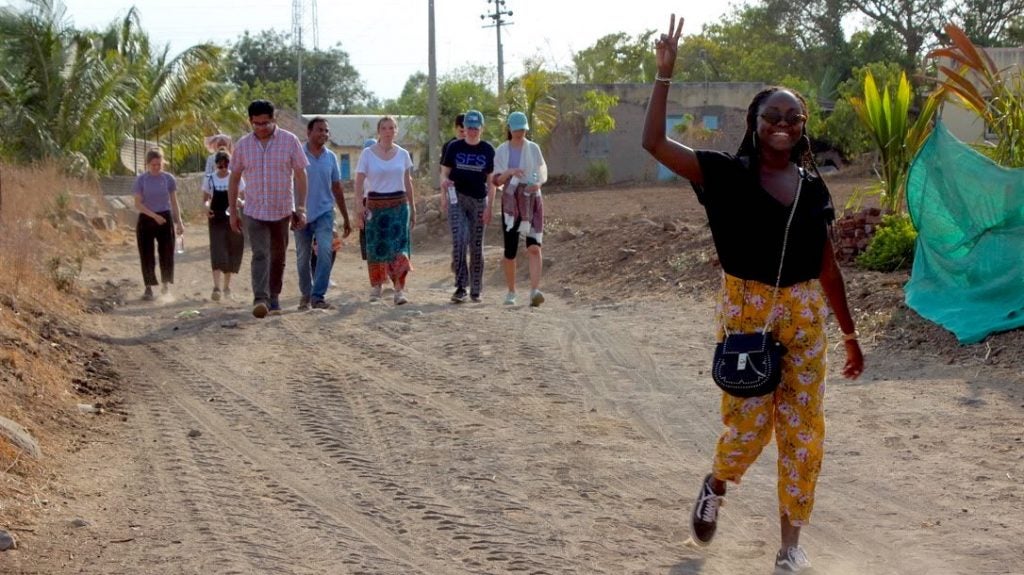 Global Experience Spotlight
"I was attracted by the interdisciplinary aspect of the GBUS major. It gave me the opportunity to cross over the two schools and to fully take advantage of my Georgetown experience."
Through the GBUS major, Alima Travaly (SFS'21) found the best of both worlds. As part of the major, she supplemented the many resources available to her as an SFS student with courses offered by the McDonough School of Business (MSB). This combination allowed Travaly to bring a unique perspective to her favorite Georgetown class, the India Innovation Studio. Presenting recommendations on canals and irrigation while abroad in Maharashtra allowed Travaly to communicate practical knowledge to a range of public and private stakeholders.
Diversity, Equity and Inclusion
At the very core of every major is a commitment to recognizing and celebrating cultural diversity and fostering an inclusive environment for all students. SFS is dedicated to welcoming students from all backgrounds to our community and the SFS Diversity, Equity and Inclusion (DEI) Office leads school-wide efforts to enhance DEI in the SFS curriculum, faculty and recruitment of students and staff.
No matter their background or interests, students are sure to find like-minded and supportive peers here on the Hilltop. Whether through campus ministry, student groups or engaging with neighbors in DC, you can find your community at Georgetown.
Find out more about DEI at SFS.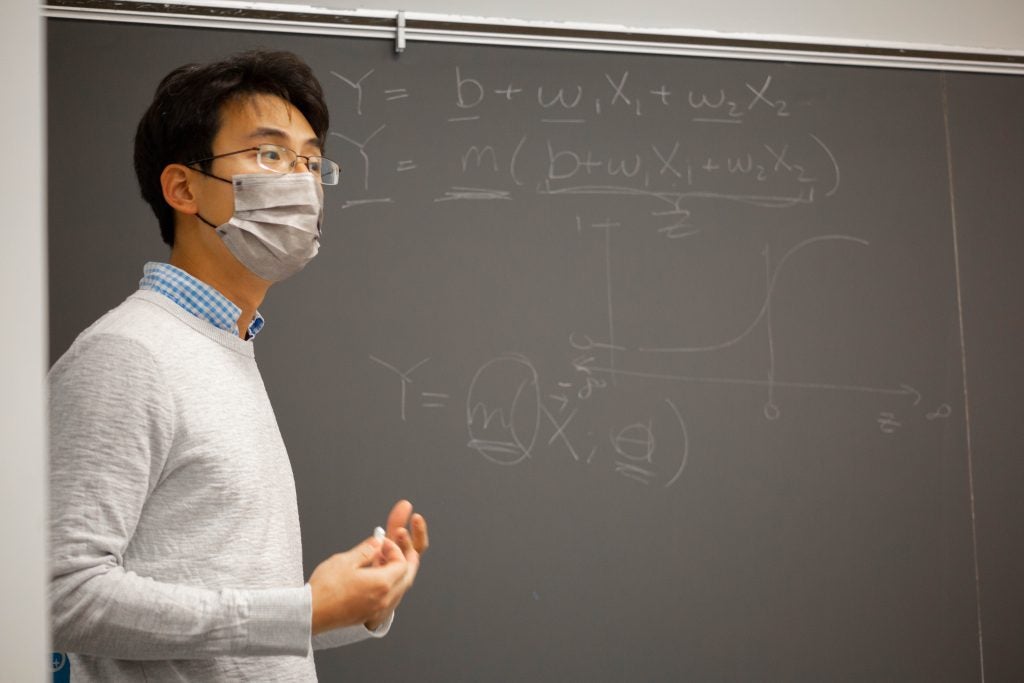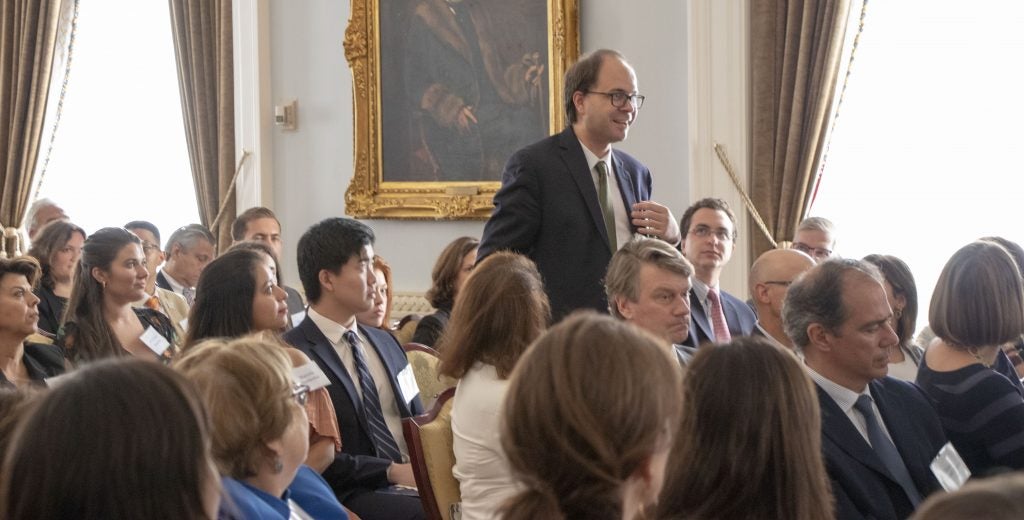 Building a Career at Georgetown
With DC on your doorstep, students can pursue career opportunities that can take them all over the world. GBUS students take advantage of the many internship opportunities here in the capital to begin building real-world work experience before they even graduate.
At Georgetown, students connect with the Cawley Career Education Center, where they can meet with professional advisors who can help with everything from developing a perfect resume to nailing job interviews and exploring how to break into a new industry or field. And the Hoya network students build throughout their time at Georgetown can help unlock new opportunities throughout their careers.
GBUS Alumni Spotlight
Alumna Camille Afable (SFS'19) is a corporate banking analyst in Technology, Media and Telecommunications group at Bank of America. The GBUS major helped to shape her career interests: shortly after declaring her major, she attended an industry field trip to New York City where she met with staff at a number of investment banks, sparking her interest in the banking sector!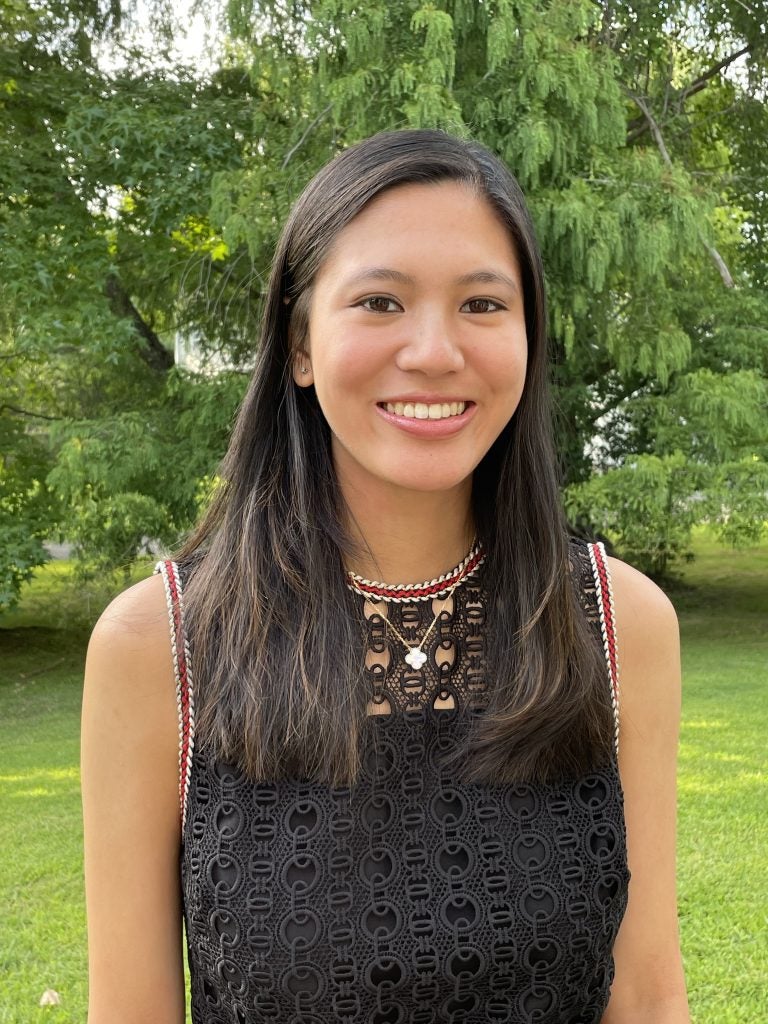 "The GBUS cohort has such a unique, unparalleled experience by learning from and being a part of the communities of two schools — it's the absolute best of both worlds really!" she says. "I loved the balance between the theories of my SFS courses and the quantitative work of the MSB, and I know I built an incredible foundation in both the public and the private sector and the intersection of the two."