Justin Iorio (SFS'20) joined the SFS Global Business major when the program was just three years old. He was drawn to the opportunities the major offered to explore key business concepts within the context of global relations, and to develop a skill set that would lead to exciting career prospects, no matter the industry.
"I was excited to pursue a new offering of the SFS that would allow me to combine the SFS's strong international relations core with fundamental business classes from the McDonough School of Business," he says.
Georgetown has already opened doors to exciting experiences for Iorio. In his time at SFS, the senior has spent a summer semester abroad in Arusha, Tanzania, interned on The Late Show with Stephen Colbert and worked as a handler for Georgetown's beloved mascot, Jack the Bulldog.
Now, as he prepares to graduate, Iorio is working towards landing his dream job in the entertainment industry while reflecting on what makes the "Hoya spirit" so special, something he worked hard to promote throughout his time on campus.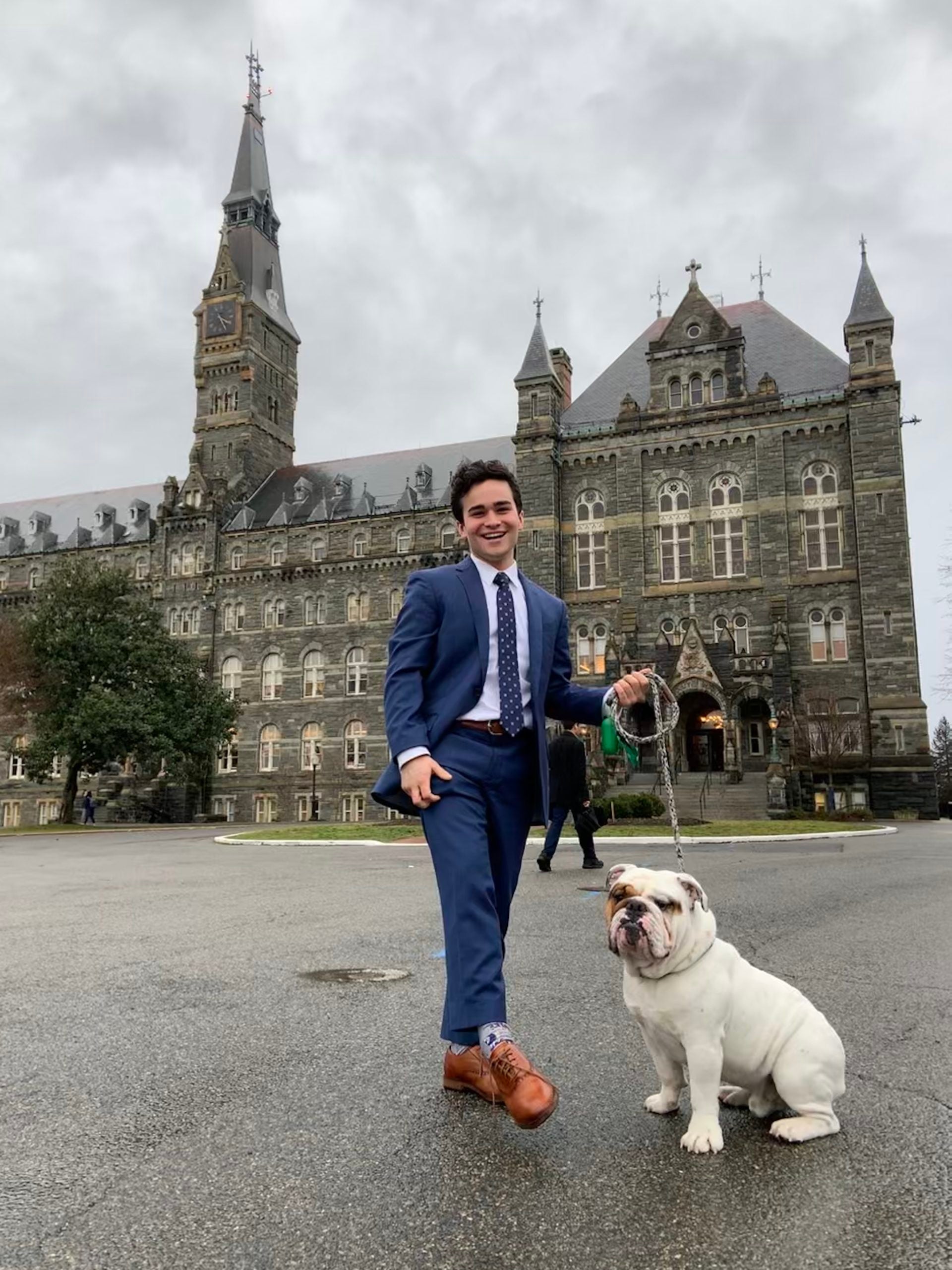 At A Glance
Hometown: Sleepy Hollow, New York
Major: Global Business
Proseminar: States, Bugs, Drugs with Professor Scott Taylor
Language: Swahili
On-Campus Activities: Jack the Bulldog handler; NSO Captain; Rangila; Georgetown Stories; Catholic Student Advisory Board
Non-GU Activities: Internship with The Late Show with Stephen Colbert
Eye-Opening Classes and Once-in-a-Lifetime Experiences
Iorio's time at SFS has been defined by the opportunities he has had to explore important issues from new perspectives. 
A particularly memorable experience was taking Professor Bill Daddio's Death and Dying class, which examines social, cultural and structural approaches to death all over the world.
The class had a profound impact on Iorio. "The beauty and power of the class came from how it is really about better understanding and appreciating life," he says. "It has completely changed my perspective, and I know it's one of those classes I will be thinking about for the rest of my life."
Iorio is also grateful for the mentorship Daddio gave him throughout his time at Georgetown. "I've spent countless hours in his office talking about all sorts of things from his incredible career to life lessons," he says.
Daddio is just one of the Georgetown faculty members who Iorio says has supported him throughout his four years on the Hilltop. Iorio is especially appreciative of the efforts made by  SFS Dean Samuel Aronson to help him to pursue his goal to work in media and entertainment. 
"Dean Aronson is the definition of how a dean can support their students  as a whole person," Iorio says. "Despite the fact that my career passion shifted away from the traditional side of Global Business majors, Dean Aronson made sure to support me in a new field by recommending me for all sorts of opportunities on campus that would help me continue to explore what I loved about television production."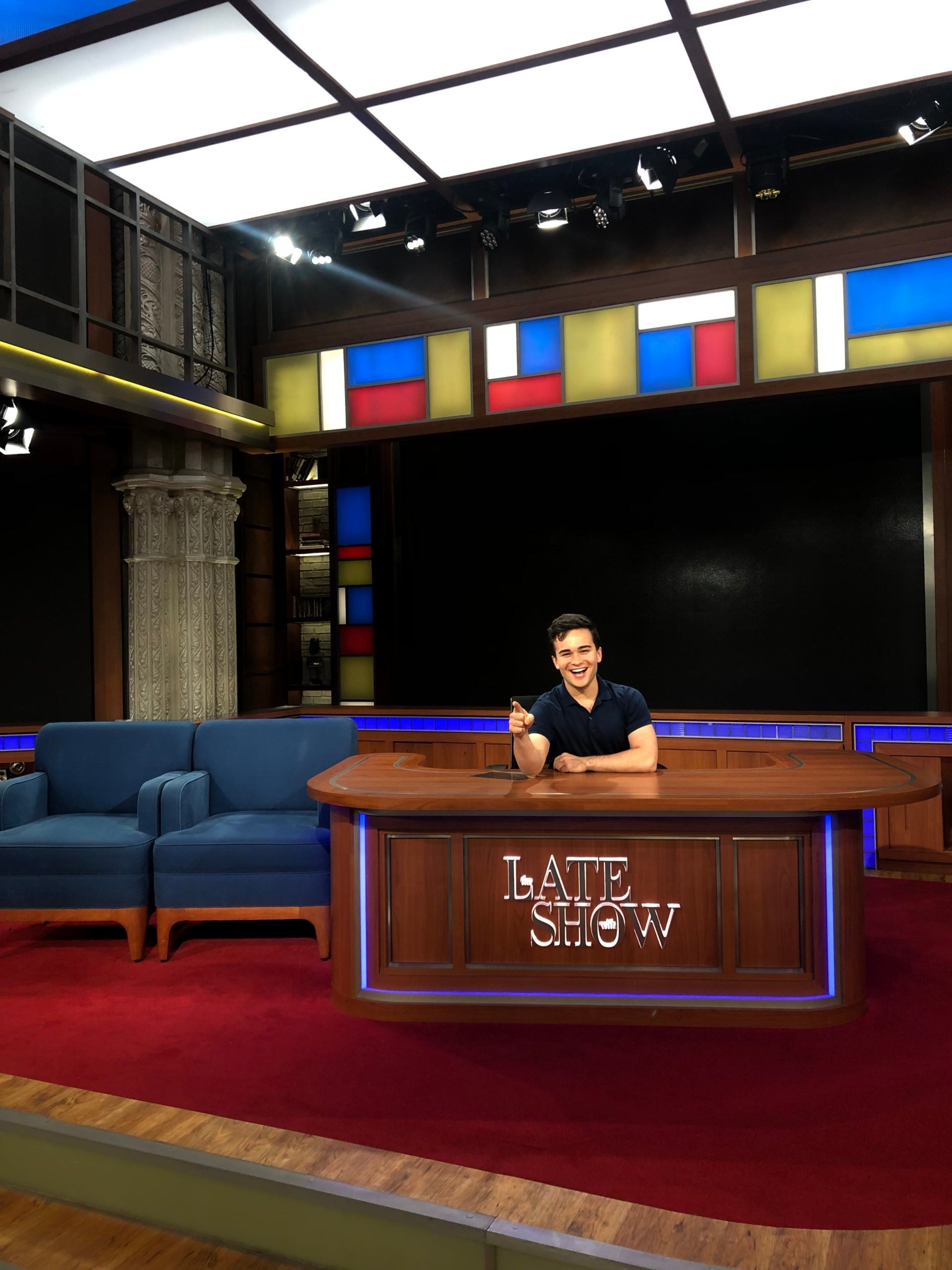 Aronson helped to secure an opportunity for Iorio to support MSNBC's production team when the network hosted the 2020 Climate Forum in Georgetown's Gaston Hall, and recommended the senior to work on two live primetime special episodes of All In with Chris Hayes in Dahlgren Quadrangle and at the National Mall.
"I remember escorting Mr. Hayes and the team through the back passageways of Healy Hall, helping source supplies to keep everyone caffeinated, hydrated and most importantly mosquito-free," Iorio says. "I even got to introduce everyone to a then-still-a-puppy Jack The Bulldog!"
A Gateway to the World
Iorio also took advantage of exciting opportunities beyond Georgetown's gates. He studied Swahili throughout his time at SFS and was able to hone his language skills during a summer semester he spent abroad in Arusha, Tanzania, where he took an intensive language program through Yale University. 
Iorio was motivated to study the East African language when he realized that Georgetown offered unparalleled opportunities to work with some of the best Swahili instructors in the country. 
He took classes with Professors James Ngundi, who also teaches the language to U.S. Foreign Service Officers, and Leonard Muaka, who is the African Languages Program Coordinator at Howard University.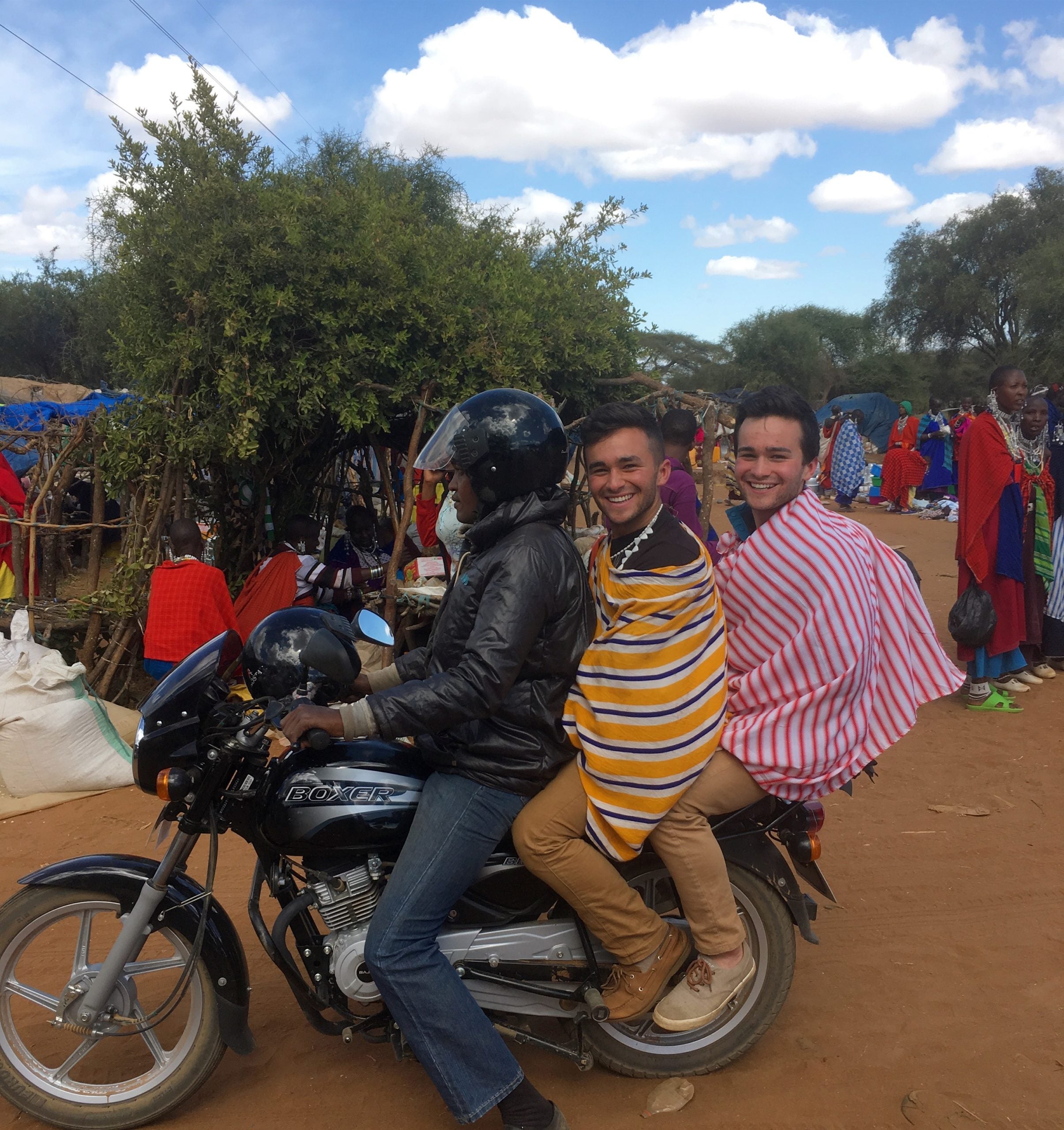 "These professors were able to teach at Georgetown at night," he explains. "Which I think really exemplifies the importance of Georgetown's position in our nation's capital and the access that provides to world-class educators."
In the summer of 2019, Iorio landed the internship of his dreams, working in New York City as a production intern on The Late Show with Stephen Colbert. He liaised with guests and their staff, supported the show's social media team and helped with office tasks and production runs.
"I never imagined that I'd end up interning in late-night television," he says. "But I think my coursework and interests made me a really well-rounded and non-traditional candidate for an internship in television production."
"Over the course of the summer, I was able to apply the same work ethic, interpersonal skills and thoughtfulness that I'd developed to my role on the show," he adds.
Embodying Hoya Spirit
Stephen Colbert is not the only big-name star that Iorio has worked with over the course of his time at SFS. Having secured one of Georgetown's most coveted on-campus jobs as one of Jack the Bulldog's student handlers, Iorio would take care of the mascot when Jack attended big Georgetown events, as well as for regular walks and visits around the campus.
"I loved getting involved all over campus and it was the best way to meet all sorts of great Hoyas!" he says.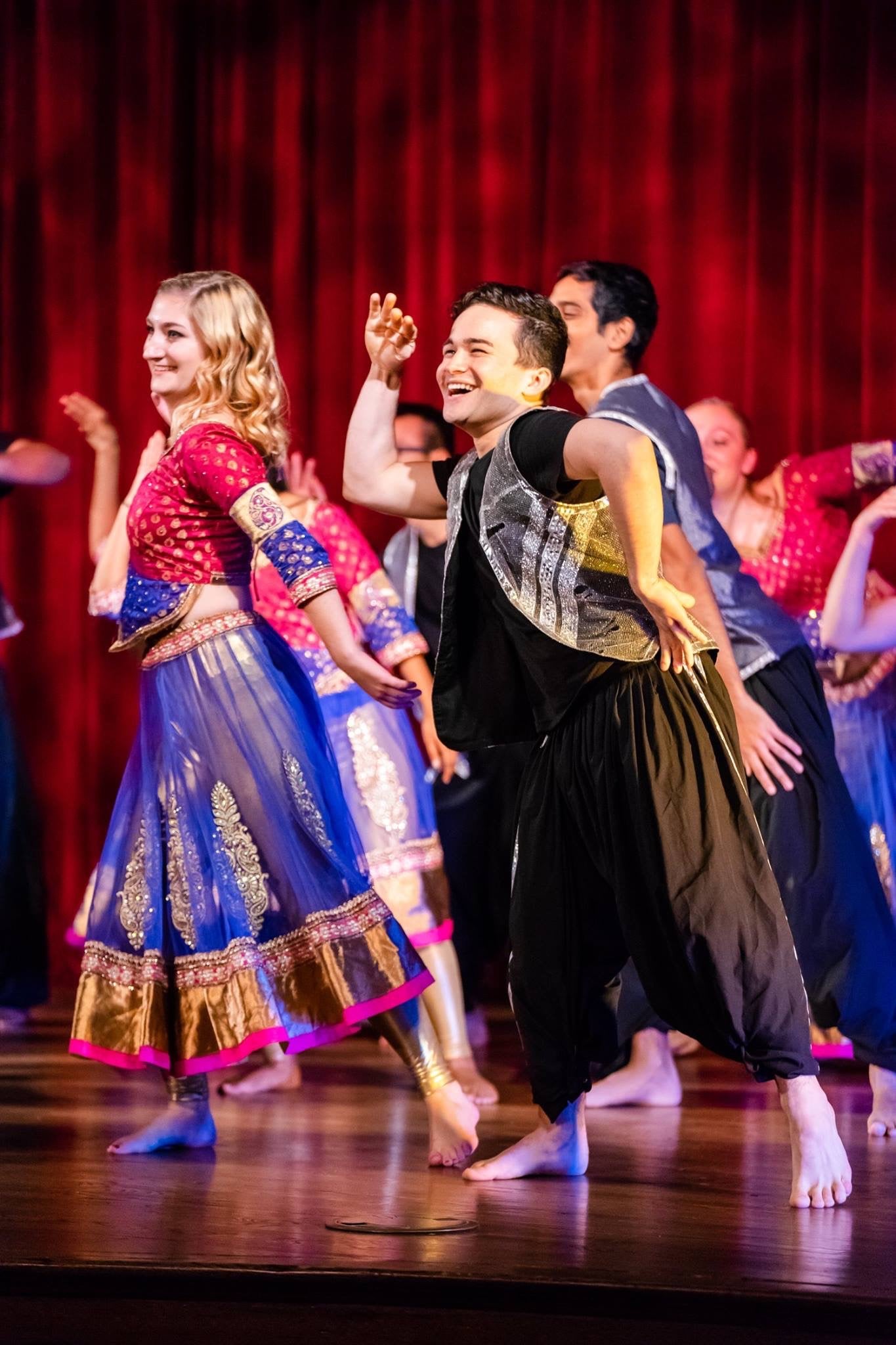 He also supported a number of the biggest Georgetown events of the year, including serving as a New Student Orientation captain and dancing in three Rangila performances—South Asian Society dance showcases and fundraisers that are a highlight of Georgetown's fall semester. 
He also shared his Georgetown experience with the wider public in his role as a "Storyteller" for the university's Instagram account, taking video clips and photos of the atmosphere and happenings on campus to promote a sense of community among Georgetown students, faculty, staff, alumni and families via social media.
Some of his favorite memories of his time on campus are from when he was representing the university and welcoming new students and guests to campus.
"I remembered arriving to campus for New Student Orientation myself the year before and being able to welcome the new members of the community felt so rewarding," Iorio says. 
"I think my phone said I took 36,000 steps that day from just walking (and dancing) around campus but all of the 'Hoya spirit' kept me going strong!" he adds.
Iorio says one of the things he values most about Georgetown is the way that university nurtures each student individually, something he perhaps understands better than most other students.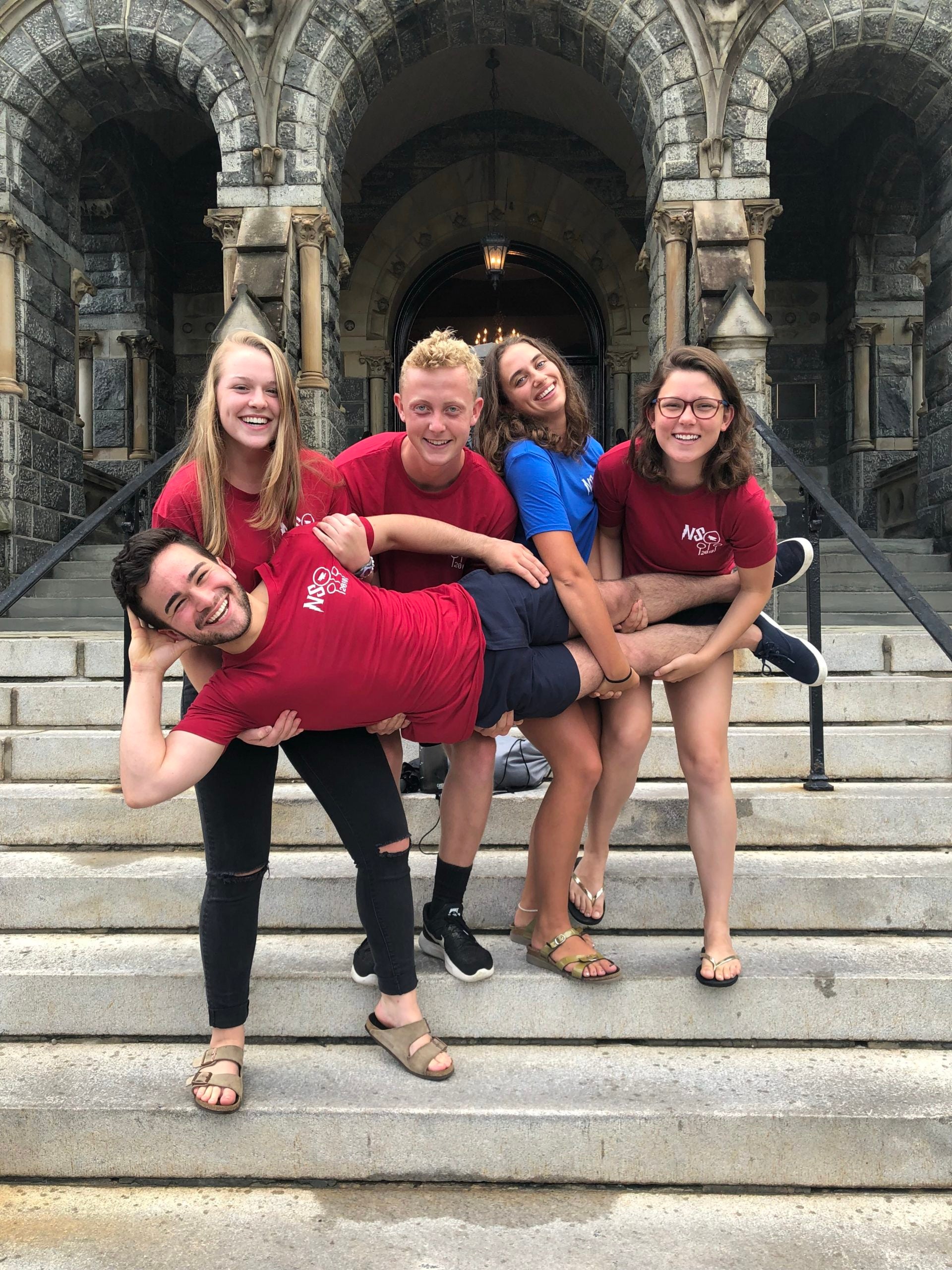 "I was able to choose my own path and have my own unique experience, despite the fact that my nearly-identical twin brother, August, was also entering the SFS with me," he explains. "The Georgetown community values each person individually and as a result we were able to have our own unique experiences despite taking a lot of our core classes together."
"It was always fun running into his professors on campus, who, on multiple occasions, even thought I was him about to skip class!" he adds.
Graduating in Extraordinary Circumstances
Georgetown's spirit and community are among the things Iorio will miss most after graduating this spring. 
"I love the ways that the Georgetown community cares and supports each other and, as a result, I'll try to seek out and build similar communities wherever I end up next," he says.
For Iorio and his fellow seniors, it is not graduation that will mark the moment when they had to say their farewells to friends, but the week in late March when the Georgetown campus went into lockdown to ensure the safety of its community during the COVID-19 pandemic. 
Since then, the majority of Georgetown students have left campus, and all teaching and learning is taking place exclusively online. 
Though his final semester has been bittersweet, Iorio has found comfort in the religious community he developed at Georgetown. "My faith gives me hope," he explains. "I'm so grateful for the Campus Ministers and resources that Georgetown provides." 
While he will miss walking Jack the Bulldog and celebrating the final stretch to graduation with the 99 Days Club at The Tombs, Iorio has still managed to stay in touch with friends online.
"I've been looking for little excuses to get together over Zoom or finding creative and safe ways to see friends in person," he says. "My freshman year roommate surprised me the other week while driving past my house so we got to catch up, while staying 15 feet apart, of course!" 
In spite of the uncertainty this time brings, Iorio is trying to remain positive. "There is so much out of my control right now that I'm learning to trust in myself and my education," he says.
Hopeful for the Future
Iorio's positivity extends to his plans for the future, which, though on hold temporarily, he hopes will involve working in entertainment. 
His internship experience working on The Late Show helped him to discover this career passion, and he is certain that his SFS training will stand him in good stead as he pursues his dream.
"I fell in love with the entertainment industry," he says. "While this might not be the most traditional career ambition for someone with an SFS degree, I think that my SFS classes have helped me to think critically and understand the big picture of world events and trends which is invaluable in any industry."
And though the pandemic means that finding his perfect job might take a little longer than expected, Iorio is sure that his convictions and Georgetown experience will take him where he wants to be.
He stresses, "Everything happens for a reason, especially the things that don't work out. I'm so grateful for who I am today and the Georgetown experience that I had."