Since its emergence in Wuhan, China in December 2019, the COVID-19 novel coronavirus disease has spread to more than 200 countries around the world. With over 698,000 cases and more than 33,100 deaths worldwide as of March 30, the disease has strained public health systems, impacted global markets and made its way into political discourse. As countries and citizens work to combat the spread of the disease, SFS faculty members and experts have been at the forefront of tracking the outbreak, suggesting public policy solutions, keeping the public informed and analyzing its implications in unique political contexts.
Find out how our faculty responded to the initial stages of the outbreak in China and drew upon lessons from Ebola responses in West Africa to make policy suggestions for governments and NGOs. As COVID-19 was declared a pandemic, SFS experts analyzed the impact on U.S. and global responses, university campuses and global markets. Now, as the public seeks out the latest information about the disease and the search for a cure begins, SFS public health experts are sharing their guidance for ordinary citizens as SFS faculty and researchers join the efforts to fight COVID-19.
The Initial Stages: China Faces COVID-19
When early reports of a respiratory illness originating in Wuhan, China started to emerge, SFS Global Human Development adjunct instructor Jeremy Konyndyk (MSFS'03) was one of the first experts to warn that the outbreak would continue to spread. On January 22, in an effort to contain the spread of the virus, Chinese officials began a quarantine operation that would encompass multiple cities and impose movement restrictions and other lockdowns, affecting more than 760 million people.
Even as the Chinese government announced the operation, Konyndyk was skeptical of its effectiveness. "Mandatory, involuntary quarantines can be difficult to enforce, and counterproductive," Konyndyk told Wired Magazine. In a Bloomberg article about Chinese travel restrictions, Konyndyk said that "past precedents suggest it could lead to more hiding of cases and less voluntary compliance with public health measures."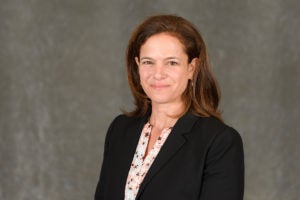 For those in China, a full lockdown continues in Hubei Province and the government has ordered all residents to remain in their homes. Reuters reports that the ban on movement is taking a toll on the community. Commenting on the movement restrictions, Dr. Rebecca Katz, SFS professor and Director of Global Health Science and Security at Georgetown University Medical Center, told Reuters that basic human rights and needs must be taken into account. "You have to address the basic rights and well-being of people: can they get their food and water? What is their mental health status?" she said.
In a separate interview with On Point, Katz said that quarantines, which limit individual rights, will not be easy to enforce everywhere. "I think we have to be really careful when we talk about these types of measures. That we're not just focused on the spread of disease, but also on the population that's impacted," she said.
Some argue that the severity of the outbreak in China could have been avoided. In an article in Foreign Policy, MSFS Professor Paul Miller makes the case that President Xi Jinping and the Chinese Communist Party "did not create the novel coronavirus, but his government's missteps are directly responsible for its global transmission and uncontrolled spread." Miller argues that pandemics are inherently political, characterizing them as a "failure of governance," rather than a "blind force of nature independent of human agency."
Disease-Preparedness in West Africa: From Ebola to COVID-19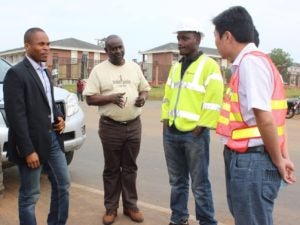 W. Gyude Moore (MSFS'09), a former Liberian top public official in Ellen Johnson Sirleaf's administration and current SFS Centennial Fellow, played a critical role in supporting the Liberian response to the West Africa Ebola outbreak and helped to shape its post-Ebola outlook. Moore, now a visiting fellow at the Center for Global Development, talked to Quartz about how Ebola, though devastating, left Senegal, Liberia, Sierra Leone, Côte d'Ivoire and Nigeria better prepared for COVID-19 than richer countries with more sophisticated health systems. He reflected on his experience battling Ebola in Liberia, saying, "It's better to over-prepare than to overreact. In Liberia, we based our preparation on what we knew of outbreaks that had happened in the past and, when the outbreak exceeded anything that had happened before, we were grossly unprepared."
Moore also emphasized the importance of collaborating with trusted community and national leaders to encourage public compliance with prevention measures. He recalled how the Liberian government worked with the country's head Imam to inform Liberian Muslims about the risks associated with bathing the bodies of deceased loved ones, a key component of Islamic burial practices.
In an interview with Devex, Moore, who now lives in Washington, D.C., expressed frustration that countries involved in fighting the Ebola outbreak seem to have forgotten the lessons West Africa learned. "During the West Africa outbreak, people came from the U.S. to help us respond, and people here know what needs to be done, but what's been missing is central guidance," he said. He believes there is a misconception that African countries were overwhelmed during the Ebola crisis due to poverty or overall weakness, but Moore says that "only accounted for how quickly the system was overwhelmed, not that the system was overwhelmed." The U.S. may come to a similar realization if it does not take the necessary steps to anticipate the demands of the virus on the healthcare system, according to Moore.
Konyndyk, who was director of USAID's Office of US Foreign Disaster Assistance from 2013-2017, led the U.S. government's humanitarian response to the Ebola outbreak in West Africa. In an article in The Economist, Konyndyk drew on his experience in the response to Ebola, suggesting that ordinary citizens are unlikely to follow quarantine restrictions if they do not feel cared for and respected.
When the quarantine in Wuhan was imposed, many countries chartered airplanes to evacuate their citizens from the region. But for the more than 80,000 African students attending university in China, many African embassies do not have the capabilities to send their citizens home and responsibility for their care has fallen on the Chinese government. In a Today News Africa article, Moore says the scenario is a reflection of the increasingly important relationships between China and African nations that extend beyond the business and economic ties often emphasized when assessing the regions' relations. "China's relationship with Africa was not just business-oriented, it's human," he said.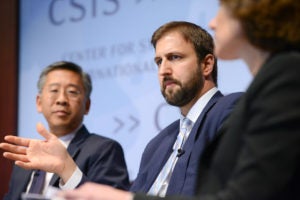 Assessing U.S. Efforts to Tackle Coronavirus
The first confirmed case of COVID-19 in the United States was reported on January 20, 2020 in Seattle, Washington. In the following weeks, U.S. policymakers and public health officials have mobilized responses to face the crisis. But experts question domestic preparedness levels in the United States.
The Trump administration has convened a special coronavirus task force to direct the U.S. response, but Dr. Rebecca Katz tells TIME that the task force was "missing some major players in the world of global health security." No one from the Department of Defense, the U.S. Agency for International Development or the Department of Agriculture was included.
In The New York Times, Katz also fact-checked statements by President Trump, including his assertion that the virus will likely disappear by April. "I think there is a lot we still don't know about this virus, and I'm not sure we can say definitively that it will dissipate with warmer weather," said Katz.
Jeremy Konyndyk also questions the decisions that led to the loss of top experts in pandemic response from key government positions. "These moves make us materially less safe. It's inexplicable," Konyndyk told the Washington Post back in 2018, when Rear Adm. Tim Ziemer, National Security Council senior director for global health security and biodefense, and his team left the body. Dismantling the office, Konyndyk added in a comment to TIME in February, meant that "they actively unlearned a key lesson" from the 2014 U.S. efforts to respond to Ebola. "The institutional memory that was there is gone. Now they are behind the eight ball and retrying to reconstitute that," he told TIME.
As statewide shelter-in-place orders and closure of all non-essential storefronts threaten the livelihoods of many people and businesses across the country, Congress must decide how to help those affected by the virus. In an opinion article in The Guardian, Karl Widerquist, an associate professor of philosophy at the School of Foreign Service in Qatar, called on legislators to institute an emergency Universal Basic Income (UBI). Widerquist says UBI would not only help the economy, but also slow the spread of the disease. "The sooner our government acts, the sooner we start to recover. We don't know how bad coronavirus will get. We shouldn't have to worry about how we will be able to buy food and pay rent as well," he wrote.
The Trump administration has blamed U.S. dependence on the global supply chain for lack of progress in combating COVID-19, contemplating an executive order that would require the purchase of domestic medical materials using Congressional funds. But in an op-ed for the New York Daily News, Marc Busch, the Karl F. Landegger Professor of International Business Diplomacy at SFS, warned that this executive order would be a mistake. "Global medical supply chains are not a threat, but rather an opportunity…In the face of this pandemic, more international cooperation, not less, is needed," Busch wrote.
In some quarters, experts feel that the U.S., as well as the world, should have seen this coming. As MSFS professor and former member of the National Security Council Paul Miller writes in The Dispatch, a 2004 National Intelligence Council report about what to expect in 2020 warned that it was only a matter of time before a pandemic akin to the 1918-1919 influenza virus broke out. Miller says the prescient report should be sobering, as it was "accompanied by dire speculation about the political, economic and military effects of such an event."
COVID-19: Implications for the World's At-Risk Populations
As COVID-19 left China and spread across the world, other countries were forced to grapple with the public health implications of the virus. SFS Professor Victor Cha says that the virus poses a unique threat to North Korea, which shares a border with China. "The porous nature of the border with China and frequent travel is a clear vector for the virus' transmission. If there are reports of the virus inside of North Korea, we should expect that the virus would spread rapidly given the state's inability to contain a pandemic," Cha said in an article in CSIS's Beyond Parallel.
In Xinjiang, China, COVID-19 has the potential to be potentially devastating in China's secretive internment camps and could compound the suffering of Muslim Uighurs and other minority groups who are being held in them. The close and unsanitary conditions are the breeding ground for the spread of the virus among a population that is already subjected to a myriad of other health risks. SFS Professor James Millward, quoted in Vox, said, "cramped conditions, poor hygiene, cold, stressed immune systems — this could be a massive disaster."
Responses to coronavirus have largely been coordinated on a national scale, with nations overseeing the protection and treatment of their citizens. But for the approximately 70 million displaced people worldwide, the disease poses an unprecedented threat. As SFS adjunct instructor and journalist Ishaan Tharoor wrote in an article in the Washington Post, "Crammed refugee camps are especially vulnerable to the spread of disease, and national governments, which, at the best of times, have limited resources to spare for asylum seekers and migrants, will be even less inclined to expend them amid the crisis in support of noncitizens." Tharoor points out that the disease could be most devastating for at-risk populations like migrants, asylum seekers, displaced persons or populations recovering from wars, who "face an all the more precarious existence in the shadow of the pandemic."
Emily Mendenhall, a medical anthropologist and professor of global health at SFS, researches how social trauma, poverty and social exclusion become embodied in chronic mental and physical illness. COVID-19, she says, is syndemic: a combination of the words synergy and epidemic that "emphasizes the fact that no disease exists in isolation, and the interaction and clustering of two or more conditions is exacerbated by broader factors like social inequality." Mendenhall says COVID-19, which disproportionately affects those with type 2 diabetes, hypertension and heart disease, targets America's most vulnerable populations, an effect exacerbated by social, political, economic and public health factors. In an article in Think Global Health, Mendenhall looks to the future of syndemic response. She recommends "strengthening safety nets and security for low-income people, making health care a reality for everyone, and caring for people holistically—focusing on people as opposed to singular diseases. By imagining a more equitable society, we can strengthen how we respond to emergencies now and every day."
The World Responds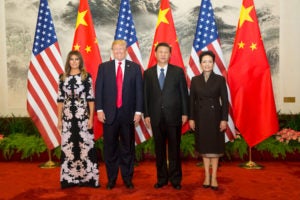 With its disregard for national borders and rapid international spread, COVID-19 is throwing some international relations tensions into sharp relief. At a time when governments need to share data and coordinate responses, SFS professor Evan Medeiros told NPR's Jackie Northam that two key players, the U.S. and China, are "suffering from a deep deficit of trust." While there has been some cooperation between U.S. and Chinese scientists on modeling the virus's spread and analyzing COVID-19 medical cases, China has restricted access to the country for teams from the U.S. Centers for Disease Control and Prevention.
China has also taken pains to restrict the flow of information about the scale of the pandemic, according to Professor James Millward in an interview with KRWG's Newsmakers. "Local authorities just wanted to put the lid on this, but as a result, they put a lid on the information, but the disease got out," Millward said. "And the political system that suppresses or strongly controls information this way…that is the bigger root of the problem."
Elsewhere in the Asia Pacific region, the disease is illuminating existing geopolitical tensions. Evan Medeiros joined Asia Chessboard, a podcast co-hosted by SFS Director of Asian Studies Michael Green, to talk about the disease's implications in the region and the future of Asian economic growth. Medeiros challenges the assumption that China will emerge from the pandemic as a world leader, but predicts that "Asian economies who had a lot of experience, who had very effective containment, mitigation, bureaucracies, even democracies like South Korea and Taiwan," will experience an acceleration in growth and leadership in the pandemic's aftermath.
As COVID-19 spreads, both China and the United States have engaged in coordinated messaging campaigns about the virus. In a CNN article co-written by Alex Marquardt (SFS'04), SFS Associate Professor Matthew Kroenig discussed the proliferation of disinformation surrounding the disease, its origin and how it spreads. Kroenig suggests that China is using disinformation about the virus to advance its geopolitical goals. Instead of offering an opportunity for global cooperation, Kroenig claims that the pandemic has "just become a new arena for this great power rivalry to play out."
Kroenig elaborates on this great power rivalry between the two nations in an article in The National Interest, contending that "How well Washington and Beijing manage the ramifications of the Coronavirus in the weeks ahead may determine who leads the international system decades hence." Kroenig says that the economic ramifications, political responses and military readiness of each country will determine the outcome of a U.S.-China power struggle . He predicts that the United States will outperform its competitor, but warns that "As U.S. leaders formulate their response to the Coronavirus, they must think not only in terms of the immediate public health crisis, but also about the very future of American global leadership."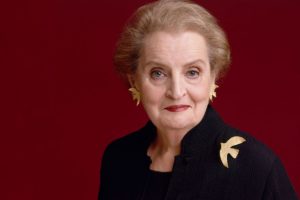 Former Secretary of State and current Michael and Virginia Mortara Distinguished Professor of Diplomacy Madeleine Albright sees the pandemic as a "wake-up call" for the world's leaders. In an op-ed for TIME, she described coronavirus as "a reminder of a lesson we should have learned long ago: that, to thrive, people of every nationality must combine strengths. We have been taught this lesson over and over again through history, only to forget when our tribal instincts resurface and wisdom is lost."
Director of the Asian Studies Program at SFS Michael Green similarly urged international cooperation. "Pandemics could foster greater suspicion or cooperation," he wrote in a Korea JoongAng Daily article. "This time suspicion appears to be winning, and that adds more friction to international relations." The proliferation of conspiracy theories, ideological competition and early mismanagement of the outbreak could all contribute to weakening bonds of global cooperation, he says.
Many in the international community have commended South Korea for its response to the virus and its efforts to slow the spread of COVID-19. Victor Cha, SFS professor and Korea Chair at the Center for Strategic and International Studies, created a timeline for CSIS mapping South Korea's policy actions, efforts to develop a test, border control measures, and methods of informing the public.
COVID-19 and Climate Change
Many commentators have argued that global reductions in air travel, driving and coal-burning caused by travel restrictions and quarantines may have some positive impacts on greenhouse gas emissions and air pollution, especially in China where the COVID-19 strain of coronavirus originated. However, Joanna Lewis, an SFS professor and expert on China's energy sector, told the Washington Post that, overall, the outbreak may not lead to a significant reduction in these important climate metrics. "The [immediate] reductions are substantial, but they are most certainly only temporary, and there will likely be a rebound effect," she said. "Once people go back to work and factories restart, they may try to make up for lost time. This could result in a surge in emissions."
The Virtual University
As workplaces and education institutions move their daily work online, students and faculty are learning to cope with new learning challenges. Universities with greater resources or network infrastructure may be able to make smooth transitions, but many students have to contend with connectivity issues, travel arrangements and access to resources.
Graduate students are caught in the especially difficult position of trying to finish an education and build their post-graduate career. Dr. Mrim Boutla, career coach at Georgetown's Graduate Career Center, wrote in a National article, "Transitioning from college to career during an economic crisis has long-term negative consequences across the board," demonstrated over a decade ago during the Great Recession. However, Boutla also offered a number of steps employers and higher education institutions can take to mitigate the potential risks, including moving career recruitment online and urging universities to aid the efforts of their students in setting up strong online professional profiles.
A Challenge to Global Markets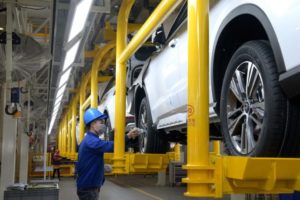 Stock exchanges across the world have fallen sharply as the pandemic continues to spread and countries struggle to contain the damage. Some analysts see this as the beginning of another recession while others worry about exposed flaws in the global financial system. Abraham Newman, director of the Mortara Center for International Studies at Georgetown, explained some of these vulnerabilities in a Foreign Affairs article. With shortages in testing kits and safety masks, "these beggar-thy-neighbor dynamics threaten to escalate as the crisis deepens, choking off global supply chains for urgent medical supplies," Newman warns. 
Some countries are taking drastic action to shutter nonessential businesses and travel, creating major losses for business owners all over the world. Just as global interconnectedness is making it difficult to contain the virus, it also creates supply chain bottlenecks and issues for industry.
Newman sees this as the impetus for a new geopolitics and writes, "The lesson of the new coronavirus is not that globalization failed. The lesson is that globalization is fragile, despite or even because of its benefits."
In a Global Trade magazine opinion article, MSFS adjunct associate professor Andrea Durkin makes the case for free trade of medicines and their ingredients. Though the WTO Pharmaceutical Tariff Elimination Agreement ensures free trade for many medical ingredients, Durkin says it is not comprehensive enough. "Some 1,000 finished products and 700 ingredients are not covered under the agreement," she writes. Ultimately, Durkin concludes that trade is critical, particularly in the face of COVID-19, concluding, "no single country, not even the United States, can discover, produce and distribute diagnostics, vaccines and cures for everything that ails us—or invent every medical intervention that improves the productivity and quality of our lives."
COVID-19 is undoubtedly taking a toll on the economy, forcing businesses to shutter and confining billions to their homes. Shanta Devarajan, a professor of international development at SFS, thinks that the pandemic will cause major shifts in the global economy. In an AlJazeera article, he notes that the pandemic "is forcing many countries to reconsider their social policies, especially social protection and healthcare." Devarajan predicts, "If these policies, or some variant of them, persist after the outbreak, this will help reduce inequality."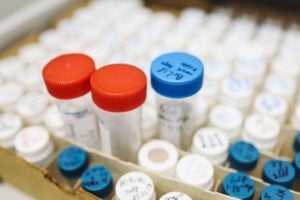 Expert Advice
Educating the public is an important component of disease prevention. In a Vox article, Rebecca Katz walked readers through what to expect in the event of a quarantine. According to U.S. law, "public health is actually a police power that is delegated to the states," Katz said. "You could end up with someone coming to your door and saying, 'You've been exposed, and you're either coming with me or you have to stay in your house,'" Katz warned, but added that these powers are rarely used in the U.S.
Alongside Georgetown Law professor Lawrence O. Gostin, Katz and Konyndyk warned that preserving public trust in authorities may be more effective than aggressively enforcing quarantines. In a paper for the Journal of the American Medical Association, they note that "involuntary restrictions…are likely to erode community trust and undermine cooperation with health authorities."
Responding to concerns raised about Americans stuck overseas, Ambassador Barbara Bodine urged patience and resourcefulness in an interview with WAMU. Faced with supporting more than 5,000 Americans out of Kuwait when she was deputy Chief of Mission in the country during Iraq's 1990 invasion, Bodine said, "Our job is to help find a way for citizens to get out safely, but unfortunately not necessarily cheaply."
In an interview with MSNBC in late February, Konyndyk outlined the key messages he feels the U.S. public need to know about the COVID-19 outbreak. "First, the risk is real," he said. "This is not a hoax, it's not a political ploy, this is a real risk and it is likely to spread in the U.S." He continued by emphasizing the need for the U.S. government to clearly set out its strategy to the public and reinforce the message that citizens should be listening to advice from public health officials.
As the public faces a real-life pandemic, some have been turning to fictional accounts, like the movie Contagion, to see how society might respond. But SFS Professor Gary Shiffman, who researches the relationship between behavioral science, violence and national security, predicts that real life will not resemble the movie, where shortages and panic lead to widespread chaos and violence. In a Fortune Magazine article, Shiffman says that "Americans are translating their fears into a positive communal response. When we fall short of a scenario ripe for violence, what we often get instead is the formation of subcommunities in which members look out for one another."
The Race for A Cure
As global health experts worldwide race to research COVID-19's health effects, possible treatments and transmission dynamics, more than 29,000 articles about the disease have been published, more information than a single person can consume. Georgetown's Center for Security and Emerging Technology is part of a new White House initiative that seeks to harness machine learning and AI to mine the articles for patterns and insight. "With this step, we've made available full-text, machine-readable resources to help speed response to this global crisis. The worldwide machine learning community now has the opportunity to apply recent advances in natural language processing to find answers to important questions about this infectious disease," says CSET Director of Data Science Dewey Murdick.
But as countries and companies work to develop a vaccine or other treatments to fight the disease, Abraham Newman fears that the search for a cure will become a competition, rather than a cooperative mission. In a Harvard Business Review article, Newman asserts that "everything depends on whether governments continue to recognize that they benefit from working together, or whether they instead start to fight with each other over business and the goods that it supplies, turning to a new era of autarkic hoarding." He concludes, "The better world for business, for governments, and for citizens would be one in which governments stop competing for control of resources and turn instead to competitive generosity."
Members of the Georgetown community can follow the university's advice and guidance on COVID-19 on the university's Coronavirus Resource Center webpage.