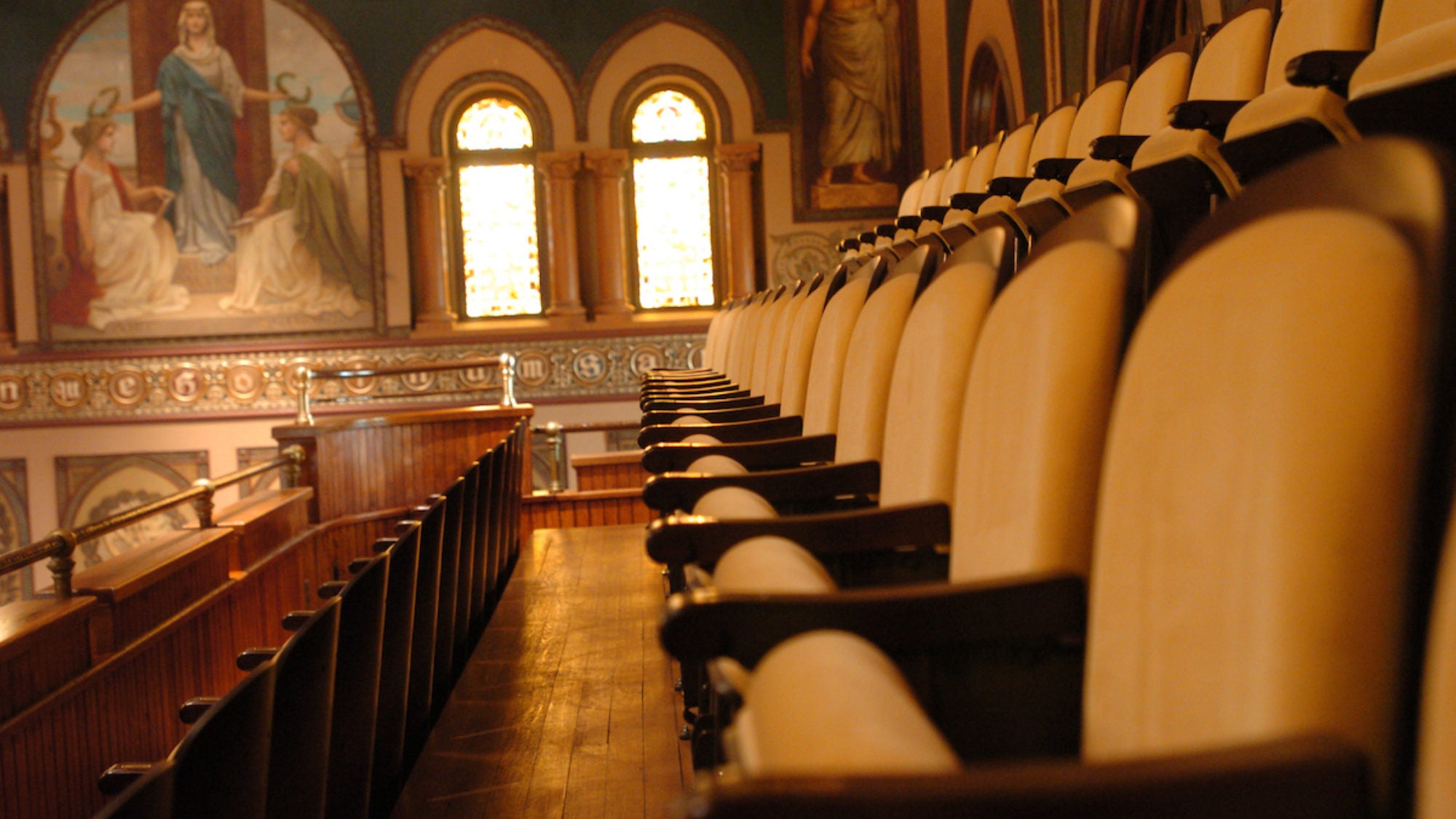 Category:

News, On Campus
Title:

Foreign Minister Of Japan Taro Kono (SFS'86) Returns To Georgetown To Deliver Lloyd George Centennial Lecture
Date Published:
October 2, 2018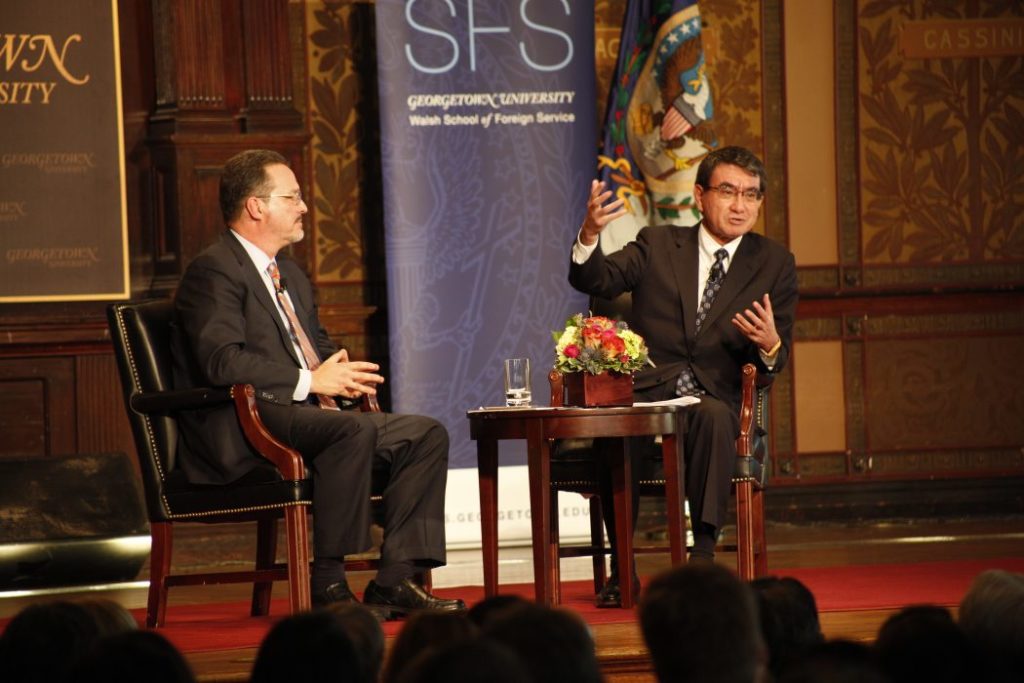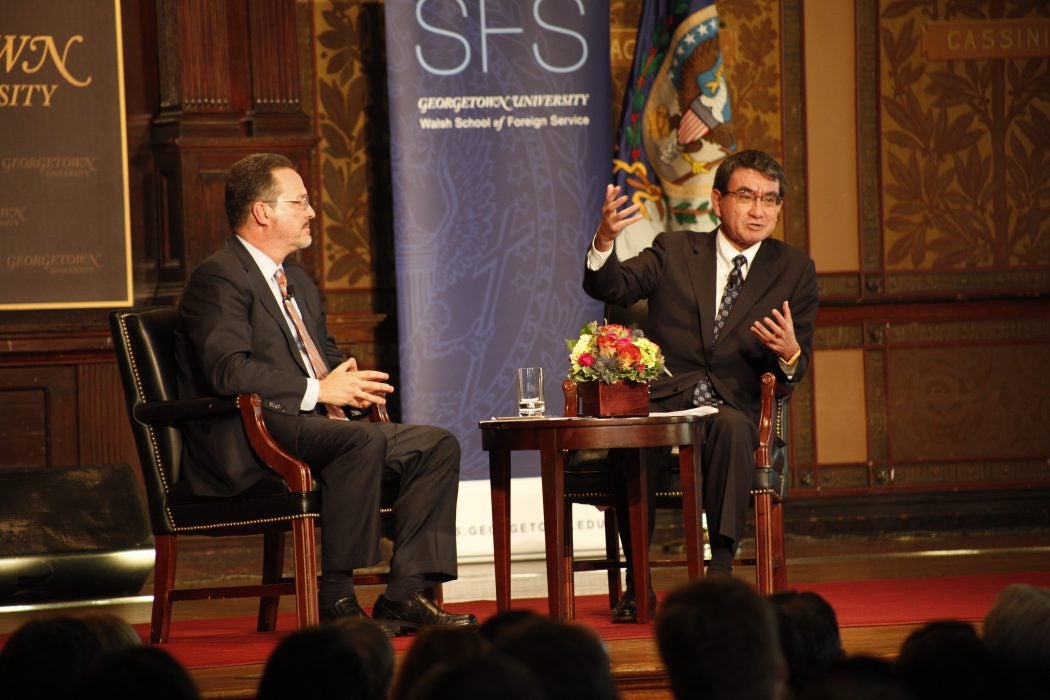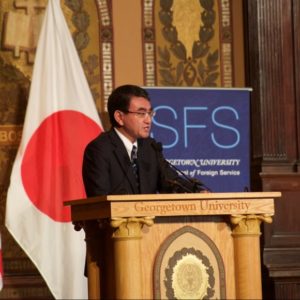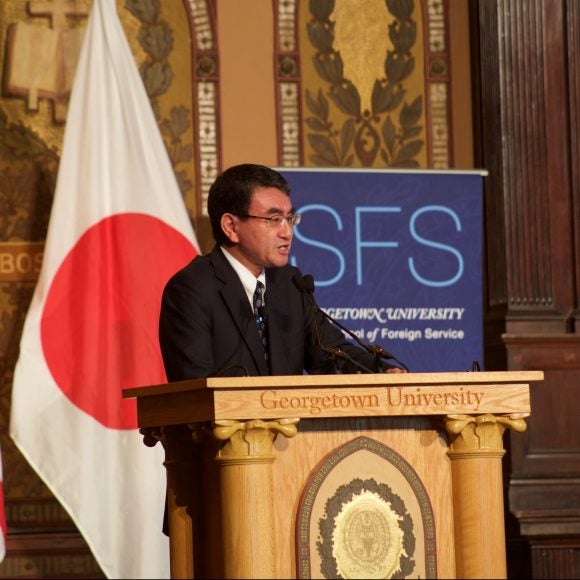 Minister Kono has been Foreign Minister since August 2017, and is an eight-term Member of the House of Representatives of Japan. He offered remarks on the current state of Japanese relations with the United States, North Korea, China, Russia, and the Middle East, discussing the challenges facing both his country and the world. Regarding the relationship between China and Japan, he said the two countries "share a responsibility to promote peace, stability and prosperity" in the region. He also reinforced that Russia is, without a doubt, "an indispensable stakeholder in multiple international challenges." Kono highlighted Japan's progress in the international community throughout the years, highlighting the positive relations that Japan has across the world, including with the United States.
Reflecting on his own time on the Hilltop, Kono talked about watching the Georgetown men's basketball team win the NCAA championship in 1984, and recalled what it was like to have Madeleine Albright as a professor (before she became Secretary of State). With humbled self-awareness, he even remembered sitting in lectures just like this one, and thinking, "gee, they're too old." "I guess I know what you're going to say after listening to my speech," he joked. He noted that while at Georgetown, he learned the need to have "the heart of a citizen" but also a "bird-eyes view," tackling global challenges by striking the right balance between "what it should be" and "what it can be."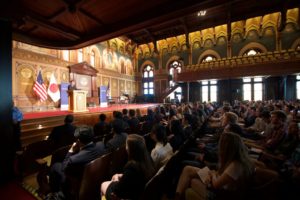 The post-lecture conversation with Dr. Green highlighted the relationship between Japan and China, and the tensions between them. Regarding the relationship, which is currently rather strong, Kono noted that, "if we just leave it as it is, tensions will come back again," maintaining that both countries must continue to work at it. On the United States, Kono believes that other countries in the world need to step up and share the burden of addressing global challenges with the U.S., which Japan is ready to do. Questions from the audience that followed ranged from Japanese domestic policy to the possibility of an Asian political union.
Closing his lecture, Kono connected the esteemed position he now holds with his time back at Georgetown. He noted that fellow alumnus U.S. Trade Representative Ambassador Robert Lighthizer (COL'69, L'73) suggested that they attend a Georgetown basketball game together. With a grin, Kono voiced his hopes for them to attend a Georgetown basketball game "the first weekend in April"—the 2019 NCAA championship.