Public service is at the heart of our mission at SFS. Since first opening our doors in 1919, the school has produced thousands of U.S. Foreign Service Officers who have made their impact on the world through dedicated careers in the U.S. government.
As part of our commitment to develop the next generation of values-led global public servants, SFS offers extensive financial aid packages (including full coverage of outstanding costs), mentorship programs and tailored career support to recipients of Pickering, Rangel and Payne Fellowships who are accepted to any SFS graduate program.
Vice Dean for Graduate Affairs Dr. Victor Cha says, "The commitment that PRP scholars show to public service is admirable and fully aligned with the spirit of SFS — this is why we want to fully support their academic career, both experientially and financially. Georgetown SFS aims to be the top destination for these scholars."
The Pickering, Rangel and Payne Fellowships Anchor
The Pickering, Rangel and Payne Fellowships
The Thomas R. Pickering Graduate Foreign Affairs Fellowship Program, The Charles B. Rangel Graduate Fellowship Program and the USAID Donald Payne Development Fellowship Program are designed to attract outstanding individuals from all ethnic, racial and social backgrounds to careers in the U.S. Foreign Service. The programs encourage the application of women, those with financial need, and members of minority groups historically underrepresented in the Foreign Service.
The Thomas R. Pickering and Charles B. Rangel Fellowships offer a pathway to a career in the Department of State, while the Donald Payne Fellowship provides a gateway to the U.S. Agency for International Development (USAID). All three fellowships offer financial support toward the cost of two years of graduate school, professional development activities and entry into the Foreign Service. 
At an SFS event in 2021, USAID Administrator Samantha Power stressed the importance of these fellowships to building a U.S. Foreign Service "that reflects the best of what America has to offer — all our dynamism, all our fresh perspectives, all our best thinking." SFS is proud to be one of the top destination schools for Pickering, Rangel and Payne Fellows as they embark on their public service careers. 
Back to Top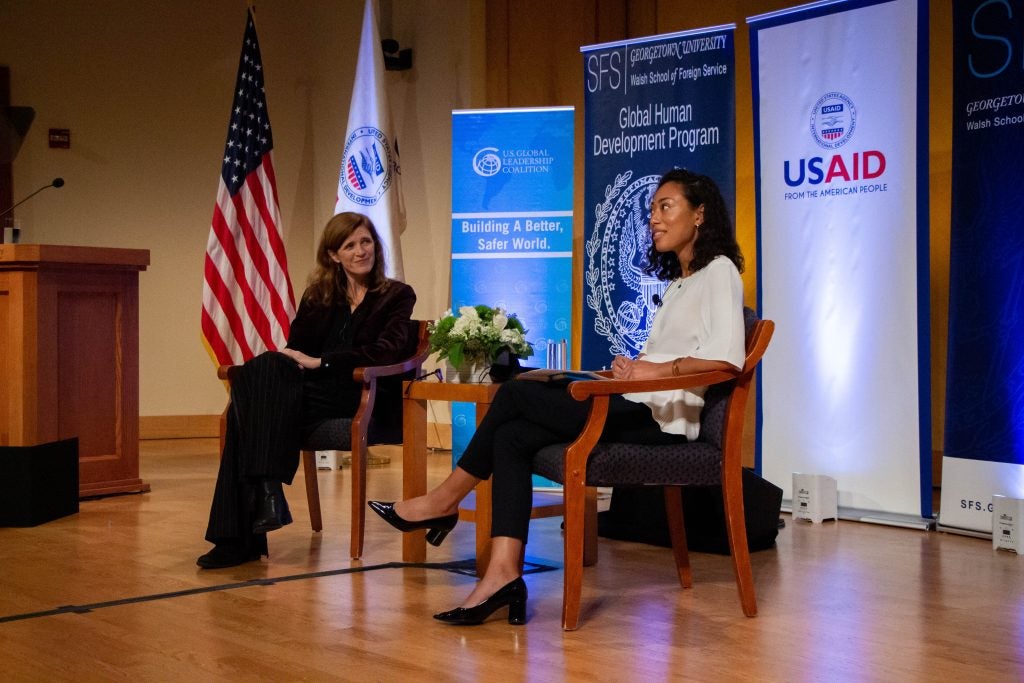 Unparalleled Financial Support Anchor
Unparalleled Financial Support
SFS guarantees funding that meets degree costs not covered by the Pickering, Rangel and Payne Fellowships themselves. 
If accepted to an SFS graduate program, Pickering, Rangel and Payne Fellows are offered scholarships to make up the difference between the amount awarded by the fellowships for tuition and the full cost of tuition at SFS. The school will also cover any annual program fees and health insurance costs. For more information about annual program fees, please visit graduate programs' websites. 
This financial support represents the school's commitment to providing a world-class international affairs education to talented students from all backgrounds, regardless of their financial circumstances. 
For more information about graduate financial aid at SFS, please visit graduate financial aid.
Back to Top
Curated Programming from Experienced Mentors Anchor
Curated Programming from Experienced Mentors
SFS offers a tailored mentorship program for Pickering, Rangel and Payne Fellows. Academic advisors connect students with faculty and peer mentors who have direct experience working in the Department of State or USAID to share strategies for success in both agencies. From writing policy memos to navigating departmental bureaucracy, SFS mentors ensure that Pickering, Rangel and Payne Fellows graduate from Georgetown ready to make a positive impact from the outset of their public service careers. 
Through this semester's program, fellows can learn about diversity in the Foreign Service from Foreign Service Officer Heera Kamboj and SFS Vice Dean for Diversity, Equity and Inclusion Dr. Scott Taylor, the nexus between the "ivory tower" and the White House from Vice Dean and former National Security Council (NSC) director Victor Cha, drafting the perfect memo in a workshop led by former ​​NSC Senior Director for Asian Affairs and SFS Professor Michael Green and how to navigate love, sex and marriage as a Foreign Service Officer from people currently in the position. 
As a hub for the world's top international affairs practitioners, SFS offers fellows the opportunity to learn from some of the United States' most distinguished public servants. From serving as a teaching assistant to former U.S. Secretary of State and SFS Professor Madeleine Albright, to taking a class taught by Ambassador Linda Thomas-Greenfield, a career diplomat who has since gone on to serve as the U.S. Ambassador to the United Nations, Pickering, Rangel and Payne Fellows have experienced many career-defining moments at SFS.
Back to Top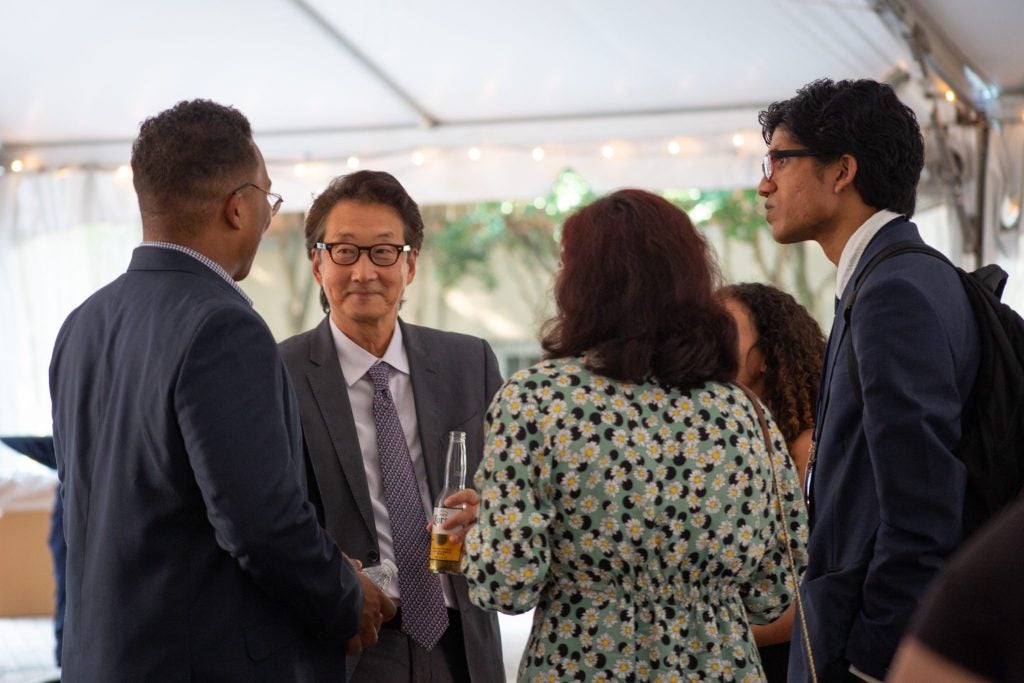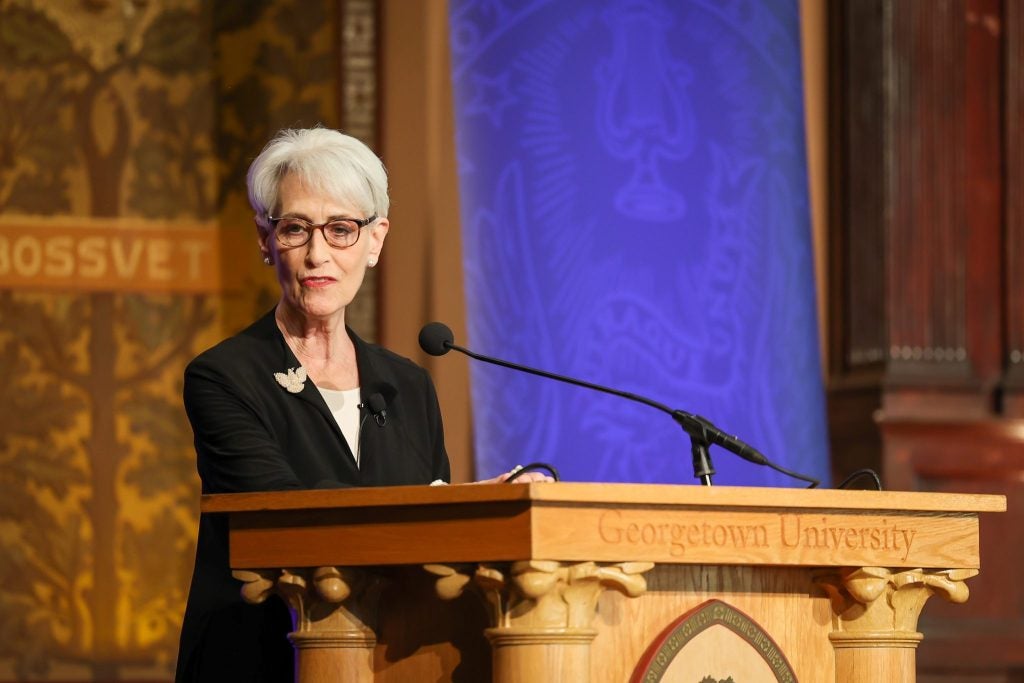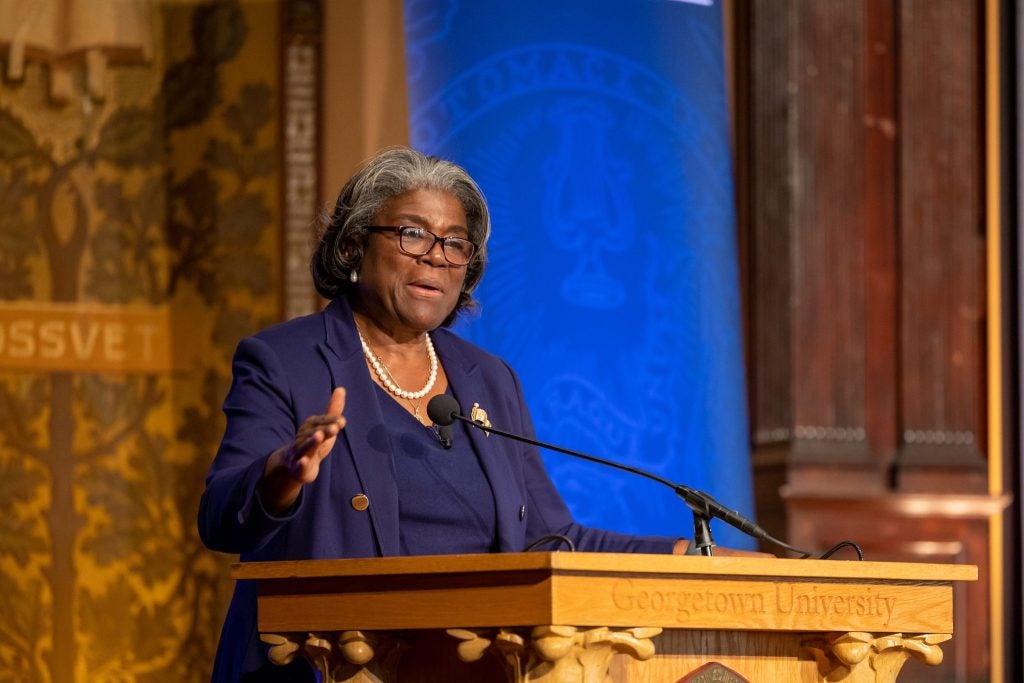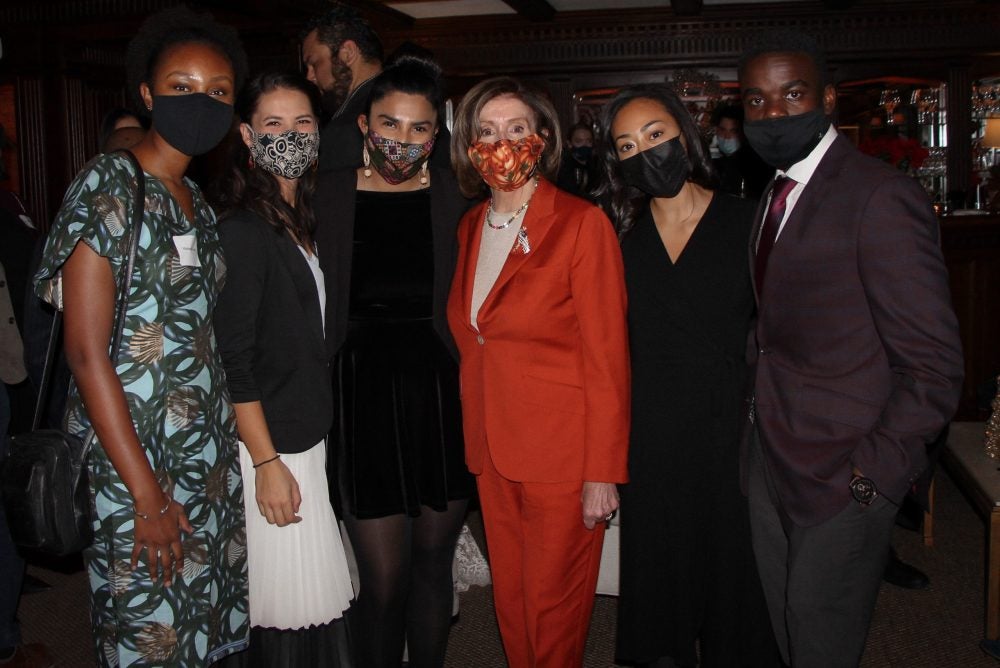 Supportive Campus Community
At SFS, fellows will find a community of passionate peers and educators who are dedicated to values-led international service. Inspired by Georgetown's Jesuit principles, ethical leadership and practice underpin the SFS experience both inside and beyond the classroom.
In addition to the degree program, Pickering, Rangel and Payne Fellows pursue their aspirations through a range of extracurricular opportunities. World-leading SFS centers and institutes such as the Center for Security and Emerging Technologies and the Institute for the Study of Migration offer student research positions every year, while the Institute for the Study of Diplomacy hosts a range of programs for students working toward diplomatic careers, including fellowships, simulations and its Diverse Diplomacy speaker series.
Fellows also benefit from Georgetown's extensive graduate student groups, which bring together peers who are passionate about specific issues influencing modern global affairs, from global poverty reduction strategies to increasing women's participation in international relations.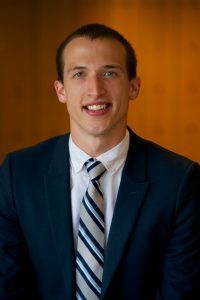 "My favorite part of the Georgetown experience was engaging with fellow students within the SFS community — I benefited continuously from hearing the perspectives of my classmates, both in and out of the classroom."

– Miguel Boluda (MSFS'19), 2017 Charles B. Rangel Fellow and Vice Consul at the U.S. Consulate General São Paulo
Beyond Campus
Georgetown's location in Washington, DC, offers a range of career opportunities just outside our campus gates. What's more, as the oldest school of international affairs in the country, SFS provides numerous pathways to studying and working abroad while completing a graduate degree.
Many Pickering, Rangel and Payne fellows choose to intern in DC-based government agencies, think tanks and nonprofit organizations, taking advantage of campus proximity to downtown and flexible class schedules to balance both work and study. Studying in the capital also provides unique opportunities to engage and network with practitioners working at the forefront of international affairs.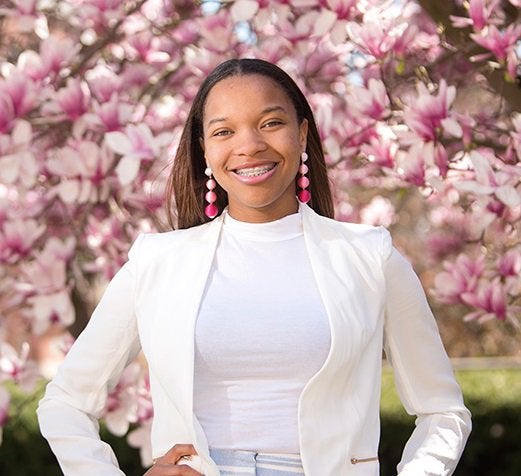 "It was important for me to explore outside of the classroom. I listened to former Secretary of State John Kerry, attended programs relating to the Middle East and had coffee chats about foreign policy. I appreciated these experiences, as they challenged me to understand differing perspectives."

– Ashley Jones-Quaidoo (SSP'20), 2018 Thomas R. Pickering Fellow and Program Manager, U.S. Customs and Border Protection
An SFS graduate degree is also a passport to the world! Class trips, spring break programs and summer placements enable students to gain crucial international experience. Drawing on the resources of the SFS Career Center and Georgetown's network of alumni enables fellows to work and study abroad, all while gaining a degree.
More Pickering, Rangel and Payne Fellow Stories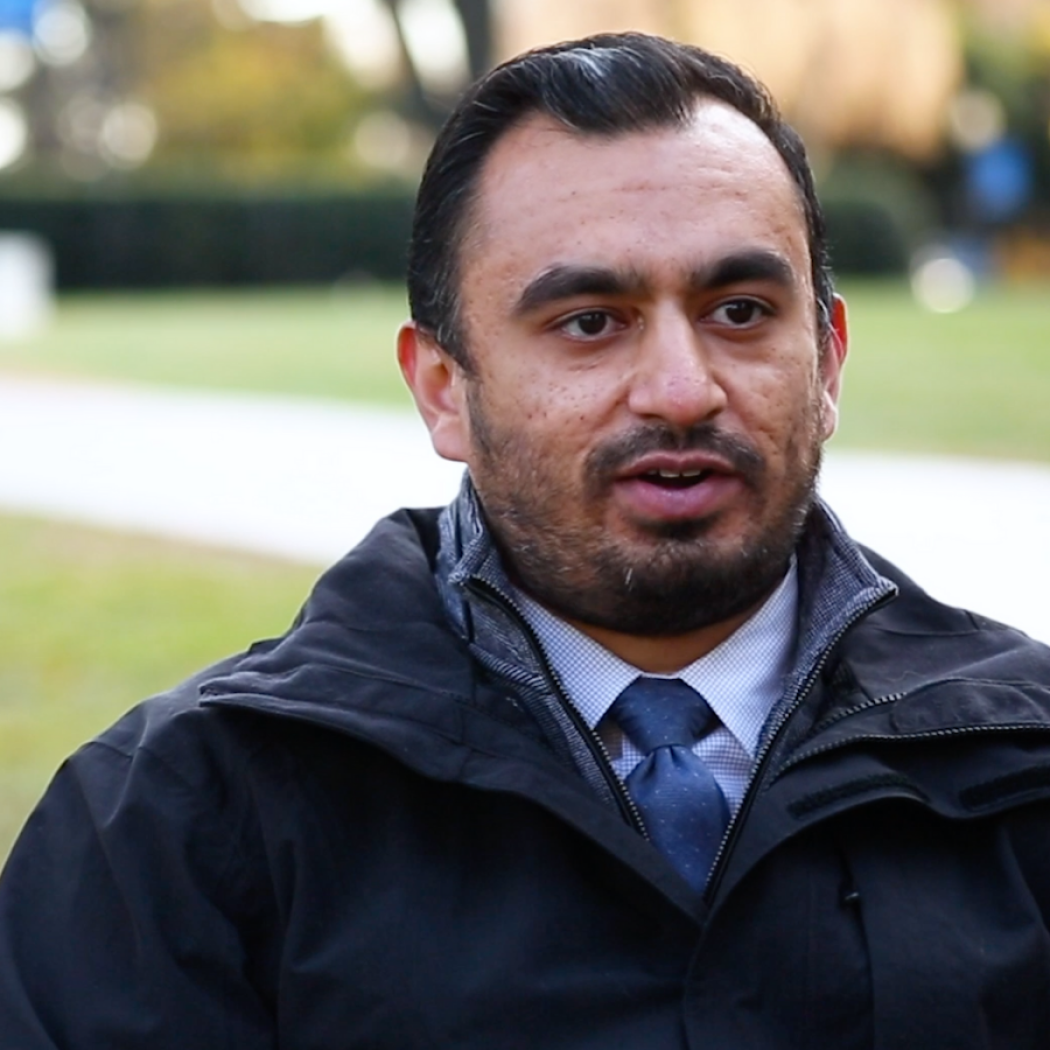 "The opportunities afforded to me at SFS as well as within SSP have not only been rewarding, but I very much feel a part of the community."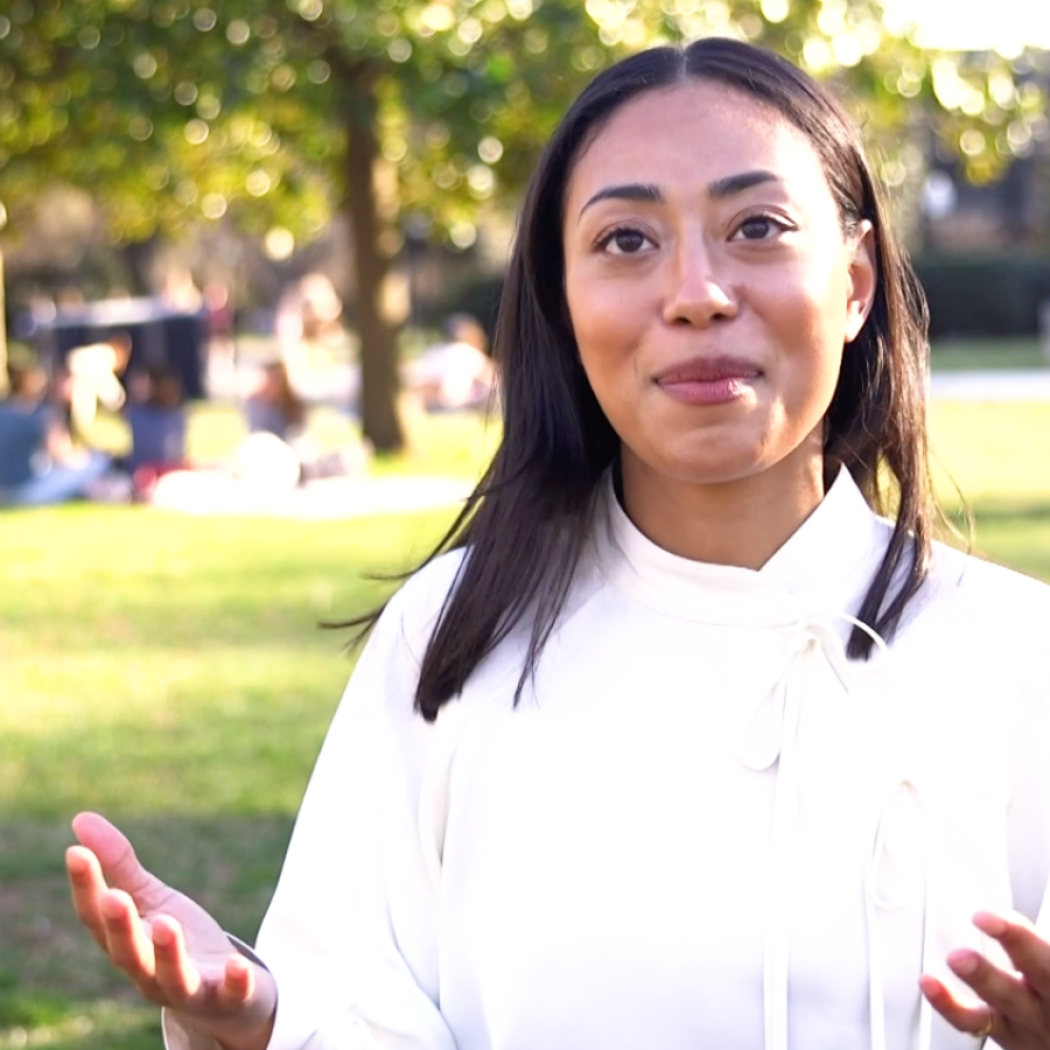 "All of these experiences have been really great and really grounding the sort of themes that I'm learning in the classroom."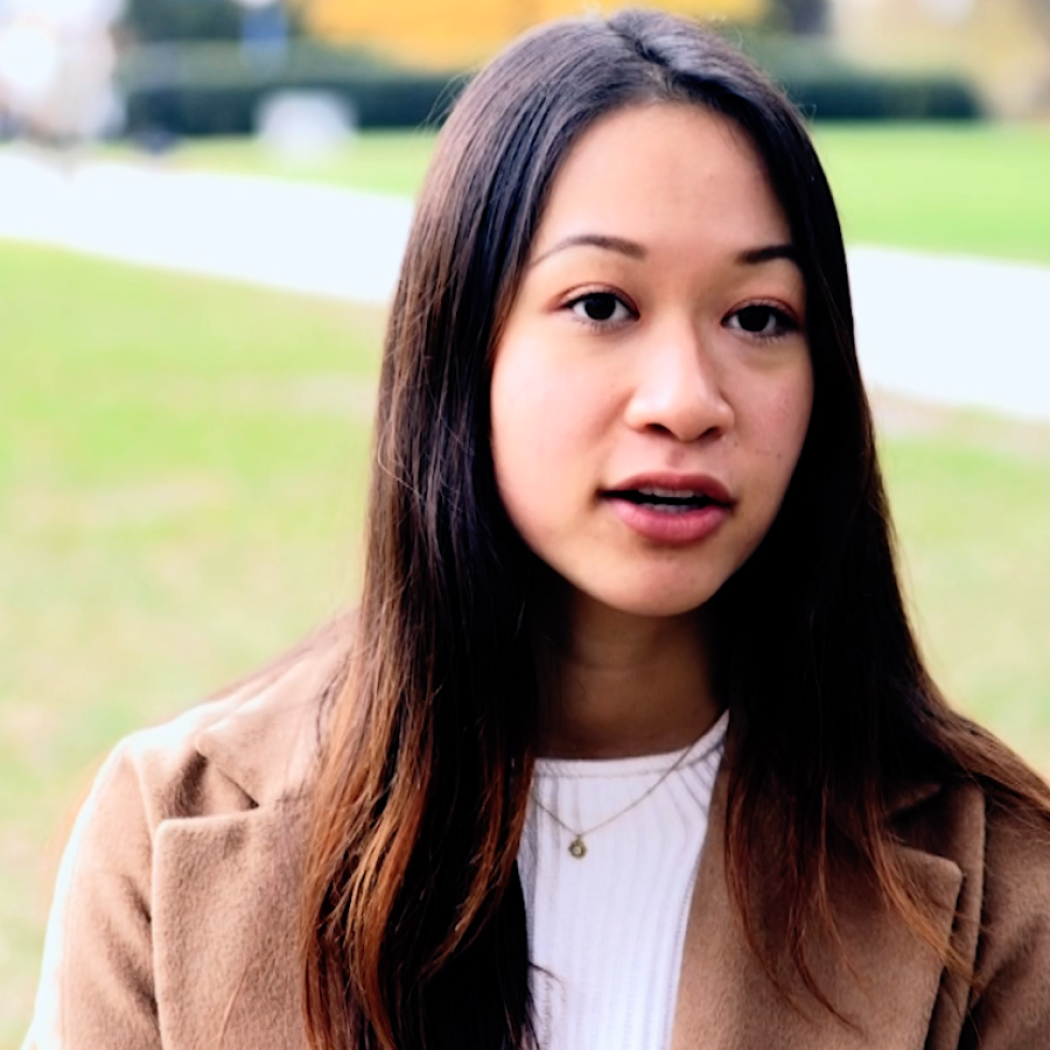 "I chose to come to Georgetown because I knew I wanted to be living in DC, where I could make connections and have these amazing networking opportunities that I know I could probably not have anywhere else."