Content Warning: This story makes reference to genocide, incarceration and sexual violence.
Global perspectives and experiences are the heart of the student experience at the Walsh School of Foreign Service (SFS). During their time at SFS, students have the opportunity to engage with classmates from dozens of countries, hear from world leaders and travel abroad to expand their learning in practical, direct contexts.
Before the COVID-19 pandemic, over 70 percent of undergraduates spend time abroad, a statistic made possible by generous donors who appreciate the value of experiential learning and support innovative programs like SFS's Centennial Labs (commonly referred to as "C-Labs") and Georgetown's Alternative Breaks Program (ABP). After two years of countless pandemic-related cancellations and postponements, SFS global experiences have returned in full force this summer.
Understanding Climate Change Through Policy and Practice in the Arctic
While summer break usually marks the start of sunny vacations and beach getaways, nine SFS students instead donned their parkas and headed for the Arctic. Led by Professors Jeremy Mathis and Joanna Lewis, Problem Solving in a Destabilized Arctic traveled to Alaska, where visits to Anchorage, Whittier, Seward, Utqiaġvik and Fairbanks helped students interrogate climate policy through the eyes of those experiencing the immediate effects of climate change.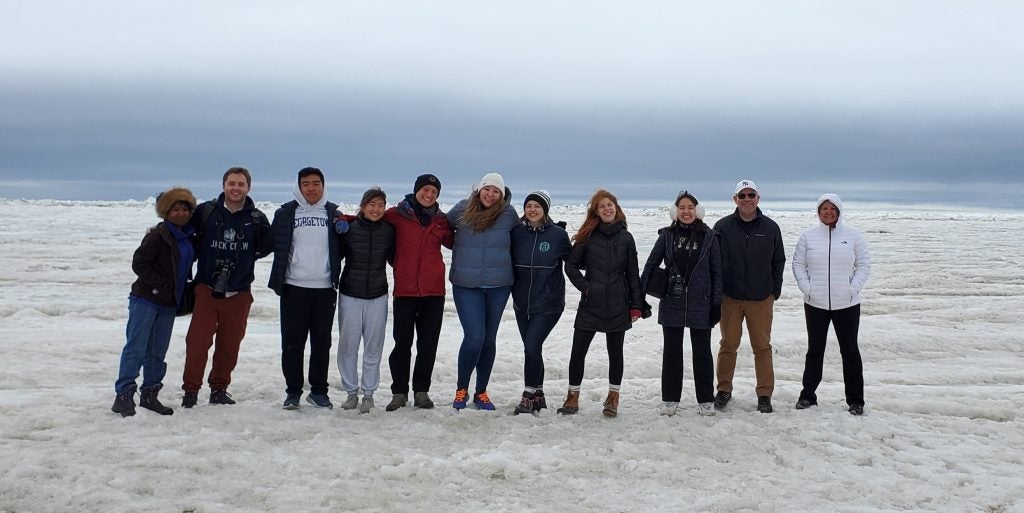 Like all C-Labs, learning began in the classroom, where students in the spring semester course each undertook a project on a climate change-affected condition in the Arctic. After researching and evaluating their chosen topic and the relevant government policy, students shared their findings at a class-wide "Arctic Forum," where presentations touched on everything from the effects of wildfires and warming waters to economic and security-related impacts.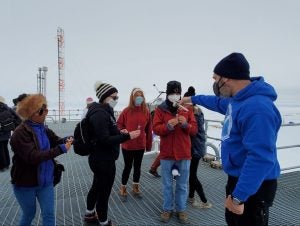 Once in Alaska, however, students were able to compare their findings to the realities of a changing Arctic environment. The group saw the receding Exit Glaciers and Glaciers of Prince William Sound and captured air samples for greenhouse gas monitoring at the National Oceanic and Atmospheric Administration's Atmospheric Observatory. In Fairbanks, students visited the Trans-Alaska Pipeline and sat in on presentations about Alaskan climate and culture at the University of Alaska.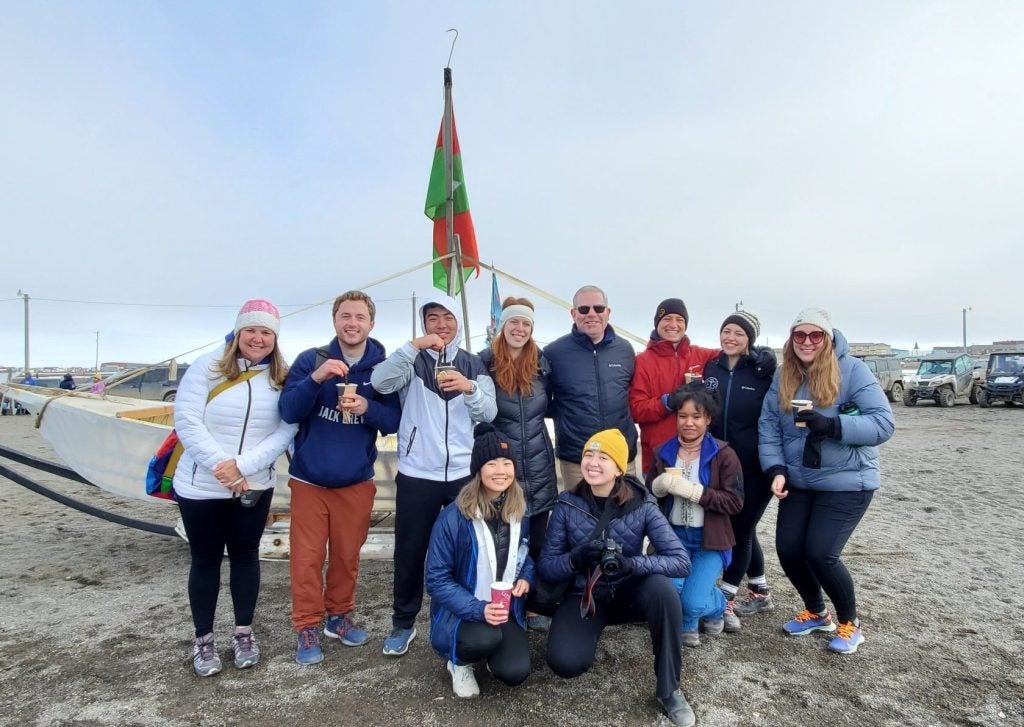 Memorably, a whaling captain in Utqiaġvik invited the Georgetown group to a community event celebrating the season's abundance. "The people of Utqiaġvik rely on whales as sustenance throughout the year," explains Jamie Welling, SFS Global Experience program director. "When a whaling captain has a successful hunt, it is tradition for the captain to host their community to share in the bounty."
Due to COVID-related travel restrictions over the past few years, it was many students' only chance to partake in such an experiential opportunity during their time at SFS. Yet, unique encounters like talking with Alaskans about community-based mitigation efforts — and even spotting a polar bear — transformed and enriched student perspectives on climate change.
"It really was eye-opening for all of us and made us all think about what we can do going forward to try and mitigate some of these changes personally and even professionally," Welling remarks.
Learning About International Business Development in Nairobi, Kenya
The Kenya Global Experience has been a hallmark of the African Studies Program (AfSP) since its launch in 2011. During their time in Nairobi, students go on site visits and outdoor adventures, in addition to learning about international and business development. Typically held in March with the rest of Georgetown's ABPs, this year's trip was delayed until June due to the pandemic.
Landing in Nairobi was the start of many participants' first trips to the African continent. While limited media representation often contributes to a Western perception of Africa as underdeveloped, exploring the city and engaging with locals quickly disrupts these preconceived notions.
Yet, these interactions also show students how perceptions can go both ways.
"Educational opportunities like the Kenya trip give students the opportunity to see how the world sees them, which can be enlightening," explains Marta Manzano, assistant director of AfSP.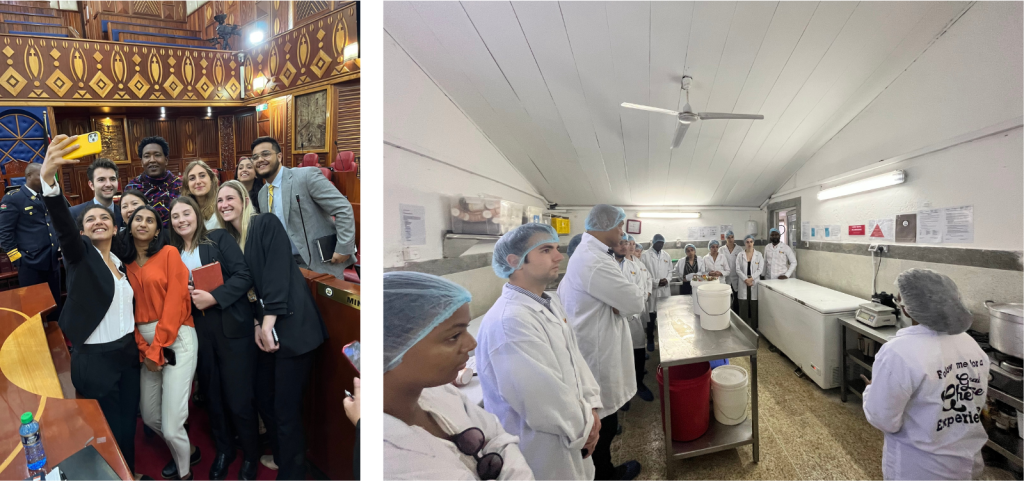 In just one week, students visited the Kenyan Parliament, ate a locally-sourced lunch from Brown's Cheese factory while learning about the challenges small businesses face and heard from the Kenyan Wildlife Conservancies on the value of indigenous knowledge systems. Through conversations with business owners, manufacturers, NGOs, politicians and local stakeholders, students were immersed in the politics, culture and technology of Kenyan business development.
"It was a great feeling to be able to return to studying abroad after a two-year pause due to COVID," Manzano shares. "Going abroad and experiencing life from someone's perspective is probably one of the most significant experiences any student can have during their college years."
Past student participants also testify to the value of their experiential learning trip in Kenya. "The trip to Kenya will, undoubtedly, be the highlight of my undergraduate career," Evan Navori (SFS'23) affirms. "Meeting with professionals across a variety of fields, I was able to broaden my horizon."
Exploring Living Legacies of the Holocaust in France
Taught by Father Patrick Desbois and Professor Andrej Umansky, the Holocaust by Bullets C-Lab takes a forensic lens to the lesser-known murders of 1.5 million Jews in Eastern Europe during the Holocaust — killings which unfolded not in mass camps like students typically learn about, but through mobile killing squads. Desbois, a renowned scholar, has spent years conducting ground investigations and interviewing witnesses in his dedication to uncovering the history of the Holocaust by Bullets and confronting antisemitism.
The trip was initially planned for Romania and Moldova, both countries where Desbois studies mass grave sites. After the Russian invasion of Ukraine, however, the trip's location shifted to France. Nonetheless, France provided an important context for students to learn about the Holocaust.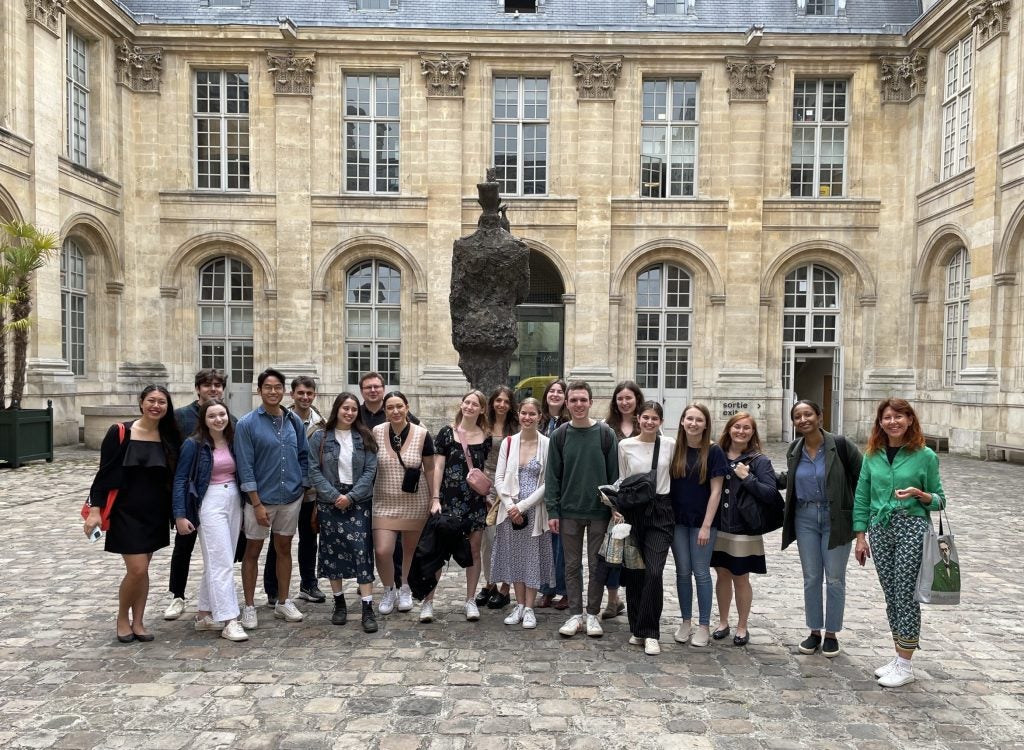 "France is a unique country to study the Holocaust in due to its collaboration with the Nazis during World War II, key tactical location for wartime battles such as those of D-Day, and ongoing challenges with antisemitism, Islamophobia and anti-immigrant sentiment," explains Brittany Fried, assistant director of the Center for Jewish Civilization.
A visit to the Normandy beaches, for example, served as reminder of the historical contexts with which the Holocaust is intertwined and helped "drive home the physical landscape and multidimensional suffering and experiences that occurred over the course of the war," Fried explains.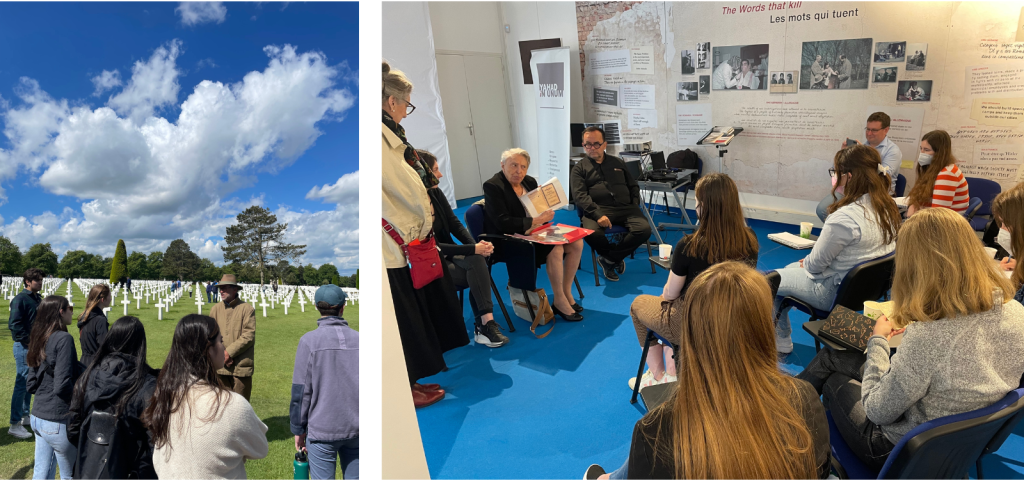 Students not only visited locations significant to the Nazi occupation but also conversed with genocide survivors, shedding light on how genocide has impacted and continues to shape communities. After speaking with a survivor of the Drancy Transit Camp — the largest transit camp in France through which Jews were deported to concentration or death camps — students visited the camp in person, which is now a public housing facility. These experiences were then put in conversation with the impact of ongoing genocide, as students went on to meet with a Yazidi survivor who ISIS had kidnapped and forced into sex slavery.
"The most rewarding aspect of traveling with the C-Lab was seeing the students connect their in-class learning to the living memory and legacy of the Holocaust on the ground," says Fried. "Classroom learning is essential, but being able to apply, critically analyze, and emotionally connect to the information through lived experience drives the learning to a much deeper level."
Engaging the Personal and Political Through the Arts in Cambodia
On an evening aboard a river boat, the Politics and Performance C-Lab listened intently to Arn Chorn Pond, flutist, founder of Cambodian Living Arts and genocide survivor. "My greatest wish is that children will carry musical instruments instead of guns," he told the group.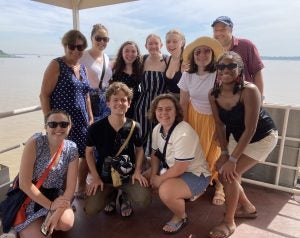 Rather than forensics, Politics and Performance: Confronting the Past, Shaping the Future explores the legacies of genocide through the arts. Asking how the performing arts play a role in memory and healing, Professors Derek Goldman and Amb. Cynthia Schneider,  co-founders of The Laboratory for Global Performance & Politics (The Lab) on campus, led a group of students to Cambodia where they saw local artists and changemakers in action.
The Politics and Performance C-Lab builds on the founding mission of The Lab: to draw on narrative, memory and acts of witnessing through performance in order to humanize global politics. While on campus, the class focused on building foundational knowledge of how the arts can be crucial to resolving and rebuilding from conflict. Once in Cambodia, however, students were struck by what felt like a "living laboratory," ripe for putting ideas into action.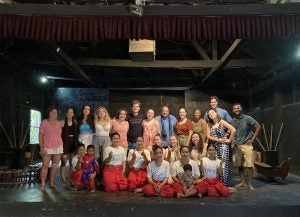 "I was, quite simply, blown away by the incredible talent, dedication and, above all, hope displayed by our Khmer hosts," Rebecca Tone (SFS'23) describes. "From the all-female drumming troupe MedHa to the modern dance duo New Cambodian Artists, the acrobats and organizers of Phare Circus to the actors and directors of Khmer Art Action, the passion for art as an agent for social change was practically tangible throughout our visit."
Tone also shares how there were many opportunities to get to know her fellow participants — and herself — in new contexts. "Not only do I feel closer to my classmates after this trip, but I also feel that I personally have grown as a result of their thoughtful insights, open-minded attitudes and willingness to share in so many emotional experiences with me," she observes.
While the group had moments of fun and bonding in more casual settings, they were also met with chances to collectively reflect on complex Khmer historical narratives. At one point, Georgetown students even staged an impromptu performance drawing on the English version of Soung Sopheak's original play "Drive Hom."
"The Georgetown students readily and expertly took on the challenge of interpreting the text, even adding a Greek chorus to emphasize key words," recalls Ersian François, general manager and associate producer at The Lab. "We then saw the Cambodian version of the same scene with the Cambodian actors, and it was just a magical moment of artistic and human exchange."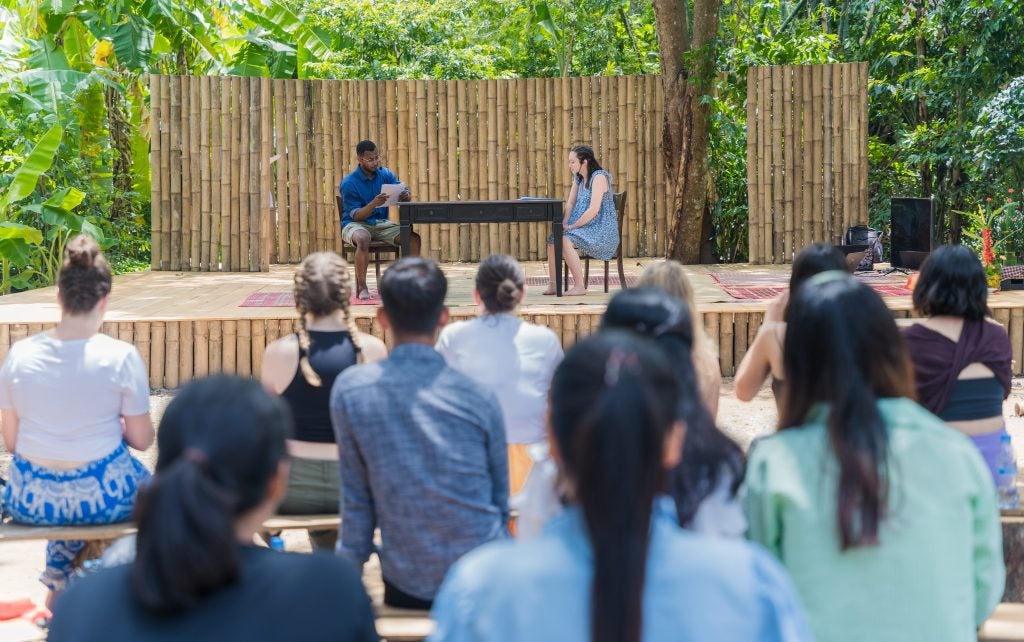 Tone echoes François' sentiments, conveying how the trip enhanced her understanding of art's role in confronting loss and rebuilding communities. "Traveling to Cambodia helped me crystallize in my mind that despite the tragic universality of suffering and conflict, hope and resilience are also universal, and humans have an incredible capacity for transforming profound pain into profound beauty," Tone reflects.