Over the past year, staff at the Walsh School of Foreign Service (SFS) have demonstrated impressive commitment working to promote diversity, equity and inclusion (DEI) within the institution. This past December, the SFS DEI Office honored these efforts with the newly established Excellence in DEI Awards — the first staff-specific honor of its kind at Georgetown.
At a ceremony hosted in McGhee Library, SFS Dean Joel Hellman and interim Vice Dean for DEI Carla Koppell recognized staff and programs who have "gone above and beyond" to create a more inclusive, just and welcoming community. "It is so important to recognize SFS community contributions to advancing diversity, equity and inclusion across the school. It shines a spotlight on wonderful colleagues while highlighting terrific programs," says Koppell.
From reviewing and revising syllabi to expanding opportunities for students from Historically Black Colleges and Universities (HBCUs) to learn about security studies, SFS celebrates our staff's dedication to DEI and invites the broader community to reflect on the vital impact of their work this year.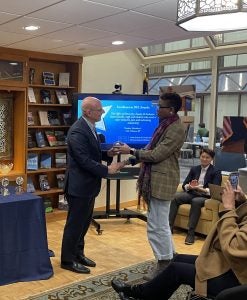 Staff Awards
Rebecca Caro is the Director of Academic and Faculty Affairs for the Master of Science in Foreign Service (MSFS) program. In her role, Caro works with faculty and students on the MSFS curriculum, course offerings, registration and degree requirements. Caro was honored for her crucial role in facilitating the MSFS syllabus review. Conducting a review of all MSFS course syllabi has been a key step towards addressing systemic racism within the program and ensuring the meaningful representation of women and people of color among the authors of required readings.
Camille Grayson is the Assistant Director of Employer Outreach and Alumni Relations at the SFS Career Center. Grayson was recognized for her efforts and personal approach to supporting student and alumni employment. "My vision is to provide students and alumni access to career opportunities that align with their values, support their well-being, welcome their culture, and cultivate their professional community," Grayson explains. "My personal mission is to foster our community's developmental experiences and grow its professional network to further the Walsh School of Service's production of exceptional, impact-driven thought leaders and experts in a competitive global workforce."
Mairead MacRae served as the Assistant Director of Content Strategy in the SFS Office of External Relations before leaving Georgetown in June 2022. MacRae was also honored for her contributions to SSARG in addition to her advocacy for equitable and accessible working conditions during the pandemic.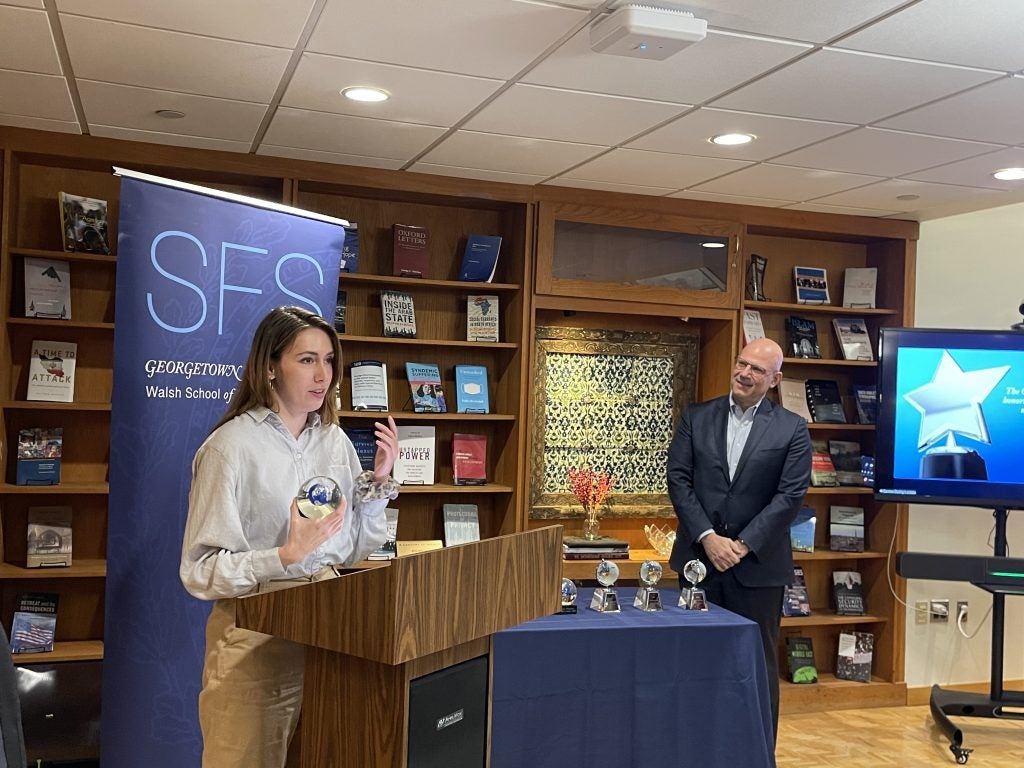 Patty Ritter (MAERES'23) served as Program Manager in the SFS Undergraduate Dean's Office. She is also a current Master of Arts in Eurasian, Russian and East European Studies candidate, with a focus on ethnonationalism, environmental conservation and conflict resolution. Ritter was honored for her initiative and drive as a member of the SFS Staff Antiracism Group (SSARG). Despite her own busy schedule, Ritter frequently coordinated meetings, sourced relevant readings and "pushed to establish SSARG guidelines and a constitution," commends Lauren Low, a fellow SSARG member and Data Analytics Manager for the SFS Career Center and DEI Office.
Kristen Robinson is the Associate Director of Academic Programs for the Global Human Development (GHD) Program. Robinson was honored for her work coordinating the GHD Social Justice Student Assistants. Robinson has extensive experience with higher education administration, including student affairs interventions and challenges facing the American higher education system. In her role, she engages with students at all points in their journey. Serving as an admissions advisor, academic counselor and course planner, Robinson provides both administrative and personal support.
Program Awards
The GHD Student Assistantship for Social Justice was created as part of a broader effort to move beyond simply representing a diverse population, giving GHD students the direct opportunity to shape a more inclusive community at all levels. Since hiring two students to take on the role, GHD has issued a values statement on service, inclusion, innovation and ethics, surveyed current students and alumni on their experience with DEI at GHD and piloted "Brave Spaces" — a supportive discussion space for students to process current events and other issues important to them.
The Security Studies Program (SSP) was honored for their creation of the Security Studies Summer Institute, a weeklong crash course on security-related studies and professional paths for HBCU students. This past summer, the inaugural cohort of 18 students from across the country sat in on guest lectures, networked with SSP alumni and went on exclusive site visits to the Defense Intelligence Agency and U.S. House Armed Services Committee. By increasing awareness of and access to graduate training and career opportunities, the program aims to diversify the pipeline of individuals working in national security.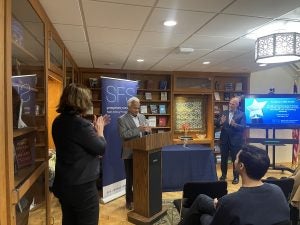 MSFS was honored for making strides to improve DEI and address systemic racism throughout the entire program. Since its creation in June 2020, the MSFS DEI committee has identified six key areas: admissions, curriculum, culture, faculty and staff recruitment, communication and placement. Over the past year, MSFS has made progress towards addressing DEI in each of these aspects. The Inclusionary International Development Series increases awareness of colonialism in international development, while DEI Dialogues provide a "critical touch point" for first and second-year students to discuss inclusion-related issues at MSFS. Recently, MSFS also launched the MSFS Future Scholarship, which covers tuition and provides a stipend to a graduate student whose background and experiences "uniquely enable them to contribute to the diversity of the MSFS community."
Towards a More Inclusive SFS
As we reflect on staff accomplishments over the past year, SFS also looks forward to the continued growth and development of DEI-related initiatives in our academic and research programs, workplace and broader institution.
"It is incredibly moving to hear colleagues talk about the collaborative spirit that animates work to advance diversity, equity and inclusion," Koppell says of the Excellence in DEI Awards. "I so appreciate the collaboration that brings together staff, students and faculty. It creates and advances the community at the same time, which is so wonderful."
Heading into the spring semester and new year, Koppell shares her vision for DEI at SFS. "I hope we are laying a strong foundation for continued progress. Efforts to advance equity and inclusion take time, focus and intentionality," she says. "I aspire for SFS to become a model for Georgetown, for international affairs education, and for those wishing to advance DEI globally."