The Security Studies Summer Institute, administered by the Center for Security Studies (CSS) at the Walsh School of Foreign Service (SFS), brings together rising college juniors from Historically Black Colleges and Universities for a crash course in security-related studies and professional paths.
This past summer, CSS welcomed the Institute's inaugural cohort to Georgetown University — 18 students from HBCUs across the country — to help expand the diversity of the national security field by increasing awareness of and access to graduate training and career opportunities.
Program participants met with current and former public officials focused on national security, connected with SFS researchers and scholars at the cutting edge of security studies and had candid conversations with women professionals and professionals of color about their experiences working in and transforming the field.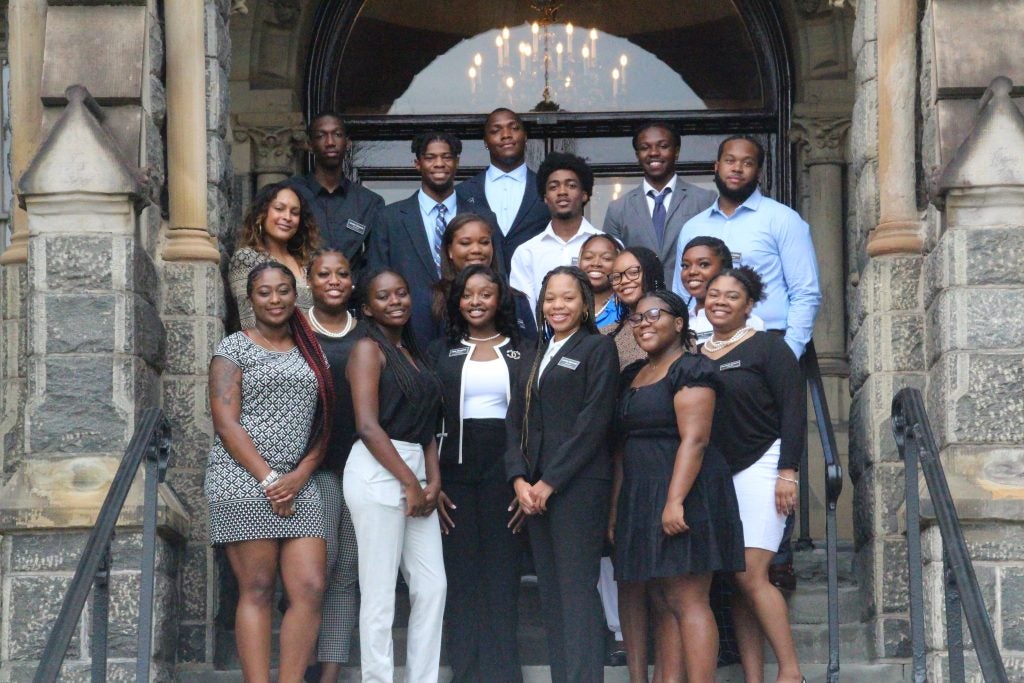 In a whirlwind week of programming, students learned about exposure to life at SSP, seized career development opportunities and made a host of new personal and professional connections. "My experience in this program was very enriching and encouraging," says one student, Landry Samuels. "It allowed me to see the 'full-scope' of the national security sector and the many opportunities it provides."
For current sophomores attending any HBCU and interested in joining the Summer 2023 cohort, applications will be opening soon.
Demystifying Security Studies
According to Dr. Heidi Urben, professor of the practice and director of external education for the Security Studies Program (SSP), CSS established the institute with several practical goals in mind.
Investing in students' futures and helping them to not only get their foot in the door, but also to succeed in security studies were top priorities in the development and implementation of this year's pilot program. "Our long term goal is to help increase and promote diversity in the field of security — we recognize that this field can often be opaque with many barriers to entry." Urben says.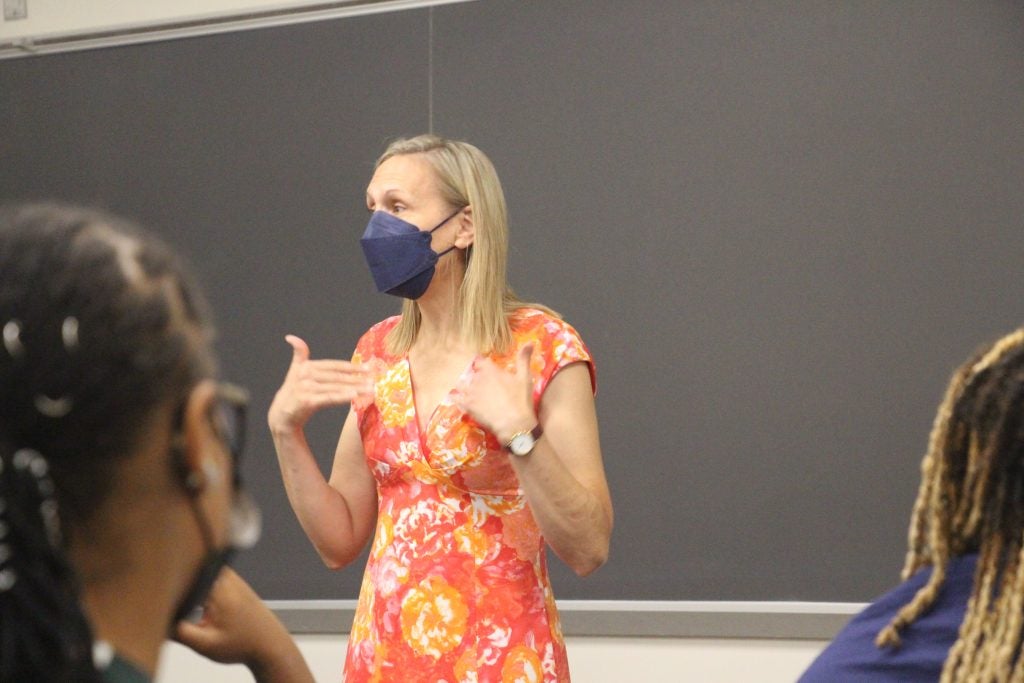 In order to ensure that cost would not be a barrier to participation in the Security Studies Summer Institute, CSS covered the entirety of program expenses and offered a $600 stipend to each participant.
To offer the cohort a broad survey of security-related opportunities in just one week, SSP packed the institute with site visits, networking events and question and answer sessions. Program coordinators built the schedule around concentrations offered at SSP: U.S. national security, international security, intelligence, technology and security, terrorism and substate violence and military operations.
"I enjoyed all of the speakers…and was convinced that this program can help me hone in on my potential to advance my career," one participant emphasizes.
In their conversations with students, many guests emphasized the importance of being open to—and pursuing—unexpected opportunities. Former U.S. Secretary of Homeland Security Jeh Johnson, speaking with students over Zoom, offered his own experience of a winding career in public service. "When I was your age, I thought I could plan my career, but there are always twists and turns," Johnson said.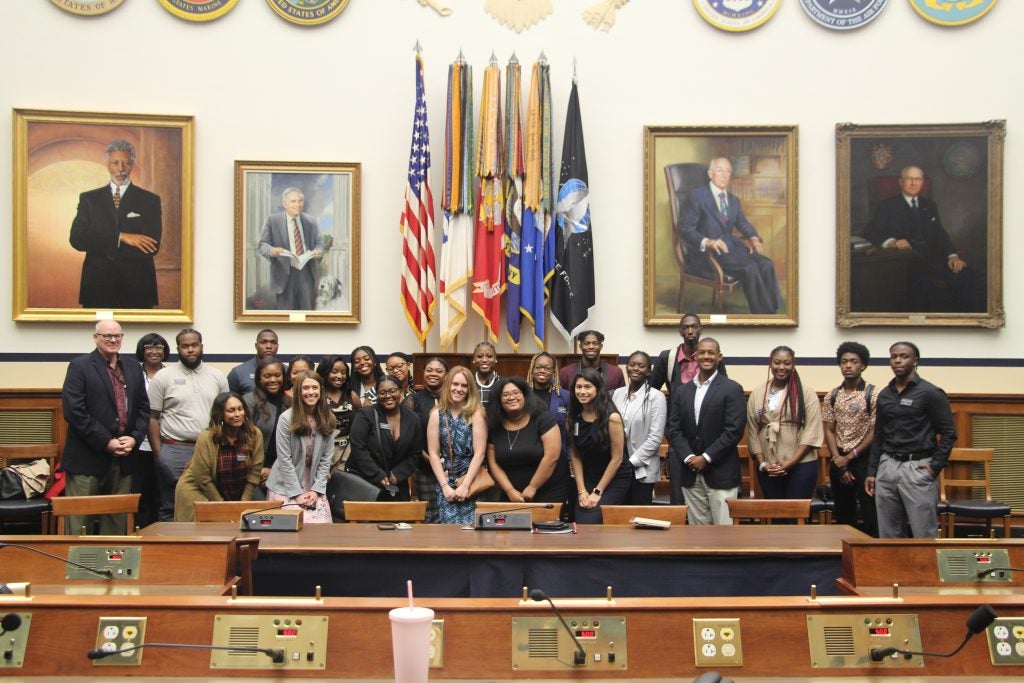 Other public sector speakers attested to the importance of being assertive and seeking out mentorship, especially for women and people of color who might not see their experiences reflected as frequently in leadership positions.
During a trip to Capitol Hill to speak with staffers on the U.S. House Armed Services Committee, Betsy Dudley, national security advisor for Representative Marilyn Strickland, encouraged students to not to wait for institutions to change, but rather to change them themselves.
"I'm not going to wait for someone to open a door for me," Dudley said. "You have to open the door for yourself."
Delivering "Tangible Insights"
Urben highlights that the opportunity to "meet with leaders and practitioners on their own turf" was integral to the first-person, hands-on value that the Security Studies Summer Institute delivered. "This allowed students to peer behind the curtain and gave them both access and tangible insights into the national and international security world," she explains.
On Thursday's "Intelligence Day," program participants visited the Defense Intelligence Agency and the Cybersecurity and Infrastructure Security Agency (CISA). In off-the-record sessions with junior officers, intelligence experts and even CISA Director Jen Easterly, students got inside scoops on what it's like to work in the intelligence community.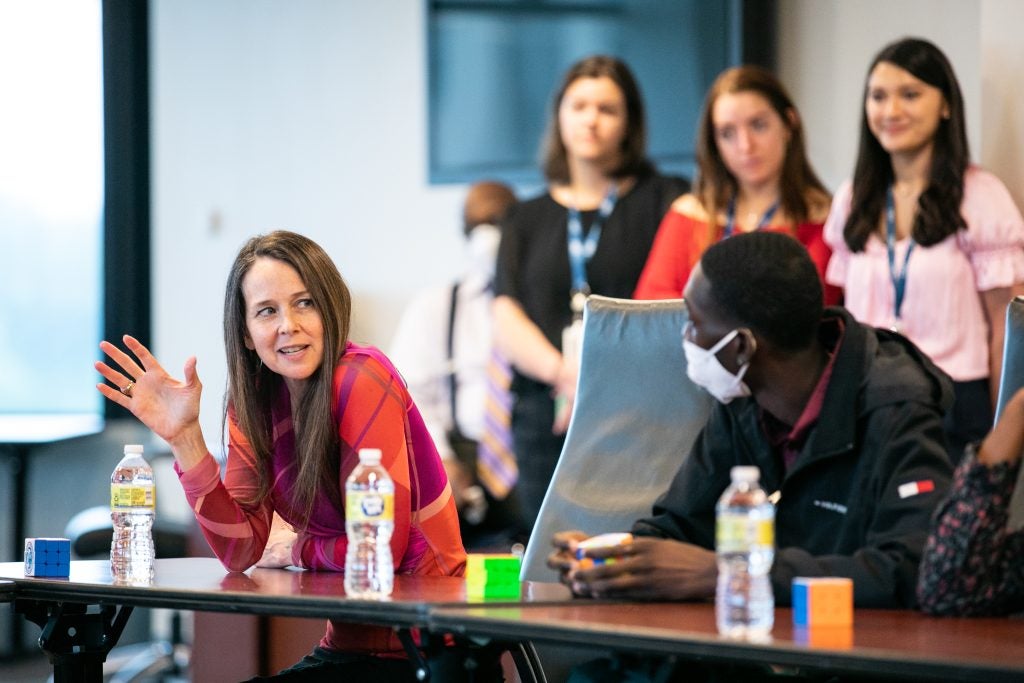 Tapping into the extensive network of security experts and practitioners based in DC gave students access to resources and professional connections that can be difficult to secure through most undergraduate courses or internship opportunities.
For students, these candid discussions were a highlight of the program. "Speaking to the practitioners gave me transparency and insight into the world of national security," shares Christopher Lawrence, a student at Virginia State University. "The questions that were asked were answered with respect and decorum. And the [variety] of speakers would help to keep me engaged."
From Center for Jewish Civilization Director Bruce Hoffman's seminar on terrorism and counterterrorism to Institute for the Study of Diplomacy Non-Resident Associate Alistair Somerville's (MAGES'20) tour of his day job at the United Nations in Washington, SFS community members were able to offer the cohort insights from their own experiences.
"We certainly don't expect undergraduates at this point in their studies to have a refined understanding of security studies or a total commitment to pursuing a career in security," Urben says. By putting students in touch with a wide range of experts, the program encouraged students to identify and tuck away ideas for future study or specialization.
Building Inclusive Communities
As rising juniors, many of this year's program participants are beginning to explore their future employment and graduate study options more intently. To facilitate this exploration, the Security Studies Summer Institute connected students to opportunities that can position them to launch the next stage of their careers.
Through an information session on the Charles B. Rangel Fellowship, Thomas R. Pickering Fellowship and Payne Fellowship, students got the details on how to apply for programs that can fund their graduate students and create a path to the U.S. Foreign Service and U.S. Agency for International Development, respectively. Participants also had opportunities for professional development and networking.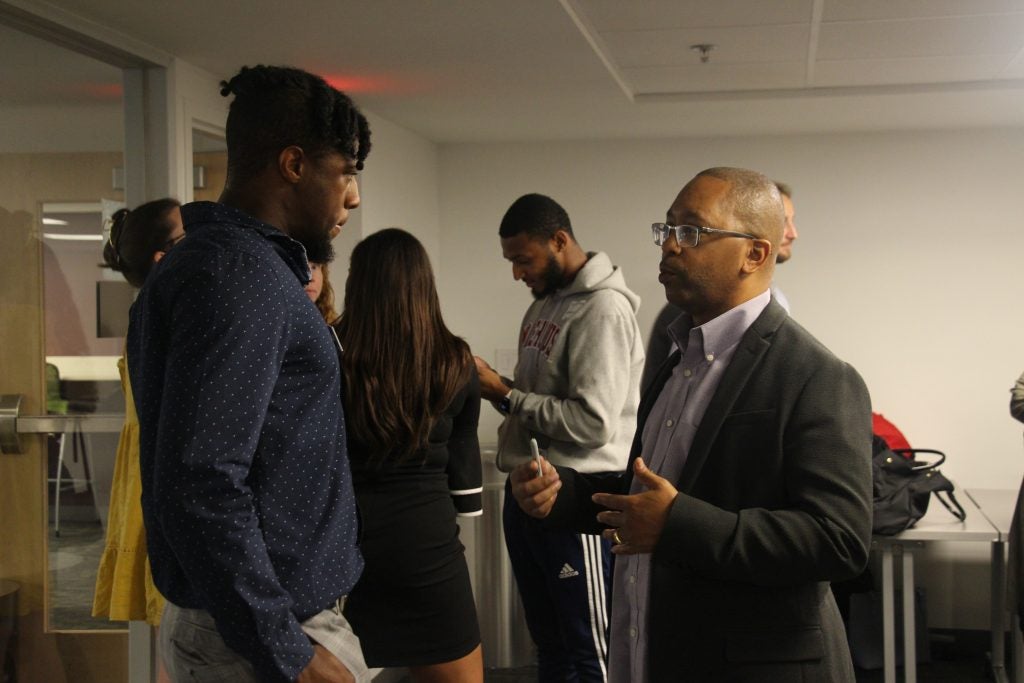 "The highlight of the Summer Institute was by far the networking. I loved this aspect, because not only did this program introduce us to a world that I initially thought unknown, they provided us with a plethora of connections and networking abilities," one student describes. "This entire program was so helpful. I have taken away many lessons, crucial advice, and knowledge — by far one of my best experiences."
Many of the SSP alumni and additional security experts who participated in these networking events set out to impart advice they wished they had received as early-career professionals striving to break into a field that white men have historically dominated.
Maggie Feldman-Piltch (SSP'19), spoke to students about her experience promoting a more representative national security community as founder and CEO of #NatSecGirlSquad. The mission of the organization, she explained, was not only to diversify the national security ranks, but to create spaces where professionals from minoritized communities feel included. "I want to make sure no one ever feels as terrible as I felt on my worst days," she told students.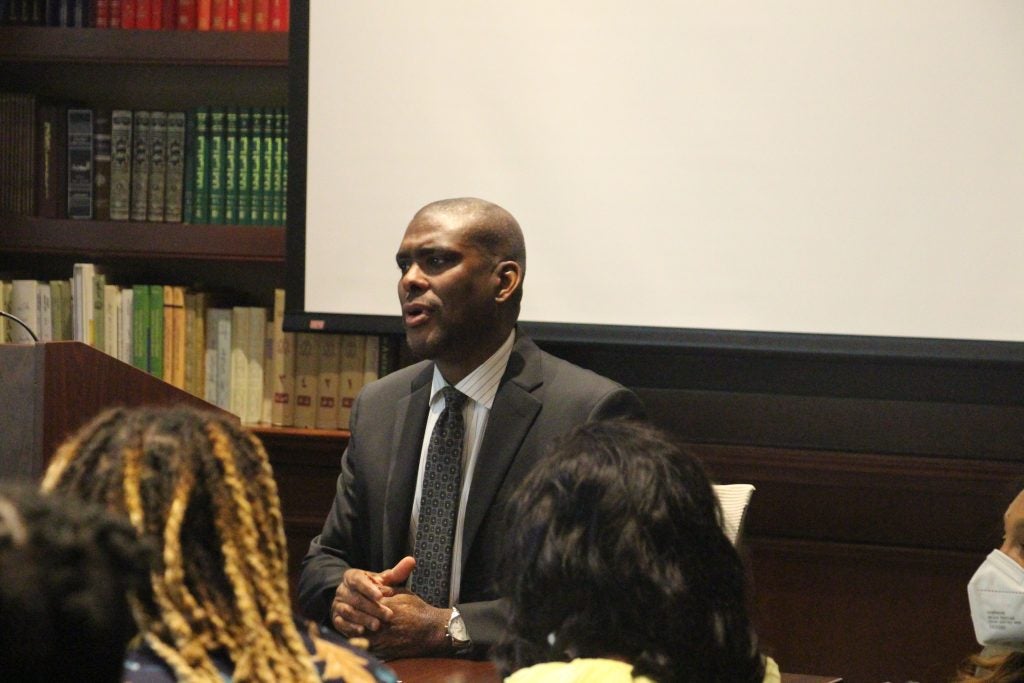 Practitioners more advanced in their careers shared strategies that have served them well throughout their time in national security and public service. During a question and answer session with U.S. Ambassador Dereck Hogan, the ambassador touched on the importance of bettering one's own leadership skills through "teaching, coaching, and unleashing others."
"I am most effective when I am enabling others to do the work so that I can focus on the work that only I can do," Hogan told students. "That is setting you up for successful leadership."
Lasting Connections
Now back at their respective universities, this year's cohort is equipped not only with new knowledge and insights, but also with the benefits of being plugged into an invaluable community of people.
"I am super happy that I applied for this program," expresses Sydney Davis. "I was able to meet so many people similar to me and what I want to do in the future…I will use these connections and resources to pave the way to a career in national security."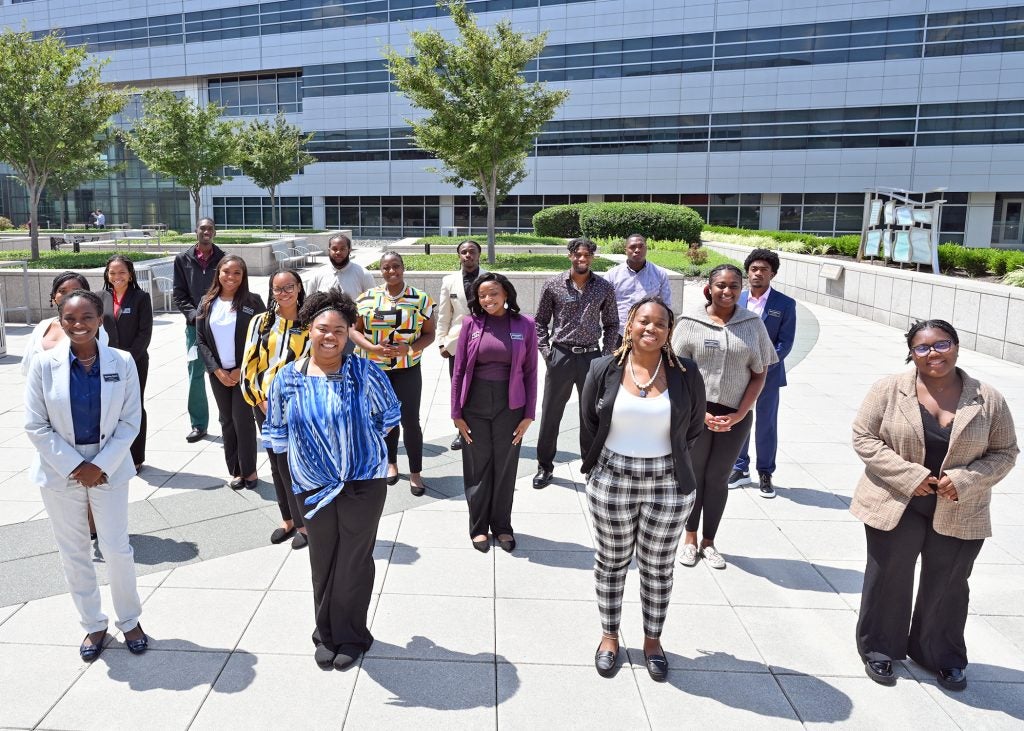 Davis' reflections encapsulate the kind of experiences program leadership hoped to impart upon students. Urben remarks, "This summer institute was designed to expose HBCU undergraduate students to the diverse opportunities in security-related career paths and to demonstrate that there's a place for them."
"Students walked away from this immersive experience with a greater appreciation for the breadth of opportunities within the field of security, and as a result, we hope they are more likely to consider careers and graduate education opportunities in it."