Graduate Financial Aid
At SFS, we are committed to giving students of all backgrounds the opportunity to study international affairs. Over 50% of our graduate students receive some funding from Georgetown University in order to attend. Our students also utilize external funding opportunities from private foundations and government fellowships, in addition to loans.
Tuition and Mandatory Fees
2023-2024 graduate program tuition is $2,452 per credit hour for all SFS programs in the Graduate School of Arts and Sciences (Arab Studies; Asian Studies; Eurasian, Russian and East European Studies; German and European Studies; Latin American Studies; Security Studies; Global Human Development and Foreign Service).  
Fall 2023 program tuition per credit hour is $2,682 for the International Business and Policy program offered jointly with the McDonough School of Business.
Annual full-time tuition and mandatory fees per graduate program range from $29,462 to $62,311.  Information about other annual fees including health insurance is found on Georgetown's Revenue and Receivables website.
Total cost of attendance per graduate program, including estimated indirect expenses, ranges from $59,812 to $92,661. Information about direct and indirect expenses is found on Georgetown's Student Financial Services website.
See individual program websites for program costs.
Master of Arts in Arab Studies (MAAS) 
Master of Arts in Asian Studies (MASIA)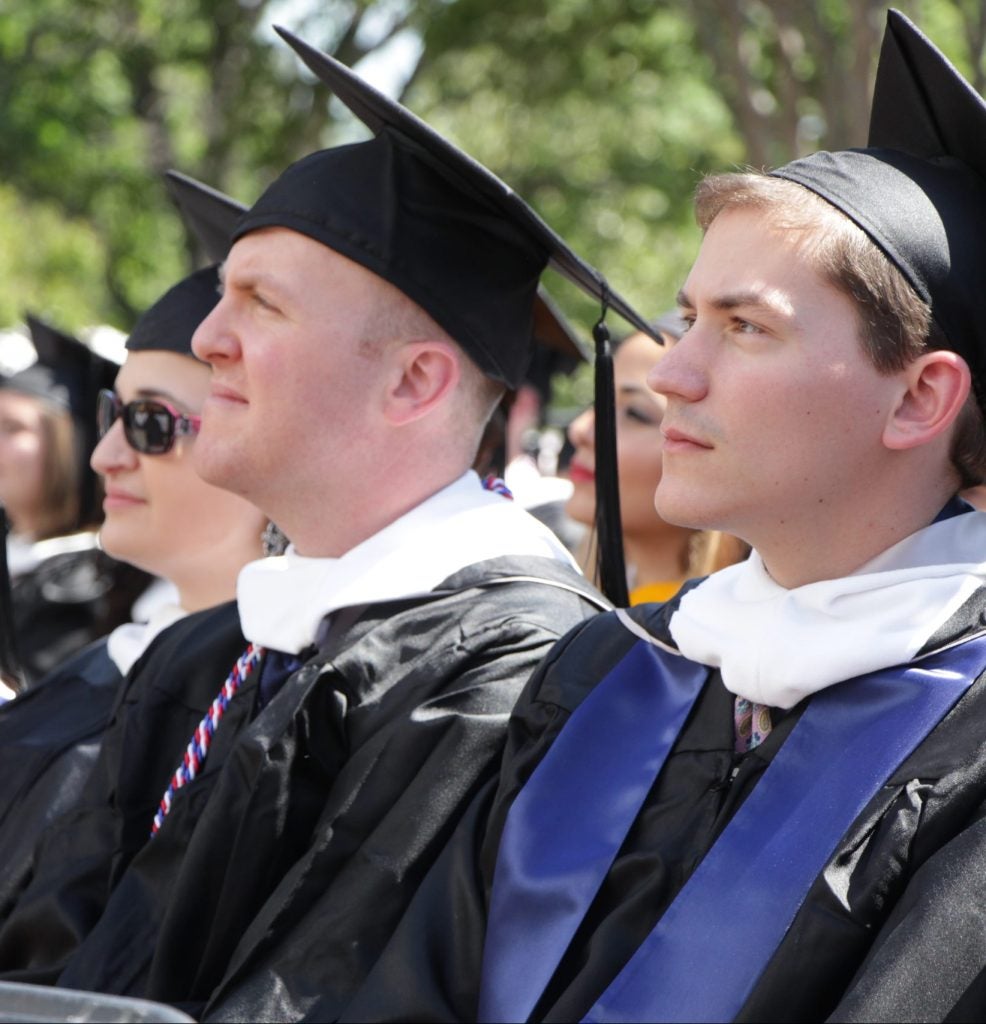 Master of Arts in Eurasian, Russian and European Studies (MAERES)
Master of Arts in German and European Studies (MAGES) 
Master of Arts in International Migration and Refugees (MIMR)
Master of Arts in Latin American Studies (CLAS)
Master of Arts in Security Studies (SSP)
Master of Global Human Development (GHD) 
Master of Science in Environment and International Affairs (MS-EIA)
Master of Science in Foreign Service (MSFS)
Master of International Business and Policy (IBP)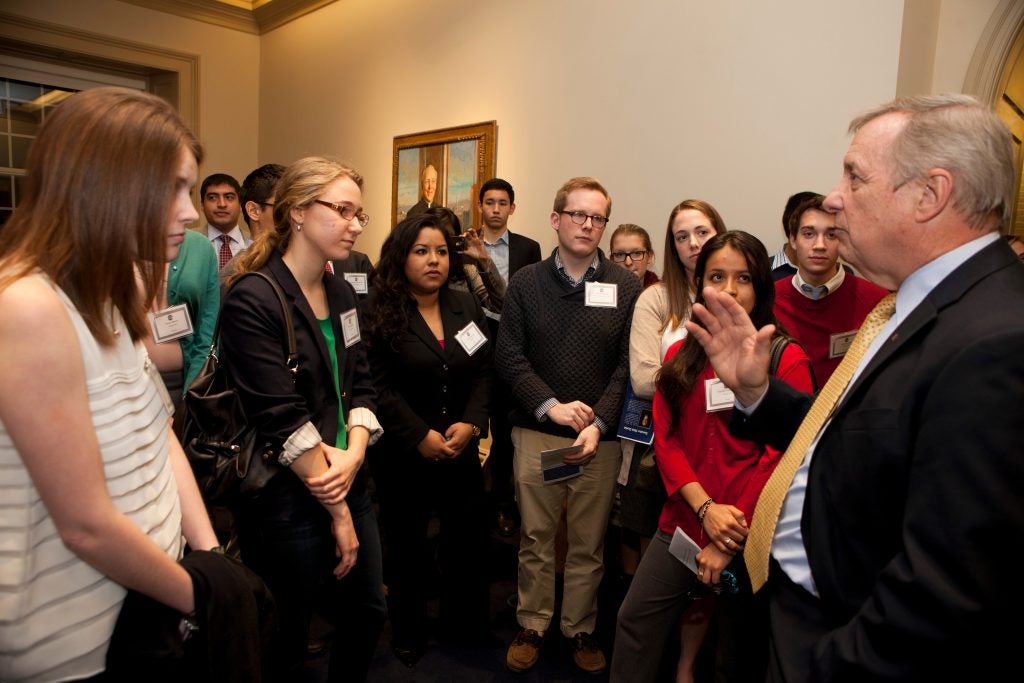 Georgetown Merit Aid
SFS graduate programs offer a number of merit-based scholarships to students during the admissions process. Applicants are assessed for eligibility based on their application to the graduate program. 
Donald F. McHenry Global Public Service Fellows Program
All applicants are also encouraged to apply to The Donald F. McHenry Global Public Service Fellows Program, which seeks to enhance SFS recruitment of exceptionally qualified graduate students from all communities within the U.S. and globally who are committed to careers in transformational global public service. It is open to students accepted by any of the eight SFS master's degree programs and is conferred at the time of acceptance. 
McHenry Fellows receive professional skills development classes that enhance their intellectual capacity for strategic and analytic thought, policy writing, impactful oral communications, partnership building and holistic, innovative approaches across disciplines to conceptualizing and resolving global public service challenges. The fellowship also includes a scholarship covering full tuition and mandatory fees.
"I'm excited to work with experienced and accomplished practitioners who are already doing the work of transformational global public service and to learn from their experiences and to gain knowledge from the challenges that they've faced."- Genesis Torres-Alcantara (CLAS'22), 2020 McHenry Fellow. 
Gracias Family Sunflower Current Use Scholarship Fund
To address the crisis created by Russia's invasion of Ukraine, the newly-created Gracias Family Sunflower Current Use Scholarship Fund maximizes support for students who reside in or have been displaced from Ukraine — and crucially get it into their hands as quickly as possible. We encourage students who are current or recently displaced residents of Ukraine to apply for these merit-based scholarships for graduate study in any of the School of Foreign Service's eight master's degree programs. In addition to covering tuition and fees, the Gracias Family Sunflower Scholarship provides students with emergency funds as needed to cover course materials, travel, health insurance, room and board, living expenses, and visa expenses. Please contact Vice Dean for Graduate Affairs Dr. Victor Cha or Graduate Recruitment Coordinator Julie McMurtry for more information or to apply.
External Funding Options
SFS graduate students also finance their studies through external funding opportunities.
Pickering, Rangel and Payne Fellows
As part of our commitment to develop the next generation of values-led global public servants, SFS offers extensive financial aid packages (including full coverage of remaining tuition and mandatory fees), mentorship programs and tailored career support to recipients of Pickering, Rangel and Payne Fellowships who are accepted to any SFS graduate program. From writing policy memos to navigating departmental bureaucracy, SFS mentors ensure that Pickering, Rangel and Payne Fellows graduate from Georgetown ready to make a positive impact from the outset of their public service careers. For more information about funding for Pickering, Rangel and Payne Fellows at SFS, please visit our dedicated webpage. 
CyberCorps Scholarship for Service Program
U.S. citizen graduate students who are intending to work in cybersecurity are encouraged to apply for the CyberCorps Scholarship for Service Program, which provides scholarships to students earning degrees critical for cybersecurity in exchange for service in the form of employment in a U.S. governmental cybersecurity position.
Funding for Study Abroad or Language Study
Students who are U.S. citizens or permanent residents in area studies or studying languages can apply for funding from the Boren Fellowship, which finances study in Africa, Asia, Central and Eastern Europe, Latin America and the Middle East. 
Benjamin Weinberg (MSFS'21) spent a year as a Boren Fellow in Brazil where he studied Portuguese and conducted research on Brazil's public education system. "My Boren fellowship experience in Brazil helped me immensely in terms of developing my research skills and the ability to use my language skills for a real-world research project."
The Center for Contemporary Arab Studies at SFS is a National Resource Center on the Middle East and North Africa (NRC-MENA) and offers Foreign Language and Area Studies Fellowships (FLAS) for MENA language and area studies. FLAS Fellowships for advanced language study of Chinese, Korean, and Japanese are available through the Asian Studies Program. Applicants must be U.S. citizens or permanent residents.
Funding for summer abroad language study in 15 languages is available through the Critical Language Studies (CRS) Program offered by the U.S. Department of State. U.S. citizen applicants must be currently enrolled in a degree-granting program.
Funded summer language study in 12 languages at Middlebury Language Schools is offered by the Davis Fellows for Peace fellowship, which covers tuition as well as room and board. Students at any language level are encouraged to apply.
International Student Resources
International students are a key part of the SFS graduate student population. A number of region-specific program scholarships are available for prospective students from sub-Saharan Africa, the Philippines, Latin America, the Middle East and North Africa and the European Union who apply to the Global Human Development, M.A. in Arab Studies, M.A. in German and European Studies and M.S. in Foreign Service programs. More information is available on the program websites. 
International students also finance their degrees with loans. Georgetown's Office of Global Services maintains a list of international scholarships and private lenders by country. 
Funding for U.S. Veterans and Service Members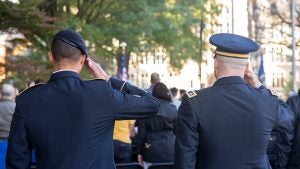 Georgetown University welcomes military-connected students and has over 1,000 service members, veterans and military families enrolled in academic programs. They are vital members of the SFS graduate student community. From designated scholarship money from SoldierStrong for U.S. veterans in the MSFS program to recipients of the Yellow Ribbon Program (YRP) or active-duty service members participating in military-funded graduate fellowships in the Security Studies Program, SFS is a vibrant academic environment for military-connected students. Please contact individual programs or the Georgetown University Military and Veterans' Resource Center for more information.