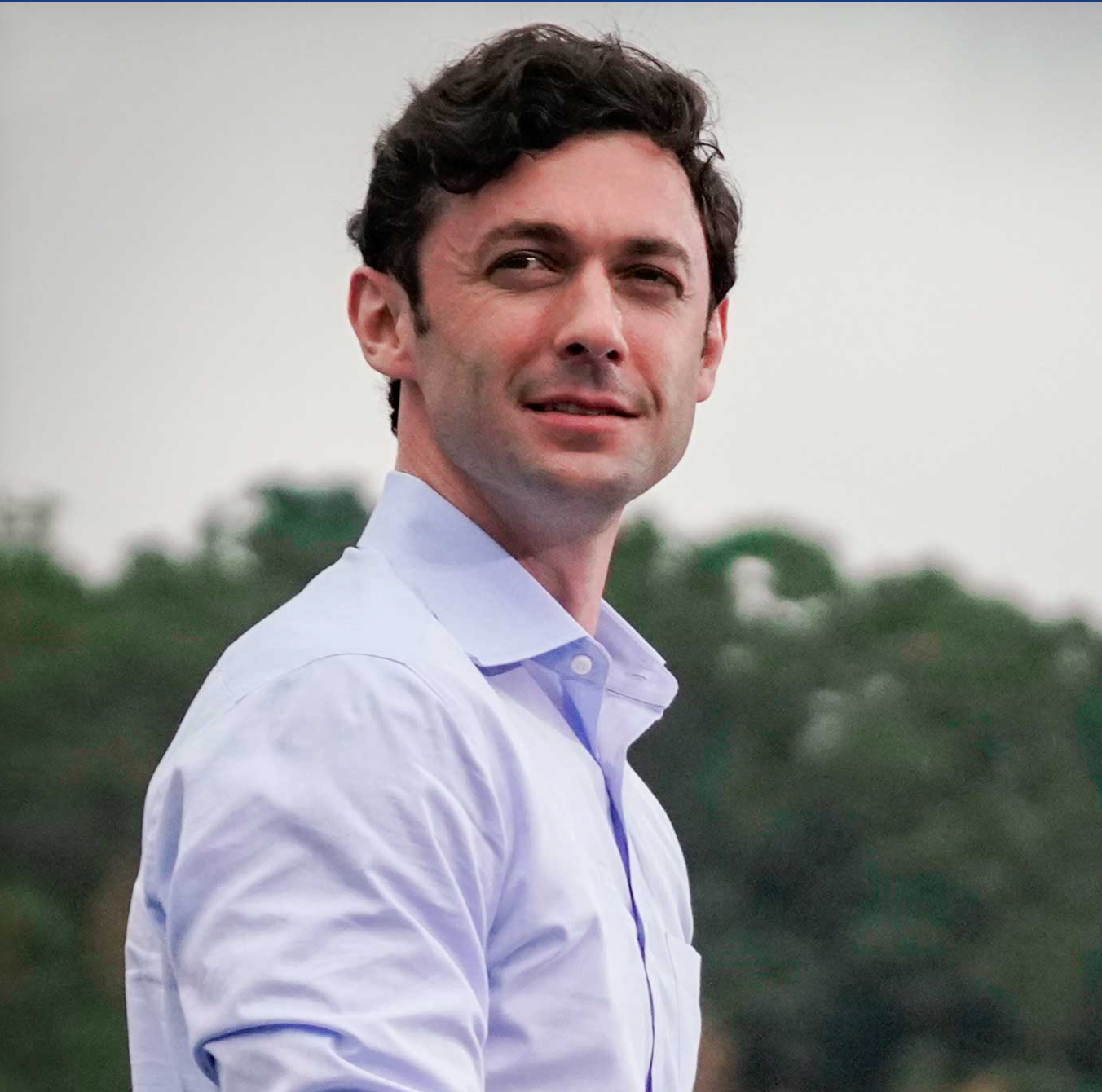 On the morning of January 6, the eyes of the country were on SFS alumnus Jon Ossoff (SFS'09) as he thanked voters for electing him in a U.S. Senate runoff election in Georgia that will change the balance of power in the United States.
Ossoff and fellow Democratic candidate Rev. Raphael Warnock defeated Republican incumbents Sen. David Perdue and Sen. Kelly Loefler, respectively, splitting the Senate fifty-fifty between the two parties and handing Democrats control of the chamber through the tie-breaking vote of Vice President-elect Kamala Harris. 
When he takes his seat, Ossoff will become the youngest Democrat to serve in the Senate since President-elect Joe Biden in 1973.
Ossoff is one of 16 SFS alumni who ran for office in the 2020 Election, but it is his race that may have the greatest impact on the future direction of the United States. The runoff was fought amid a rancorous period in U.S. politics as President Trump and his allies publicly contested Joe Biden's victory in the presidential election, protesters demanded action on racism and police violence and a deadly spike in coronavirus cases impacted communities across the country.
Ossoff graduated from Georgetown just over a decade ago, but soon the former Culture and Politics major will be working on legislation that will shape the domestic and global events SFS students will study in their classrooms. Ahead of election day, Ossoff and some of those who knew him best at Georgetown reflected on his time on the Hilltop and discussed how his SFS experience influenced his decision to forge a career in public service.
A Passion for Education
Like many of his counterparts, Ossoff was drawn to the School of Foreign Service because he harbored an interest in pursuing a career in diplomacy. 
"I planned to enter the Foreign Service, so I had dreamed of attending Georgetown," he says.
However, once he arrived on the Hilltop, a number of new fields and opportunities opened up for him. "I wound up engaging policy and foreign affairs in a different way," he explains. 
Ossoff's intellectual curiosity and his enthusiasm for exploring different concepts and subjects stood out to his professors. 
Dr. Daniel Porterfield, who currently serves as President and CEO of the Aspen Institute, taught Ossoff in his Human Rights: A Culture in Crisis class. He remembers Ossoff as an intellectually curious student with a deep passion for education, which Porterfield says was a family trait. 
"I remember his very close relationship with his father, who attended two class meetings and was clearly so proud of his son," Porterfield recalls. "It was clear to me how much Jon and his family value education."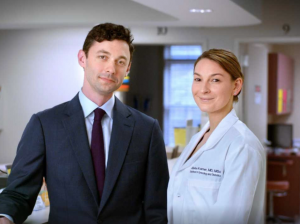 Alumna Brendan Thompson (SFS'12, MBA'18) also has fond memories of Ossoff as an academically engaged student who loved to explore ideas both inside and outside the classroom. A close personal friend of Ossoff's wife, Alisha Kramer (C'12), Thompson says that their group of friends would have long discussions about policy and international affairs.
"Jon and Alisha have always shared the values and ideals of a just and equitable society," she says. "The conversations we had late at night around a Burleith dining room table ten years ago — about access to affordable healthcare, social justice, education — are centerpieces of his platform today."
Jay Troop (SFS'09), another of Ossoff's friends from Georgetown, attests that these discussions continue to resonate with him today. He says, "Our conversations have always challenged my perspective and led me to a deeper understanding of whatever big idea we were trying to unpack." 
Even in Ossoff's undergraduate days, he was interested in pursuing a career in public service, says Porterfield.
He recalls, "I remember that he expressed a strong interest in making a difference through public service in whatever professional roles he would go on to play."
Pursuing DC Opportunities
These public service aspirations were reflected in Ossoff's extracurricular activities. Justin Douds (SFS'07, L'10), who met Ossoff when they sang together in the Georgetown a cappella group The Georgetown Chimes, remembers his dedication to the internships he completed in the offices of Georgia congressmen Rep. John Lewis and Rep. Hank Johnson, as well as his keen interest in government. "Besides Chimes, schoolwork and Alisha, Jon's main interests in college were his internships," Douds says.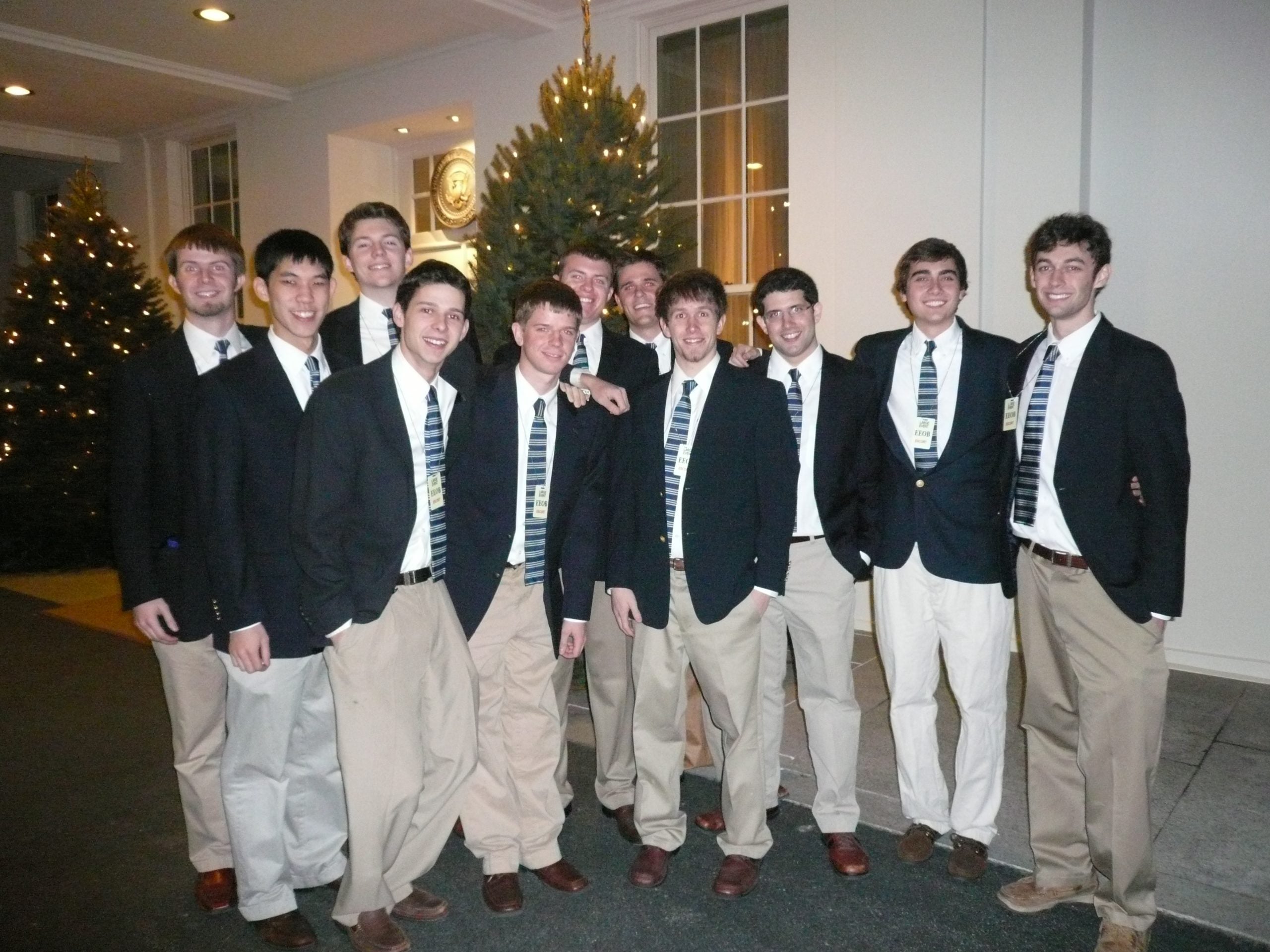 Another fellow Chimes graduate, Richard Matsui (SFS'07), also remembers Ossoff as having a keen interest in politics.
"On the Hilltop, it was obvious to all of us that Jon would be tremendously successful at whatever he pursued, but his love for the American political system really stood out," he says. "He spent his 'free' time helping to get Hank Johnson elected to the House, and then worked hard for Hank after he was elected."
After graduating, Ossoff worked as a national security staffer for Johnson for five years before moving to the United Kingdom to earn a master's degree at the London School of Economics. He remained in the country for a number of years, becoming the managing director and CEO of Insight TWI, a London-based production company specializing in television documentaries exposing foreign corruption, work which enabled him to put his SFS education into practice.
"The training I got at SFS has been indispensable throughout my career," Ossoff stresses. "My business produces investigations of war crimes, organized crime and corruption, as well as reporting on sensitive and complex issues in international affairs. Georgetown's SFS equipped me well to do that work, and to manage productions where our teams are often working in hostile and politically volatile environments."
An Enduring Georgetown Connection
Ossoff's college friends say that the influence of his Georgetown experience can be seen in his later political career, too.
Douds explains that the university's DC location was a major draw for the aspiring public servant. "I believe he chose Georgetown in large part because it gave him the ability to work in national politics while a student. It also allowed him to easily remain in the District after college," he says.
Thompson believes that Georgetown's campus culture also created the perfect environment for Ossoff to develop the ideas and principles that would later underpin his political values. 
"Georgetown attracts students determined to make the world a better place," she explains. "When you're surrounded by like-minded, passionate classmates, you're motivated to pursue careers that create a positive impact in your community, field or industry."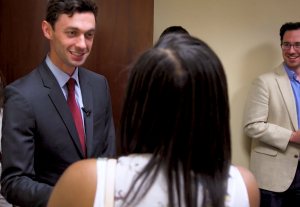 Even after graduating, Ossoff maintained a deep connection with the Hilltop, continuing to give back to the Hoya community years later. When working in Johnson's congressional office, he returned to campus numerous times to share his insights into careers on Capitol Hill at workshops and panels for current students.
When he ran for Congress in Georgia's 6th district, in a 2017 special election that marked him as a rising star of the Democratic Party, Ossoff welcomed students from the Georgetown Institute of Politics and Public Service to observe his campaign as part of their three-day field trip to study the election.
Ossoff not only built a professional network at Georgetown, he also found a supportive community. Douds remembers that when Kramer, who was then Ossoff's girlfriend, came up from Atlanta to visit him, Ossoff organized his fellow Chimes members to join him in singing for her as she arrived on campus. 
However, while Ossoff found a home away from home in DC, his friends say he never forgot his Georgia roots. Both Matsui and Douds fondly recall a trip The Chimes made to Atlanta for a performance Ossoff had organized at his high school. They say that Ossoff's love for his hometown was apparent during the visit.
"During winter break one year, his family hosted The Chimes for a few days and he was an eager tour guide for his city," says Douds. "As long as I've known Jon, he has always, always been a proud Georgian."
Inspiring a New Generation of Public Servants
Across Georgia and the country, Ossoff's candidacy and the historic significance of his race galvanized supporters, including Georgetown students and alumni.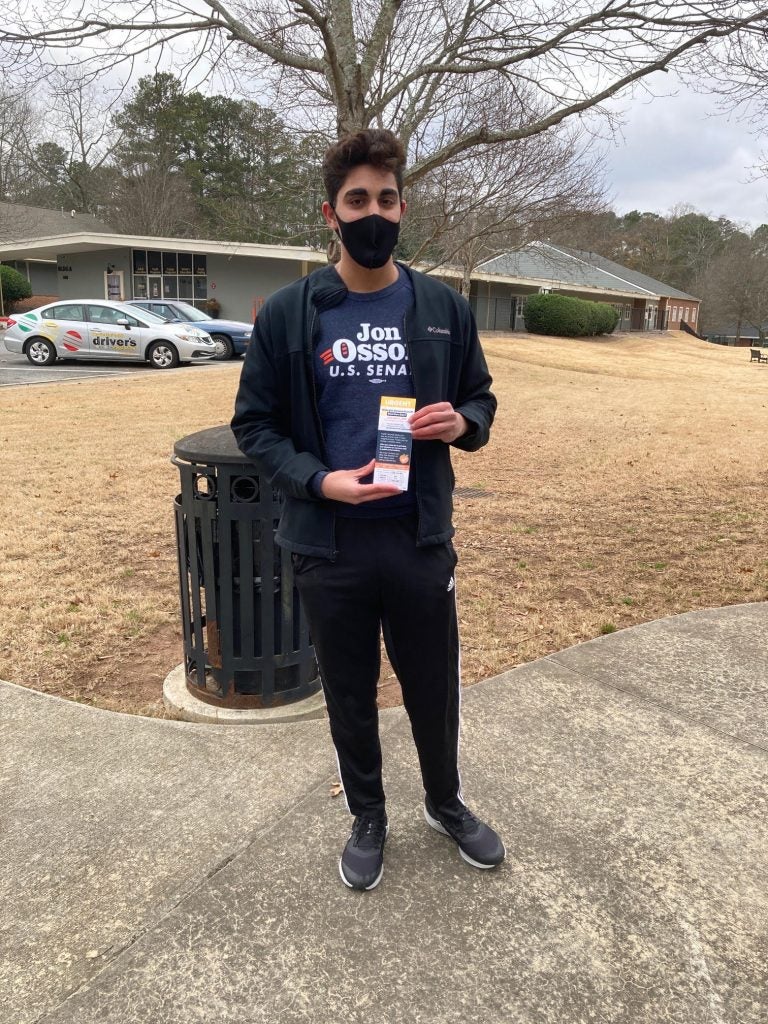 International Politics major Arash Abbas (SFS'21) worked as an Operations Associate for the Ossoff campaign, interviewing and hiring Georgians who, in turn, reached out to their local communities to get out the Democratic vote for the run-off election.
Abbas — who hopes to work in policy and hasn't ruled out running for office himself one day — says that engaging with voters has been inspiring and rewarding. "From an African-American man who was raised during the Jim Crow era to a teacher focused on educating her students amidst the pandemic, the perseverance of everyday Georgians has given me hope for our country's future," he says.
The undergraduate student sees Ossoff as a role model for his own career. "He represents the tenacity and empathy that Georgetown and SFS tend to foster within our students," Abbas explains. "His drive inspires me to actively pursue justice in my own career rather than be a bystander in our nation's future."
Many of Ossoff's former classmates also supported his run. Every Tuesday, Thompson says, she and a group of friends volunteered to phone bank for his campaign. "It has been incredible to see students, faculty and alumni without ties to Jon or Georgia share their support for him," she remarks.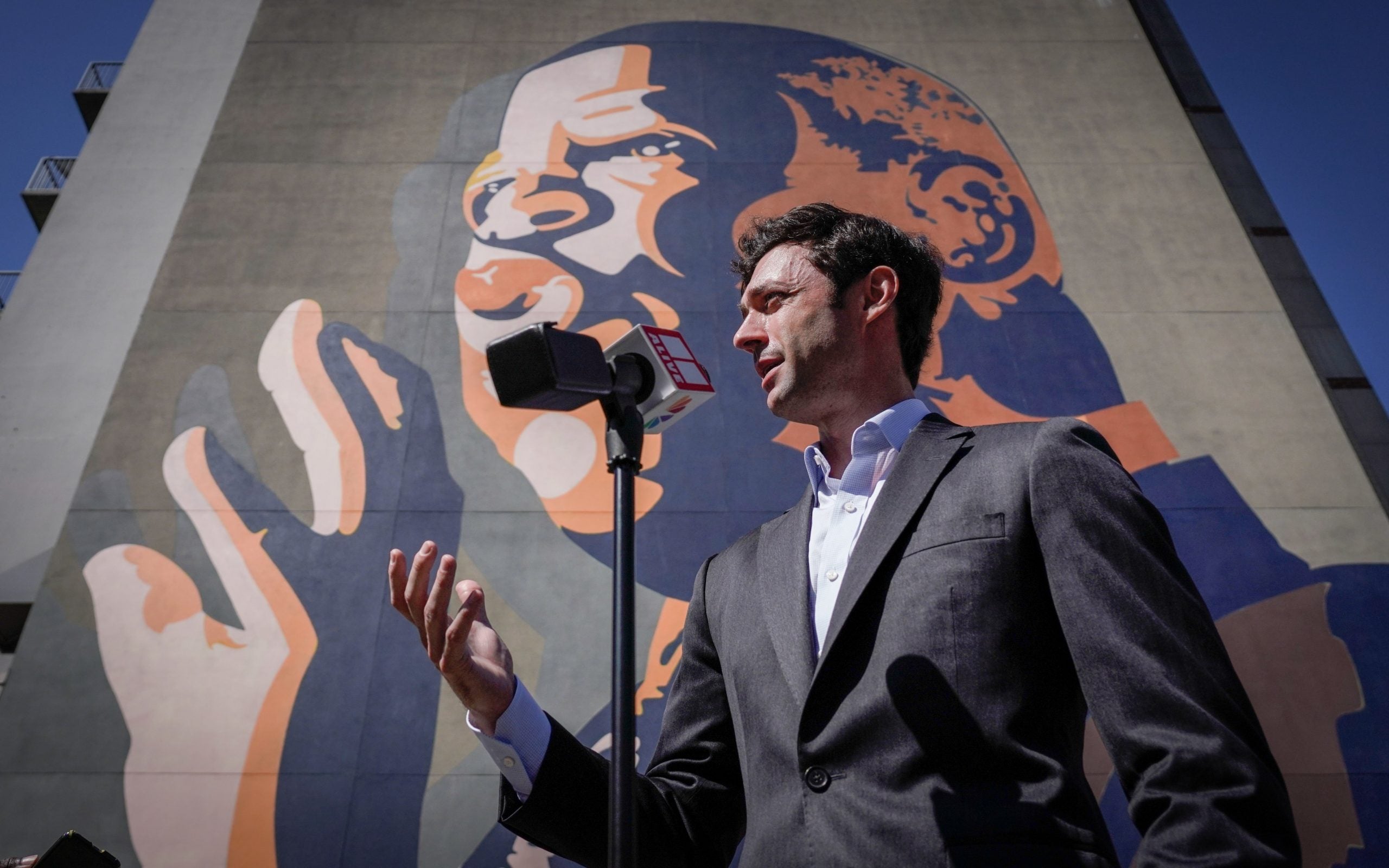 "I'm so inspired by his campaign," says Troop. "He's attacking problems in a way that makes them feel solvable. His efforts have inspired me to make sure I'm doing what I can as an engaged citizen to make this country better."
Matsui similarly believes that Ossoff's campaign is an example of how SFS graduates can engage in the school's core value of service. 
He stresses, "Jon's articulate defense of his principles under the harsh spotlight of the national media reminds all of us alums that we have the training — and therefore, arguably, the obligation — to advocate publicly for our principles as well."
Professor of Government and Foreign Service Anthony Clark Arend taught Ossoff's favorite class, International Law, and has continued to stay in touch with his former student. He believes that the candidate's run for office presents current students with a lesson in perseverance and commitment.
"The message is that one should seek to use their gifts in service to others," he says. "He sends a message that you shouldn't be afraid to take risks. He lost his first election but instead of giving up on electoral politics, he evaluated his skills and decided to run again — this time in one of the most consequential Senate races in recent memory."
Arend continues, "Jon has proven himself to be a powerful advocate for democracy and for integrity in public service. I know that he will continue to be a leader in service to his fellow human beings."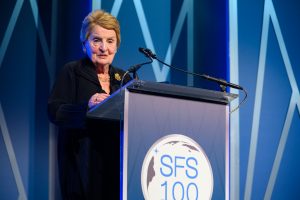 And Ossoff has also won the admiration of a former professor who knows a thing or two about what it takes to lead in both the domestic and international arenas. Dr. Madeleine Albright, Michael and Virginia Mortara Distinguished Professor of Diplomacy and former U.S. Secretary of State, says that he is a great example of how her students can apply the lessons of her class — including preparing for the unexpected and understanding the implications of decision-making — to the real world. 
"One of my only professional regrets is that I never ran for elected office. I've always admired people who are willing to undergo the grueling test of a campaign in order to serve the public, and he is no exception," she says. "Our country depends on honest, motivated and passionate leaders who are dedicated to public service and who use their education to help others. Jon Ossoff is an example of that."
In the wake of a campaign that has thrown him into the national spotlight, Ossoff has some advice for current students considering running for office in the future. 
"If you can, do work that you're genuinely passionate about, that is satisfying and fulfilling, rather than making career choices to build some model resumé," he says. "Anti-corruption journalism is an unusual background for a candidate, but it's work I'm proud of and work that I love, and that's the path that brought me to this campaign."
The Senator-elect concludes, "Only run for office when you feel the real fire in your belly. Never accept that you're too young to take the plunge. And ignore the haters!"
Feature photo: Jon Ossoff for Senate Campaign.