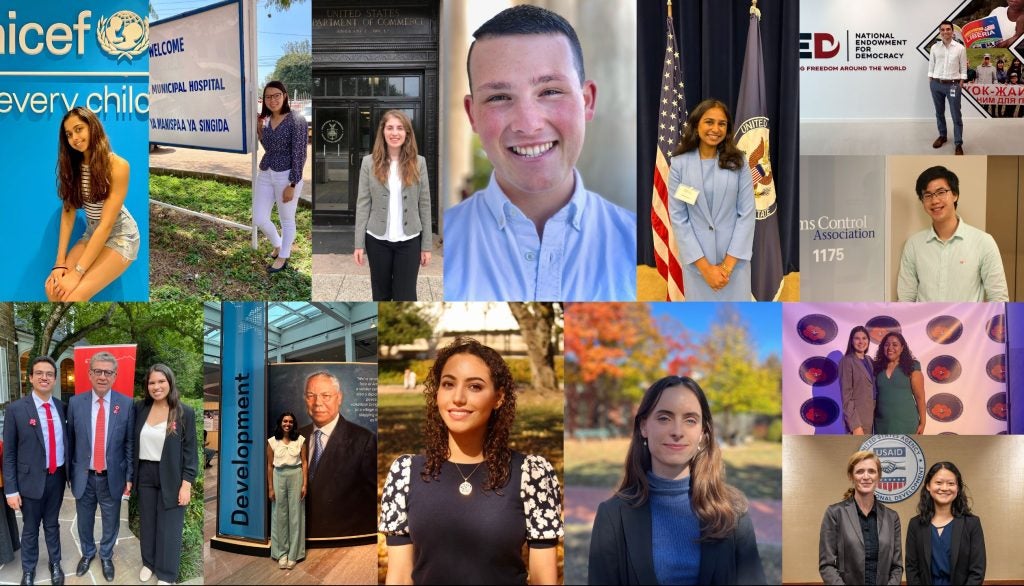 The fifth cohort of the Paul F. Pelosi Scholars Initiative (PSI), which provides exceptional SFS sophomore and juniors with the opportunity to explore careers in public service, has now wrapped up a range of public service internships both here and abroad. Through hands-on experience, funding support and personalized mentorship and coaching, each cohort of Pelosi Scholars has the chance to cultivate their professional skills and take on challenging internships alongside public service practitioners.
The program is named for Paul F. (SFS'62,) and Nancy Pelosi (H'02,), who in 2018 led efforts to raise $1.6 million for the program. PSI recognizes a group of students who embody the value of "people for others." Every Pelosi Scholar joins a growing community of students, alumni and mentors (see past Scholars here) committed to probing how public institutions can effectively govern and thoughtfully steward resources to promote the common good.
As the 2023 Pelosi Scholars wrap up their summer internships, they are reflecting on where the past few months have taken them. From internships in the U.S. Department of State, to working for UNESCO in Turkey, to the DC Volunteer Lawyers Project, each scholar is departing the initiative with invaluable experiences that will undoubtedly inform their future endeavors. 
Current SFS sophomores and juniors interested in becoming a Pelosi Scholar can apply to the 2024 cohort beginning September 15.
Angela Yu (SFS'25)
Angela Yu spent her summer at the U.S. Agency for International Development (USAID) Office of the Executive Secretariat on the Liaison Team. Working with a team of program analysts, she supported the Administrator and Deputy Administrators in relaying information between the USAID Bureaus and the Front Office. Yu gained a first-hand look into the duties of a senior level government official and learned about USAID initiatives in response to international crises, including humanitarian efforts in Ukraine, Sudan, and Malawi. One of Yu's favorite memories was meeting and working near Administrator Samantha Power. She plans to use this experience in pursuit of a public service career in international affairs.

Sanjana Ranganathan (SFS'25)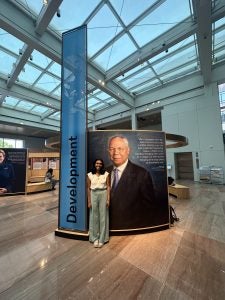 As an intern in the U.S. State Department's International Narcotics and Law Enforcement Bureau, Office of Western Hemisphere Programs, Sanjana Ranganathan has developed a stronger understanding of critical security, law enforcement, and justice challenges in the Western Hemisphere. As a student interested in post-conflict development, this internship has strengthened her interest in understanding not only the economic aspects of development, but also the political ones such as maintaining security and strengthening justice systems. During her internship, Ranganathan drafted responses to Congressional inquiries and assisted in briefings preparation, worked with partners abroad on Gender-Based Violence prevention and anti-money laundering programs, collated office-wide success stories, and participated in trainings regarding project management, professional development, and Bureau-specific issues. As a year-round intern, Ranganathan is eager to continue her learning over the next few months.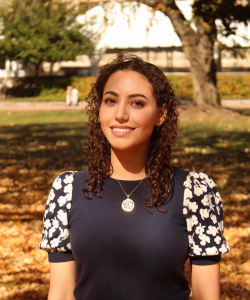 Youmna Al-Madani (SFS'24)
While working as a legal intern at the DC Volunteer Lawyers Project, Youmna Al-Madani attended virtual legal conferences, webinars, and networking events within the field of law, actively participated in discussions and reached out to professionals for virtual coffee chats and informational interviews. Reflecting on her experience, Al-Madani said, "By stepping out of my comfort zone and consistently engaging in virtual networking, I successfully established connections with experienced legal practitioners and mentors. These connections not only provided valuable insights but also led to ongoing guidance and support throughout my career journey." 
Jupiter Huang (SFS'25)
This summer, the Arms Control Association kept Jupiter Huang busy as a nuclear weapons policy intern. Huang, a science, technology and international affairs (STIA) major engaged in policy debates and under-the-radar conversations on nuclear policy through his internship. He also published articles in Arms Control Today magazine, tracking the development of new Indian nuclear weapons delivery systems and conversations around the Nuclear Nonproliferation Treaty (NPT) review cycle. He also updated three of the organization's most widely read factsheets to better reflect the new developments in nuclear doctrine and help promote responsible nuclear policy amidst great power competition. Oftentimes, internships can open opportunities and clarify passions already held by students. Huang was no exception. "I think this internship has really strengthened my conviction about the benefits of a career in public service from the standpoint of being constantly pushed to learn more, and seeing concrete results from my work."
Renato Llontop Calosi (SFS'24)
This summer, Renato Llontop Calosi interned with the Embassy of Peru in the United States in the economics department. He helped to conduct research and synthesize detailed economic reports on the bilateral trade relations between the U.S. and Peru, particularly for Peruvian products and businesses and their economic impacts on tourism. He attended meetings and organized events to promote Peruvian culture and products and help negotiate areas of cooperation. One of his favorite memories of his internship was in June, when the Inter-American Development Bank presented a report on the "Analysis of innovation in Peru's gastronomic industry."A culinary event was hosted at the Peruvian Ambassador's residence. Llontop Calosi said, "The internship reaffirmed my desire to join the Peruvian Foreign Service and start a long-term career as a public servant."
Logan Richman (SFS'25)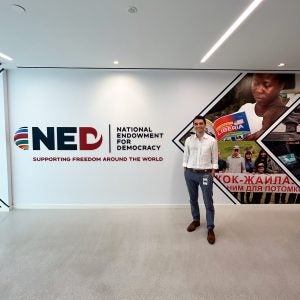 Logan Richman spent the summer interning at the National Endowment for Democracy (NED), with the Center for International Media Assistance (CIMA). This team at NED is dedicated to bolstering free, independent, pluralistic media systems around the world in support of democracy. Of his tasks, Richman particularly enjoyed helping to facilitate a conference on supporting exile media. He reflected, "Working at the NED has affirmed my desire to pursue a career in public service, and also gave me the opportunity to explore different areas of interest because the NED works on such a wide variety of issues."
Komal Samrow (SFS'25)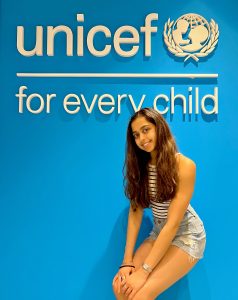 Komal Samrow served as a communications volunteer for UNICEF Türkiye's country office in Ankara. One of the highlights of Samrow's experience was the opportunity to help share the stories of survivors of the February 2023 earthquake and mobilize international support to rebuild those local communities. She explained, "The immediacy of the work we had to do, particularly those tasks related to the earthquake, felt like my first true sense of what it's like to work in the humanitarian space, and in emergency operations specifically. Getting a taste of that energy and imperative in the office was invigorating, and marked the moment that I knew this internship was going to be unlike any other I'd previously done." 
Sophie Coste (SFS'24)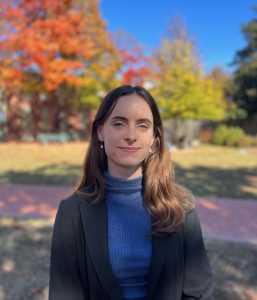 Sophie Coste interned at the Center for Strategic and International Studies (CSIS) on the Energy Security and Climate Change team. One of her favorite memories was getting to know her co-workers everyday at lunch. "That might seem ordinary but it made my experience at CSIS more fulfilling and exciting than I initially expected." Through these daily gatherings, Coste learned about their fields of expertise, and received excellent career advice. After past remote internships, she enjoyed working in-person on many projects, her favorite of which was volunteering to help a senior fellow write a commentary about liquefied natural gas (LNG). She worked closely with her co-worker, asked plenty of questions, researched U.S. legislation of LNG export licenses independently, and developed a better understanding of natural gas markets.
Jack Gasdia (SFS'24)
Jack Gasdia, an International politics major and accelerated master's student in conflict resolution, interned at Secure Communities Group in Boston, MA Gasdia conducted in-depth research to develop four comprehensive case studies on negotiation strategies and opportunities for conflict resolution in Ukraine, Taiwan, and Yemen. He also managed the organization's social media presence and initiated a brand redesign, growing the follower count by 350 across platforms including X (Twitter), Instagram, LinkedIn, Facebook and Threads. One of Gasdia's treasured memories from the summer was leading a virtual negotiation simulation with South Korean high-school students using a case study that he had authored.
Elizabeth George (SFS'23)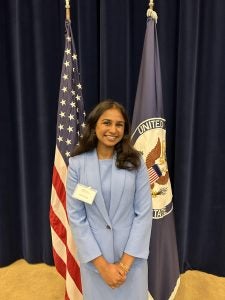 This summer, Elizabeth George interned at the Office of Energy Transformation within the Bureau of Energy Resources at the U.S. State Department. Among her many responsibilities was drafting language included in the Joint Statement from the U.S. and India and Republic of India Official State Visit to the United States Fact Sheet announcing India's membership in the Minerals Security Partnership (MPS). One of her favorite memories from the summer was "staffing the Chiefs of Mission Conference with other State interns, culminating in a surprise meeting and photo op with Secretary Blinken." This experience was special for many reasons for George. "As an Indian-American, attending the India State Visit Arrival Ceremony on the South Lawn [of the White House] was a historic and deeply meaningful experience, both personally and professionally," she reflected.
Grace Parcover (SFS'25)
Grace Parcover spent the summer at the Search for Common Ground, where she supported the program management of the Women's Inclusion in New Security (WINS), funded by the U.S. Secretary of State's Office of Global Women's Issues. WINS works in the areas of Parcover's greatest interest, fostering equitable partnerships with local women-led organizations in five conflict-affected countries to support their participation in peace building processes and anti-Sexual and Gender-Based Violence (anti-SGBV) work. One of her favorite memories from the summer was attending the Women, Peace, and Security Focal Points Network Program and reception hosted by the U.S. Department of State at the Kennedy Center. She recalled, "I attended the event with my boss at Search for Common Ground and got to speak with a number of women from around the world about the meaningful work that they do to support women in their countries." 
Isabella Stratta (SFS'25)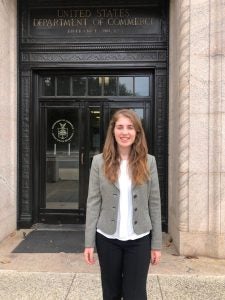 Isabella Stratta, a business and global affairs major, interned this summer at the U.S. Department of Commerce's International Trade Administration, in the office of Middle East and Africa. She coordinated events and meetings between the deputy assistant secretary for Middle East and Africa and ambassadors and other government leaders, as well as private industry stakeholders. She also created programming for the WELLTI (Women Empowered Leave Legacies Through Trade and Investment) initiative and made visualizations for her team to keep track of progress on organizational metrics and goals. In reflecting on her summer, Stratta said, "This internship definitely reaffirmed my interest in pursuing a career in public service as I was able to work alongside passionate individuals who have the drive to make real change in their fields."
Hannah Laibinis (SFS'24)
Hannah Laibinis, a science, technology and international affairs (STIA) major focusing on biotechnology & global health, spent the summer interning in Dar es Salaam, Tanzania. She spent the first half of the summer at Hope 4 Young Girls, a girls empowerment NGO, followed by an internship with the Mo Dewji (MSB '98) Foundation, where she worked on a variety of projects, including a university scholarship program, a partnership with a children's cancer organization, and a new eye care program.