The mission of the Paul F. Pelosi Scholars Initiative (PSI) is to provide exceptional SFS undergraduate students with the professional skillset and network of practitioners and scholars necessary to address the most pressing international challenges of our time.
Student Spotlight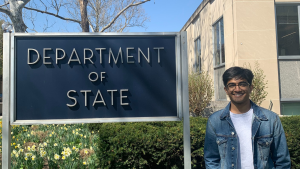 Atharv Gupta (SFS'23) says his internship with the State Department's Office of West African Affairs enabled him to connect with likeminded peers who were also passionate about public service.
2022 Student Cohort
2021 Student Cohort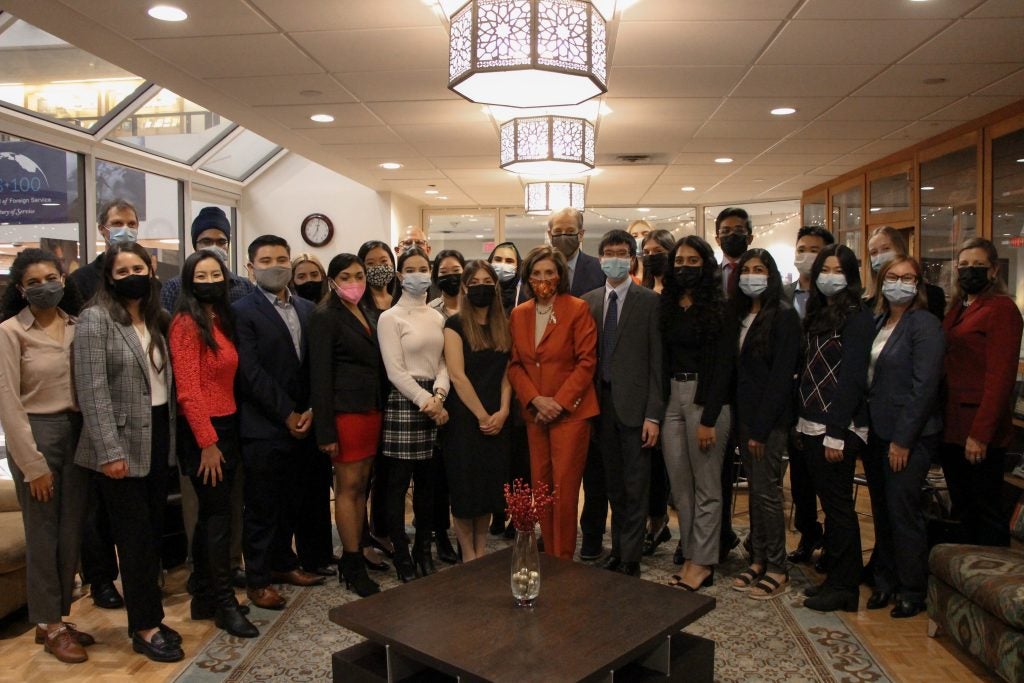 Benefits Anchor
Benefits
In keeping with the school's century-long tradition of preparing students for public service and global leadership, PSI enables students to complement their rigorous academic coursework with mentorship and professional experience in order to recognize their full potential as women and men for others.
Internship Support
Through mentor consultations and institutional assistance, Paul F. Pelosi Scholars will receive support and guidance in obtaining an internship relevant to their specific academic interests and professional goals. The students will also receive a stipend commensurate with funding in order to pursue a full-time summer internship in public service.
Mentorship
Mentorship and experiential learning are the core of this program, and Paul F. Pelosi Scholars can expect to attend monthly meetings, trainings, informal discussions, formal networking, and career sessions with professors and practitioners throughout the academic year. Scholars will meet in small groups and individually with academic and practitioner mentors for guidance and career advice.
Community
The Paul F. Pelosi Scholars will be a community of students, alumni, professors, and practitioners. After finishing their summer internship as a Paul F. Pelosi Scholars, participating students will reflect on their experience together and serve as mentors to the next class of scholars. Interested scholars will also have the opportunity to apply to serve on the PSI Board of Advisors as an alumni representative.
Training
Scholars will attend a one-day training boot camp focused on the development of professional skills, with an emphasis on writing, briefing, and conducting research. Scholars will also attend training sessions and seminars throughout the year in order to acquire the skillset and knowledge necessary for a public service internship.
Externship
Scholars will have the opportunity to shadow a Georgetown alumnus working in public service in order to explore future career opportunities and connect with other Hoyas in the field.
Back to Top
Application Anchor
Application
Interested students must submit the application package, which includes:
Completed application form
Unofficial academic transcript
Resume
One letter of recommendation
Evaluation Criteria
The cohort of Paul F. Pelosi Scholars will consist of sophomores and juniors in the Walsh School of Foreign Service. Applicants are evaluated based on academic performance, professional and leadership experience, commitment to Georgetown's values, and demonstrated interest in public service. The selection process is holistic and includes both the written application and an interview.
Back to Top
For questions about the Paul F. Pelosi Scholars Initiative, contact us by email at paulpelosiinitiative@georgetown.edu.