The Paul F. Pelosi Scholars Initiative (PSI) provides "exceptional SFS sophomore and juniors" with the opportunity to explore careers in public service. Through hands-on experience, funding support and personalized mentorship and coaching, each cohort of Pelosi Scholars has the chance to cultivate their professional skillset and build a strong network of public service practitioners.
Named for Paul Pelosi (SFS'62, P'88, P'89, P'91, P'95), who, along with his wife Nancy Pelosi (H'02, P'88, P'89, P'91, P'95), led efforts to raise an additional $1.6 million for the program in 2018, PSI recognizes a group of students who embody the value of "people for others." Every Pelosi Scholar joins a growing community of students, alumni and mentors committed to probing how public institutions can effectively govern and thoughtfully steward resources to promote the common good.
Elena Sapelyuk (SFS'23), one of nine Pelosi Scholars who completed their internship this summer, says her participation in the initiative "absolutely confirmed my wishes to work in public service." 
"Seeing the impact you are making come to life in front of your eyes is an irreplaceable experience, and I hope a career in public service leads me to many more such moments," she expresses.
As the 2022 Pelosi Scholars wrap up their summer internships, they are reflecting on where the past few months have taken them. From internships in the U.S. Department of State exploring how science and technology informs foreign policy, to working in the U.S. Embassy in Papua New Guinea, to supporting original research by Georgetown University's Institute for Women, Peace and Security (GIWPS), each scholar is departing the initiative with invaluable experiences that will undoubtedly inform their future endeavors.  
Current SFS sophomores and juniors interested in becoming a Pelosi Scholar can apply to the 2023 cohort beginning September 1.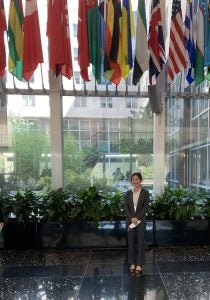 Joyce Yang
Joyce Yang (SFS'23) spent her summer in Washington, DC, working at the intersection of science, technology and policy as a State Department intern for the Office of the Science & Technology Adviser to the Secretary of State (STAS). There, she has had the opportunity to research and brief STAS decision-makers on the need for academic collaboration around diplomacy, create and bolster databases on scientific and technical expertise with the U.S. government and work across State Department bureaus, collaborating with the executive branch and key non-profits on surveillance and artificial intelligence initiatives.
"Everyone is very busy, but also so passionate about the topics they're working on," says Yang. "It's been really inspiring to see how people are able to push forward technology and scientific initiatives internationally, while also making sure to maintain a nuanced and in-depth understanding on a wide range of topics."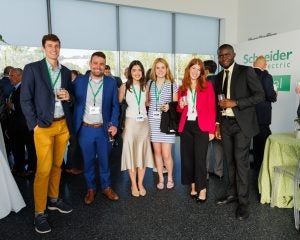 Laura Rockefeller
A concept that has been catching on in recent years, "Environment, Social and Governance" or ESG describes a set of factors important to ethical and sustainable investment practices — it has also been the focus of Laura Rockefeller's (SFS'23) work this summer. As an intern in the State Department's Office of Energy Transformation, Rockefeller has been learning about this area of growth while also helping to launch and define major policies of a brand new initiative, the Minerals Security Partnership. 
"I am really grateful to see firsthand how State identifies foreign policy objectives, and how all of the many connections fit together to reach our shared national and economic security goals," says Rockefeller. Most of all, she emphasizes the benefits of collaborating in-person with her team. "You will be spontaneously invited to impromptu meetings with really high-level people, and you have side conversations that end up being insightful. That will never happen online."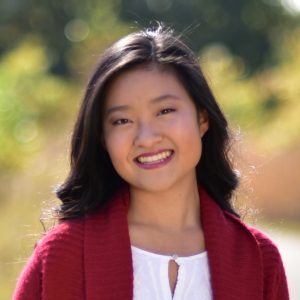 Chendi Liu
With many internships returning to in-person operations, Chendi Liu (SFS'24) had the chance to spend a whirlwind three months at the U.S. Embassy in Port Moresby, Papua New Guinea. As a Political & Economic Section Intern, Liu drafted cables for the Office of Defense Cooperation, created a workshop series for empowering women's entrepreneurship, prepared critical documents for U.S. Senate and USAID delegations and coordinated a successful election observation trip.
Asked what her favorite memory from the experience was, Liu recounts speaking with Betty Chung, USAID Acting Mission Director for the Philippines, Pacific Islands and Mongolia, about her experiences and advice for a fellow Asian-American woman working in the U.S. government. "She was honest, positive and inspiring," Liu admires, adding, "Don't be afraid to take initiative. You will not be overstepping and people will be impressed with what they see. Ask questions about things large and small, people are more than happy to share!"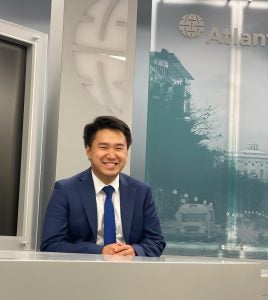 Brian Zhu 
As a Young Global Professionals Program Intern, Brian Zhu (SFS'23) spent his time at the Atlantic Council's GeoEconomics Center building his data visualization, briefing and analytical writing skills. Zhu's experiences, which included writing and publishing an article analyzing prospects for U.S.-EU friendshoring policies, increased his desire to pursue a career in public service. Over the course of the summer,  Zhu was exposed to new aspects to policy making, such as the ways in which institutional work increasingly drives government policy in important foreign policy issues like sanctions, monetary policy, and international financial reform.
"Everybody on the team is there to help you and are extremely open to giving you advice on anything," Zhu says. "Be willing to tackle and try anything asked of you, but don't be afraid to admit you need help on something."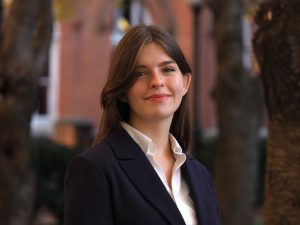 Elena Sapelyuk
For Russian-Ukrainian American student Elena Sapelyuk (SFS'23), the concept of public service took on new meaning in late February, when Russia invaded Ukraine. With funding from the Davis Projects for Peace, she got started on developing an initiative that could provide some sense of normalcy and community support for Ukrainian youth displaced by the war. 
In late July, Sapelyuk launched a summer camp based in Montenegro that, over the course of five weeks, would empower more than 20 displaced Ukrainian children and teenagers with peacebuilding and creative writing skills. The program was the culmination of months of fundraising, logistics planning and coordinating with community partners around the world — what Sapelyuk describes as an "unorthodox" summer internship made possible in part by funding from the Pelosi Scholars Initiative.
This financial flexibility, she says, made all the difference in her ability to scale an ambitious project and reach students most in need of community resources. For Sapelyuk, the experience also served as confirmation of her interest in pursuing a career in public service. "Executing a project aimed to work with such a vulnerable community was immensely professionally and personally challenging but also so rewarding," she says.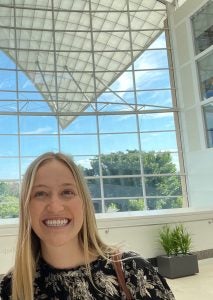 Lily Erickson
As a Regional and Comparative Studies major, Lily Erickson (SFS'23) is used to spanning multiple regions and areas of focus. To further her passion for international development, Erickson took on two public service internships this summer: one with women's empowerment organization Vital Voices and the other with GIWPS.
In her intern position with Vital Voices, Erickson has supported projects related to monitoring, evaluation, research and learning related to the organization's crisis response grants to women in Ukraine. At GIWPS, she has helped develop and execute a research project on Afghan women leader's perspectives and goals for a roadmap to peace in Afghanistan. Across both roles, Erickson has been especially grateful for the opportunity to learn from women making a difference around the world. 
"Both have sharpened my understanding of the role I hope to play in the field of international development, because they've strengthened my belief that my role should be to support and amplify the work of women leaders already affecting positive change in their communities," she says of her two summer roles.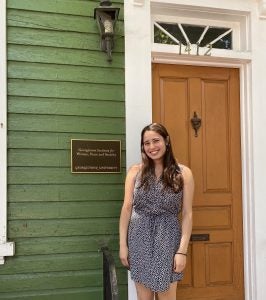 Marisa Morrison
Through her own internship with GIWPS, Marisa Morrison (SFS'23) has concentrated on qualitative data collection for a project investigating the effectiveness of the United Nations' Women in Peacekeeping campaign. As a Culture and Politics major interested in the intersections of gender and international affairs, Morrison had the opportunity to explore the role of marketing and imagery in perpetuating—and transforming—gendered power dynamics.
Alongside the research and policy dimensions of her internship, Morrison has also enjoyed the opportunity to connect with and learn from co-workers pursuing their own careers in public service. Chatting with GIWPS' 2022–2023 Hillary Rodham Clinton Fellow Joshua Allen, for example, helped Morrison envision how the next few years of her professional life might unfold. "It was really nice to engage in casual conversation with someone and made 'networking' seem a lot less abstract and transactional," she says of Allen and her colleagues at GIWPS.
Cimrun Srivastava
Cimrun Srivastava (SFS'23) was based in Amman, Jordan, this summer for an internship with peacebuilding group Generations for Peace. From her perspective as a Regional and Comparative Studies major focused on conflict, development and the Middle East, Srivastava was able to bring cross-cutting knowledge of the region and an interest in power structures to her work on the organization's gender equality initiatives.
Specifically, Srivastava focused on creating a working document that would assist Generations for Peace with incorporating a gender equity lens into all their youth peacebuilding programs. She also researched and drafted metrics for gender equity that the organization could utilize to measure their progress in promoting the wellbeing of women and girls. By exploring these themes in an international context, Srivastava developed a deeper appreciation of the value of global collaboration. "It helped me understand that I can and should work in different countries and learn the valuable insights of people with a breadth of different life experience abroad," she says.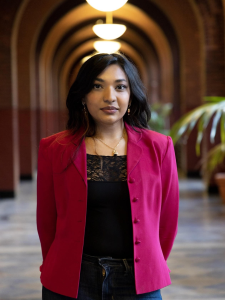 Nirvana Khan
This summer, Nirvana Khan (SFS'23) gained valuable experience in data analysis and case-based project management through her internship with the Government Accountability Office (GAO). Working on a review of the Housing Trust Fund — a program that provides states grants for creating and protecting affordable housing — Khan had the chance to lead interviews with state housing agencies and conduct a comparative analysis across 12 different states.
Originally from Bangladesh, Khan also appreciated how her internship allowed her to familiarize herself with U.S. workplace expectations and norms, including those around collaboration and work-life balance. Contributing to the affordable housing audit, she adds, helped her identify a passion for working on targeted projects and case-based assignments. Asked for her advice for fellow students starting similar internships, Khan says, "think of [yourself as] an equal member of the team and take initiative in thinking about what [you] can contribute."
This fall, Khan will be able to build on the analytical expertise she developed at GAO in a new internship with the Office of the Secretary at the U.S. Department of Commerce. She credits takeaways from her summer and the mentorship she has received through the Pelosi Scholars initiative as building blocks in her professional journey. Both experiences "really helped  me secure that position and level up in my career," Khan says.