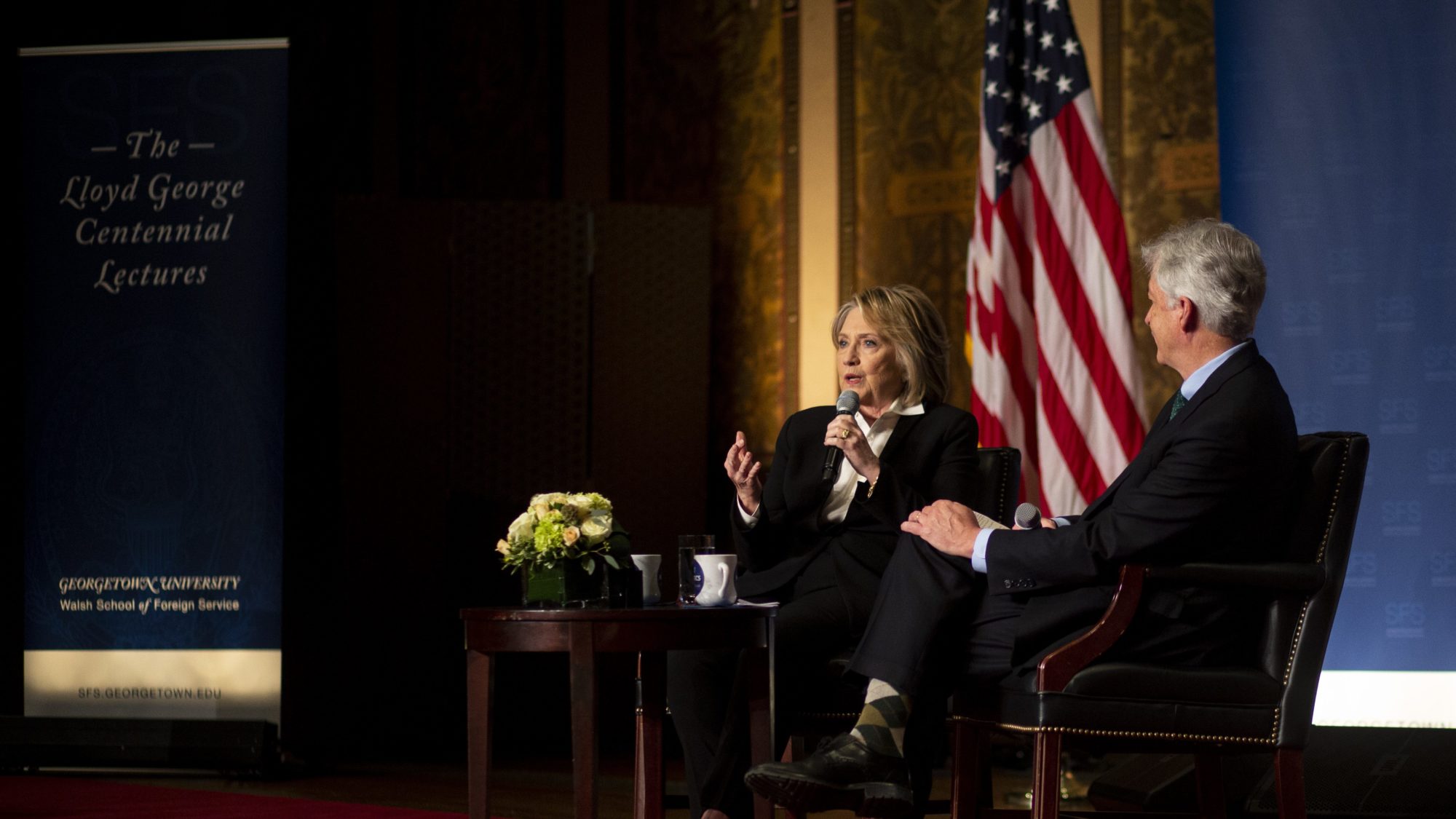 Title:

"We need you more than ever": Hillary Clinton stresses the importance of diplomacy at SFS and GU Politics symposium
Date Published:
February 11, 2019
The symposium was part of the Lloyd George Centennial Lectures on the Future of the Global Order, a series of events in honor of the SFS's 100th year. The Lloyd George Centennial Lectures are aimed at addressing challenges of international affairs with a recognition that the global order is on the precipice of enormous change, as it was 100 years ago, when UK Prime Minister David Lloyd George attended the Paris Peace Conference. Previous speakers include Margaret MacMillan, G. John Ikenberry, Erez Manela, and Japanese Foreign Minister Taro Kono (SFS'86). The lecture series is supported by the Lloyd George family.
The Essential Diplomat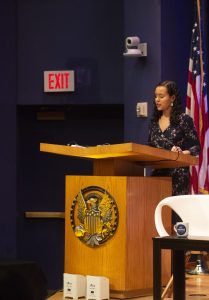 Rangel Fellow Zinna Senbetta (MSFS'19) introduced the panel.
The first panel brought together career diplomats to discuss the essential roles they play in service to state and country. Rangel fellow Zinna Senbetta (MSFS'19), who will be entering the U.S. Foreign Service following her graduate program, introduced the panel. The discussion was moderated by Bernadette Meehan, who served as Special Assistant to the President and NSC Spokesperson ('12-'16), and supported by the Georgetown Institute for the Study of Diplomacy (ISD).
Ambassador Barbara Bodine, Ambassador to the Republic of Yemen (1997-2001), is now the Director of ISD. She noted how the ISD is focused on preparing students for careers in diplomacy, teaching them the art of statecraft.
"That means working on the intellectual skills, and to a certain extent the personal skills you need to be effective to formulate and implement policy both here in Washington and abroad," Bodine said.
Ambassador Linda Thomas-Greenfield led the State Department Bureau of African Affairs (2013-2017) as U.S. Assistant Secretary of State for African Affairs, and previously served as U.S. Ambassador to Liberia (2008-2012), Director General of the Foreign Service (2012-2013), where she oversaw all personnel functions as part of her 35 years in the Foreign Service. She emphasized that the Foreign Service has made strides to ensure that the diversity of America is represented among their ranks, particularly through programs like the Rangel and Pickering fellowship.
"I truly believe the Foreign Service must represent the best face of America, wherever we are in the world," Thomas-Greenfield said.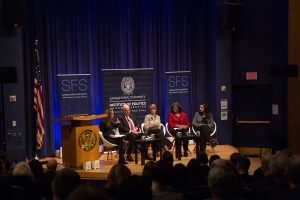 Ambassador John Negroponte served as U.S. Deputy Secretary of State (2007-2009), U.S. Ambassador to Honduras (1981-1985), Mexico (1989-1993), the United Nations (2001-2004), and Iraq ('04-'05). Responding to a question about whether or not the Foreign Service is prepared to handle engagement with China, Negroponte noted that many students today are studying Chinese language and culture. "Language and area studies remain one of the real coins of the realm as far as being an effective foreign service officer," Negroponte said.
Uzra Zeya (SFS'89) was Chargé d'Affaires and Deputy Chief of Mission at the U.S. Embassy in Paris (2014-2017) and Acting Assistant Secretary and Principal Deputy Assistant Secretary in the Bureau of Democracy, Human Rights, and Labor (2012-2014) as part of her two decades in the Foreign Service. She stressed the importance of engaging on the ground. "Obviously as diplomats, government-to-government engagement is paramount—it's the essence of what we do," she said. "But we have to go beyond the corridors of power to engage civil society. By engaging, that means listening, that means empowering, that means supporting local actors and local solutions on the ground."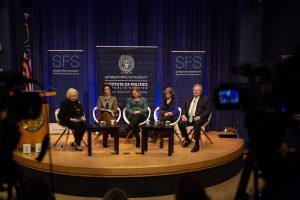 U.S. Values in Foreign Policy
The next panel was a discussion with former State Department officials about the role of values in U.S. foreign policy and the conduct of diplomacy, which was supported by Georgetown's Institute for Women, Peace and Security. Meredith Forsyth (SFS'19) introduced the panel, and Ambassador Melanne Verveer, U.S. Ambassador-at-Large for Global Women's Issues (2009-2013) and director of Georgetown's Institute for Women, Peace, and Security, moderated the conversation.
Ambassador Roberta Jacobson, Ambassador to Mexico (2016-2018) and Assistant Secretary of State for Western Hemisphere Affairs (2012-2016), noted the importance of having both moral and strategic imperatives. "There are reasons that it has to be both," she said, which include being able to gain public support for the policy. When the balance is not there, "we betray ourselves and lose the ability to work with that country as an ally."
Maria Otero, U.S. Under Secretary of State for Civilian Security, Democracy, and Human Rights (2009-2013), warned about the danger of U.S. isolationism. "We're becoming more isolated, and if we are not at the table, helping set the agenda on the very issues that exist, then we can't be leaders either," she said.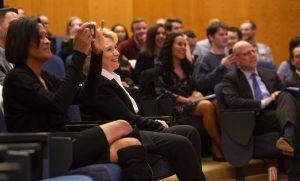 Eric Schwartz, U.S. Assistant Secretary of State for Population, Refugees, and Migration (2009-2011), spoke about the challenges that arise when countries have policies that go against U.S. values. U.S. diplomats have to decide whether it's more effective to confront them publicly or privately. "You're gonna have to make a decision to say something publicly, or be tougher, or sacrifice a relationship in order to preserve the credibility of the overall articulated policy that values are important," Schwartz said.
Victoria Nuland, U.S. Assistant Secretary of State for European and Eurasian Affairs (2013-2017) and Ambassador to NATO (2005-2008), spoke critically of Russia's invasion of Ukraine. "This is a tactic of statecraft of leaders who are not succeeding at home, who create a false sense of glory by expanding externally and by dominating others," she said.
Keynote with Secretary Clinton
The symposium concluded with a conversation between Secretary Clinton and Ambassador Bill Burns, Deputy Secretary of State ('11-14) and U.S. Ambassador to Russia ('05-'08) in historic Gaston Hall.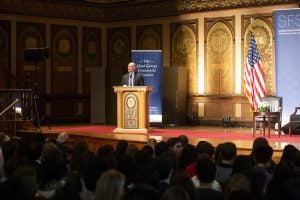 SFS Dean Joel Hellman opened the event with words from the School's founder, Father Edmund A. Walsh, S.J.: "We live in a most extraordinary age." Walsh spoke these words, which could still be used to describe today's landscape of international relations, at the inauguration ceremony for the SFS in 1919.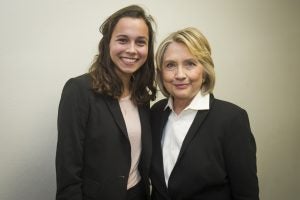 Abbey Nichols (SFS'20) introduced the speakers, highlighting the access to political leaders that Georgetown Institute of Politics and Public Service provides to students.
Clinton and Burns began the conversation by setting the scene of the United States' geopolitical position in 2009, when Clinton became Secretary of State. The tasks that fell before the new Secretary appeared enormous at the time; a rebalancing of the diplomatic portfolio after eight years of the George W. Bush administration that, according to Clinton, had neglected old allies and key regions to focus almost exclusively on counterterrorism. Clinton recalled how world leaders, particularly in Asia, were crying out for attention from the new administration, as they faced the threat of a rising China. In addition to these regional and bilateral challenges, Clinton emphasized how she also hoped to tackle global issues: climate change, the rights of women, and the protection of the global LGBT community.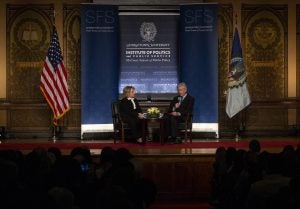 Clinton departed from the traditional framework of international affairs that was long-defined by the dichotomy between hard power, essentially flexing military and economic muscles, and soft power, understood as the ability to safeguard national interests through economic and cultural means to co-opt rather than coerce international players. She instead favored a more holistic "smart power" approach, which recognizes the importance of military might, while simultaneously pursuing soft power politics through engagement in alliances and institutions. This new approach, she said, must be an essential component of the future of diplomacy.
In addition to advocating for smart power, Clinton noted a number of other aspects of international affairs that she considers to be vital factors in the effective practice of diplomacy. Chief among these were consistency between administrations and follow through on issues. Clinton explained that the potential for backsliding by rival powers after tough negotiations was greatly increased if American diplomats failed to consistently engage in following-up on the points of an agreement. She used the example of the South China Sea and the Trump administration's focus on trade disputes rather than assistance to U.S. regional partners, such as the Philippines. "Right now, I'd say we are losing the influence contest to China," she noted.
Before moving on to questions submitted by students, Clinton raised her greatest critique of the Trump administration's approach to diplomacy. The President, she claimed, did not value the power of the United States' alliances, which according to her are the nation's "greatest asset" diplomatically, particularly in challenging times. She described how democracy is under strain in both the U.S. and Europe.
"We're going through growing pains, and so are the Europeans," Clinton said. "And when that happens, we need our friends. We need people that we have worked with and counted on."
In response to a question submitted by a Georgetown freshman on rebuilding the U.S. image abroad post-Trump, Clinton expressed optimism, noting that it was certainly possible. However, she noted that such a task that would take work, and could not be accomplished overnight.
In the final section of conversation, Clinton emphasized the importance of diplomacy. "We are making the case for diplomacy, but it is also a case for America," she said. She praised the diversity and passion of foreign service officers who are able to bring professional and academic experiences, as well as life experience, to the job. She concluded by encouraging the young people in the audience to consider a career in diplomacy: "We need you more than ever."