The Walsh School of Foreign Service (SFS) welcomed USAID Administrator Samantha Power on November 4, 2021, to celebrate USAID's 60th anniversary and share her vision for inclusive international development.
Power's latest visit to campus—she also spoke at Georgetown's Own It Summit in 2020—builds on the school's long-standing relationship with USAID and its international development and humanitarian relief mission. In addition to the countless SFS alumni and faculty who have had distinguished careers at USAID in the 60 years since its founding, USAID leaders have also found a home at Georgetown.  From 1993-1996, Prof. Carol Lancaster (SFS'64) served as USAID deputy administrator before returning to SFS and eventually becoming its first woman dean. Other USAID leaders like USAID administrators Andrew Natsios (COL'71) and Dr. Rajiv Shah have served as distinguished professors and fellows at SFS. 
Hosted in Lohrfink Auditorium, in-person and virtual attendees had the chance to hear Power discuss her strategic goals to change USAID's approach to international development. The event was co-sponsored by the Global Human Development (GHD) program and the U.S. Global Leadership Coalition (USGLC), a coalition of businesses and non-governmental organizations that advocates for strong U.S. international leadership through development and diplomacy.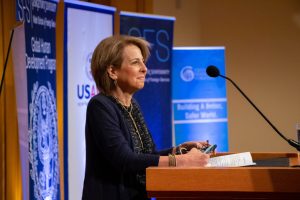 USGLC CEO Liz Schrayer welcomed Power to the stage, recognizing USAID's role in promoting peace and prosperity. Schrayer stressed the importance of effective development policy in face of today's global issues. "We're not moving fast enough. We're not moving fast enough to meet intractable challenges throughout the world," Schrayer said. "This is where US Administrator Sam Power comes in."
Power began her remarks reflecting on the story of a young John F. Kennedy, a congressman with fresh views on foreign policy living "just blocks" from Georgetown's campus. As president, it was Kennedy who signed the executive order founding USAID 60 years ago. Quoting Kennedy, Power emphasized, "We cannot leave it up to the experts and the diplomats," adding, "we must offer people, not a vision merely of international development but a vision of inclusive development."
Throughout her speech, Power highlighted not only the importance of providing international aid, but also the need to critically rethink USAID's role across the globe. Power laid out three concrete changes she plans to prioritize during her tenure as administrator: to make aid more accessible, more equitable, and more responsive.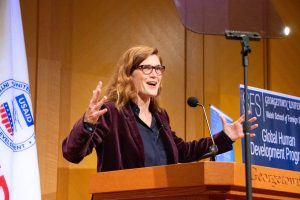 First, Power addressed the need for a new Diversity, Equity, and Inclusion strategy. Noting the depletion of USAID's workforce over the years, Power pushed for a more sustainable approach to staffing, representative of the country that USAID serves. This includes expanding the budget for paid internships, increasing the number of Donald M. Payne fellowships, and improving advancement opportunities for locally-hired Foreign Service National staff. "If we want an Agency that reflects the best of what America has to offer—all our dynamism, all our fresh perspectives, all our best thinking—then we must prioritize the hiring and retention of staff that look like America," Power said. 
Power also expressed a need to better leverage partnerships within the private sector to create meaningful development projects with lasting impact. Announcing a "centralized, flexible fund devoted to private sector engagement," USAID will commit to "mobilizing businesses around the world" to advance its mission.
In addition to fostering more accessible aid, Power underlined the importance of engaging local voices. "We've got to tap into the knowledge of local communities, and their lived-experiences. Otherwise, we risk reinforcing the systemic inequities that are already in place," she explained. Setting a series of target participation rates, Power promised local partners will play an active role in USAID assistance and programming, ensuring that future projects take better account of the context in which they are implemented. To accomplish this, USAID is launching a number of initiatives including $300 million in funding to work with local organizations in Central America and a new Office of Behavioral Science and Experimental Economics.
Last, Power turned to the meaning of inclusive development. Stressing the urgency of current issues such as the COVID-19 pandemic, climate change, and threats to democracy, Power called for close attention to cries for help across the world while remembering the U.S.' responsibility to uphold justice through aid. "We need to listen to what our partner nations actually want," she declared.
Power also shared the formation of a new fund to support legal defense for independent journalists fighting lawsuits and defamation claims. "To counter the ever-changing threats to democracy, because they're evolving, we depend on this sort of innovation," Power argued. "And it is the people on the frontlines who know best how we can support them."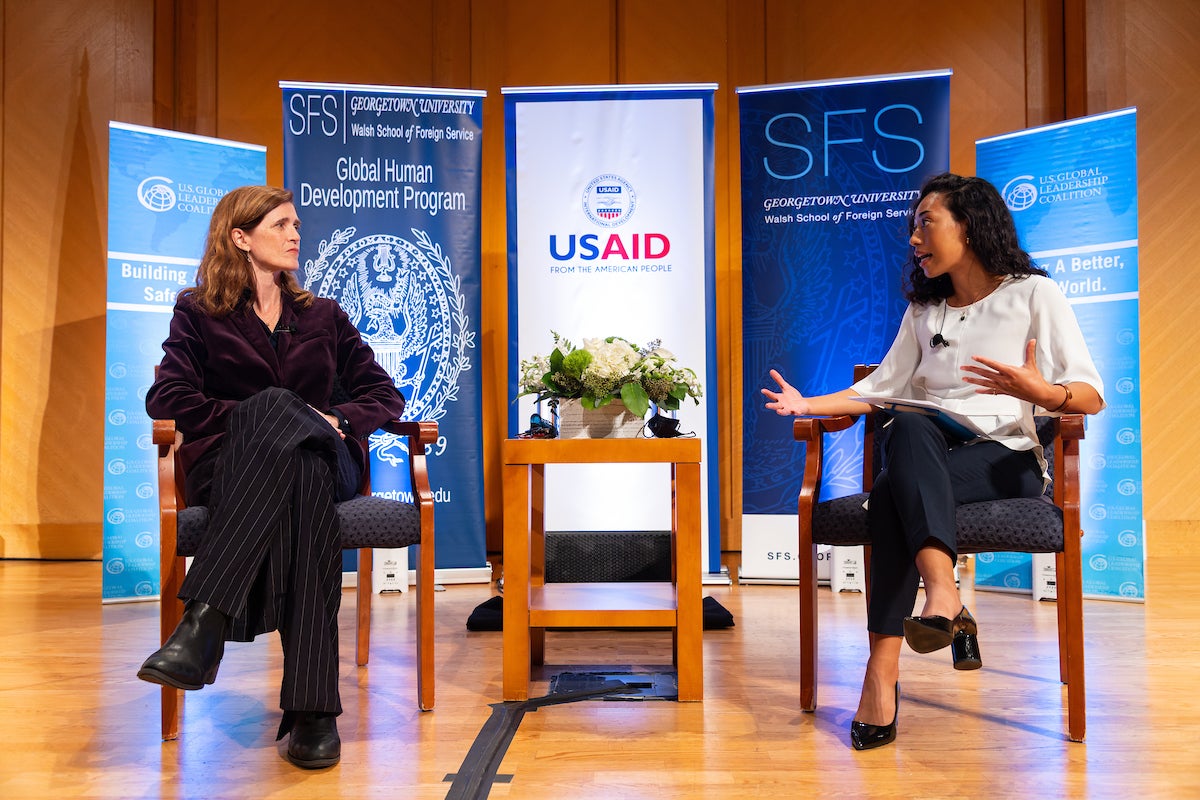 Following her speech, Power sat down for a conversation with 2020 Payne Fellowship Recipient Katryna Mahoney (GHD'22). The two discussed the "relationship between the personal and the political," as well as Power's experience being an outsider and insider to Washington politics before Mahoney opened the discussion up to questions from the audience, which included USAID partners and Georgetown students.
One student wondered how USAID's work fits into the broader picture of the United States' reputation abroad, given that the U.S. is often implicated in many of the issues it seeks to resolve. In response, Power re-emphasized an inclusive development strategy that sufficiently accounts for the lived experiences of people on the ground, and noted that the key is to remain humble about America's own shortcomings while taking time to listen to partners first.
"The answer has to be figuring out how to do it differently," Power remarked. "To coin a phrase, how do you build back better?"