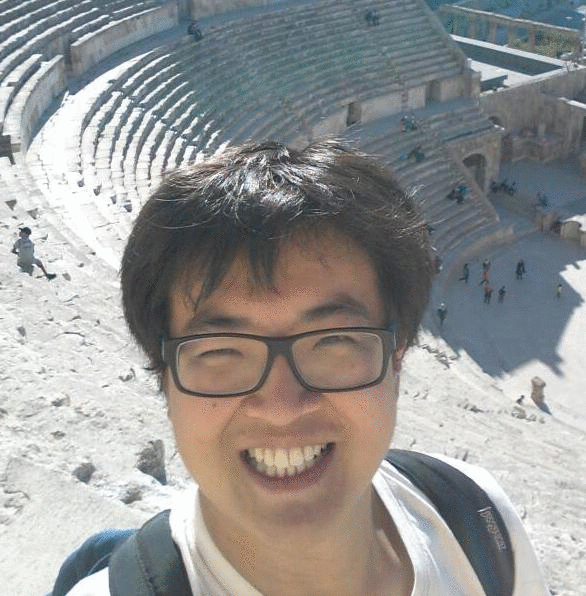 Enrolled in the Accelerated Program at Georgetown University, Timothy Loh graduated magna cum laude in May 2015 with a Bachelor of Science in Foreign Service and is currently a second-year graduate student in the Master of Arts in Arab Studies program. Hailing from sunny Singapore, Timothy became interested in the Middle East when, spurred on by a love for languages, he began learning Modern Standard Arabic in freshman year at Georgetown and was fascinated by the interplay between language and Arab society.
In the summer of 2014, Timothy went to Jordan on the Lisa J. Raines Fellowship to conduct anthropological research on deaf education, looking at the cultural conception of deafness, the use of Jordanian Sign Language, and Muslim-Christian relations.
What prompted your research into deafness and deaf education—and specifically in Jordan?
I have been involved with deaf communities for a long time. Back home in Singapore, I volunteered in a deaf ministry in a church for two and a half years before coming to college. Here in DC, I deliberately sought out opportunities to meet and interact with deaf people and even co-founded, with my friends Nia Lazarus (COL '16) and Courtney Nugent (COL '15), a club on campus called GU Signs that aims to raise awareness about American Sign Language and Deaf Culture.* A few semesters ago, I took an anthropology class with Dr. Sylvia Önder called Cultures and Identities. It was conducted in collaboration with Gallaudet University, the only liberal arts college for the Deaf in the world, and focused on the social construction of identity and particularly that of deafness. Until I took that class, however, deafness had been a personal rather than an academic interest.
My interest in the Middle East began when I started taking Arabic in freshman year on a whim — I had wanted to learn a new language, and I knew the two best language departments in Georgetown were Chinese and Arabic. I had learned Chinese back home, so I decided to start taking Arabic. My interest at the very beginning was purely linguistic; it was only in the middle of my second year learning Arabic that I realized I had to understand the culture, politics, and society of the Middle East before I could truly learn the language.
Researching deafness in the Middle East thus was the confluence of these two interests of mine. When I was at Middlebury Summer Language School two summers ago studying Arabic, I wrote my final paper on deafness in the Middle East and discovered, firstly, the dearth of research out there about this topic and, secondly, the poor situation that deaf and disabled people face in the region, especially in terms of education and employment. My research was an attempt to fill a little bit of that gap in the literature that I saw.
*In academic discourse, the label "deaf" refers to the physiological condition of hearing loss, while the label "Deaf" is a cultural identity centered around American Sign Language, or ASL.
Did you visit the Holy Land Institute for the Deaf (HLID) in Salt, Jordan in the Summer of 2014? What can you tell me about the experience there?
Yes, I conducted ethnographic fieldwork in the school for seven weeks on the Lisa J. Raines Fellowship, an academic grant to support independent undergraduate research over the summer. During that time, I essentially worked as a volunteer in the school: during the day, I handled various administrative tasks in the office, including writing thank you letters to donors and sponsors, editing English-language publications for the school, and translating the occasional document from Arabic to English. In the evenings and on the weekend, I helped the other volunteers to take care of the children, like playing games with them and putting them to bed. I also interviewed a number of volunteers there and the director of the HLID.
I thoroughly enjoyed my experience there and hope to go back to visit in the near future and possibly to conduct further research if I decide to go down this route. The deaf community in the school was very welcoming, especially the children, and by the time I left, I felt like I had spent a lot longer than seven weeks there.
Do you enjoy this kind of ethnographic research? Would you recommend your study as a model for other students to follow; why or why not? Is this kind of research something you plan to pursue after Georgetown?
I loved the research I was conducting; part of the reason why I decided to spend my summer doing this was to experience first-hand what it would be like conducting independent research. To that end, it was successful: I found that anthropological research really suited my disposition as someone who enjoys meeting new people and learning about new cultures and languages, and this kind of research was something I could see myself doing for some time. I definitely believe in the value of anthropological and ethnographic work: it adds a layer of depth and nuance to issues that numbers and statistics and surveys cannot capture.
I would recommend ethnographic research to other students, but with a strong cautionary note that they should take a methodology class before going out into the field. Fieldwork sounds simple on paper, but students need to be trained in anthropological methods, such as participant observation and qualitative interviewing, and, of equal if not greater importance, to understand the ethics of such research. Anthropology has an ugly history, and "observing" and collecting data about local populations has been used in the past (such as in the French colonial occupation of Egypt) to control and dominate local populations. That we can go to an unfamiliar or foreign community and spend a delineated period of time to "observe" and "study" them reflects the tremendous privilege that researchers have and the inherent power imbalance that allows such research. We thus have the responsibility to resist ethnocentrism in judging other cultures and traditions as inferior to our own, to avoid essentializing other groups of people, and to not perpetuate neo-colonial relationships with populations that may not share our privilege.
I will also say that ethnographic research also does not suit every student equally. It requires a certain level of courage and a willingness to make mistakes, to admit ignorance, and to lay aside preconceived notions about unfamiliar groups. Ethnographic observation can also be a time-consuming progress, especially when it comes to language acquisition. It is so important to learn the language of the group you hope to do research with, something that has been really drilled into me by the Arab Studies department here. After graduating with my MA in Arab Studies from Georgetown next year, I am seriously considering pursuing a Ph.D. in Anthropology with a specific focus on deafness in the Middle East.
Why, in your opinion, is there a "dearth of research on disability" in the Arab region? What are the potential next steps that can build upon your research? Do you plan to continue research in this field?
I think the research reveals a number of reasons that contribute to the lack of research. One is simply time: even in the US, Deaf Studies only really came into existence as a field of study after William Stokoe published an article in 1978 arguing that American Sign Language was an actual language with its own grammar and syntax. This in turn led to understanding deafness and other forms of disabilities in non-pathological terms and seeing them rather as social constructs that can be understood in different ways. Some researchers have also argued that disabilities in the Middle East are often invisible: disability has traditionally been associated with sin, and families will hide disabled children away because they are seen as a source of shame.
I believe my research can be strengthened much more if I were to do more fieldwork; a number of issues came up during my initial research that I would like to collect more data on. I also hope to keep working on my Arabic to reach much greater fluency. I do hope to continue researching this topic in a Ph.D. program, but if not, I intend to continue working and partnering with deaf populations in the Middle East.
How did you find out about the Harvard National Collegiate Research Conference? How was your experience attending the conference?
Another Carroll Fellow, Hannah Schneider, attended the National Collegiate Research Conference at Harvard University last year and sent out an email about submitting abstracts to the Carroll Fellows listserv. I submitted an application because it sounded interesting and was fortunate enough to be selected as one of twelve plenary speakers.
The conference itself was very interesting and it was certainly impressive and inspiring to see the breadth of research being done out there by undergraduates all around the country. Aside from research presentations, it was also a great networking event and there were interesting panels (for example, industry versus academia) and workshops (for example, about publishing an article in a journal) at the conference. The one thing I will say is that the conference was very hard science-dominated: there were a lot of presentations in the fields of biology and chemistry. A lot of valuable research in the humanities and social sciences is being done by Georgetown undergraduates and I think that more Georgetown students should apply to the conference and redress that imbalance.
I really want to thank the stellar Georgetown professors that have helped me with the process of independent research: Dr. Fida Adely, my Raines faculty mentor, Dr. Sylvia Önder, whom I first approached to talk about this project and who has been supportive ever since, and Dr. Terrence Potter, who gave me a lot of good, practical advice before I left for Jordan.