When Plato Cacheris graduated from the School in Foreign Service in 1951, he had vague notions of becoming the United States ambassador to Greece. However, a two-year stint in the Marines led him into the world of court-martial courses, and he soon returned to Georgetown to earn his juris doctor in 1956.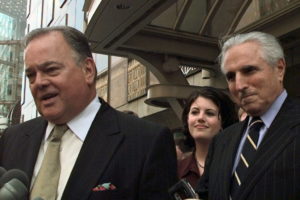 Cacheris rose to prominence as part of an elite group of Washington, D.C. "super lawyers" who made their name defending politicians and business elites embroiled in scandal. Remembered best for his dealmaking skills, Cacheris defended Watergate conspirator Attorney General John N. Mitchell, Monica Lewinsky, and Aldrich Ames and Robert Phillip Hanssen, among others.
His highest profile case came in 1987, when he was hired to defend Fawn Hall, former secretary to Lieutenant Colonel Oliver North, who was one of the central figures of the Iran-Contra affair.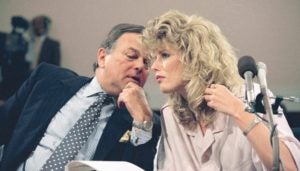 "We shred everything," Hall testified on Capitol Hill, confessing to the alteration and destruction of National Security Council documents related to the scandal. Under Cacheris' counsel, Hall received immunity in exchange for her testimony against Lt. Col. North, who received three felony convictions that were eventually overturned.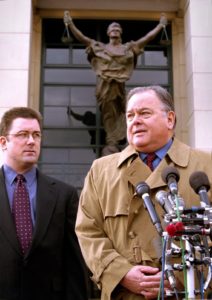 For Cacheris, a well-fought case did not always end in acquittal. He won immunity for Hall and Lewinsky, the latter of whom was accused of perjury for denying her relationship with President Bill Clinton (SFS '68). In 2001, Cacheris negotiated life sentences for Soviet spies Aldrich Ames and Robert Philip Hanssen, who faced the death penalty for espionage.
Born in 1922 to Greek immigrants, Cacheris moved to D.C. from his hometown of Pittsburgh when he was a teenager. There, he helped his father run a chain of waffle shops before graduating from Washington High School and enrolling in the SFS.
Cacheris's legal career spanned more than forty years. "I'll retire when the phone stops ringing," he said in a 2000 interview with the D.C. Bar Association. "As long as clients keep calling, I'll keep going."
He finally retired in 2018, a year before his death at the age of 90.