Professor Jan Karski began teaching at Georgetown in 1954. This was the beginning of a career at the University that lasted 30 years. Karski had made his name as a Polish resistance fighter and spy during the years of Nazi occupation in World War II. He had provided eye witness accounts of the Holocaust to Allied leaders, including President Roosevelt.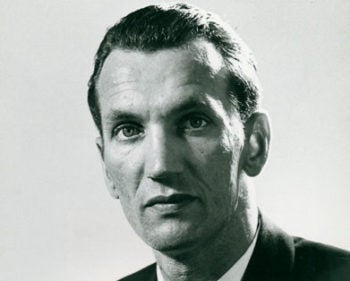 Karski joined the Polish Underground at the age of 25 during World War II after escaping from Soviet capture.
Thanks to his photographic memory and mastery of four languages, he was well placed to infiltrate and observe the Nazi concentration camp system.
He earned a doctorate from Georgetown in 1952 and taught in the political science department until retiring in 1984. Karksi died in July 2000 at the age of 86. He was posthumously awarded a Presidential Medal of Freedom in 2012.
"Jan Karski's story, his life and his work, is characterized by speaking out against hate and intolerance, by serving as a witness, [and] by setting for all of us – at Georgetown and across the world – an example of what it means to stand for justice," said Georgetown President John J. DeGioia.