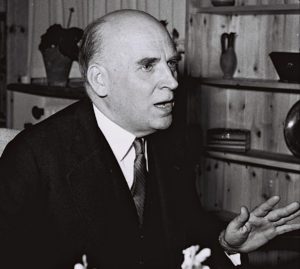 Edward Burnett Lawson (SFS'24, MSFS'25) fought in World War I, before enrolling at Georgetown where he was in one of the first graduating classes of the SFS receiving his Bachelor of Science in Foreign Service in 1924 and his Master of Science in Foreign Service in 1925. Lawson went on to join the U.S. State Department Foreign Service, serving as the U.S. Ambassador to Iceland from 1949-1954 and to Israel from 1954-1959, a crucial time period for the young country. Before becoming an ambassador, however, he served in a number of diplomatic posts all over the world: Economic Counselor in Turkey, Commercial Attaché in Nicaragua and later in Czechoslovakia, and Trade Commissioner in South Africa.
Lawson was stationed in Israel throughout the tumultuous Suez Crisis in 1956. The Suez canal was instrumental to the region: it connected the Mediterranean to the Red Sea, and was used by both those in the Middle East and Europe. Egypt, at the time, was attempting to build the Aswan Dam, which Western countries ceased funding after Egypt made an arms deal with Soviet-backed Czechoslovakia and diplomatically recognized the Communist government of China. Angered, the Egyptian president, Gamal Abdel Nasser seized the canal and nationalized it, which caused Britain, France, and Israel to form a secret pact and launch a joint invasion of Egypt's Sinai Peninsula with the aim of seizing the canal. Israel attacked Egypt on October 26, 1956, and were joined by the forces of its European allies two days later. The U.S. feared that the Soviet Union would get directly involved and escalate the conflict, and so applied international and economic pressure on the aggressing parties to cease hostilities. The British and French withdrew their troops in December 1956 and the Israelis followed in March 1957. The crisis required constant, up-to-date knowledge as to what was happening throughout the Middle East, because it involved so many countries: Israel, Egypt, Britain, and France, in addition to border tensions with Jordan. Lawson sent many hundreds of telegrams weekly to the U.S. State Department from Tel Aviv, documenting all the twists and turns in the crisis, including outcomes of the frequent and varied Mixed Armistice Commissions meetings. In November 1956, as the British and French were preparing to withdraw their troops, for example, Lawson wrote to the Secretary of State with the "Embassy's impressions": he reported that the "warfront atmosphere [is] disappearing", and that among everyone, there was an "alert, watchful attitude to developments." A month later, he wrote that the "focus of the Israeli Government and public interest has made a complete shift from October 15-November 15 preoccupation with military build-up to Israel's prospects [in the] international political field."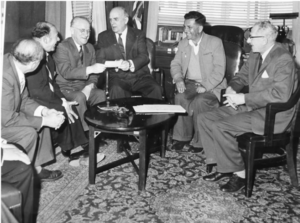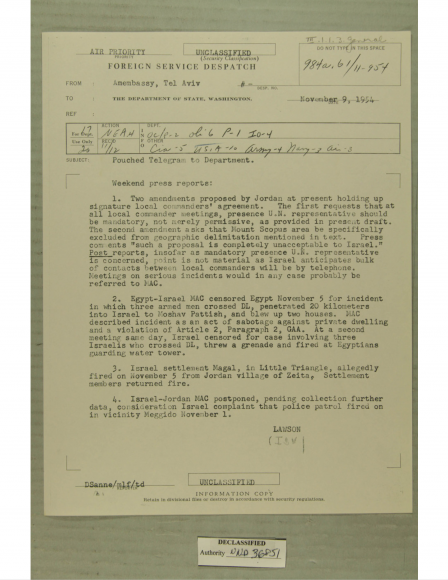 Another notable event during Lawson's tenure as U.S. Ambassador to Israel was Israel's 10th anniversary celebration where Lawson served as the U.S. representative to the event. Israel saw this as an opportunity to formally present itself as a member of the international community and hoped for official recognition from around the world. However U.S. officials were anxious about how much public support they would show for Israel. Because of these concerns, the State Department sent Lawson, rather than a higher-ranking official like the Secretary of State.
Lawson also became a confidant to Israeli prime ministers David Ben-Gurion and Moshe Sharett, who admitted their fears and suspicions to him regarding neighboring countries and the future of Israel. In early 1958, near the end of his time as ambassador, Lawson presented a check to Israel from the United States, to assist in building the Israel Museum in Jerusalem, calling Israel "a valiant little country," further strengthening a more positive image of Israel in the minds of Americans. His praise helped Americans to "envision themselves as champions of little countries," and the 1958 novel Exodus helped them see Israel's early history as a parallel to U.S. early history.
Lawson died on November 19, 1962 from heart failure. He was survived by his wife Jean McDonald Lawson.