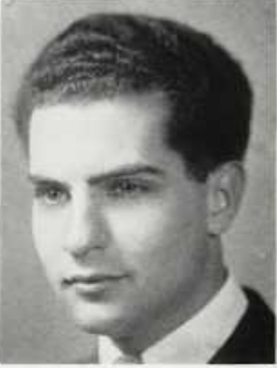 Abba P. Schwartz, a prominent State Department official and lifetime champion for refugees, dedicated his life's work to his belief that all refugees and immigrants should be welcome in the United States – regardless of their political or personal beliefs.
Schwartz came to Georgetown from his hometown of Baltimore, Maryland graduating from SFS in 1936 and Harvard Law in 1939 at the onset of World War II. Schwartz first began his work in immigration as a student at Harvard Law School. In 1938, a Harvard dean sent him to the White House to enlist the aid of President Franklin D. Roosevelt in resolving the crisis surrounding refugees fleeing Nazi Germany.
FDR delegated the task to First Lady, Eleanor Roosevelt, and the two became close friends while working out the details of Schwartz's proposed refugee assistance program. Schwartz would later become Eleanor Roosevelt's advisor after her husband's death.
Upon graduating from Harvard, Schwartz went on to practice private law in Washington, D.C. until the United States entered World War II after the attack on Pearl Harbor in 1941. During the war, Schwartz enlisted in the Merchant Marines and ferried resources and supplies to the Soviet Union. He then served as a lieutenant in the United States Navy before being honorably discharged in 1946.
Immediately following the war, Schwartz threw himself into humanitarian efforts. He worked with both the Intergovernmental Committee on Refugees and the United Nations International Refugee Organization in London and Geneva. During this time he also worked as a legal counsel for the Intergovernmental Committee for European Migration before returning to D.C. in 1950 to focus on refugee and immigration law for the firm of Landis, Cohen, Rubin & Schwartz.
Living in D.C., Schwartz integrated himself into the local political elite– befriending both John F. Kennedy and Robert F. Kennedy as well as strengthening his bonds with Eleanor Roosevelt.
Schwartz's career in the State Department began in 1962 after John F. Kennedy took office and appointed Schwartz as Assistant Secretary of State for Security and Consular Affairs. In this position, Schwartz was an adamant proponent of liberal immigration policies, working closely with Attorney General Kennedy to open the doors for Eastern European and Cuban refugees to immigrate to the United States. Throughout the mid 1960s, Schwartz negotiated an accord to allow thousands of Cuban refugees to migrate to the United States and drafted immigration legislation that abolished national origin quotas.
Schwartz's time at the State Department fell during the middle of the Cold War, a time of fear and uncertainty in the United States. Schwartz's advocacy for immigrants and refugees were considered "suspect" political views and were strongly opposed by conservatives.
Schwartz wrote a book titled The Open Society that was published in 1968 in which he outlined his beliefs that liberal U.S. immigration policies were the best course of action for the nation. He also recounted his struggle to accomplish immigration reform under the State Department's bureaucracy.
Schwartz died in 1989 of a heart attack while on a street in Brussels, Belgium. He was on his way to a business meeting at the U.S. Embassy.
Schwartz's dedication to opening the United States to people of all backgrounds would forever be immortalized through the thousands of refugees who immigrated to the United States because of his work. His impact is recognized at the JFK Presidential Library where a research grant bears Schwartz's name, given to scholars who produce work in the fields of immigration, naturalization, and refugee policy.