In her four years at Georgetown, Sophia Mauro (SFS'20) has taken every opportunity to explore both her local community and the world. 
From spending hours browsing the National Gallery of Art to studying the Middle East as a Regional and Comparative Studies (RCST) major, Mauro is graduating confident that she has taken full advantage of what she says is "one of the best (and most underrated) SFS majors." 
Although she and her Georgetown community of supportive friends and faculty have had to adapt to the new realities of life during COVID-19, Mauro is looking forward to her immediate future. 
This summer, she will be applying the skills she has learned at SFS to a job in the U.S. State Department, and in January, she will make her way to Turkey to pursue a Fulbright scholarship.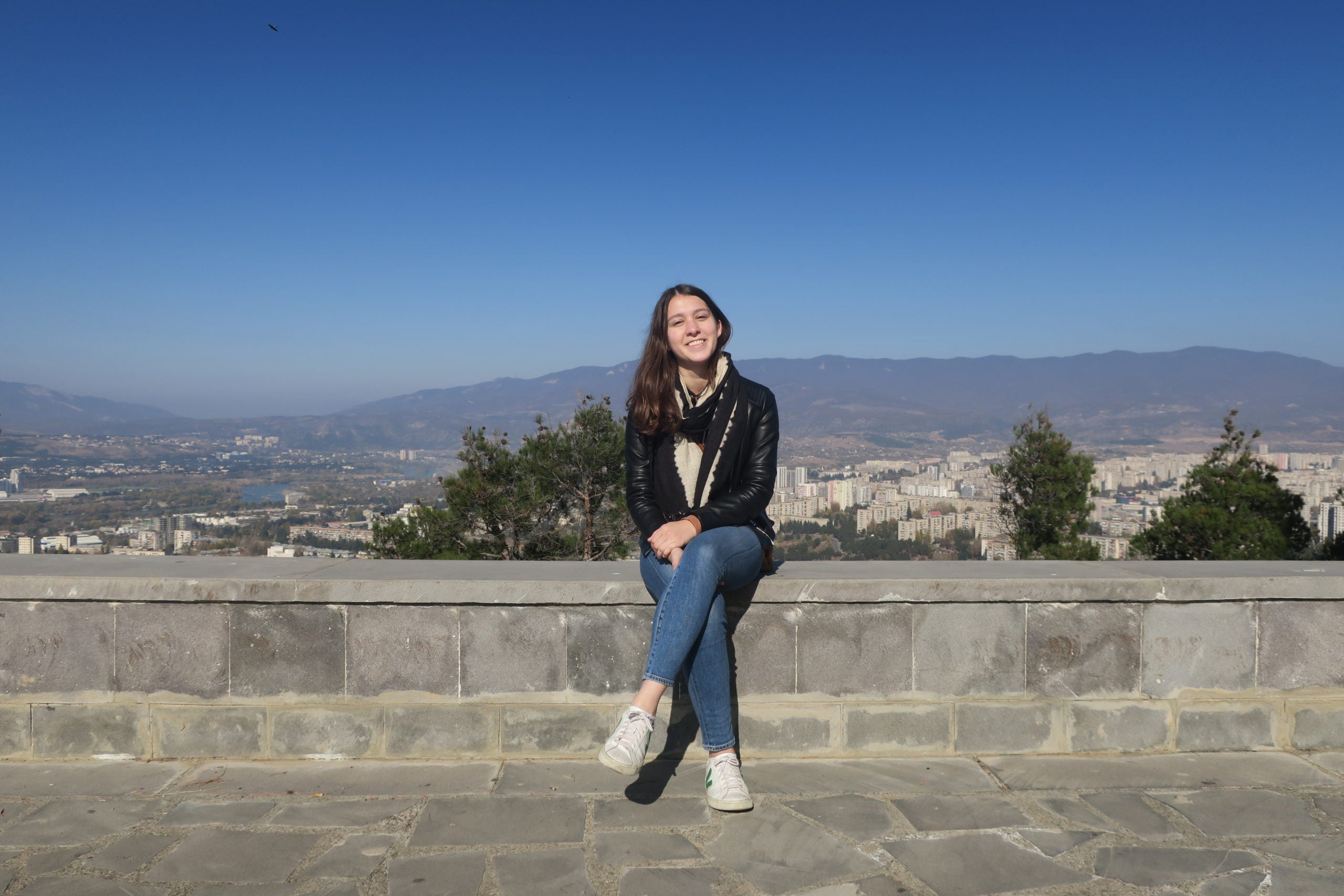 At a Glance
Hometown: Kansas City, Missouri
Major: Regional & Comparative Studies
Minor: Turkish
Proseminar: Migration in and from Africa with Professor Lahra Smith
Languages: Spanish, Turkish
Experiences Abroad: Fall 2018 in Baku, Azerbaijan at the Azerbaijan State University of Languages
On-Campus Activities: Federal & D.C. Relations Committee, GU Politics, student worker in the SFS Office of Communications
Non-GU Activities: Communications Intern at the Middle East Institute, Office of Educational Technology Intern at the Department of Education, Global Public Affairs Intern at the U.S. State Department
Exploration Through the Lens of Regional & Comparative Studies
Mauro says a high school trip to Turkey sparked her interest in the Middle East. "Coming to Georgetown, I knew I wanted to study the Middle East," she says. "It was a field I was really passionate about and wanted to explore more."
RCST gave her the opportunity to explore the Middle East through a variety of disciplines, from energy policy and economics to data ethics and history. "I see my major as a lens through which to approach regions, countries or specific problems," Mauro says.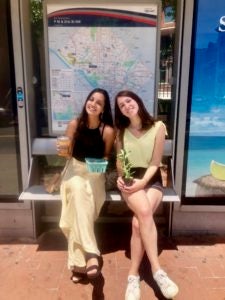 After taking a class on Central Eurasia taught by Professor James Millward, Mauro decided to expand her academic focus to encompass the entire Eurasia region. She even went on to study abroad in a country the class discussed, Azerbaijan. "I've never felt so engaged with the material in a history course," she says.
She cites Professor Mustafa Aksakal as another professor who encouraged her to expand her international horizons. A paper she wrote for his Society and Politics of Modern Turkey class on the Anitkabir mausoleum in Ankara partially inspired her to study in Ankara for her Fulbright Scholarship.
However, some of her favorite classes have been those that take advantage of the resources at home in Washington, D.C. In Global Affairs in the Digital Age, taught by Washington Post reporter Professor Ishaan Tharoor, Mauro and her classmates got to hear from accomplished journalists such as Abigail Hauslohner, Evan Osnos and Emily Rauhala about their experience reporting from conflict zones, amid political turmoil or with difficult ethical considerations.
"This class defined for me what it was to be a student at Georgetown," she says.
From the Hilltop to Capitol Hill
After she moved to Georgetown from her hometown of Kansas City, Missouri, Mauro joined the Federal & D.C. Relations Committee to get to know her new city. As a member of the committee—and its director in her junior year—she advocated on behalf of Georgetown students at the local and federal level on issues like gun violence, Title IX and Deferred Action for Childhood Arrivals (DACA).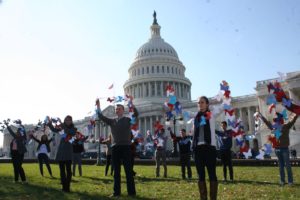 One of her most powerful experiences at Georgetown, Mauro says, was a weeklong campaign run by Federal and D.C. Relations to support DACA recipients at Georgetown and at universities across the country. The club gathered more than 2,600 letters that students had addressed to their congressional representatives, as well as more than 2,000 signed paper butterflies and delivered them to Capitol Hill.
"I was so proud of our efforts, exhausted after a week of non-stop action and, most of all, overwhelmed by the show of support from the student body, Georgetown administration, faculty members and staff," she says.
Besides Capitol Hill, Mauro's favorite place in D.C. is the National Gallery of Art, especially its collection of modern and contemporary art in the East Wing. "When I need a break from the craziness of campus life, I head directly to the East Wing," she says. "I could spend hours there and never get tired of it." 
Experiential Learning in the Middle East
Though Mauro has enjoyed her time in D.C., she eventually hopes to work abroad in the Middle East. "I'd like to apply what I've learned about the region to tangible experience there," she says. "I'm really interested in the intersection of politics and communications, particularly on a global scale."
Although she was already proficient in Spanish, Mauro decided to learn Turkish and even picked up a minor in the language. She mentions Professors Sylvia Onder and Zeynep Gur as mentors in her study of a third language.
"They're both fantastic teachers and dedicate so much time and passion to the Turkish program. To anyone looking for a new language to learn at Georgetown, I'd highly recommend Turkish!" Mauro says.
RCST Dean Lisa Gordinier has also been a key source of support and guidance, Mauro adds, especially when her plans to study abroad at the Azerbaijan State University of Languages hit a snag. "When my program was postponed for a month due to a visa problem and I was, to say the least, freaking out, Dean Gordinier took the time to chat with me late at night and last minute, reassure me about the situation and remind me of my options," she says.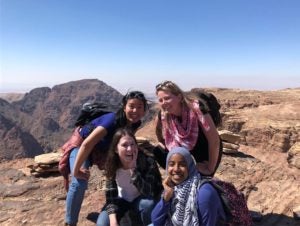 Mauro says that experiential learning opportunities like these have been essential to her study of the Middle East. "There's nothing that can replace actually being in the midst of it all and talking with people whose lives are affected by these issues," she says.
In Spring 2019, Mauro traveled to Jordan with the Development and Displacement in the Arab World SFS Centennial Lab. Led by Professors Fida Adely and Rochelle Davis, Mauro and her class met with organizations providing vital services to refugees, investing in sustainable development, supporting local entrepreneurs and engaging with Jordan's growing tourism industry.
"I don't think any academic study is adequate preparation for grasping the scale, scope or complexity of refugee issues in the countries and communities in which they are occurring," Mauro says of her experience in Jordan.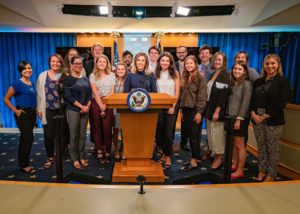 To Ankara via the State Department
Mauro's time in Jordan even inspired her Fulbright study proposal, which explores issues in refugee education and potential solutions to access barriers for displaced populations. She recently found out that she has been awarded a Fulbright scholarship to study Middle Eastern Studies at Middle East Technical University in Ankara, Turkey. 
However, because COVID-19 has delayed her program until January 2021, Mauro plans on working at the U.S. State Department in the Bureau of Global Public Affairs in the meantime. "I feel like I'm figuring it out as I go, but I'm trying to be flexible and open to options," she admits.
A sudden move-out and transition to online learning was not how Mauro expected to end her senior spring, but she is staying connected with friends, classmates and professors through digital means. Zoom sessions, phone calls and email exchanges have become part of her daily routine.
As an aspiring practitioner of international relations, Mauro hopes that scholars and practitioners will quickly learn from the lessons of the pandemic to build more resilient global systems. "Hopefully, we'll look back on this time with the recognition of what went right, how we messed up and the knowledge that we have the tools now to stop the next pandemic," she says.