"From students to faculty and staff, I have met some of the kindest, smartest, and most supportive group of people who have pushed me to grow more than I thought I was capable of," says Sargun Kaur (SFS'23). As she graduates and pursues a career at ​​the World Bank Treasury as a junior analyst, Kaur will build on the foundation she established at Georgetown.
Kaur, ​​an international political economy major and international development minor, has lived in many of the countries she studied. "I am an Indian citizen, but I was born in Singapore and grew up in Europe and Southeast Asia, namely in Germany, Switzerland, Singapore, Indonesia, and the Philippines," she says. "I moved to Washington, DC from Jakarta, Indonesia, after completing high school."
Proseminar and Beyond
Kaur's studies resemble her diverse upbringing. Her Proseminar with Professor Toshihiro Higuchi, The Rise of the United States as a Pacific Power, began her academic path. She then  gained proficiency in French during her sophomore year, and found her favorite class with Democracy in India, taught by Professor Milan Vaishnav. 
"As an Indian citizen who has lived outside of the country all my life, the class helped me feel more connected to my home country while also allowing me to critically evaluate India's development challenges," she says about Vaishnav's class. "I constantly still think about and apply what I learned in this course within other classes and conversations."
Outside the Classroom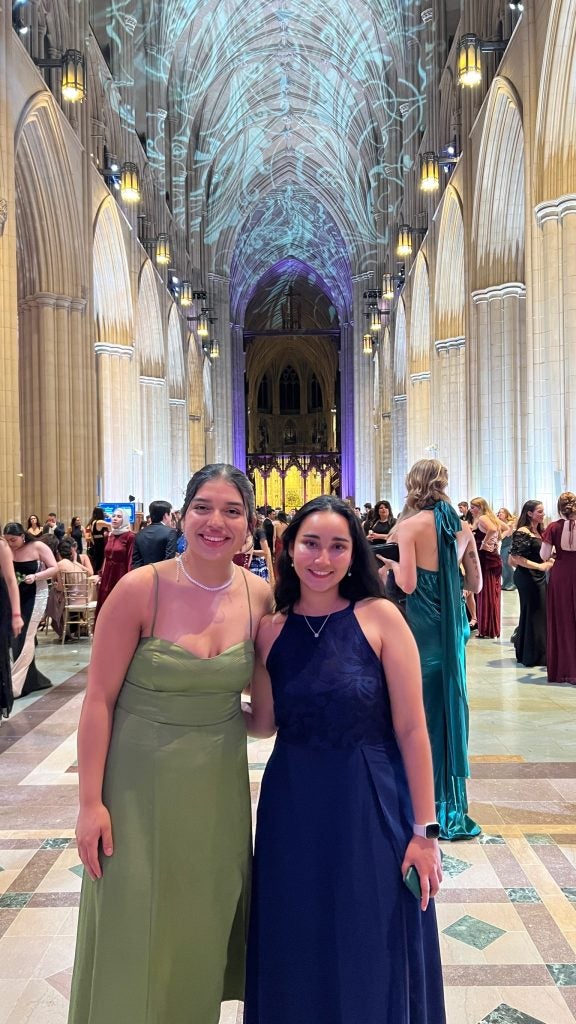 Along with globally minded classes, Kaur participated in many different on-campus activities. She served as president of Georgetown's Sikh Student Association for two years, while also working as a trip leader for the Center for Social Justice's Alternative Breaks Program. "Throughout the years, I have also been a part of the South Asian Society's annual philanthropic dance showcase, Rangila, and have had miscellaneous roles as a Campus Ministry student worker," she says.
"I had the chance to work with local organizations dealing with the housing crisis in DC while grappling with larger questions of what it meant to belong to a home," Kaur says. "During our virtual school year, I was also a leader in my former pre-orientation program, Youth Leaders in Education About Diversity (YLEAD), and became a member of the Carroll Fellows Initiative (CFI)."
Through the SFS Undergraduate Scholars Program, Kaur worked with Professors Raj Desai and Shanta Devarajan as a research assistant on their upcoming "Handbook on Aid and Development." She explains, "This is a project that I am still working on, and it has given me the chance to interact with other leading scholars in the field and learn about different opinions on international development. Professors Raj Desai and Shanta Devarajan have constantly broadened my understanding of development and created spaces for me to interact with other scholars in my discipline of interest."
Working in the Capital
Along with on-campus extracurricular and research activities, Kaur held multiple jobs during her time at Georgetown. "While the pandemic impacted our ability to have in-person jobs and internships during my first two years at Georgetown, I still had the opportunity to work virtually with off-campus employers," Kaur says. "First, I served as a student consultant at Development Solutions Organization, an organization providing pro-bono consulting services to nonprofit organizations throughout the country. In addition, I worked as a program intern for One Common Unity, a nonprofit and social justice organization employing artistic expression and peace education to break cycles of poverty among low-income communities in Washington, DC. During the pandemic, I also volunteered with Hatch Tutors, where I tutored elementary and middle school students to support them with their English language skills."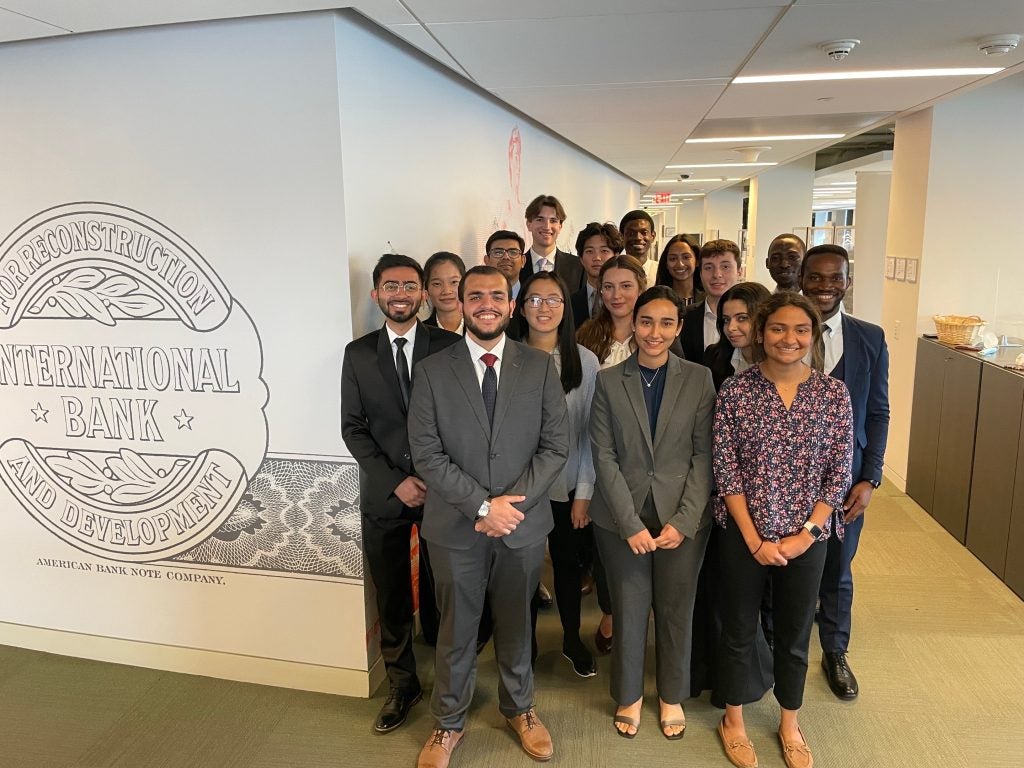 The summer before her senior year Kaur was selected for the World Bank's Summer Treasury Internship program. She says, "Through this experience, I learned about and extensively engaged in the World Bank's efforts to leverage private capital to maximize funds for its sustainable development objectives," Kaur says. "As someone who is very passionate about international development work, this was an incredible opportunity for me to gain valuable practical experience."
Community on the Hilltop
Kaur is appreciative of numerous faculty and staff members who had a significant impact on her college experience. "My Dean, Mitch Kaneda, under whom I also took a course on international trade, has offered crucial guidance and support as I navigated my academic and personal life at Georgetown."
These mentors also helped Kaur build a community on campus. "The support that I have received from faculty and staff in the Campus Ministry like Dr. Sharan and Diana Brown has been invaluable in helping me settle into Georgetown and build my community," she says. "I have also found mentorship and support from so many of my friends who have constantly checked up on me and supported me during difficult times."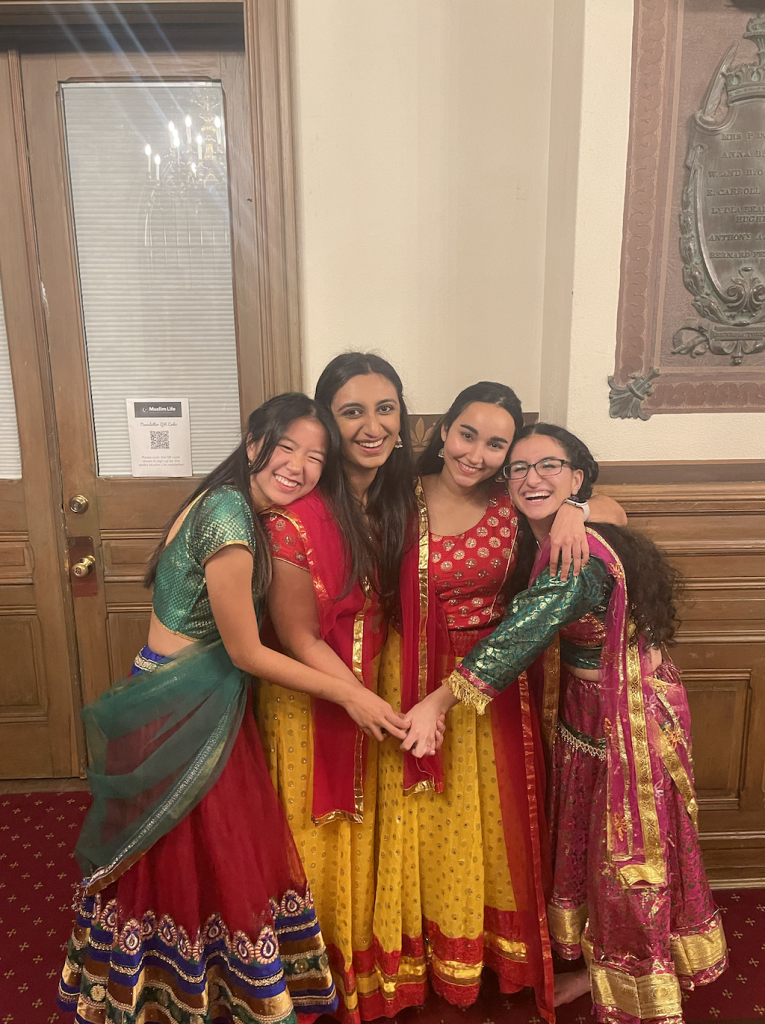 Kaur that found Georgetown's places of worship offer students a safe place to reflect and release stress. "I think the sacred spaces on campus are hidden gems that very few universities offer! I strongly encourage those who have never attended services outside of their own faith or spiritual backgrounds to use Georgetown as an opportunity to do so," she says. "From weekly Aratis to Vesper services, you'll probably never find a space as open and welcoming as Georgetown to broaden your perspectives on religious and spiritual practices and gatherings."
Finding a community at Georgetown can often occur by connecting with those who have similar passions and interests. As an SFS student, Kaur says, "I really value the shared passions that so many of us in the SFS hold. There are very few spaces where you find people who are all as driven by a commitment to service and making a difference in the world."
With her SFS peers, Kaur was regularly invited to interact and learn from leaders in foreign service and beyond. "I could not have anticipated the sheer number of opportunities that the SFS and Georgetown at-large offers students to engage with scholars and professionals from all backgrounds," she says, "From getting a chance to speak to former Liberian President and Nobel Laureate Ellen Johnson Sirleaf, to listening to speakers like Hillary Clinton and Mark Zuckerberg in Gaston Hall, Georgetown offers unparalleled opportunities to engage with changemakers from around the world. While you obviously learn within your classrooms, I have found that so much of my personal and intellectual growth has come from taking advantage of opportunities like this, and I encourage more students to do the same."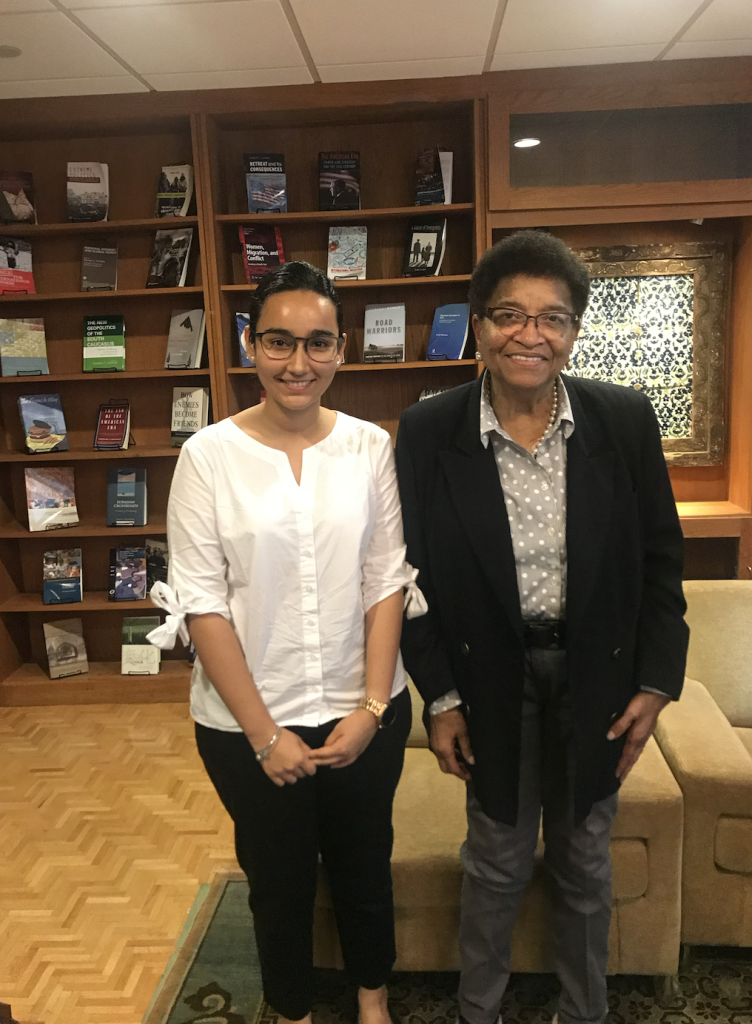 Outside of campus, Kaur found the city a great place to explore. "Washington DC is such a wonderful city, and you wouldn't be making the most of your Georgetown experience without breaking the bubble! I love taking walks to different parts of the city and enjoying all the beautiful nature that surrounds it," she says. "Whether it's a relaxing walk to the National Cathedral, Rosslyn, Theodore Roosevelt Island, or the Tidal Basin, walking outside is such a great way to explore the city and take time for yourself. I'm also a huge fan of DC's culinary scene, with so many cuisines and fusion restaurants to choose from. Although Georgetown has an abundance of food options, it's always fun to commute out into a new part of DC and try restaurants and cuisines you've never had!"
Final Reflections
Kaur is excited to be continuing her work for the World Bank in a full-time position after graduation. As Kaur looks ahead, she is reflective on the lessons she learned at Georgetown. "In the future, I hope to pursue a career in international development work. My studies in the SFS have equipped me with the tools and knowledge I need to begin this process," she says. "At the same time, the opportunities I have had to collaborate with scholars who have made both theoretical and practical contributions in this field have been invaluable. In addition to my professors, being around like-minded individuals hoping to make a change in the world has helped further reinforce my passion and commitment to development work."
Giving advice to her first-year self, Kaur says, "Take advantage of new opportunities and don't be afraid to step out of your comfort zone! At the same time, don't feel pressured to do things just because people around you are doing them. Lastly, coursework is important, but so much learning also comes from outside the classroom through experiences and time with friends."
"I think I will look back at my undergraduate experience as some of the best years of my life. This was a time when I was challenged, taught to critically think, and became more confident in myself and my abilities," Kaur shares. "I have met lifelong friends, found amazing mentors, and made memories that I will cherish forever."