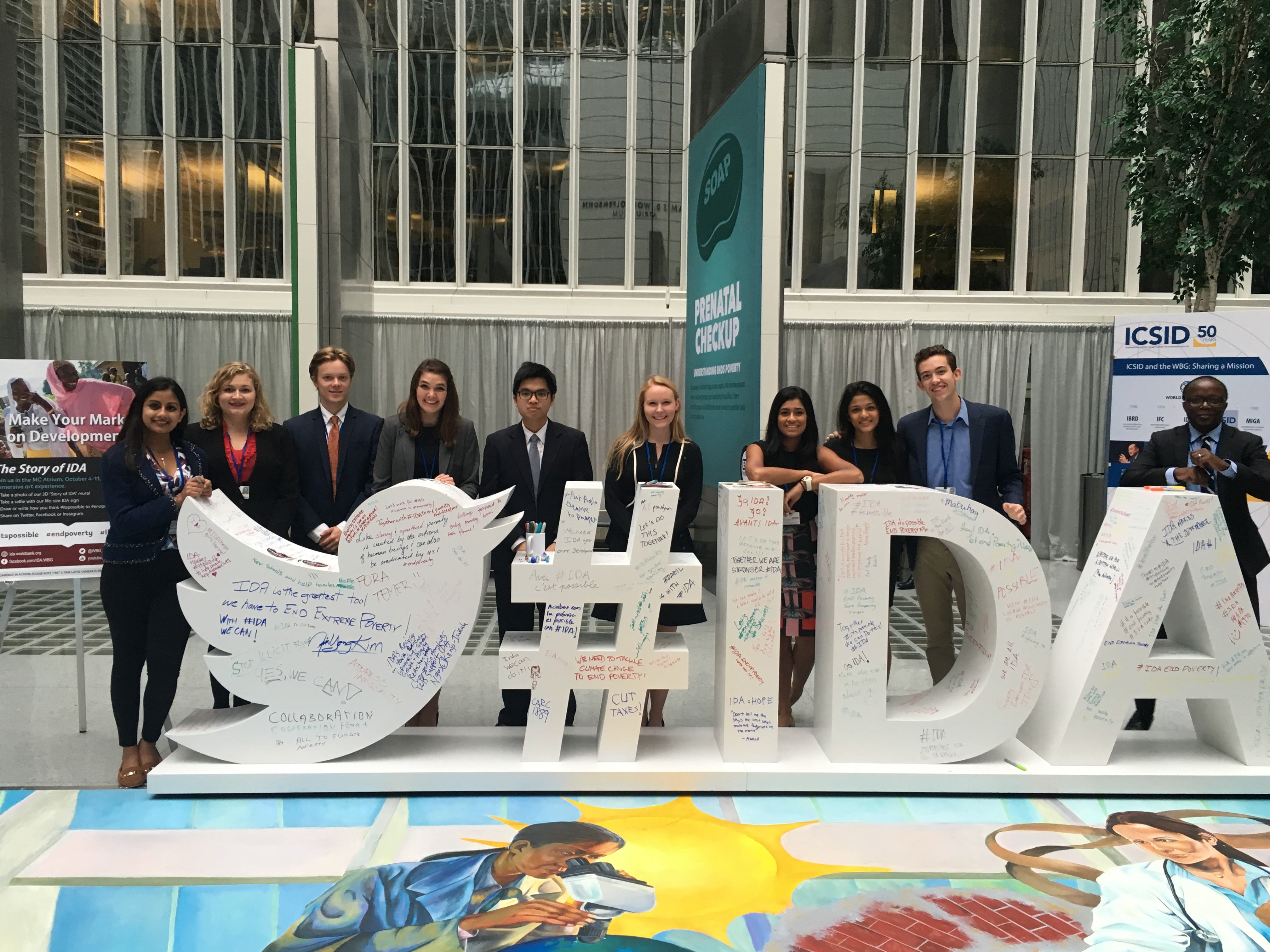 From October 7 to 9, a delegation of Georgetown students attended the 2016 Annual Meetings of the World Bank and the International Monetary Fund. While the students represented a range of class years and majors, all of them had a strong interest in international development. Students participating in the visit attended two classes with Professor Ken Opalo following the experience and obtained academic credit. Adding an academic component to experiential learning opportunities is a new curricular initiative at SFS designed to enhance learning by giving context to situations or experiences in the real world.
During their visit to the World Bank, the students had the opportunity to attend public events and panel discussions on topics including financial inclusion, fragility and conflict, and the Sustainable Development Goals (SDGs). At these events, they heard from practitioners including Jim Yong Kim, President of the World Bank Group and Christine Lagarde, Managing Director of the International Monetary Fund.
The delegation also had several one-on-one meetings with some of the World Bank's most senior staff. They met with Stephanie von Friedeburg, chief information officer and vice president of information and technology solutions, and they learned about the World Bank's 2017 World Development Report on governance and law from Yongmei Zhou, practice manager for fragility, conflict, and violence. They also spoke with Deborah Wetzel, senior director for the Governance Global Practice, and met with the country managers for China, Brazil, and Bolivia.
Opalo saw the World Bank visit affect the way students approached their academic material. "The visits gave students greater confidence in engaging academic works on the political economy of the World Bank and the IMF…. Students got to see, up close, actual discussions over the issues that we address in class — like conflict and global poverty. Such experiences are useful in giving meaning to some of the abstract ideas and concepts that they have previously encountered in academic works on these subjects."
The meetings left a lasting impression with the Georgetown students, who are already applying the lessons they learned at the World Bank to their studies on campus. Meredith Peng (SFS'17) reflected on the importance of inclusion in development work.
"Having the opportunity to see and hear from World Bank officials, development experts, and country leaders was an amazing experience that gave us a unique perspective on international development politics. Two things resonated with me: that mobilizing refugees into productive jobs is a vital step towards addressing fragility and development, and that we need more women and people of non-western backgrounds in higher-level positions at the World Bank and IMF," said Peng.

Students' interaction with practitioners also had career benefits, according to Opalo. "Students got to ask concrete questions about what it is like to work for the Bank in places like Somalia, Brazil, Bolivia and China…get some career advice as they begin thinking of potential careers working for international organizations like the World Bank or the IMF," he said.
Patrick Drown (SFS'17) wasn't aware of the diversity of World Bank projects before his visit, and it helped him to think broadly about potential career options in the future. "As a student who is interested in working in the development sector, being able to interact with professionals who work at the World Bank really illuminated for me the different kinds of projects and topics that employees at the World Bank work on and the various career paths that exist within the development sector. I often read about the projects that the World Bank pursues, and it was exciting and informative to be able to talk to people who work on these projects."
Professor Daniel Byman, Senior Associate Dean for Undergraduate Affairs, sees the World Bank trip and corresponding classes as only the beginning of this kind of course offering at SFS. He says, "This course is a model for future offerings in the SFS. We want to capitalize on our Washington location and the expertise and connections of our faculty to give students high-impact experiences that they could not get at any other institution."