Georgetown's School of Foreign Service (SFS) opened its doors in 1919 with the mission of preparing students to engage in foreign service and trade across the globe. Over the last year, two SFS seniors and one alumnus have been awarded highly respected graduate fellowships that offer a pathway to the U.S. State Department Foreign Service. 
Roger Rolando Reyes (SFS'12) and Zahra Wakilzada (SFS'23) have received the 2023 Charles B. Rangel International Affairs Graduate Fellowship and Eduardo Torres (SFS'23) was selected for the 2023 Thomas R. Pickering Foreign Affairs Graduate Fellowship. These fellowships offer financial support toward the cost of two years of graduate school, professional development activities, and entry into the U.S. Foreign Service. 
The highly competitive programs seek candidates who have strong academic backgrounds and a demonstrated commitment to representing the U.S. in diplomatic affairs across the globe.  The fellowships specifically aim to promote diversity within the Foreign Service and welcome applicants from different ethnic, racial, social, and geographic identities.
Bringing New Voices to the Table
Wakilzada (SFS'23) wrote her first poetry piece at the age of nine. She did so against the backdrop of the oppressive Taliban regime in Afghanistan where she witnessed firsthand the atrocities of war. During this time, her mother was a devoted advocate for the freedom and education of young women, values that Wakilzada embodies in her own work. In 2013, her family was forced to flee after her mother's work drew the attention of the Taliban, and they became refugees, eventually moving to the United States.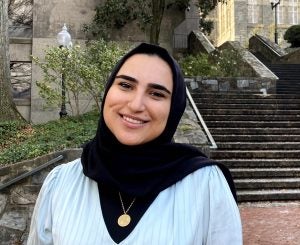 Wakilzada's poetry grew increasingly influential in her life after fleeing Afghanistan and she sought to uplift the voices of other women who had been displaced by war through her work. She eventually began publishing poetry through the Afghan Women's Writing Project where writers and poets share their visions for the future of Afghan women and refugees. To Wakilzada, writing is not just a hobby. "Whether poetry or prose, in English, Farsi, or Dari, my gender and immigration-centered writing reflected the changes I wanted to see in the world." 
As a high school student, Wakilzada spoke at an event at the University of Pennsylvania where she was asked to share her writing and experiences as an Afghan woman. After this event, Wakilzada went on to share her story in a variety of spaces, one of which was the United Nations Commission on the Status of Women in 2018. "Through my public speaking and activism journey, I learned the power of one's voice and story. By not only speaking but also listening to others share their story, I have come to understand the significance of having diverse groups of diplomats who work for a safer and more peaceful world," she says.
As a refugee, Muslim, woman of color, intersectionality is at the core of Wakilzada's drive to serve. "As a first-generation American embarking on this path, I hope to play a part in helping the U.S. Foreign Service reflect the diversity of the people it serves." 
Wakilzada believes that a successful diplomat should prioritize open-mindedness and work to understand the diversity within different groups and cultures. In reflecting on her own experiences she says, "I have grown comfortable navigating intercultural environments, gaining knowledge and cultural humility, which I trust will prepare me for the adaptability and resilience needed in international diplomacy."
Upon arriving at Georgetown, Wakilzada did not know that this route to becoming a diplomat was possible. To other students unsure of their path or what calls to them, she recommends the same approach that she follows in her own life. "Until you arrive at the decision-making table, embrace the path and the process, for that is when you learn some of the most valuable lessons."
An Education-Based Approach
After spending close to a decade in South Korea, Reyes (SFS'12) is committed to tackling foreign policy from an educational lens.
After graduating from Georgetown with a Regional and Comparative Studies major in 2012, Reyes was unsure of what to do next. Working toward his ultimate goal of joining the Foreign Service, Reyes took a job teaching English in South Korea."Everyone is unique and I had to pursue my dream of becoming a U.S. diplomat in a non-traditional way." 
As a Honduran-American abroad, Reyes used his unique perspective to encourage success for all students in learning the English language and to develop his own skills as an educator.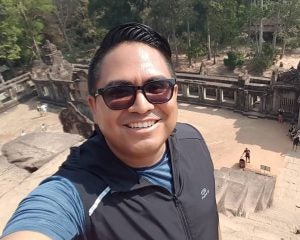 Reyes has found his experience in South Korea very relevant to his future career path. "Learning how to navigate in a multicultural working and learning environment in a foreign country is vital to knowing how to work abroad in representation of the United States," he says. 
Studying at Georgetown gave Reyes the initial spark to pursue a career in diplomacy. While a student at SFS, Reyes took classes with Dr. Pamela Sodhy. "Her courses, particularly U.S.-Southeast Asian Relations in a Post 9/11 World, confirmed my interest in the Asia-Pacific region and reinforced my understanding of the U.S. as a regional player," he says.
While in his graduate program, Reyes says that he hopes to focus on tackling disinformation. "My goal is to learn about different policy tools, such as international broadcasting and information operations, to better aid me in achieving my goal of reducing disinformation as it pertains to U.S. foreign policy."
Bridging the Gaps in the Community
Experiential learning is an essential part of Eduardo Torres's (SFS'23) philosophy when it comes to diplomatic service. His experience of growing up along the U.S.-Mexico border and serving his community through his public service internships has heavily shaped the path he seeks to follow as a public servant.  
Torres interned with Representative Henry Cuellar (SFS'78) in 2021 where he had the opportunity to work for constituents from his own area. As a native Spanish speaker, Torres was able to assist community members with translation as they accessed services through Cuellar's district Congressional office. "I saw how the language barrier was an obstacle that impeded many from receiving essential services," He explains. "I was able to be that bridge between the office and the people in my community."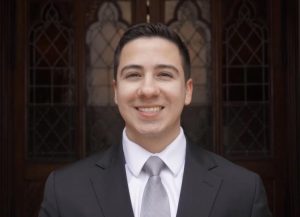 Torres also interned with the Department of State's Foreign Service Institute in 2022 where he worked on modernizing Spanish language courses taught to Foreign Service Officers. His fluency in Portuguese—which he pursued through a minor at Georgetown—and fluency in Spanish have aided his pursuit of linguistic reform. By working on Spanish curriculum development, Torres contributed to creating a new cohort of Foreign Service Officers with language skills representative of changing global norms that further recognize the cultural nuances throughout the Hispanophone world.
During his time at Georgetown, Torres became involved with a variety of organizations including the International Relations Club, the SFS Peer Advisors Program, and with the Cawley Career Center in his role as Student Government Industry Ambassador. Each of these directly ties into the vision Torres has for his future work in foreign service and has helped him to affirm his commitment to exploring public service through the lens of his identity and experiences. 
Reflecting on his path up until this point, Torres offers this advice to other students interested in the Foreign Service. "All your work should be grounded in your interactions, volunteer work, and outreach to communities. Use your platform to uplift their voices, but give them the agency to express their concerns."