The strains of lockdown meant that this semester was a tough one for many students. In response, SFS faculty found new ways to connect with students and create additional opportunities for getting support and mentorship.
"This semester has imposed untold challenges for students, staff and faculty alike — and so many are struggling due to economic hardships, the realities of the pandemic, feelings of displacement and isolation and the weight of an uncertain future," says SFS professor Elizabeth Grimm Arsenault. "In order to try to mitigate some of these challenges, I sought to work on community and communication this semester."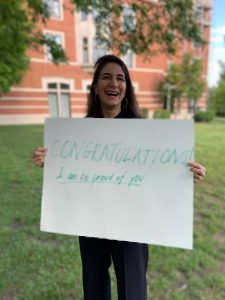 At the beginning of the semester, Grimm Arsenault, who teaches at both the undergraduate and graduate level, sent her students a survey to find out any issues they were contending with as they started virtual classes, including being in a different time zone or having trouble accessing the internet, and to get a sense of what kind of multimedia resources they would find most helpful in class.
Inspired by the popular subreddit, she then set up bi-weekly "ask-me-anything" sessions with her teaching assistant in which they reviewed and answered frank questions from students. She also hosted informal virtual tea times (for undergraduates) and happy hours (for graduates) where students could have relaxed conversations with the class and find support and solutions to any challenges they encountered throughout the semester. 
Her graduate class also started a Slack community where Grimm Arsenault says she and her students "posted funny pet videos, gardening photos or anything else that builds a sense of friendship beyond the course content."
For the professor, the struggles of the pandemic offered an opportunity to practice a core Georgetown principle — cura personalis. "Cura personalis, caring for the whole person, means taking into account individual needs," she says. "Cura personalis has never been more central to our mission than it is now."