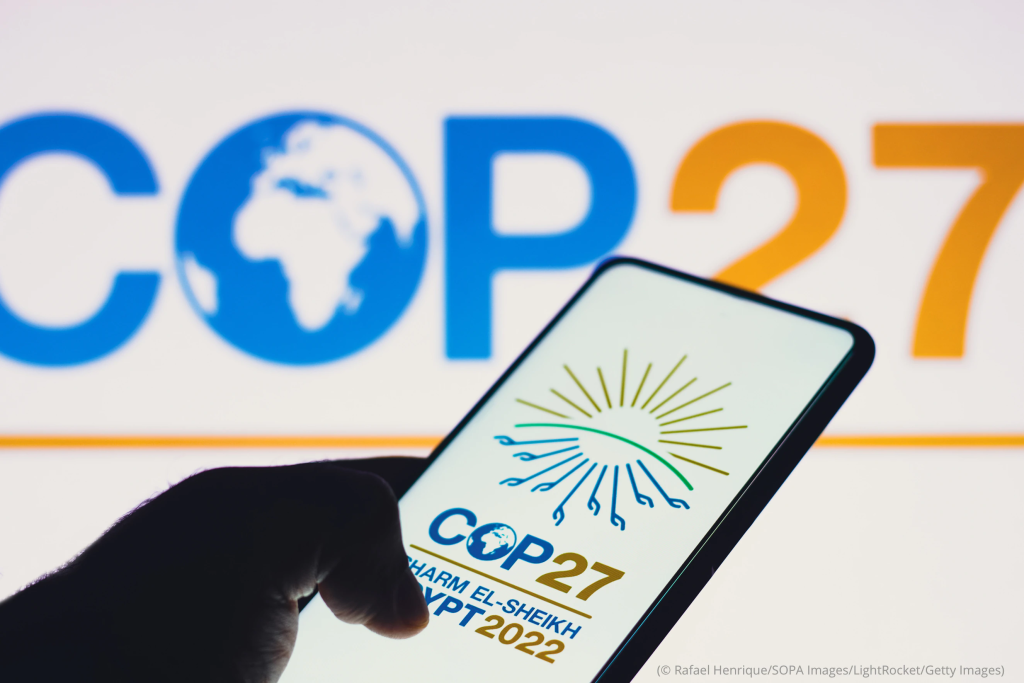 Over the past two weeks, leaders from around the world have gathered in Sharm El-Sheikh, Egypt for the 27th annual Conference of the Parties of the United Nations Framework Convention on Climate Change (COP27). As the largest annual conference on climate action, COP is a vital opportunity for world leaders to craft policies that address the climate crisis. Last year's conference focused primarily on increasing country pledges to reduce emissions, culminating in the Glasgow Climate Pact. The decision that comes out of COP27 is expected to address the need for more robust financing mechanisms to help countries deal with the impacts of climate change, but countries must balance their personal interests with the necessity for cooperation. As the conference unfolded, SFS professors and experts participated in the conference as well as offering their insight on the conflicts and collaboration taking place.

An Advocate for Climate Justice, An Antagonist for Human Rights
While Egypt has presented itself as a voice for climate justice by advocating for the Global South, its repression of civil society activists raises questions about the country's commitment to protecting environmental activism.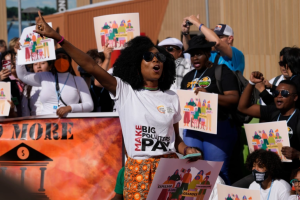 Marwa Daoudy, Associate Professor of International Relations and Seif Ghobash Chair in Arab Studies at the Center for Contemporary Arab Studies, argues in Al-Monitor that Egypt faces significant challenges in its regional and global ambitions, including its dependence on fossil fuels and its suppression of human rights and environmental activists.
"As a host to the COP27, Egyptian President Abdel Fattah el-Sisi has positioned himself as a global leader on climate justice, pressing the international community to consider the losses incurred by developing countries," Daoudy writes in an article for Malcolm H. Kerr Carnegie Middle East Center. "The underlying issue is one of climate injustice, driven by the fundamental historical imbalance in contributions to greenhouse gas emissions between rich and poor countries and regions. Climate justice implies, however, communal and individual well-being, beyond state security."
Daoudy warns that conference-related precautions combined with a longstanding neglect of human rights endangers the viability of climate justice efforts. By limiting accreditation for most Egyptian NGOs at COP27, enhancing police presence and surveillance and confining demonstrations to a facility outside of the main conference venue, Egypt is clearly on guard against any form of activist action.
"By addressing concerns about climate change but doing little to protect or empower vulnerable populations, many countries may 'greenwash' their way through the global climate agenda. Such practices bode ill for the future of international climate justice," she writes for Carnegie Europe.
Seeing Past Tensions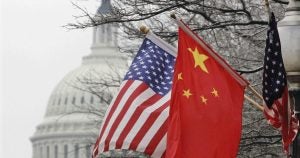 At COP26, China and the U.S. jointly agreed to enhance their efforts to reduce emissions this decade, and the deal was lauded as a rare moment of cooperation despite hostility between the two countries. This signal of goodwill, however, quickly evaporated—after House Speaker Nancy Pelosi visited Taiwan in August 2022, China refused to continue climate talks with the U.S.
Though the conference begins with strained U.S.-China relations, Joanna Lewis, Provost's Distinguished Associate Professor of Energy and Environment and Director of the Science, Technology and International Affairs Program (STIA), expects some progress.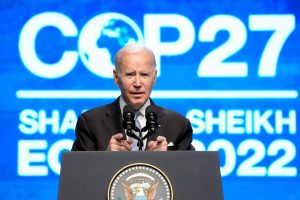 "When the Chinese lead negotiator and the U.S. lead negotiator get up before the world together, it calls China out as a leader and puts them on a new level of climate leadership," Lewis said in an analysis from CNN. "Particularly during an international negotiation where they're not always viewed as taking a leadership role."
The U.S. and China are the two biggest emitters of greenhouse gases, so their joint participation in any climate action policy that comes out of COP27 is crucial. As Lewis told PBS NewsHour, "Historically, when they're able to come together on climate change, it makes a really big difference. But by coming back to the negotiating table, China also stands to gain trust from the United States and the world."
"I think it's very likely that they will resume engagement either before or at the COP just because I think it's in China's self-interest to be engaging with the United States," Lewis forecasted in an article from Politico. Lewis's prediction came true—China and the U.S. formally resumed climate talks at the conference.
Conflict and Climate Change
Along with trade policy, SFS professors have been calling for a more expansive view of climate change's impacts. In a report co-authored with 65 leading scientists and launched at COP27, Daoudy highlighted the complex relationship between human security and climate security.
While climate change does not directly cause conflict, it increases vulnerabilities that can exacerbate the risk of conflict. For example, the Russian invasion of Ukraine and environmental consequences are codependent—the invasion revealed the world's dependence on fossil fuels, sparking further tensions and disrupting food and energy supply chains, Daoudy contends.
Because of its effect on conflict, climate change is also a vital issue for the Women, Peace and Security (WPS) agenda. In a recent report, the Georgetown Institute for Women, Peace and Security (GIWPS) examines how women's meaningful participation in climate adaptation can be a benefit multiplier.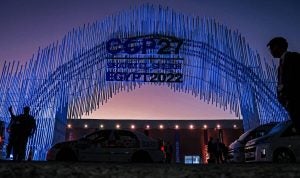 The GIWPS report identifies five key actions to address issues of climate resilience, gender equality and security. "Address barriers to inclusion to ensure that women have equal access to project participation and resources; increase women's access to information, education and technology; provide training and support for women as entrepreneurs and design consultants; address critical gaps in knowledge through additional research and case studies; and obtain buy-in and funding for gender-responsive, community-centered climate solutions."
On Nov. 14, leaders at COP27 confronted a number of these issues at the conference's Gender Day. With events like "Women's Agency in Climate Dialogues & Implementation, Win Win For All," the potential benefits of including women in the conversation on climate change is clearly on the agenda. Still, the extent to which countries incorporate and prioritize these actions remains to be seen.
On November 11, 2022, GIWPS co-hosted an event on "Climate Security & Agriculture: Strategies for Inclusive Adaptation" along with CGIAR, The Rockefeller Foundation, and the Government of Ireland at COP. Policymakers announced commitments to locally-based climate-smart agriculture solutions and grassroots leaders shared strategies for ensuring an inclusive and resilient global food system.
Putting Migration on the Map
As climate disasters increase in frequency and magnitude, issues of climate-related migration and displacement are becoming increasingly urgent. An estimated 216 million people are expected to migrate internally by 2050 as a result of greater environmental stress, yet climate-related migration is not on the COP27 agenda.
In an analysis from the Center for Strategic and International Studies, Beza Tesfaye and Elizabeth Ferris, Director of the Institute for the Study of International Migration at SFS, outlined the impacts of climate change on migration and proposed potential solutions.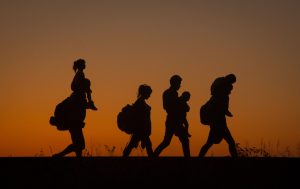 One of the most difficult aspects of studying climate migration is identifying migrants' motivations for leaving—while climate may be an important factor in their decisions, migrants typically cite economic reasons as their primary impetus for moving. Still, the economy and climate are closely tied, particularly in countries that rely heavily on agriculture, and many agricultural workers are forced to move in order to fulfill their economic needs. "To reverse this trend, high-income countries should honor climate adaptation finance commitments, ensuring resources are available for efforts such as strengthening systems for disaster risk reduction in the region to avoid displacement," Ferris and Tesfaye suggest. "In communities that have already been profoundly harmed by climate impacts and forced to leave, the Warsaw International Mechanism for Loss and Damage associated with Climate Change Impacts, through its Task Force on Displacement, needs to come up with specific measures to address the losses incurred through climate-induced displacement."
Migration can also be a positive strategy for climate adaptation.Tesfaye and Ferris use the example of Central Americans agricultural workers, who move seasonally to urban areas to earn supplemental income in dry seasons, to illustrate how climate migration can be beneficial. Of course, most climate migration is unplanned and in response to major disasters, which is often dangerous. In order to deal with the predicted massive uptick in climate-induced displacement, Ferris and Tesfaye argue that governments must recognize both positive and negative climate migration in their climate change policies.  
"The lack of a supportive policy framework to help people to cope or adapt with climate-related shocks does not mean that people will not move—but rather they will move in a more clandestine, risky, and maladaptive way," Tesfaye and Ferris say.
Considering COP27's emphasis on climate-related financing, Ferris and Tesfaye advocate for a more expansive system of forecast-based financing to help communities weather climate disasters. Organizations including the International Federation of Red Cross Red Crescent Societies and the World Food Program have experimented with providing cash transfers in anticipation of disasters, and Ferris and Tesfaye encourage COP27 stakeholders to explore these programs. 
"Despite the concerning trends, there are opportunities to avert the most negative impacts of climate change on vulnerable populations," says Ferris and Tesfaye. "Recognizing that climate change is shaping patterns of mobility, and will continue to do so, COP27 should acknowledge the role migration plays in adaptation and account for displacement when it comes to loss and damage mechanisms."
Is Free Trade Green Trade?
With a renewed focus on financing, the COP27 agenda is likely to impact organizations outside of the U.N. In an editorial for The Hill, the Karl F. Landegger Professor of International Business Diplomacy Marc Busch explored the role of the World Trade Organization (WTO) in the resolutions that come out of COP27.
Just before COP27 began, the European Union raised concerns about the U.S.' Inflation Reduction Act, arguing that the act contradicts the WTO's rule against favoring domestic over foreign content. This rule often makes subsidizing green technology difficult, and a number of WTO cases have struck down countries' legislation related to renewable energy because of their domestic content provisions. In The Washington Post, Lewis discussed the trade implications of the localization provisions in the Inflation Reduction Act.
While WTO rules can hamper some environmental policy, Busch supports the WTO's message that "free trade can help green the global economy." Stil, the path to achieving both free trade and a greener global economy looks rocky. Ngozi Okonjo-Iweala, the WTO's director-general, warned that "[w]e do not want a subsidy war." Busch is even less optimistic than Okonjo-Iweala. "The truth is that we already have a subsidy war, and the more impassioned pleas at COP27 will only add fuel to the fire," he says.
"The WTO is also the right place in which to discuss any unique challenges that governments will confront in getting to net zero. That said, the WTO is a trade institution, not a second-best environment (or labor) accord," he says. "Okonjo-Iweala is careful to say that she doesn't want to see a lot of litigation over climate change measures. Yet, this is exactly what will happen unless governments take up the environment (and labor) directly, rather than indirectly through trade."