Title:

SFS Announces 2018-2019 Centennial Fellows
Date Published:
December 20, 2018
The Georgetown Walsh School of Foreign Service is pleased to announce the 2018-2019 Centennial Fellows.
General Wesley K. Clark (ret.), former Supreme Allied Commander of NATO
Ambassador Jeffrey DeLaurentis (SFS'76) (ret.), former U.S. Chargé d'Affaires to Cuba
Dr. Scott Guggenheim, former Senior Advisor to Afghan President Ashraf Ghani
Dr. Azar Nafisi, author of the national bestseller Reading Lolita in Tehran: A Memoir in Books
Catherine Novelli, former Under Secretary of State for Economic Growth, Energy, and the Environment
The SFS Centennial Fellows Program brings important global practitioners to Georgetown for a one or two-semester residency. Fellows will participate in events for the Georgetown community, make their expertise available to classes, engage with Georgetown alumni, and hold office hours for students. Additionally, they will work directly with a small cohort of SFS students who are chosen as Junior Fellows. The 2018-2019 fellows specialize in a wide range of important global issues, and will bring their experience as practitioners to the Hilltop.
General Wesley K. Clark (ret.) – Fall 2018, Spring 2019
Wesley K. Clark is a businessman, educator, writer and commentator. General Clark serves as Chairman and CEO of Wesley K. Clark & Associates, a strategic consulting firm; Chairman and Founder of Enverra, Inc. a licensed investment bank; Senior Fellow at UCLA's Burkle Center for International Relations. A best-selling author, General Clark has written four books and is a Trustee of the International Crisis Group, and a Director of the Atlantic Council.
Clark retired as a four star general after 38 years in the United States Army. He graduated first in his class at West Point and completed degrees in Philosophy, Politics and Economics at Oxford University (B.A. and M.A.) as a Rhodes scholar. He was the principal author of both the US National Military Strategy and Joint Vision 2010, prescribing US warfighting for full-spectrum dominance. He also participated with Ambassador Richard Holbrooke in the Dayton Peace Process, and helped write and negotiate significant portions of the 1995 Dayton Peace Agreement. In his last assignment as Supreme Allied Commander Europe he led NATO forces to victory in Operation Allied Force, a 78-day air campaign, backed by ground invasion planning and a diplomatic process, saving 1.5 million Albanians from ethnic cleansing.
His awards include the Presidential Medal of Freedom, honorary knighthoods from the British and Dutch governments, the Department of State Distinguished Service Award and many other honors.
Ambassador Jeffrey DeLaurentis (SFS'76) (ret.) – Fall 2018, Spring 2019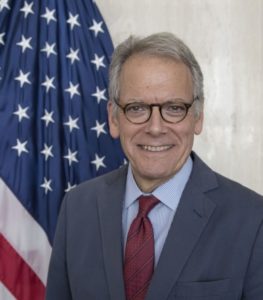 Ambassador Jeffrey DeLaurentis comes to Georgetown after a year at the Harvard Kennedy School as a Senior Diplomatic Fellow with the Future of Diplomacy Project. A 27-year veteran of the Foreign Service, he served as the first Charge d'Affaires at the U.S. Embassy in Havana Cuba following the re-establishment of diplomatic relations between the United States and Cuba. Prior to taking up his Cuba post in August 2014, he was the Alternate Representative for Special Political Affairs at the U.S. Mission to the United Nations. Previously, he served as Deputy Assistant Secretary of State for the Bureau of Western Hemisphere Affairs, and as Minister Counselor for Political Affairs and Security Council Coordinator at the U.S. Mission to the United Nations.
Ambassador DeLaurentis began his State Department career in 1991 as a consular officer in Havana, and returned to Cuba as Political-Economic Section Chief in 1999-2002. In Washington, he served as Executive Assistant to the Under Secretary of State for Democracy and Global Affairs, Special Assistant to the Assistant Secretary of State for Western Hemisphere Affairs, and Director of Inter-American Affairs at the National Security Council. Ambassador DeLaurentis retired from the State Department in August 2018. He is a graduate of the Georgetown University School of Foreign Service and Columbia University Graduate School of International and Public Affairs. He is married to Jennifer Lee DeLaurentis, a former senior official of the United Nations Secretariat.
Dr. Scott Guggenheim – Fall 2018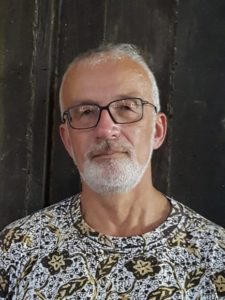 Dr. Scott Guggenheim is an anthropologist with 25 years experience in international development. He is particularly interested in how local knowledge and local voice can be heard in development, and most of his work in development has been about how to reconcile large-scale development with giving poor people more agency in how decisions get made. He's lived through some tumultuous events, starting with helping Indonesia pick up the pieces after the East Asia crisis and then the Aceh tsunami, to his ongoing work in Afghanistan, where he worked with President Ashraf Ghani and his team on trying to sort through development in a time of conflict.
Scott Guggenheim served as Senior Advisor to Afghan President Ashraf Ghani, where his work was all about putting development and conflict theory into actual practice. He was part of a small team sitting in the President's Office and the Ministry of Finance which helped President Ghani rebuild (or, more accurately, just build) core systems of government – planning, budgeting, civil service, rule of law – all amidst a pretty bloody conflict that was not getting any better. It was a close-up view not just of conflict or how a poor country develops, but also of the difficulties that even the most visionary and knowledgeable leader faces trying to navigate donor politics, the aid system's dysfunctionality, inherited histories, and the turbulent political economy of a force-fed and yet basically popular democracy.
Dr. Azar Nafisi – Spring 2019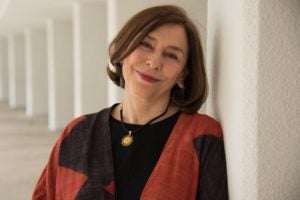 Azar is best known as the author of the national bestseller Reading Lolita in Tehran: A memoir in Books, which elextrified its readers with a compassionate and often harrowing portrait of the Islamic revolution in Iran and how it affected one university professor and her students. The book has spent over 117 weeks on The New York Times bestseller list, has been translated in 32 languages, and has won diverse literary awards. In 2009 Reading Lolita in Tehran was named as one of the "100 Books of the Decade" by The Times (London).
Between 1997 and 2017, Azar Nafisi was a Fellow at the Foreign Policy Institute of Johns Hopkins University's School of Advanced International Studies (SAIS) in Washington, DC, where she was a professor of aesthetics, culture, and literature, and taught courses on the relation between culture and politics, she was also Director of The Dialogue Project & Cultural Conversations. She studied in the US in the 1970s and earned her Ph.D. at University of Oklahoma. She returned to Iran and taught at the University of Tehran, and in 1981, she was expelled for refusing to wear the mandatory Islamic veil and did not resume teaching until 1987. Dr. Nafisi returned to the United States in 1997 — earning national respect and international recognition for advocating on behalf of Iran's intellectuals, youth, and especially young women.
Azar Nafisi has published a children's book (with illustrator Sophie Benini Pietromarchi) BiBi and the Green Voice (translated into Italian, as BiBi e la voce verde, and Hebrew).She is also the author of Things I've Been Silent About: Memories of a Prodigal Daughter, a memoir about her mother. Her most recent book is entitled The Republic of Imagination: America in Three Books (October 2014), a powerful and passionate case for the vital role of fiction in America today. Azar Nafisi's book on Vladimir Nabokov, That Other World, will be published by Yale University Press in 2019.
Catherine Novelli – Fall 2018, Spring 2019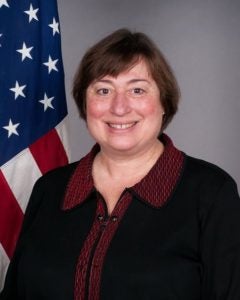 Catherine A. Novelli is the President of Listening for America, a non-partisan, non-profit organization dedicated to forging a new vision of U.S. international trade engagement.  She previously served as Under Secretary of State for Economic Growth, Energy, and the Environment (2014-2017) where she promoted economic reform and open markets for U.S. products and services.  As Under Secretary, Ambassador Novelli spearheaded the first-of- its-kind Our Ocean movement, which, during her tenure, resulted in $10 billion for Ocean conservation and has become a continuing global effort.  She also launched the Global Connect Initiative, an innovative partnership with governments, multilateral development banks and the private sector to connect 1.5 billion people to the Internet.
Novelli spent seven years as Vice President, Worldwide Government Affairs at Apple Inc, and, previously, was a partner in the law firm of Mayer Brown International.  She had a long career at the Office of the U.S. Trade Representative, rising to Assistant U.S. Trade Representative for Europe & the Mediterranean, where she coordinated U.S. trade and investment policy for Europe, Russia, Central Asia, the Middle East and Northern Africa. She took a leading role in many of the most important U.S. trade negotiations in those regions, including free trade agreements with Jordan, Morocco and Bahrain, and Oman.
Novelli has received the State Department Distinguished Service Award and the International Trade Woman of the Year Award. She is a graduate of Tufts University, holds a law degree from the University of Michigan and a Master of Laws from University of London.