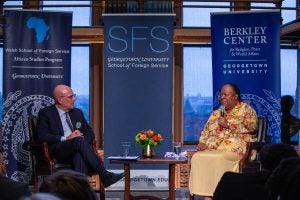 On September 26, 2023, SFS welcomed Dr. Grace Naledi Mandisa Pandor, South Africa's Minister of International Relations and Cooperation to Georgetown. The event was co-sponsored by the African Studies Program and the Berkley Center for Religion, Peace and World Affairs. In a thought-provoking discussion, Pandor provided invaluable insights into South Africa's evolving role in the Global South amid rapid transformation and growth in the region. Pandor's remarks painted a vivid picture of South Africa's aspirations, both in its own development and as a vital participant in the international community.
Transformation: A Focus on the Greater Good
In her address, Pandor emphasized the imperative of transforming institutions in South Africa to ensure they serve the greater good. Pandor stressed that South Africa's journey towards transformation includes shifting institutions, both public and private, away from the narrow interests that once defined them, particularly under apartheid. This legacy has been an important guiding force in South Africa's international relations strategy—when asked by a student about the impact of apartheid, Pandor noted that the overwhelming international support for anti-apartheid activism has predisposed the country to cooperation. "We were really fortunate that the world joined in this fight and accepted that apartheid was a crime against humanity," she said. "I think it is the experience of the struggle for freedom, which has laid a basis for the friendships that we have with many, many countries."
However, this emphasis on collaboration doesn't mean that South Africa is uncritical of multilateral institutions; instead, it encourages them to reach their full potential. Pandor challenged the subjective use of international rules and emphasized the importance of equal respect for international law, regardless of a country's identity or location. 
Redefining Industrialization in Africa
Historically, industrialization was marked by phases that included agrarian economies, followed by the slow transformation into industrialized nations. However, Africa's journey to industrialization is not bound by historical precedents. Pandor strongly emphasized this point saying: "Given the development of digital technologies, we can move much faster." 
However, this shift is not without its challenges. Industrialization in Africa requires more than just the adoption of technology. Pandor emphasized the need for investments in infrastructure, quality education, skills development and a conducive business environment. She explained that collaboration, knowledge exchange and leveraging the global community's expertise will be crucial in this transformative process.