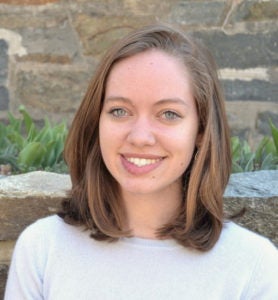 A graduate of Georgetown's Security Studies Program (SSP) and a former program associate at the Georgetown Institute for Women, Peace and Security (GIWPS), Turkington will use her scholarship to pursue doctoral studies in history at University of Cambridge, where she will explore how women's transnational organizing in the Middle East and North Africa has influenced global policy in the 20th century.
She now serves as the assistant director of the Women and Foreign Policy program at the Council on Foreign Relations (CFR), where she works on research related to gender and economic empowerment, political participation, security and global women's organizing.
"So Much to Teach Us"
Established in 2000 by a donation from the Bill and Melinda Gates Foundation, the Gates Cambridge Scholarship offers full-cost scholarships to students from all around the world on the basis of academic excellence, commitment to service and capacity for leadership.
Turkington is one of only 25 American scholars to receive the honor.
Turkington was inspired to pursue a Ph.D. in history through the Gates Scholarship by women she has worked with while conducting research in countries across the world.
"Their work has so much to teach us that could tangibly improve [peace and democratic transition] processes in the future, but it tends to be ignored," she says.
A Lifelong Passion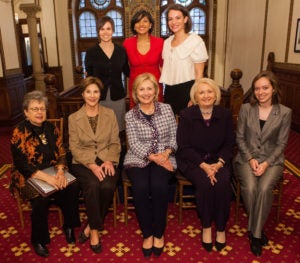 Turkington's interest in women's history is long standing. At just 12 twelve years old, she began writing a column in her small-town newspaper about female world leaders of the 19th and 20th centuries.
As an undergraduate, Turkington double majored in history and international relations at Wellesley College, where she also contributed valuable research to women's history and policy initiatives.
She delved into archival correspondence from Eleanor Roosevelt to learn more about the role of women in the early United Nations. She also supported research on women's political participation and legal rights in the Middle East and North Africa.
A Tangible Way to Make a Difference
"I've always wanted to be a historian," she says, "But both my alma maters — Wellesley and Georgetown — put a heavy emphasis on service, and I saw working in policy and advocacy as a more tangible way to make a difference."
At SSP, she concentrated in terrorism and substate violence and researched the role women play in violent political movements and wrote her thesis on women's participation in "bullet to ballot" parties that transition from rebel groups to legitimate political parties.
During her studies, she noticed that women's voices were often sidelined in the security field.
"The invisibility of women in U.S. counterterrorism efforts, for instance, is rooted in a lack of imagination about women's capacity for political violence," Turkington says. "I have found in my work that powerful stories of women's history, more than policy analysis and data, are what drive re-evaluation of these practices."
Advancing Peace and Security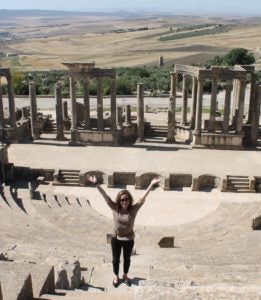 She applied her knowledge to her work at GIWPS between 2013 and 2018. As a program associate, she co-authored studies on women's participation in peace negotiations and conducted field research in Northern Ireland, Kenya and Tunisia.
GIWPS Executive Director Melanne Verveer, who served as the first U.S. ambassador for Global Women's Issues before coming to Georgetown, remembers Turkington's work as integral to research on women's role in the peacebuilding process in Northern Ireland.
"She always asked probing questions, worked collegially and had a passion for advancing the role of women in peace and security," Verveer says.
In addition to her work at CFR, Turkington is working with Verveer on a Lauinger Library Special Collections exhibition on U.S. participation in the UN Fourth World Conference on Women in 1995, where former Secretary of State Hillary Clinton made her famous "women's rights are human rights" speech.
"Thinking about how to tell that story in a compelling and visual way, has been a great transition from my gender policy work to studying history," Turkington says.