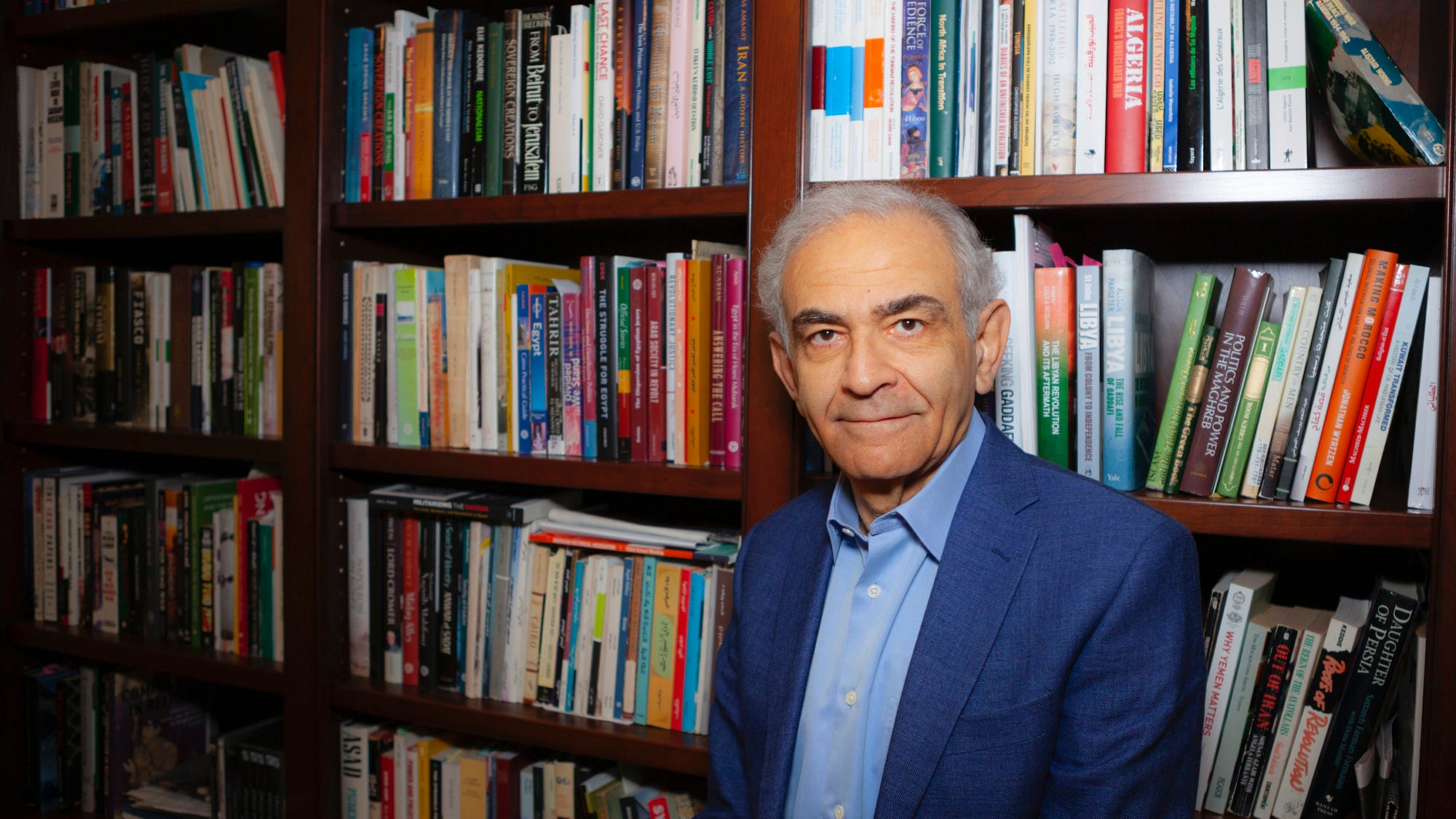 Category:

Faculty, Featured News, News
Title:

Professor Joseph Sassoon Named New CCAS Director
Date Published:
May 4, 2020
Professor Joseph Sassoon, who will soon take on a new role as director for the Center for Contemporary Arab Studies (CCAS), plans to build upon his experience in both academia and business in his new position. He will take over from Prof. Rochelle Davis, who has served as CCAS director since 2017.
Sassoon's appointment comes at a historic moment for SFS, when COVID-19 restrictions have forced Georgetown to move to an entirely online learning environment.
While this presents significant challenges for CCAS, and the university more widely, Sassoon is confident that he will be able to work closely with his colleagues and draw upon insights from his own career to steer the Center through this extraordinary moment.
"I might be the first virtual director of the Center in its 40 year history," he says. "The challenges are huge, but I hope that my decade of experience being at the Center, as well as my business management experience, will combine to give me the tools I need."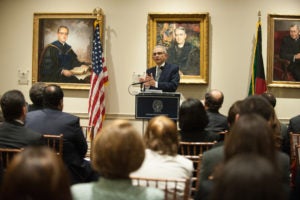 Decades of Experience in Academia and Beyond
Sassoon brings impressive career accomplishments and expertise in various fields to his new role. A top Middle-East scholar, Sassoon currently holds the Sheikh Sabah Al Salem Al Sabah Chair in Politics and Political Economy of the Arab World at Georgetown and is a Senior Associate Member at St Antony's College, Oxford. 
He is the author of numerous books, including Saddam Hussein's Ba'th Party: Inside an Authoritarian Regime, which won the prestigious British-Kuwait Prize for the best book on the Middle East.
He also spent time in the private sector, working for an investment firm where he gained experience managing large teams of people. "It's obviously different from managing an academic center at a university," he says. "But that experience is valuable and the lessons are still embedded—they don't disappear."
Building on Academic Excellence
Throughout his ten-year tenure as a CCAS professor, Sassoon has had the opportunity to see many generations of students progress through their degrees. From helping them engage with a new academic environment, to supporting them to develop their interests and navigate their subsequent careers, Sassoon has built close relationships with CCAS students.
Through conversations with students, Sassoon knows that the Center's reputation for academic excellence is what sets it apart from peer institutions. "It's always interesting to hear feedback from the students on what they benefited from at the Center," he says. 
"It is obvious that the academic rigor, the people whom they met during the two years that they were studying and the emphasis on the Arabic language are what make our program truly unique among all centers of Arab studies," he adds.
Continuing to provide a top-tier academic program for students is a key goal for Sassoon as he transitions to his new role. He hopes to expand opportunities for students to take on real-world regional challenges and tackle ongoing, current issues in the classroom. 
He cites a workshop that CCAS ran last November as an example of how effective this kind of hands-on learning can be. As protests against authoritarian regimes broke out across the Arab world, CCAS invited four regional experts to work with students to analyze the situation in four different countries and identify commonalities and differences between the demonstrations.
The workshop enabled students to hone the skills they would need to work as regional practitioners and scholars after graduating, an important component of what CCAS offers students. "I'm a great believer in exposing students to the outside world, whether in business, diplomacy or government," Sassoon says. "It's very enriching." 
Sassoon explains that having access to interesting speakers is one of the benefits of Georgetown's location in Washington, D.C. But one silver lining of working virtually, he says, is that it creates even more opportunities to engage with thought leaders outside of D.C. and the United States. 
"These days, with Zoom, we can communicate with anyone," he says. "For 45 minutes, we can really introduce the students to a lot of our interesting academics."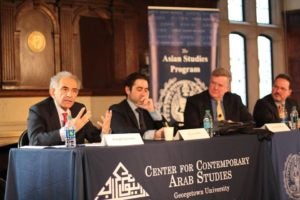 Working with the CCAS Community
Sassoon's time at CCAS has also given him the opportunity to study the various leadership styles of the directors he has worked with over the years and he hopes to use these insights to inform his own approach. 
He plans to build upon a precedent, set by previous directors, that places CCAS students at the heart of leadership decisions. "I saw directors who were involved with the students and not just the management," he explains. "And that is something I really want to continue."
Sassoon wants to maintain this sense of community, whether learning takes place online or on campus in the fall. He fondly recalls the frequent dinners and get-togethers that CCAS hosts under usual circumstances and hopes to be able to facilitate new opportunities for students, faculty and staff to come together during the pandemic. 
"I want the students to know that they can approach me and talk to me, whether it's about business or their personal lives," he says. 
"This is especially important given this challenging period we are going through," he adds.
Adjusting to New Realities
While Sassoon will strive to maintain the Center's ethos and academic strengths, his role will call for him to help CCAS adjust to the new realities of life during a pandemic. 
With its highly international cohort, Sassoon knows that worldwide travel restrictions, imposed in the wake of the pandemic, could have a major impact on the Center. He fears that international students may face bigger visa obstacles than in previous years. 
He is also contemplating ways that CCAS can assist students with the financial costs of attending programs, especially at this economically uncertain time. "These are big problems, and we have to think about our students' welfare first and foremost," he says.
As director, Sassoon hopes to be able to secure more funding to help financially struggling students and to attract talented students from all backgrounds to come to CCAS. 
"Even before coronavirus, it was obvious that we really needed to focus more on fundraising, to be able to accept very good students who want to come to our center," he says.
"Raising funds is definitely going to be a core issue for us over the next three years. I think we really can do a lot of very, very interesting things academically, and increase the opportunities for our students, wherever they are coming from," he adds.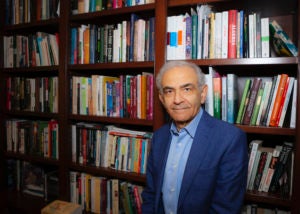 In addition to this longer-term planning, Sassoon is also confident that CCAS can continue to provide a meaningful and stimulating experience for its students more immediately during lockdown.
"While all this is happening, it's important to keep a focus on our academic programming," he says. "We want to keep bringing interesting outside speakers to the Center, whether via Zoom or something else, and find ways to expose our students to a wide variety of diplomats, business people and academics from lots of different places."
Though the pandemic presents new challenges for its students, Sassoon says that CCAS has always had a strong tradition of producing stellar graduates who go on to have impactful careers. The Center's reputation for excellence, as well as the dedication and intellectual quality of its scholars, means that the current and incoming cohort of CCAS students will have very good prospects when they graduate.
"The trajectory of our students is really remarkable," he says. "Our alumni are absolutely amazing. And I think that every alum, and even graduates from other institutions, would say that we really have built one of the best and most rigorous programs focusing on the Middle East."