Category:

Faculty, Featured News
Title:

Prof. Madeleine Albright Moves Diplomacy Simulation Online
Author:
Caroline Hamilton
Date Published:
April 16, 2020
As the COVID-19 pandemic forced Georgetown University to suspend in-person operations for the rest of the semester, SFS students, faculty and staff moved to adapt their classes to a digital learning environment. Students are collaborating on new online platforms, and professors are working to maintain time-honored classroom traditions.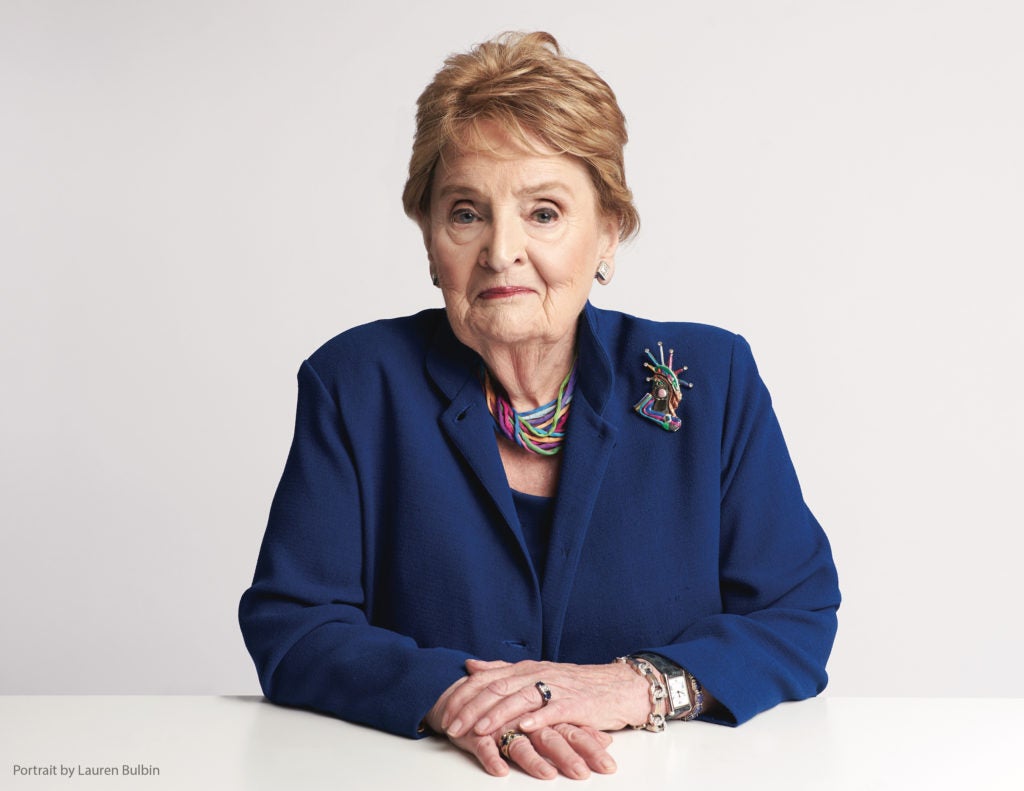 For former U.S. Secretary of State and Professor Madeleine Albright, the online transition meant her class's signature role-play simulation would look a little different this semester. Every year, Albright teaches "America's National Security Tool Box," which investigates the tools available to today's foreign policy practitioners. Toward the end of the semester, her students put their knowledge to the test in an all-day simulation where they develop a U.S. response to a foreign policy crisis.
Instead of canceling this semester's role-play, Albright and her team of graduate teaching assistants decided to move the simulation entirely online. Earlier this month, students met over Zoom and adopted their roles as United Nations, U.S. and Latin American diplomats to resolve a military crisis in Venezuela.
Despite the unusual circumstances, the weekend's simulation went off without a hitch. The class had been exploring their roles and preparing papers laying out their plans for the role-play weeks in advance, which Albright says helped students to adapt to the new virtual environment. 
"They were involved in a new experiment and it really was very, very good," Albright says. "It really validated what I've been saying for years, which is that preparation makes a difference."
Teaching assistants Christian Allen (MSFS'20), Sophia Meulenberg (MSFS'20) and Alexander Peter (MSFS'20) agree that the students' hard work and preparation were key to the simulation's success. Peter describes the excitement of the meetings' last 15 minutes, as students raced to finish their deliverables.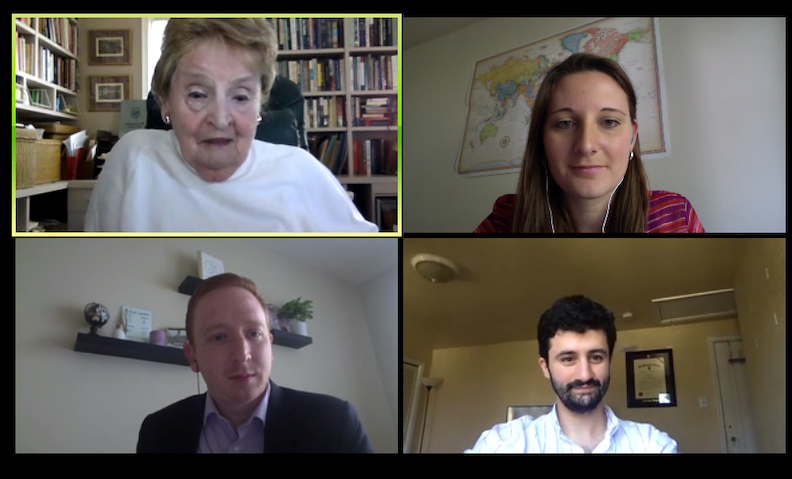 "You have one group of students frantically typing, another group of students debating the fine details of the text and us watching avidly, hoping that they pull it all off," he says.
The class also confronted the diplomatic and security challenges presented by the pandemic. During the simulation, Albright and the TAs like to surprise students with an update or disruption to the scenario, getting everyone to think on their feet. 
This semester's update involved a COVID19-related complication, which students had to respond to in real time. "Having students contend with the world 'as is,' much like real world leaders are having to adjust to the new reality of the pandemic, was a top priority for Professor Albright," Allen says.
Albright was impressed with how well her students applied their knowledge to the simulated crisis. "I think it worked incredibly well," she says. "They were brilliant."
Back in the virtual "classroom," Albright and her teaching team have made more adjustments to ease the transition to online learning. Instead of lecturing from her podium in Car Barn, Albright now teaches from her personal study via Zoom.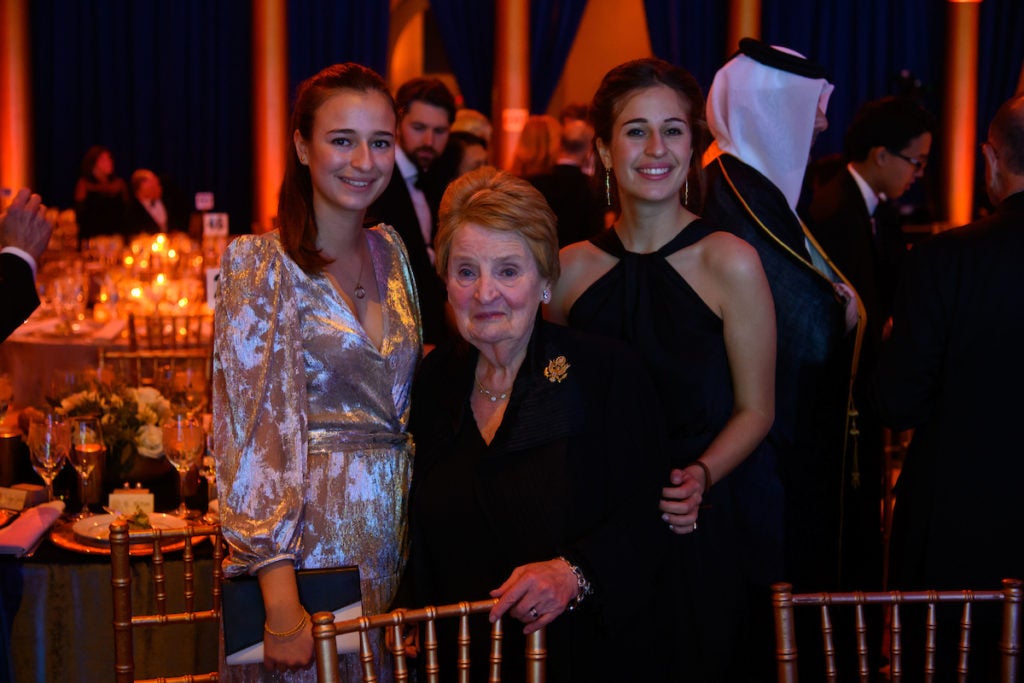 Teaching assistants have also made accommodations for students in other time zones or with differing access to technology. Allen, Meulenberg and Peter offer more flexible office hours and check in with students at the beginning of each class, encouraging them to reach out with any concerns or accommodation requests. 
Meulenberg says that she and her fellow TAs are learning about digital best practices through their own experiences as students in the Master of Science in Foreign Service program. "As students ourselves during this crisis, we understand that it can be hard to pay attention through a screen, that it may be challenging to focus on school work," she says.
Allen, Meulenberg and Peter add that they are thankful for the class's flexibility and continued excitement to learn about the American diplomatic tool box. 
Likewise, Albright is proud of her students' dedication. She believes their adaptability and expertise will make them well-equipped to handle contemporary crises like the coronavirus pandemic. 
"We are in a very, very different era and I think, in many ways, they have the tools to be able to think through what the next phases are," she says. "People my age have been critical of the younger generation for spending too much time online…but they are now the ones who have the skills to make technology useful for the next phases of the world. It's a cliche, but they can take a crisis and make an opportunity out of it."
"In many ways, they are on the cutting-edge of what is going to have to happen in the coming years," she adds. "I want them to be resilient, optimistic, and to work together."
Sec. Albright will join SFS Dean Joel Hellman on Thursday, April 16 for a virtual discussion of her new book, Hell and Other Destinations, which is on sale now.