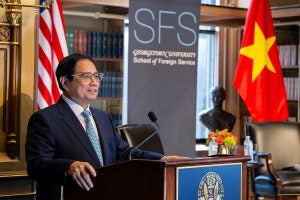 On September 19, 2023, Prime Minister Pham Minh Chính of Vietnam visited SFS, marking the 10th anniversary of the Comprehensive Partnership between the United States and Vietnam and the recent elevation of the relationship to a Comprehensive Strategic Partnership.
Before taking on the role of prime minister in 2021, Chính was deputy to the National Assembly and held a number of positions in the Ministry of Public Security, including director general of the General Department of Logistics-Engineering.
Prime Minister Chính's visit comes at a turning point for Vietnamese-American relations, as well as for Vietnam itself. The move to a Comprehensive Strategic Partnership reinforces both countries' commitment to fulfilling their shared goals, and it follows Vietnam's growing prominence. As Dean Joel Hellman explained in his opening remarks, "One thing is for certain…emerging voices like Vietnam are taking a new role on the world stage commensurate with their extraordinary economic success, their increasing regional influence, and their important role in global cooperation."
Charting a Vision: Independence, Resilience, Prosperity
In his address, Prime Minister Chính outlined how his vision for Vietnam embodies the principles of "independence, resilience, and prosperity." The prime minister described it as a vision that extends far beyond the nation's borders, emphasizing the enduring significance of the U.S.-Vietnam partnership. He highlighted that over the past ten years this partnership has allowed both countries to act on shared values, from advocating sustainable development to forging a united front in response to the COVID-19 pandemic. 
Navigating the Indo-Pacific Landscape
The Prime Minister's address also shed light on aspirations within the Indo-Pacific region. Economic growth and enhanced diplomatic engagement constitute the linchpin of this strategy. Vietnam, he emphasized, plays an indispensable role in connecting the U.S. to Asia, particularly economically. 
"Vietnam stands ready to serve as an important bridge and gateway for American people to reach out to Asia and Asian markets," Chính said. He sees this diplomatic and economic connection as key to ensuring a prosperous Indo-Pacific. "I really want to enhance the substantiveness and efficiency for the relationship between Vietnam and the United States, commensurate with the excellent political relations of the two countries, for the people and for the sake of peace, stability, and development in the region," he said.