On January 17, 2023, SFS welcomed Prime Minister of the Netherlands Mark Rutte to the Hilltop for a chance to engage with students and discuss the need for transatlantic cooperation in the face of rising global challenges — among them, growing Russian aggression and providing continued military support to Ukraine. The event was hosted by Georgetown's School of Foreign Service in partnership with the Atlantic Council and moderated by Foreign Policy's Amy Mackinnon.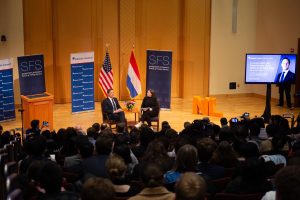 In opening the event, Jörn Fleck — Senior Director of the Atlantic Council's Europe Center — emphasized the critical role of the Netherlands in international affairs. The country is both a founding member of NATO and a strong proponent of partnership across the Atlantic. 
SFS Dean Joel Hellman introduced the prime minister. He recognized Rutte's commitment to deepening the transatlantic alliance by meeting with future potential global leaders, represented by the newest generation of students at Georgetown.