On October 5, 2021, the Walsh School of Foreign Service (SFS) hosted NATO Secretary General Jens Stoltenberg for a conversation about how the military alliance is adapting to today's increasingly complex security environment.
Co-hosted with the Brookings Institution and moderated by Dr. Michael O'Hanlon, senior fellow and director of research in foreign policy at Brookings, the Copley Hall event provided audience members with the opportunity to hear Stoltenberg's perspectives on relations with Russia, the end of NATO's largest military mission in Afghanistan and the rise of China.
Throughout the conversation, the secretary general emphasized the important role of NATO and stressed the need for collective transatlantic cooperation on security. "No country, however big, and no continent, however rich, can do this alone," he said. "In NATO, we are not alone. Together, we represent 30 different nations, one billion people, half of the world's economic and military might. Together, we are adapting to a more uncertain world."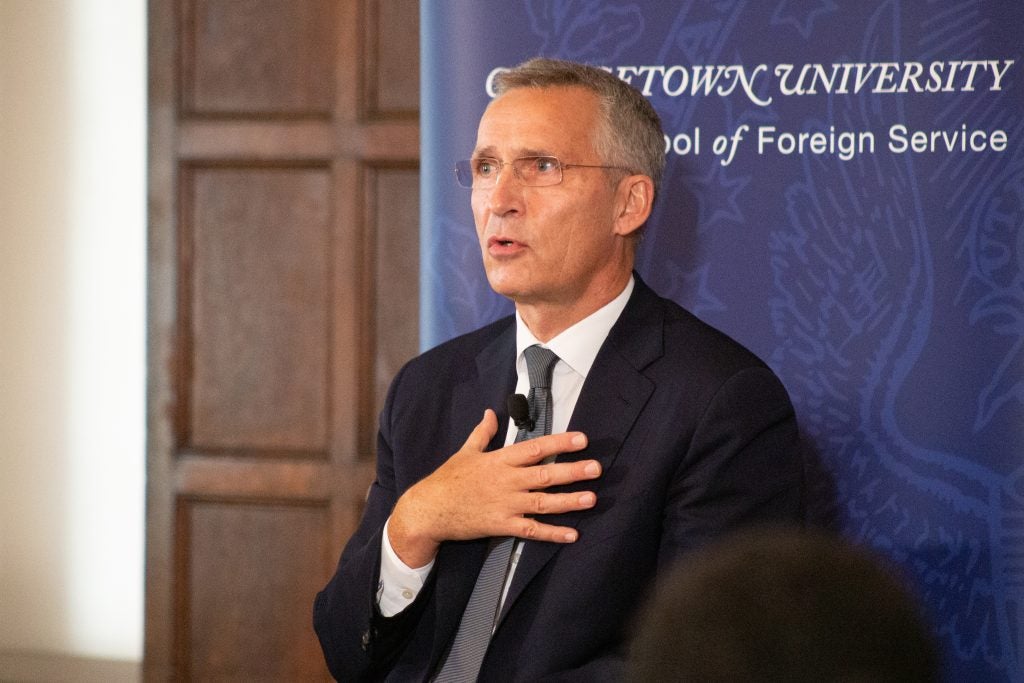 After welcome remarks by SFS Dean Joel Hellman and an introduction by SFS graduate student Bianca Herlory (MAGES'22), O'Hanlon opened the discussion, asking to what extent NATO has made "progress" on relations with Russia over the past seven years.
Stoltenberg described how the dynamic between the Alliance and Russia has shifted, arguing that the invasion of Georgia, the annexation of Crimea and Russia's military expansion have all contributed to relations with the country becoming the "lowest since after the Cold War."
In light of this change, he underlined the need for a "dual track approach," consisting of both credible defense and dialogue. Stoltenberg recalled Norway's position during the Cold War, when, despite ongoing global conflict, communication remained open with Russia to discuss environmental and energy issues. "It was not in spite of NATO, it was because of NATO," he remarked.
O'Hanlon then questioned Stoltenberg about what the moderator described as the "chaotic" withdrawal of NATO and member states' troops from Afghanistan in August. While Stoltenberg admitted that the rapidity with which the Taliban regained control of the country surprised many Western leaders, he was adamant that the Alliance had succeeded in its mission to end Afghanistan's status as a safe haven for terrorists.
"That fight was successful… The plan was never to stay in Afghanistan forever," he said. Stoltenberg continued, arguing that efforts must now turn toward evacuating vulnerable Afghans, including human and women's rights activists.
In his last question, O'Hanlon turned the conversation to the rise of China, a significant development over Stoltenberg's tenure as secretary general. Stoltenberg maintained that China's economic growth has brought a number of opportunities, including increasing trade and reducing poverty. While emphasizing the need to remain aware of China's growing defense spending and military innovations, Stoltenberg urged Western leaders to approach China not as an enemy threat, but as a potential partner to engage with on issues like climate change and arms control.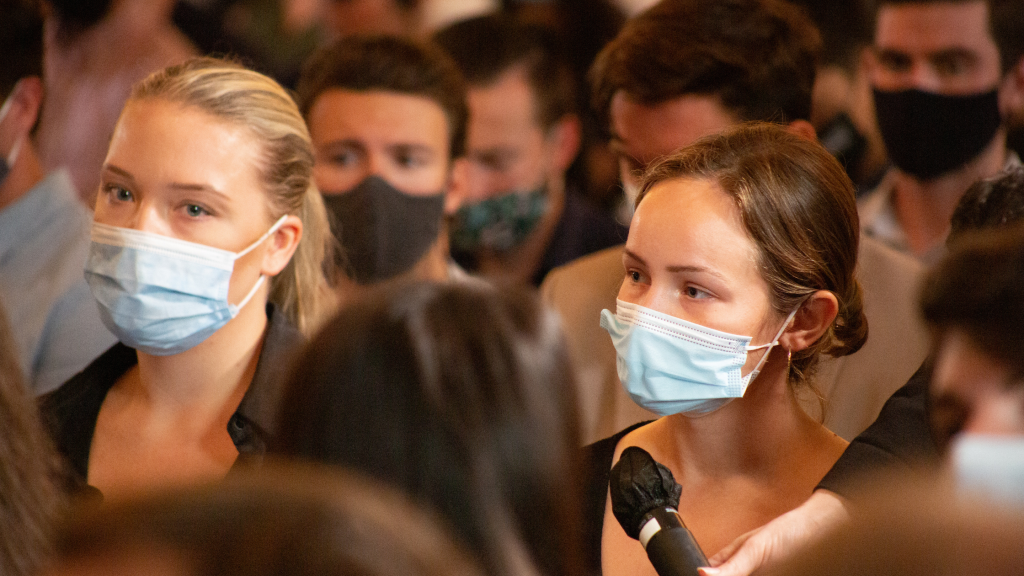 Following the moderated discussion, in-person attendees and those watching on Facebook Live were given the opportunity to put their questions to the secretary general. Megan Skinner (SFS'24) asked for Stoltenberg's perspective on NATO's response to the pandemic. "What more do you think NATO could do to help end the pandemic?" she wondered.
Stoltenberg acknowledged that global threats such as emerging infectious diseases have serious implications on NATO's collective security. In particular, he outlined how armed forces can play a role in coordinated efforts to transport medical supplies, personnel and critical equipment. Still, Stoltenberg admitted NATO had a limited role to play in pandemic mitigation. "I don't think the virus will be scared by Article 5," he said.
One of the final questions came from a viewer on Facebook Live, who queried the significance of potential fallout between the United States and France due to AUKUS, a recent trilateral security pact between Australia, the United Kingdom and the U.S.
In response, Stoltenberg insisted that NATO remains the cornerstone of transatlantic security. Stoltenberg affirmed that AUKUS was not a move against the Alliance and focused on the agreement between NATO allies to coalesce and keep the "bigger picture" in mind as the Asia-Pacific region becomes increasingly critical to member states' strategic goals. "If anything, it is more important to stand together now, because we are faced with such huge challenges," he said, later adding, "we cannot afford to divide Europe and North America."
At the beginning of his remarks, Stoltenberg told the audience about his early ambitions to become an academic. As the event drew to a close, Dean Hellman praised the cogency of Stoltenberg's arguments and visions, and remarked, "You would have made a good professor. When you step down as secretary general, you're welcome here at Georgetown University!"