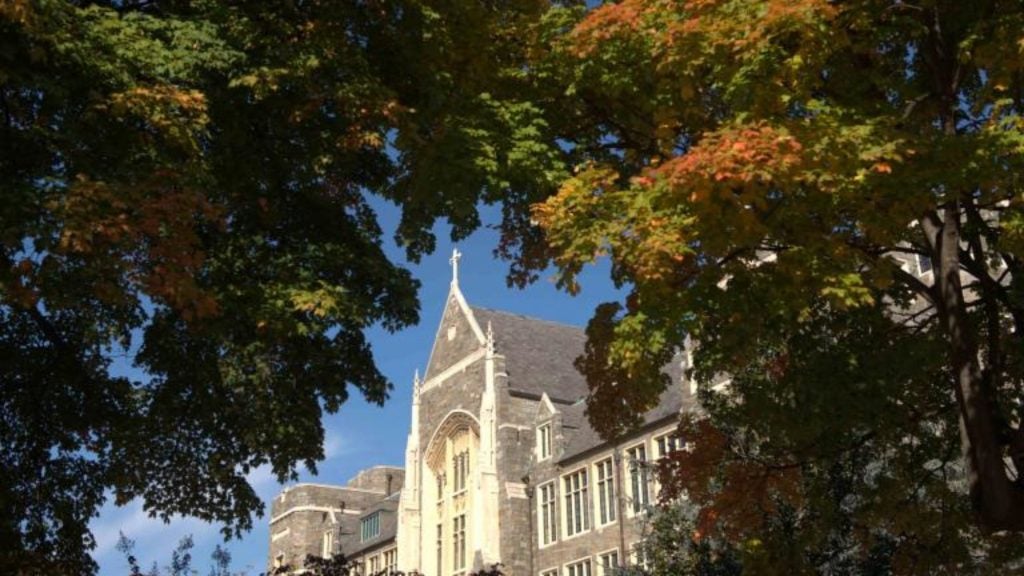 On Campus Anchor
On Campus
The Academic Resource Center (ARC) provides students with academic strategies and individualized support needed for academic success and inclusion within the Georgetown community. The center offers disability support, student-athlete support and academic support.
The University encourages students in need of disability support services to make an appointment with an ARC administrator to discuss available services and the process for receiving accommodations.
Quick links: Disability support services; Disability support at GU Library
The mission of The Black House is to assess and meet the needs of students of color by implementing programs, events, and dialogue in a community-centered space.
La Casa Latina is a centralized location of inclusivity in which Latinxs can share their narratives, access resources integral to success on the Hilltop, and engage in vital discussions about the intersectionality of race/ethnicity, class, sexuality, gender, ability, privilege and power within the Latinx identity. In order to unite all members of the Latinx community, Casa Latina will ensure that students feel not only welcomed at Georgetown, but also feel empowered to grow and flourish in all-encompassing aspects of the collegiate community.
Guided by Georgetown's Catholic and Jesuit tradition, with its abiding commitment to interreligious collaboration, Campus Ministry equips students to lead lives of deeper meaning, belonging and purpose.
Quick links: Campus Ministry Services; Residential Ministry
Cawley Career Center's priority is to achieve excellence by building infrastructure that promotes the well-being of all students in our community and celebrates our diversity. We will advocate for the needs of our students, and our partnerships and initiatives will be equitable and inclusive. We will create an environment in which all students feel heard, supported, and empowered in their lifelong career development journey.
Quick links: Career Services for Students; Career Resources for Diverse Populations
The Center for Social Justice is home to several staff-run programs and over 40 student organizations, which are committed to advancing social justice in diverse fields, including education, juvenile justice, support for immigrant communities, hunger, and homelessness. CSJ also integrates academic course work with social justice action by offering UNXD 130 Social Action, coordinating the Community-based Learning (CBL) program, and working with faculty across the University to infuse social justice content and pedagogies into their classrooms.
Quick links: CSJ Statement for Black Lives Matter; CSJ Resources for Particular Communities; CSJ Student Organizations
The central mission of CAPS is to collaborate directly with students and the campus community. CAPS is dedicated to helping students develop greater self-understanding, identify and solve problems, and improve academic performance through the alleviation of psychological, emotional, and cognitive barriers.
CAPS also has staff embedded in CMEA, GSP, CSJ and student athletics.
Quick links: Access Virtual CAPS Services; CAPS Emergency and After-hours Care; CAPS Commitment to Diversity; CAPS LGBTQIA+ Student Support Group; CAPS Mosaic Student Support Group (BIPOC)
The SFS Graduate Career Center (GCC) team is available for 1:1 coaching and provides 24/7 access to curated resources to support the leadership and career growth of SFS graduate students and alumni. Furthermore, the GCC team facilitates leadership development and skill-building programming as well as provides career resources and employer research resources tailored to the needs of Black, Indigenous, and People of Color (BIPOC) students, LGBTQA+, women, veterans, as well as students with visible and invisible disabilities and learning differences. Access to GCC coaching services and resources to all current SFS graduate students and remain available to graduate SFS alumni for life.
Quick links: SFSGCC Inclusivity and Diversity Resources
The Hoya Hub food pantry is a resource for any member of the Georgetown University community experiencing food insecurity. It is a pantry stocked with non-perishable food items, available to anyone who needs food on an immediate, emergency basis. No Hoya should go hungry; the Hoya Hub is a place to pick up nutritious food to cover short breaks or other unplanned gaps in access to meals.
The Indigenous Studies Working Group of Georgetown University gathers together colleagues and students interested in the field of Indigenous Studies. We promote greater respect, awareness, and collaboration with Indigenous peoples in our region, in the United States, and across the world. All with a serious interest in Indigenous peoples are welcome here.
Quick links: Resources for Indigenous Study
The mission of the Office of Institutional Diversity, Equity & Affirmative Action is to promote a deep understanding and appreciation among the diverse members of the University community to result in justice and equality in educational, employment and contracting opportunities, as well as to lead efforts to create an inclusive academic and work environment. The Office of Institutional Diversity, Equity & Affirmative Action supports the University's mission.
Quick links: Report a bias-related incident; Summary of IDEAA Services
The Lesbian, Gay, Bisexual, Transgender, Queer, and Questioning (LGBTQ) Resource Center provides education, programming, support services, and voice to Georgetown students, faculty, staff, and alumni of all sexual orientations and gender identities. The center focuses on community building, education & outreach, support in navigating academic and student life, student engagement and leadership development, health and wellness, advocacy and empowerment, and alumni engagement. Visit the LGBTQ Resouce Center to find out more about center-run initiatives like OUTober, Journeys: An LGBTQ Center Retreat, Lavender Graduation, and Passages Peer Mentorship, and to connect with student-run organizations.
Quick links: Trans, Non-Binary and Gender Non-Conforming Resource Guide
Living Learning Communities (LLCs) are residential communities where students are able to share and deepen their passions through social, educational, and reflective activities. These communities support Georgetown University's focus on active and collaborative learning by extending discussions beyond the classroom, creating new opportunities for students and faculty to interact, and promoting the value of experiences that occur in residential spaces. At Georgetown, we have fourteen (14) Living Learning Communities where students can explore themes of academic interests, service learning, social justice and inclusion, inter-faith, and others.
The Office of Student Equity and Inclusion (OSEI) serves as a principal leader, resource, and support in providing student development, sponsoring programs and events, and engaging in collaboration related to student diversity, equity, and inclusion at Georgetown University. OSEI helps lead equity and inclusion efforts across the Hilltop campus through Integration, Collaboration and Consultation. OSEI has brought key undergraduate programs under one umbrella: Center for Multicultural Equity & Access, Community Scholars Program and Georgetown Scholars Program.
Quick links: OSEI's Black Student, Staff & Faculty Resources
CMEA enhances the education of students historically denied access to GU because of race, ethnicity, national origin, socioeconomic status, and other marginalized identities. To live out this mission, CMEA provides a variety of intentional and culturally-relevant programming, services, and opportunities to foster student success inside and outside of the classroom. Services include counseling, program advising, career counseling, book co-op and loans, low-cost printing/copying, and summer housing scholarships. CMEA administers the Community Scholars Program, Patrick Healy Fellowships and peer education in diversity and leadership programs (LEAD and YLEAD).
Quick links: CMEA Black Lives Matter Resources; CMEA Office Hours
This site is designed to be a resource for students, faculty, and staff on issues relating to sexual misconduct, discrimination based on sex, and discrimination based on pregnancy, including options for getting immediate help; the University's policies against sexual misconduct; how to report sexual misconduct; the University's Sexual Misconduct Reference Guide; and campus initiatives.
Quick links: Support and Resources for Title IX Complainants
As a Catholic and Jesuit institution, Georgetown University values the dignity of all members of the university community, regardless of immigration status. We are a university in the heart of the nation's capital and believe in educating the whole person through exposure to different faiths, cultures and beliefs. An estimated 65,000 children born abroad who are not U.S. citizens or legal residents graduate from U.S. high schools each year. As we engage with the impacts of globalization and the responsibilities we have in a new global context, we must, as educators, support all of our students, including those who were born abroad. The university is committed to supporting undocumented students and the unique challenges they may face, and has convened a working group of representatives from a variety of offices across campus.
Explore this website for resources and information on admissions, financial aid, legal aid, health insurance, academic advising, career advising, and more.
The Hilltop is home to close to 1,400 military-connected students including servicemembers, veterans, and military families. The Veterans Office connects military-connected students with the resources they need to successfully transition from military service to classroom to career. Our office serves as a liaison and advisor to ensure prospective and current military students receive accurate and comprehensive information around admissions, finances, academic support, career networking, and support services.
Quick links: Military-connected Student Resources
The Women's Center supports and empowers students at Georgetown. Women are the majority of the student body, yet are often marginalized in the classroom and campus experiences. As a result, the Women's Center seeks to center the experience of women and educate the entire campus about gender dynamics that impact campus culture. We seek to create a more equitable campus for a more expansive notion of gender and gender roles. We serve students of all gender identities.
The Women's Center staff and LGBTQ Resource Center staff collaborate in order to holistically serve students. In particular, we focus on the following areas: Education and Outreach, Student Engagement and Leadership Development, Individual Student Support, Health and Wellness, Community Building, Advocacy and Empowerment, Alumni Engagement, In-office and Virtual Services.
Quick links: Women's Center Resources; Virtual Women's Center
Back to Top