Khamza Sharifzoda (MAERES'20) arrived at Georgetown speaking five languages—Russian, Tajik, Turkish, Spanish, and English. The international student had studied for an undergraduate degree in Kazakhstan and lived in many countries in the post-Soviet space before joining the MA in Eurasian, Russian and East European Studies (MAERES) at SFS.
But the voracious learner did not stop there. During his time at SFS, Sharifzoda has held a number of internships and jobs in Washington, D.C., secured numerous research fellowships, served as a teaching assistant for an undergraduate class and even taken a class in an additional language.
"I did take a semester of Persian to improve my reading and writing of the Persian script," he explains.
Though Sharifzoda came to MAERES with the ambition of becoming an academic focused on the politics of Russia and the South Caucasus, the formative classes and research opportunities he experienced at Georgetown helped him to discover a new career goal: to specialize in data analytics and development at an international institution.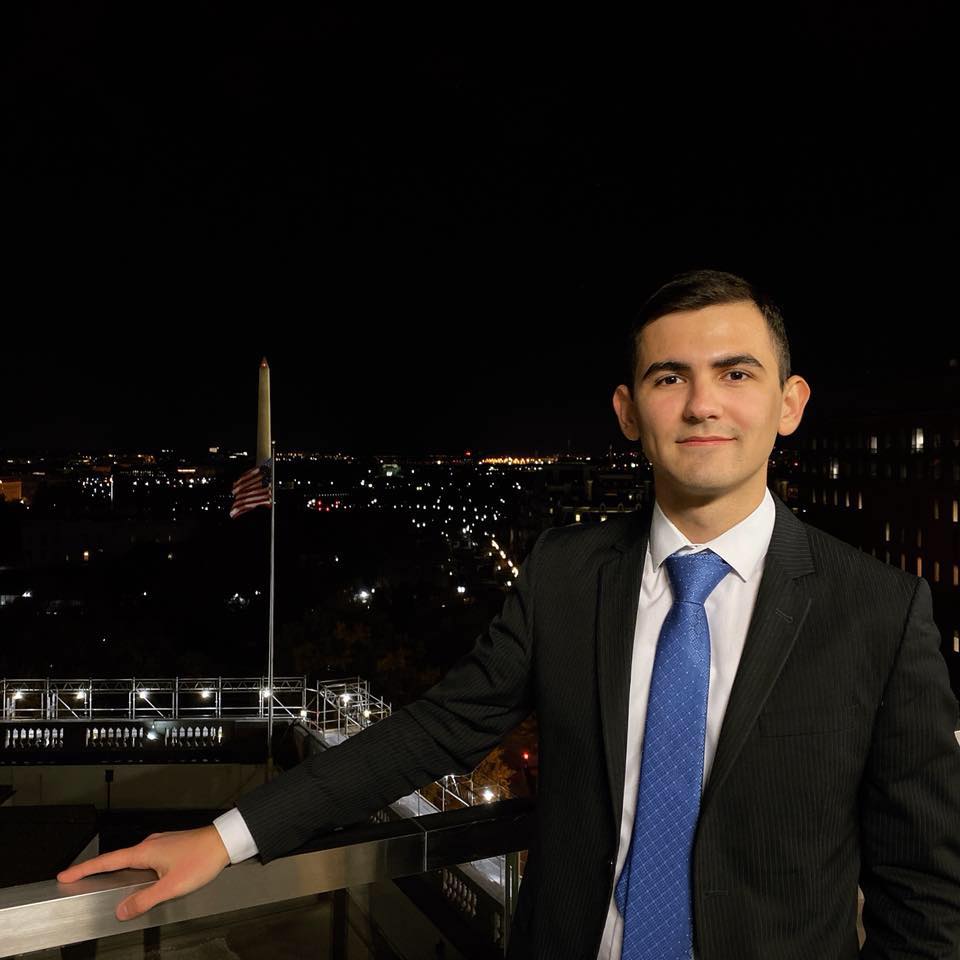 At A Glance
Home country: Dushanbe, Tajikistan
Program of Study: MA in Eurasian, Russian and East European Studies;
Certificate: Global Human Development
Research Experience Abroad: Fieldwork for master's thesis in Azerbaijan and Georgia (summer 2019)
Language Proficiency: Russian, Tajik, Turkish, Persian, Spanish
On-Campus Activities: NATO Small States and the New Security Environment Research Fellow (2018-2019); Center for Eurasian, Russian and East European Center Fellow (2018-2019); SFS Junior Centennial Fellow for Jill Dougherty (2019-2020); Department of Slavic Languages Visiting Fellow (2019-2020); Teaching Assistant for Ambassador Kenneth Yalowitz's course on Conflict Resolution in Eurasia; Professionals in Russian and East European Affairs Executive Board Member
Off-Campus Activities: Intern, Chemonics International's Security Management Unit (Summer 2019); Consultant, World Bank (Spring 2020-present)
A Personal Connection to His Field
Researching the post-Soviet region has always had a personal resonance for Sharifzoda. His home country of Tajikistan fell into civil war following the collapse of the Soviet Union, which he says had a traumatic effect on Tajik society.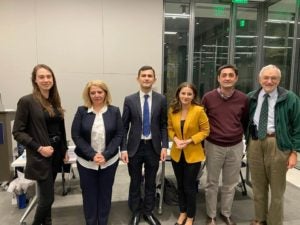 Sharifzoda eventually moved to other parts of the former Soviet Union, including Ukraine, Russia and Kazakhstan and he was struck by the similarities of countries' experiences in the post-Soviet landscape, as well as key differences.
"As I was growing up, I was more curious to find out why certain countries experience civil wars, while others can avoid outbreaks of political violence," he says.
This curiosity led him to the discipline of comparative politics and the MAERES degree program. "I knew that the flexibility of a MAERES degree would allow me to explore a wide range of subjects," he says. "The area studies program was a perfect match for me."
Sharifzoda, who attended Nazarbayev University in Kazakhstan for his undergraduate degree in political science, learned about SFS from one of his advisors at the school who was a graduate of Georgetown. For Sharifzoda, the combination of location, access and academics was appealing. 
"I knew that living in D.C. would give me an unparalleled opportunity to network with leading experts in international affairs and intern with one of the major international institutions or think tanks," he explains.
Delving into Academia
As soon as he arrived on campus, Sharifzoda was excited to explore the opportunities for study, dialogue and research offered by the Hilltop.
"My favorite memory of my time at Georgetown is the first day when I arrived for orientation," he says. "I was impressed by the beautiful campus, old buildings and, most importantly, the very intelligent people I spoke with."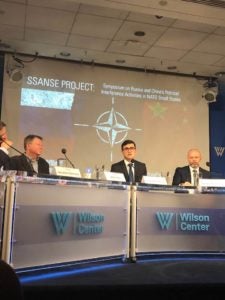 "I will never forget the feeling of euphoria I experienced that day, realizing that there was a lot lying ahead," he continues.
Much of Sharifzoda's time at Georgetown was devoted to research and academia. When he receives his degree at Commencement weekend, Sharifzoda will have already authored papers, taught classes, presented at conferences and had his work published in magazines. 
As part of the SFS Junior Centennial Fellowship, Sharifzoda conducted research on Russian youth culture under the guidance of Jill Dougherty, former Moscow Bureau Chief for CNN.
The fellowship also presented Sharifzoda with a unique opportunity. "Later in the spring, in her class, I delivered a lecture on youth in the post-Soviet space and their changing political and social attitudes," he says.
A Center for Eurasian, Russian and Eastern European Studies (CERES) fellow, Sharifzoda's research on labor migration in Eurasia was published in The Diplomat magazine, and one of his papers was accepted to the ASN World Convention, an interdisciplinary, international conference on post-Communist countries held at Columbia University.  
While working as a research fellow with Dr. Alan Tidwell, director of Georgetown's Center for Australian, New Zealand and Pacific Studies, Sharifzoda had the opportunity to contribute to the NATO Small States and the New Security Environment project. He even presented a portion of his research, which centered on Russian influence in the South Caucasus, at the Woodrow Wilson Center in April 2019. 
Sharifzoda also devoted time to teaching others. As a visiting fellow with Georgetown's Department for Slavic Languages, he co-taught Intensive Russian Language courses. "Teaching one of my native languages was a great experience that allowed me to experiment with a variety of teaching methods," he says.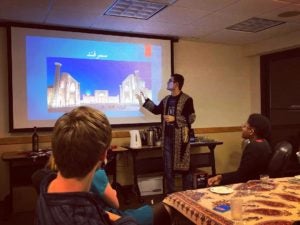 Additionally, Sharifzoda served as a teaching assistant for Ambassador Kenneth Yalowitz's course, Conflict Resolution in Eurasia. "Working closely with Ambassador Yalowitz allowed me to tap into his 36 years of experience as a diplomat in the former Soviet countries and to build a very close relationship with him," he says. 
In the classroom, Sharifzoda took on new challenges and embraced new perspectives. As he explains, "All of the classes I took at SFS were interesting, challenging and eye-opening." 
One course that particularly stood out was Dr. Theresa Sabonis-Helf's Energy and Environment in Eurasia. Sharifzoda admits that, initially, energy issues did not hold much appeal for him.
"In a matter of a few weeks, Dr. Sabonis-Helf managed to completely change my views on the subject," he says. "She represents that rare kind of professor who can ignite a passion for her subject in anybody. Her classes perfectly combine theory and practice."
With a combination of case studies and theoretical approaches, Sharifzoda explains that the class helped him to understand how multinational energy companies approach his home region. "After each class, I wanted to read more and more on energy issues in Eurasia and around the world," he says.
A New Focus: Multilateral Institutions
In addition to his work in the humanities and languages, Sharifzoda developed a new intellectual interest: international institutions. 
One course in particular, Econometrics for Policy-Makers, sparked his new passion. Before taking the class, Sharifzoda admits that he was neither very interested in data analytics nor in statistical models. 
The course's professor, Dr. Erwin Tiongson, changed his mind. "Not only did he take away my fear of statistics, but he also instilled in me a deep interest in data analytics," Sharifzoda explains. In all, Sharifzoda has only one regret. "Looking back, I regret that I did not take his course earlier," he says. 
Armed with a newfound appreciation for econometrics, Sharifzoda turned his attention to the intersection of data science and development.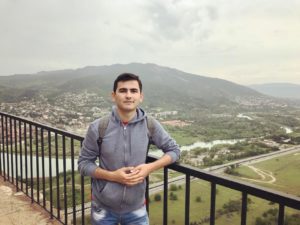 Tiongson, a former Senior Economist at the World Bank, became an important mentor to Sharifzoda and was instrumental in shaping his interests and career aspirations. "Conversations with Dr. Tiongson helped me understand that I want to build my career in international institutions (just like him) rather than work in academia," he says.
At the beginning of his final semester at Georgetown, Sharifzoda transitioned his academic experience and interests into a job as a consultant at the World Bank Group with the Poverty and Equity Global Practice, where he works specifically on Armenia, Azerbaijan and Georgia. 
In the near future, Sharifzoda plans to continue gaining experience in multilateral development institutions, before applying for a doctorate in political economy or public policy. 
He says that his experience at SFS means that he is more than prepared for a Ph.D. program. "My studies at SFS have given me advanced training in methodology and an opportunity to conduct fieldwork in the South Caucasus and refined my skills in conducting independent research," he says.
Finding a Network of Peers and Mentors
Although Sharifzoda joined the SFS with considerable international experience, he continued to seek out opportunities to travel abroad and to increase his understanding of the places he has visited and lived in. 
In the summer between his two years at SFS, Sharifzoda traveled to Azerbaijan and Georgia to conduct fieldwork on his master's thesis, an analysis of EU-Azerbaijani relations; he describes the fieldwork as one of the best parts of the program.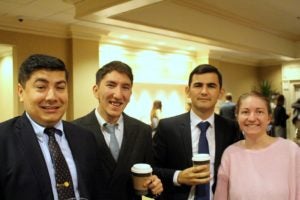 But perhaps the experience that has most defined Sharifzoda's time on the Hilltop has been building life-long relationships with friends and mentors.
He credits a number of faculty members with supporting him throughout his time at SFS. In addition to his professors such as Tiongson, Yalowitz, Sabonis-Helf and Director of CERES Angela Stent, Sharifzoda says his advisor, Dr. Kathleen Smith, was an important cheerleader through his graduate studies.
"Dr. Kathleen Smith has been not only an engaging and caring professor but also a great advisor," he says. "Dr. Smith always found time to talk about my concerns and future plans. In difficult moments, she helped me believe in myself. I will definitely miss our long conversations in her office at the Government department."
Ultimately, the thing that Sharifzoda will miss most about Georgetown are the small, daily moments he shared with his close friends and classmates.
"I will miss the supportive atmosphere of Georgetown the most," he says. "I will definitely look back on this time with a sense of nostalgia, recalling those stressful prep nights before exams, easygoing evenings at The Tombs and the loud laughter of my classmates at the CERES office."