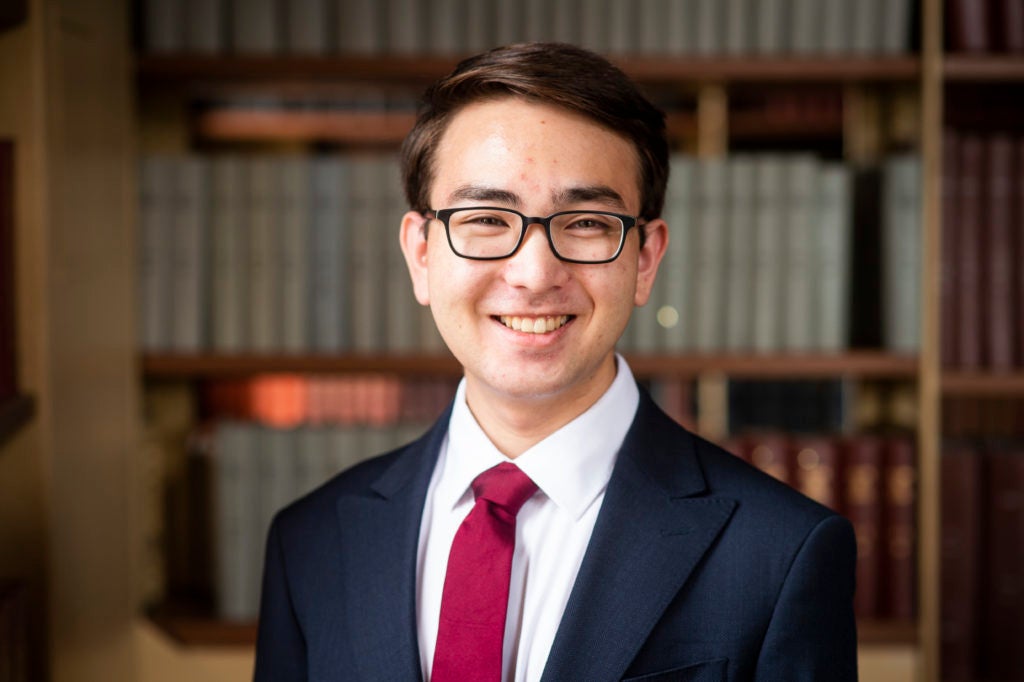 Joshua Levy (SFS'20) has big plans for the summer. Besides brushing up his Chinese and Japanese language skills, he plans to finish two research projects he has been working on for the past year: one on U.S. tariff reduction negotiations and the other on World Bank-tracked infrastructure partnerships. Levy hopes that these efforts, along with keeping up with international news, will prepare him well for his James C. Gaither Junior Fellowship this fall.
Offered by the Carnegie Endowment for International Peace, the Gaither Fellowship partners recent graduates with Carnegie senior scholars investigating governance, peace, security and regional issues. The selection process is highly competitive—nearly 1000 nominees compete for only 12 fellowships.
A few months later, after two rounds of interviews, Levy learned he had been selected as a fellow for the endowment's Asia Program, which studies disruptive technology, security and governance in the Asia-Pacific region. Specifically, Levy will assist Senior Fellow Yukon Huang in his research into the political economy of U.S.-China relations. Huang was formerly the World Bank's country director for China and advises the World Bank, the Asian Development Bank and various governments and corporations.
"Because a lot of the time I've spent at Georgetown has focused on the academic dimensions of economics and international relations, I look forward to learning about how the application of those ideas take form as policy and how those proposed policies can inform broader discourse," Levy says.
The opportunity to study a wide range of subjects is what brought Levy to Georgetown in the first place. "I was looking for an interdisciplinary education in how countries work and interact with each other," he says. "Georgetown and the SFS seemed like a superlative choice." 
Now, as a senior set to graduate in May, Levy can safely say he has explored all that Georgetown has to offer. In addition to majoring in International Political Economy, he has picked up minors in both Japanese and Mathematics. 
He credits Professor Shareen Joshi with encouraging him to pursue his many interests. While working as her research assistant, Levy has learned from Professor Joshi's academic and professional guidance, as well as her extensive knowledge of applied microeconomics.
"Over the past three years, she's not only provided me with mentorship and guidance, but encouraged me to stretch my ambitions," he says.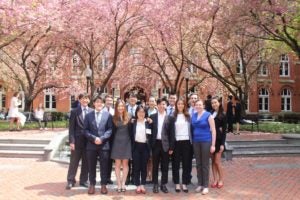 Looking back on his four years at Georgetown, Levy describes his time on the Carroll Round Steering Committee as a particularly impactful experience. "No doubt, being able to help organize and participate in the Carroll Round Conference has been the highlight of my time at Georgetown," he says.
The Carroll Round is an annual international economics conference hosted by Georgetown University that provides a forum for top undergraduate scholars to present and discuss their research. Conference alumni go on to pursue graduate studies at elite universities and work at the World Bank, the International Monetary Fund and the Federal Reserve, as well as at leading multinational consulting and financial firms. 
Levy, chair of the 2020 conference, says the intellectual and community experience of the Carroll Round could not happen anywhere besides Georgetown. "Seeing cutting-edge research being done by peers has been consistently inspiring," he says. "It's something that I don't think could be replicated at any other university."
Although Levy's time on the Steering Committee was brought to an unexpected end when COVID-19 forced the cancellation of this year's Carroll Round, it has still left a lasting impact on him. "The Carroll Round is probably what has most inspired me to pursue graduate studies in economics in the future," he says.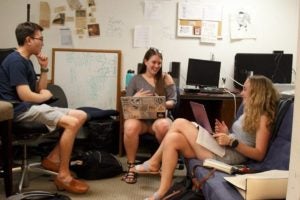 As an opinion columnist and copy editor for The Hoya, Levy has also learned how to effectively communicate his ideas. During his junior year, Levy wrote a bi-weekly column, "Animal Kingdom," that analyzed current events in global politics with reference to the natural world.
He believes the clear, concise opinion writing he learned at The Hoya will translate to the sort of public-facing analysis often written by Carnegie Fellows and other scholars. "The Carnegie Endowment does a lot of work trying to shape the debate and advocate for sound policy in the public sphere," Levy says. "So its scholars regularly write op-eds and public analyses." 
For Levy, the Gaither Fellowship is an opportunity to practice and strengthen the many passions he has developed during his undergraduate career—from economics and Asian studies to research and writing. Eventually, Levy hopes to be a journalist, where he will apply these research and communication skills on a daily basis.
"With long-term ambitions to work in journalism, I hope that I will be able to take some of these skills into the future," he says.