At Home and Abroad
Less than two weeks after Joey Fernandez (SFS'20) arrived in Moldova for his internship at the U.S. Embassy in Chisinau, he found himself caught up in a constitutional crisis. For a period last summer, two different coalitions claimed legitimate authority over the country's government. 
"This created some tension and instability," Fernandez admits. "But the situation also provided an amazing opportunity to witness how diplomats can help prevent widespread problems in a foreign country by encouraging dialogue between the various factions." 
This interest in high-stakes dialogue and problem-solving is part of what drew Fernandez to the U.S. Foreign Service, which he will enter in just a few years thanks to the Pickering Fellowship.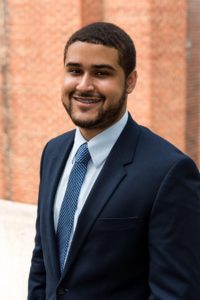 In November, Fernandez was named one of thirty winners of the Thomas R. Pickering Fellowship, a State Department program administered by Howard University that aims to prepare outstanding young people—especially women, individuals from low-income communities, and members of historically underrepresented minorities—for careers in the Foreign Service. The process is highly competitive, and more than 800 people applied this year.
Many students first come across the Fellowship during their senior year job hunt, but for Fernandez the connection is more personal. Originally from New York City, his congressional district was represented for more than forty years by Rep. Charles B. Rangel, the namesake of a similar Foreign Service fellowship also administered by Howard.
While researching the congressman for a class at his previous college, he bumped into the Charles B. Rangel International Affairs Undergraduate Summer Enrichment Program. Since he was interested in international affairs, Fernandez applied for the program and was selected as a Rangel Scholar in 2017. "Through the Rangel Program, I met a number of diverse foreign policy professionals that encouraged me to continue to pursue the experiences and skills that will help me better represent the United States," he says. 
To the Hilltop and Beyond
Fernandez traces his interest in international affairs back to LaGuardia Community College, where he participated in the school's Model United Nations Program. This experience, as well as his time as a Rangel Scholar, sparked a passion that he hoped to pursue academically—so he looked to the School of Foreign Service.  
"As the premier international relations university in the world, I knew Georgetown would equip me with the skills that will help me accurately understand the political developments happening throughout the world," Fernandez says. "I also knew that I would be surrounded by students that were also passionate about international affairs."
Once he transferred, Fernandez wasted no time exploring his interests. His sophomore year, he enrolled in 'The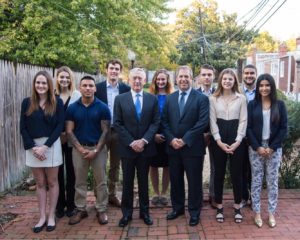 Experience of War,' a transfer proseminar. "Midway through the semester, the professor invited then-Secretary of Defense James Mattis to class to discuss his experience in the number of wars he has lived [through and] participated in," he says. Fernandez and his class also had the chance to talk through contemporary national security challenges with the secretary.
While pursuing an International Politics major with a concentration in International Security, Fernandez was able to take many classes taught by experts in their field.  "At Georgetown, I've met a number of people that have had a tremendous impact on me," he says.
He is especially thankful to Professor Kelly McFarland, who taught Fernandez in courses on alliances and the influence of history on international affairs. "Professor McFarland has been someone who has challenged me academically and constantly supported me during my time at Georgetown. This includes encouraging me to apply to many of the programs I've participated in, including the Pickering fellowship," Fernandez says.
Fernandez has also honed his political skills with a number of internships, including at the State Department's Bureau of Conflict Stabilization and Operation and, most recently, at the U.S. Embassy in Chisinau, Moldova in the summer before his senior year. 
"In Moldova, I learned the importance of being flexible and to seek mentors who will support my growth," he says. Fernandez took advantage of the embassy's small size to get to know many of the Foreign Services officers on post. "I was also able to meet frequently with the ambassador, the Honorable Dereck J. Hogan, who is currently the first and only Pickering Fellow to reach the rank of ambassador. We spoke about navigating the foreign service as a person of color and about the challenges and opportunities that it presents," Fernandez adds.
Looking Ahead
With this strong network of professors and mentors supporting him, Fernandez decided to apply for the Pickering Fellowship. He had been thinking about the fellowship since he was a Rangel Scholar in 2017, and because the committee makes its decision much faster than other fellowships, he says, "The process of applying and hearing back from the Pickering Fellowship Committee was rather quick and easy."
Currently, Fernandez is applying to graduate programs that partner with the Pickering Fellowship so he can earn his master's degree in international affairs or a related subject. He is also thinking about the specific role he would like to play as a member of the Foreign Service.
"I plan to work with countries that are in conflict and going through post-conflict reconciliation," he says. "I am most interested in creating partnerships that build opportunities for young people in Latin America."
For Fernandez, having a hand in this kind of partnership and reconciliation is what drew him to the Foreign Service in the first place. Reflecting on how he became passionate about public service, he says, "The Foreign Service symbolized an institution that'll allow me make a meaningful impact."