Diversity and Excellence in Foreign Service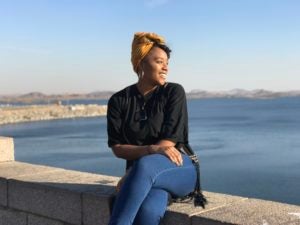 "The experience still feels very surreal to me," says Jada Bullen (SFS '17). After a highly competitive nationwide application process, she has been named one of thirty 2020 Rangel International Affairs Graduate Fellows.
A collaborative effort between the State Department and Howard University, the Rangel Fellowship aims to increase diversity and excellence in the U.S. Foreign Service by supporting women, low-income individuals, and members of minority groups who have been historically underrepresented in the Foreign Service.
The program supports fellows through two years of graduate school, internships, professional development, and mentorship, after which they are slated to enter the Foreign Service. "I am so grateful for the opportunity that the Rangel Fellowship provides," Bullen says.
Being named a fellow gets Bullen one step closer to fulfilling her childhood dream of becoming an ambassador. "Growing up in South Florida and constantly being around people of different cultures had cultivated within me a passion for learning about the world and also making genuine connections with different people," she says. "I wanted a career where I could both help others and explore simultaneously."
Years on the Hilltop
These passions for exploration and service have been staples of Bullen's academic and professional experiences—in fact, they're what brought her to Georgetown in the first place. "I applied to Georgetown for the School of Foreign Service specifically, as I was drawn to the curriculum that specifically focused on preparing young people for not only an international career, but an international career devoted to service," she says.
Over the course of her time at Georgetown, Bullen developed the knowledge and skills to pursue a career in service.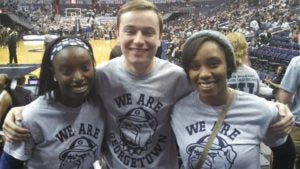 Over the course of her time at Georgetown, Bullen developed the knowledge and skills to pursue a career in service. She is especially thankful to Emeritus Professor Elizabeth Andretta, who taught her Theorizing Culture and Politics class, for introducing her to a new way of thinking about the world. "Although it was the mandatory core course for my major, it was also the one that most impacted my worldview—especially as it relates to power, culture, and people," Bullen says. "The way she approached each new topic, with curiosity and a zeal for making connections, is how I approach new experiences now."
When she first heard about the Rangel Fellowship during her first year at Georgetown, Bullen was excited by the possibility of making a career out of new experiences. She attended an information session hosted by Rangel Program Director Patricia Scroggs, who described her own twenty-year career as a U.S. Foreign Service Officer. "Before then, I only had grand notions of becoming a U.S. ambassador, and her testimony about her career and the program made my own dream more tangible," Bullen explains.
Bullen first applied to the program during her senior year and was named a 2016 Rangel Finalist, although she was not selected as a fellow. "The hard lessons I learned from that experience greatly impacted my approach the second time around, especially in terms of preparation," she says.
Preparation and Anticipation
To prepare for her second application in the fall of 2019, Bullen connected with current Rangel Fellows and Foreign Service officers to hear about a range of experiences in the field. She also re-engaged with Georgetown's Office of Fellowships, Awards, and Resources, where Senior Associate Director Lauren Tuckley helped her sharpen her interview skills, and strategically practiced for the writing and panel portion of her interview.
"My prep work became a community affair," Bullen says. "I had my friends, family, and colleagues run through questions with me. This extra preparation, along with my prior experience with the Rangel interview process, helped me overcome the nerves, so I could put my best foot forward."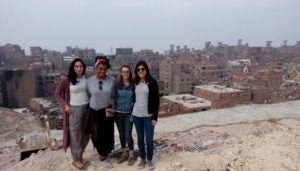 Bullen also credits her professional experiences with informing and refining her chosen path in foreign service. After graduating in the spring of 2017, she spent a year at the American University in Cairo as a Presidential Associate, where she participated in initiatives to promote equality and tolerance on campus, all against a tense political backdrop. "The positive impact that I and other fellows brought to the university through sharing our values and intercultural collaboration affirmed for me the importance of continuing that work," she says. "I believe the Foreign Service is one of the few organizations where I can serve both my country and people of other nations who are striving to actualize the values we share."
In May, Bullen will start an internship on Capitol Hill as part of her fellowship; she hopes to make the most of the months in between. She plans to get more more involved with volunteering in Miami—where she is currently based—especially with human trafficking and female empowerment organizations. 
She also plans to brush up on her Arabic and travel more across the U.S. "Although I have been all over the Middle East, I had not been to the West Coast of the U.S. until last year and I haven't even seen the middle!  Before I go to serve my country, I think it would be a good idea to see more of it," Bullen says.
Thinking back on her path to the Rangel Fellowship and Foreign Service, Bullen is thankful for the variety of experiences and achievements that have brought her this far. "After trying and failing the first time around, I went on to move to a different country, work in a different field, and try new things that pushed me outside of my comfort zone. That was really essential for my own journey," she says.
"If you believe in something—an opportunity, a path, anything—pursue it on your own terms and in your own time."