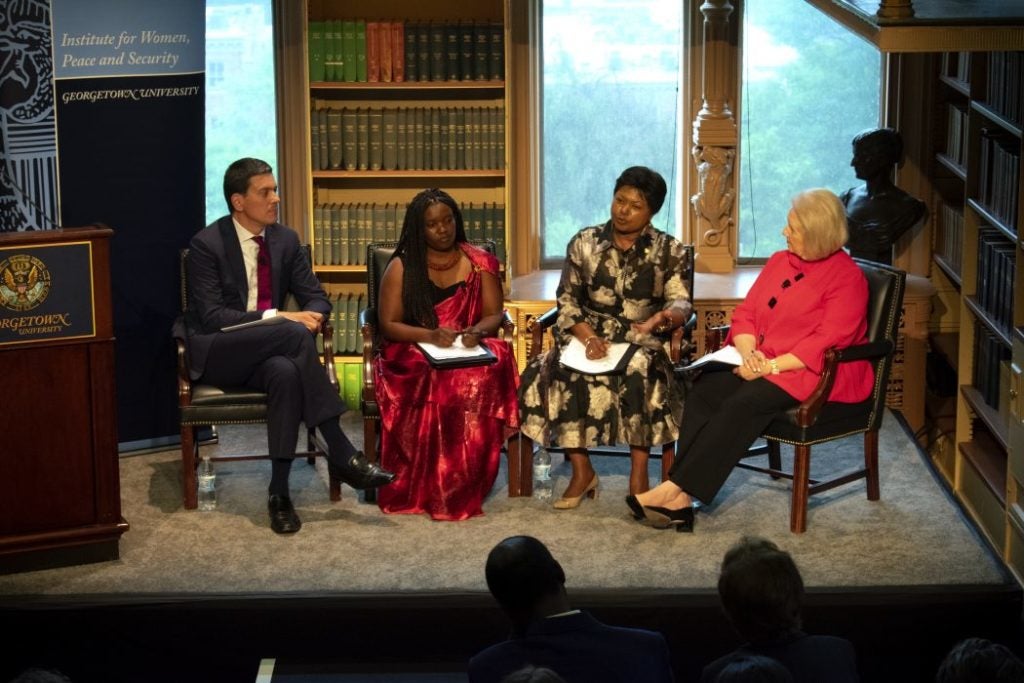 Secretary Madeleine Albright, former Secretary of State and current SFS professor, began the event emphasizing the progress that has been made for women in diplomatic leadership positions since she was one of only a few women serving as Ambassadors to the United Nations in the 1990s. She highlighted Ambassador Roya Rahmani, the first female Afghan ambassador to the United States, as a sign of change. "Women's empowerment has gained ground," Albright said, "because so many brave women have been unable to accept anything less." She further noted that as Afghanistan rebuilds, women will be crucial in securing the country's success and that the international community must ensure that they are not abandoned. Finally, she noted that the push for women's empowerment has always required allies, and hailed the honorable David Miliband, president of the IRC, as a stellar ally.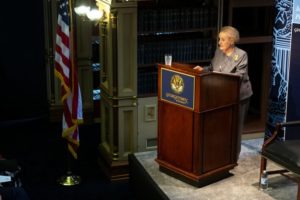 Miliband spoke next and outlined the ways in which the IRC will push for a more egalitarian and feminist approach to crisis aid in the future. Crises, he noted, widen the gap between men and women and boys and girls, and it is the duty of NGOs involved in crisis response to close that disparity. To that end, the IRC is taking steps to establish itself as a feminist organization. So far, it has developed a Gender Equity Scorecard, ensured better training and resources to prevent sexual abuse, established gender equality standards for programming, and promoted survivor-centric policies in programs that address violence against women and girls, among other planned future steps. Miliband is hoping to address not just inequalities in the world, but also in the IRC itself. "We cannot be a truly successful humanitarian organization defined by the outcomes achieved by and for our beneficiaries," he said, "until we are a feminist organization."
After Miliband announced the IRC's new approach, Amb. Melanne Verveer moderated a panel that included Miliband, Ambassador to the United States Mathilde Mukantabana of Rwanda, and IRC Reception and Placement Caseworker Marie Ngirimana. Amb. Verveer asked both Amb. Mukantabana and Ngirimana about their past experience as refugees, and both women noted that the experience left them feeling "vulnerable." Because so many Rwandans were refugees after the 1994 genocide, Amb. Mukantabana said, they understand the plight of their fellow refugees. Rwanda is currently host to around 150,000 refugees, many from Congo and Burundi. The Ambassador also highlighted the importance of women in rebuilding Rwanda: Rwanda's cabinet is half women and is a world leader in empowering women in government.
After the panel, the audience had the opportunity to ask questions. More information on the IRC's shift in approach can be found on their website.