On October 6, 2022, IMF Managing Director Kristalina Georgieva joined SFS Dean Joel Hellman for a conversation focused on identifying policy priorities during a period of heightened global economic uncertainty. Hosted by Georgetown SFS, Georgieva's remarks in Gaston Hall served as the opening curtain raiser speech for the World Bank and IMF's annual meetings, a series of events bringing together finance ministers from close to 190 countries around the world.
President DeGioia introduced Georgieva, highlighting her vision for the role of the IMF as an institution committed to helping countries minimize financial risks and better cope with economic downturns — mechanisms that would ultimately "promote greater shared prosperity around the world."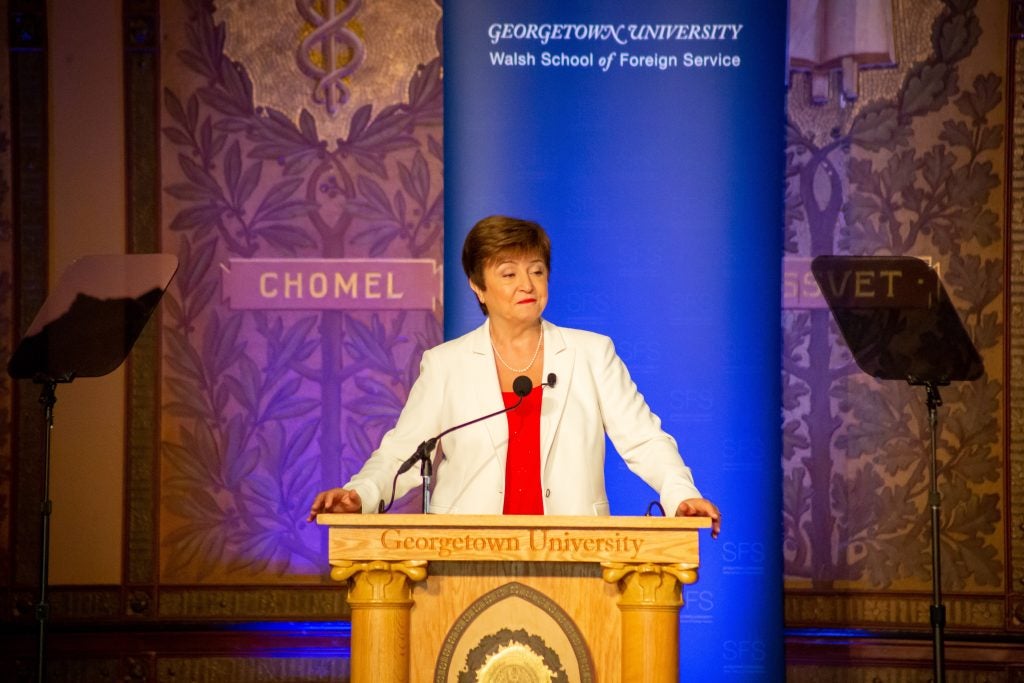 A Darkening Economic Outlook

Georgieva opened her speech with an overview of the world's economic outlook over the past three years. Among other challenges, she mentioned the role of COVID-19, Russia's invasion of Ukraine and climate change in causing major shocks to the global economy. 
"These shocks have inflicted immeasurable harm on people's lives," she said. "Their combined impact is driving a global surge in prices, especially on food and energy, causing a cost-of-living crisis."
Compounding this issue, Georgieva explained, is a major ongoing shift in the world economy. "We are [moving]…from a world of relative predictability — with a rules based framework for international economic cooperation, low interest rates, and low inflation — to a world with more fragility," she stated. "A world in which any country can be thrown off-course more easily and more often."