Reflecting on his time at Georgetown and SFS, Crispin Beyogle (LAS'23) says, "I have no doubt in my mind that ten years from now, I will look back at my time at Georgetown and say, 'This period defined the rest of my life's trajectory.'" Beyogle is graduating with a Master of Arts in Latin American Studies and a certificate in Refugees, Migration and Humanitarian Emergencies from SFS. 
Beyogle came to Georgetown as an international student from Ghana, West Africa, which impacted how he chose his program and area of concentration. "After spending a year in Cuba as an exchange student in 2016, I wanted to know more about the region as a whole. I believe that Africa and Latin America are interconnected historically, culturally, and linguistically (to some extent), with shared social values, and similar socioeconomic realities," he says. " I was curious to explore the ways in which both Latin America and Africa engage, interact, cooperate, and collaborate in contemporary times and that led me to pursue this master's program."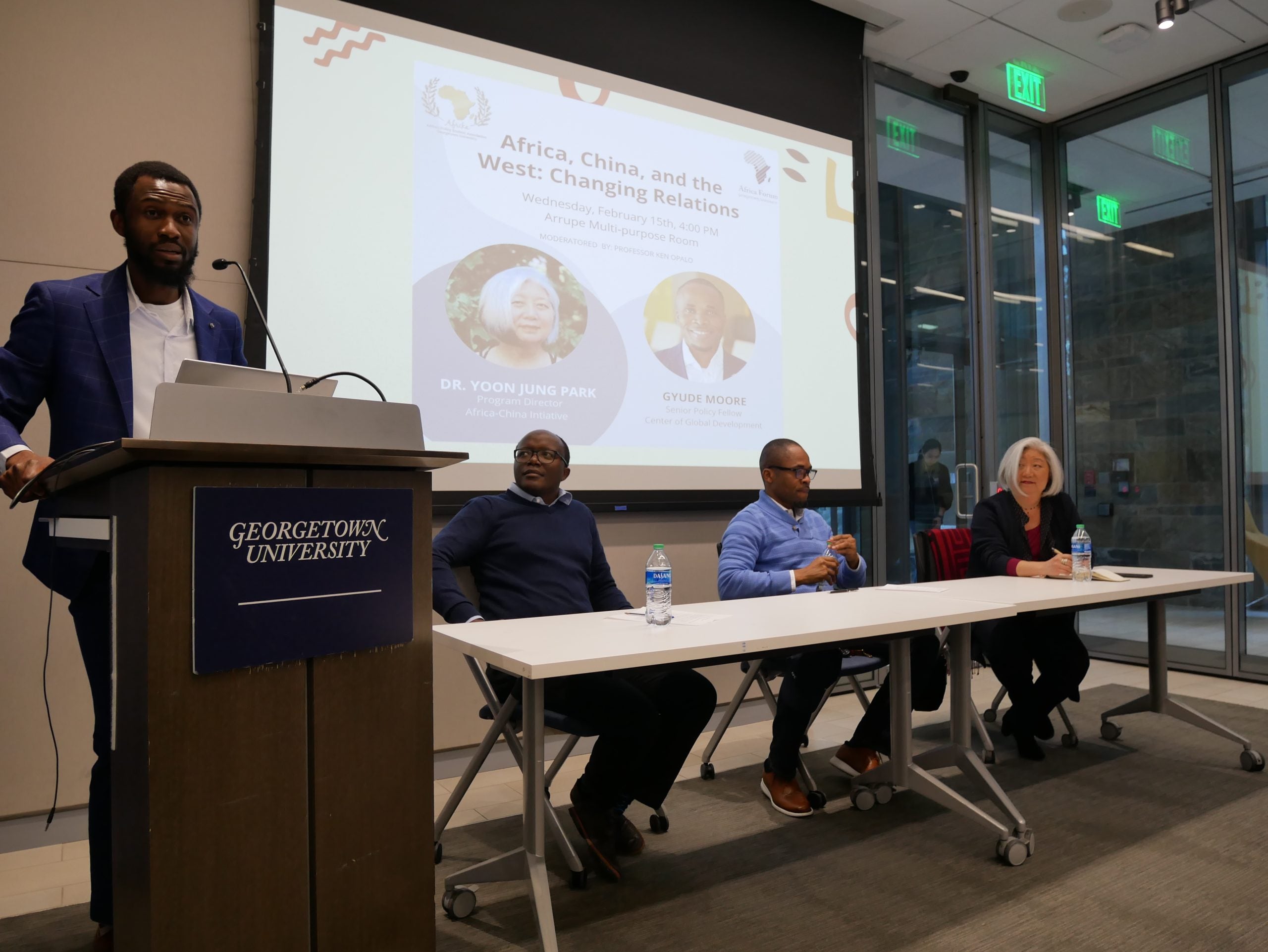 This interest steered Beyogle to various different activities on campus: a justice graduate intern for student leadership and training at the Center for Social Justice, co-president of The Africa Forum, communications co-chair of Diversity and Inclusion at Georgetown (DiG), and memberships in the Georgetown Chapel Choir, Latin American Foreign Affairs Association, and the AfriKa: African Policy Student Association at the McCourt School of Public Policy.
Finding a Community
Beyogle also gained support from his involvement and found community among other passionate scholars. "The Center for Latin American Studies, the African Studies Program, and the Africa Forum have been very supportive to me here at Georgetown," he says. "When I worked at the Center for Social Justice as a justice graduate intern, I experienced first-hand the Jesuit value of cura personalis [care for the whole person] because I was always reminded to prioritize my well-being in my bid to seek excellence. When I lost my sister during my final semester, my family from the Africa Forum paid me a visit in my apartment to mourn with me. That was an impactful and heartwarming moment and gesture."
The Africa Forum graduate student group provided Beyogle the safe space he needed as a Ghanaian and as an African. "Everybody needs a community of people amongst whom they feel safe, and have a sense of belonging," he says. "My active involvement in reviving the Africa Forum was a response to this need which I knew was a shared challenge amongst other African students. And I am grateful for the wonderful opportunity to serve on the board and to make lifelong connections with people from other parts of the world." 
Events on Campus
Beyogle recognized the unique opportunity that Georgetown students have to interact with leaders in foreign affairs, especially as an international student. He remembers one moment in particular, "Sitting right in front of the Minister of Finance from Ghana and asking him a question that bothered me and being able to follow up with him after the event to debate why I disagree with some of the issues he raised. I asked a question about opportunities for Ghanaians back home after we graduate, which is very important for most international students. This was an opportunity to question and hold a government official accountable in the face of economic crisis."
Interacting with senior leaders was not something that Beyogle anticipated before coming to campus. "I was surprised to see and experience the high-level events hosted by SFS," he says. "Being able to have the opportunity to participate in events with presidents, diplomats, members of Congress, and government officials from all over the world was not part of the things I expected coming here."
In the Classroom
Beyogle also spoke about his two favorite classes: International Organizations and Peace Process and Post-Conflict in Latin America. "These classes have been instrumental in defining my future professional trajectory as I begin a Ph.D. in political science next fall at the University of Illinois Urbana-Champaign," he says, "My studies at SFS not only contributed but defined the rest of my future professional goals. I am going into a Ph.D. program to continue digging deeper into the questions I started [to] explore here at Georgetown."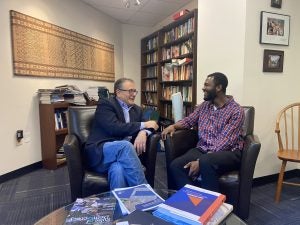 Beyogle recognizes Professor Angelo Rivero Santos for both his teaching and his inspiration. "The first [class] ignited an unrelenting passion in me to research more deeply into South-South Relations." Students have the opportunity to find mentors and great inspiration through exploring classes. "Dr. Rivero Santos had the greatest impact on me in Georgetown," Beyogle shares.
The classes in his master's program inspired Beyogle, as well as providing an excellent foundation for his next step. "Professor Michael Reed-Hurtado's peace process class was one of the most challenging classes I have ever taken in Georgetown, yet the most rewarding. Professor Reed-Hurtado engaged us in this seminar in a rigorous but intellectually stimulating fashion which is a training I will forever hold dear in my intellectual endeavor."
These connections are especially strong within the close-knit graduate student community. "I was surprised about how small Georgetown is despite having a big name. And that is probably because I had previously been at a public university prior to coming to Georgetown," says Beyogle. 
Final Reflections 
Georgetown has many unique opportunities and experiences that set the university apart from other schools. As Beyogle enters his Ph.D. program, he says, "I think I will miss the community of people I found [from] both faculty and colleagues from all the different programs in SFS. I will definitely miss the host of events that SFS gave me the opportunity to witness and partake in. I will hold dearly to my heart the beautiful wonderful moments of experiencing great weather on the lawns during spring. Finally, I will surely miss the coffee shop and the study rooms in the Lauinger Library second floor where I spent most of my time in my second year."