What's a Syndemic?
A syndemic is a conceptual framework that looks at how "two or more diseases cluster in a population and then interact." The interactions can be biological, bio-behavioral, psychological, or social in nature. The way the diseases cluster and affect each other, including which populations are most affected, is driven by political, economic, social, and ecological factors. The concept of the syndemic – that there are social science factors essential to the understanding of the spread and manifestation of disease – has been a constant in medicine since the 1800s: Rudolf Virchow, the father of social medicine, famously quoted his colleague, Salomon Neumann, by saying, "medicine is a social science in its very bone and marrow." Edwin Chadwick, the notable 19th century British reformer, commented that poverty was a far worse killer than murder. However the concept of syndemics, which was first formalized in the 1990s, provides a language to synthesize research from medical anthropology and critical ethnography and pass on the information to doctors and epidemiologists to inform how social problems perpetuate poor health. Mendenhall explains, "to me it's the most transdisciplinary term that is able to cut" to the essence "of the social interactions in medicine… It can both talk about real problems and real solutions while also taking seriously people's experiences, perceptions, and lives." Mendenhall understands syndemics as a way to reinsert the human factor into the practice of medicine. She notes that it is sorely absent particularly from the profit driven health sector of the United States.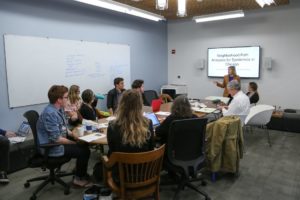 Researching Syndemics Around the World
Mendenhall's new book, Rethinking Diabetes: Entanglements with Trauma, Poverty, and HIV, is the culmination of 15 years of research in Chicago, India, South Africa, and Kenya. The book challenges the global narrative of diabetes that the same socio-economic transition of diabetes is happening everywhere: since around 2010, there has been a proliferation of literature on the "socio-economic reversal" of diabetes: initially it was thought of as a disease of wealthy countries and wealthy people, but the global trend has suggested this is no longer the case. Mendenhall posits that the causes and manifestations of diabetes in India, South Africa, and Kenya differ significantly from in the West. Diabetes, she explained is a "reflection of society" and to use the model of causative obesity for the disease in lower income countries is to misappropriate blame and shame onto the individual for the effects of social change: "how we move and live and think and see and interact and love and feed in the world… has changed so rapidly in 50 years. And that is changing in every society very differently."
As an NIH Fogarty International Clinical Research Scholar at Public Health Foundation of India in Delhi, Mendenhall examined how diabetes was different across socioeconomic groups. She found more depression, stress, and struggles living with diabetes among the poorest people, while these individuals also had the most limited access to health care. While in Nairobi, Kenya, a country whose healthcare system is donor-dependent, Mendenhall observed how U.S. donor funding financed the construction of a modern HIV/AIDS ward of the hospital, but the majority of patients suffering with other illnesses were confined to a single combined-specialty clinic. For HIV positive patients, medication was free of charge, while testing and treatment for other illnesses such as diabetes had to be paid out of pocket. Those in Mendenhall's study described how it was considered better to have HIV than diabetes for this reason.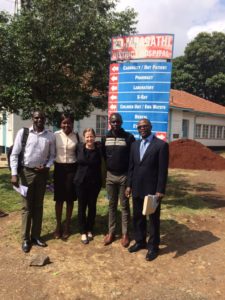 The research of Mendenhall and Lauren Carruth in the Somali region of Ethiopia has even suggested that the traditional understanding of diabetes as either type 1 or type 2 may be vastly oversimplified. Cortisol, a hormone associated with stress that Mendenhall posits can be caused by poverty, racialized history of inequality, gender inequality and other social factors, may also reduce sensitivity to insulin, the poorly-functioning or absent hormone in patients with diabetes. Mendenhall describes this link between historical trauma, stress, and disease manifestation the "Psychophysiology of oppression." As she explains it, the stress of society literally gets under their skin of the oppressed and acts to degrade and further harm their bodies, setting up a vicious cycle in which diabetes sufferers in low and middle income countries are more likely to see their conditions worsen and contract infectious diseases.
Tackling Global Health Threats Holistically
Mendenhall notes that medical practitioners and policy-makers are amenable to the research on syndemics, but the profit driven health systems and disease-focused development initiatives prevent the holistic solutions that syndemic research demands. Medical anthropologists such as Mendenhall look at the big picture. She argues that action needs to be taken to tackle the commercial determinants of health. Noting the fight to tackle Big Tobacco, Mendenhall suggests that the next big struggle should be against the effects of Big Food. The food industry perpetuates the production and sales of foods that are too fatty, salty, and sweet, which has created enormous food-health disparities between the rich and poor: "it's the classic case of food deserts in the United States," but on a global scale, she explains, the problems are different. Food production and distribution are different from place to place, and therefore how foods contribute to obesity and diabetes differ across contexts too.
Research in South Africa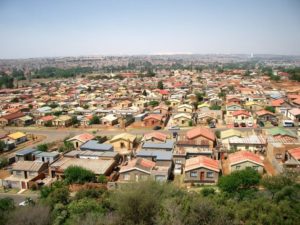 The most recent development in Mendenhall's career is a large grant from the Fogarty International Center at the National Institutes of Health. The project launched a research project in Soweto, a township of nearly 3 million people in Johannesburg, South Africa, where Nelson Mandela lived during the resistance to apartheid. Due to its size and unique history, the township has an atypical socio-economic spread, with a large middle class and many longtime residents. The study was designed from previous ethnographic research on living with multiple chronic illnesses and social problems in Soweto—conceived as a syndemic. The study is the first ground-up study on syndemics by the NIH—with the aim to use locally created interview tools to understand how social and health problems interact among 5,000 residents in Soweto. Mendenhall and her longtime collaborator, Shane Norris of the University of the Witwatersrand, are attempting to identify which diseases are clustering in Soweto, how and to what effect they interact with each other, and what factors (social, political, economic, and ecological) are driving these interactions. In addition, the study will examine what stress is incurred by subjects and how they cope. The interviews commenced in May 2019 and are scheduled to be completed one year later.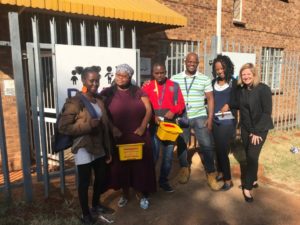 While carrying out this research in Soweto, Mendenhall mentors PhD students at the University of the Witwatersrand. She is very aware of anthropology's colonial and racist origins and she views providing professional and academic support to African students, particularly women, as the best way to undo the harm that her field did in the past. She says, "I want to work myself out of a job… Educating women is how you change the world… fundamentally it's anti-racism, anti-colonial work."
At Georgetown
In a short time, Mendenhall has achieved a remarkable amount. In 2017, she was honored with the Society of Medical Anthropology's George Foster Award for Practicing Medical Anthropology, which recognizes those who have made significant contributions to applying theory and methods in the field, particularly in diverse contexts, to multidisciplinary audiences, and with some impact on policy. The George Foster Award is given to acknowledge a career's worth of accomplishments, and in Mendenhall's case was linked specifically to a series of articles in The Lancet that she led on syndemics. She is the youngest scholar to ever receive such an honor.
As an associate professor at the School of Foreign Service, Mendenhall leads the undergraduate STIA honors program, which gives her occasion to engage with students on different questions, entirely unrelated to what she is focused on in her own research: "I just learn so much, and because of that I love it. I absolutely love it." Students who interact with Mendenhall don't just learn from her didactically, but also have the opportunity to publish with her or get assistance in getting published themselves. In the 2019 spring semester, she ran an intensive centennial lab class on syndemics: "if everything goes right, we may publish 8-10 papers from that seminar… we're working on that many." She added, "if you're not teaching, you're not pushing yourself."